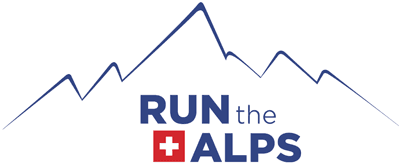 Trails and Tails
| Dates | Duration |
| --- | --- |
| Jun 22, 2024 - Jun 28, 2024 | 7 days - 6 nights |
Dogs + Alps + Trail running. What could possibly be better? If you're a dog lover and you like to trail run in beautiful areas, well, your dream trip just arrived!
Here in the Alps, dogs are much more than companion animals. They fill vital roles supporting the work of humans – guarding animals in summer pastures and on farms, searching through avalanche debris for victims, and rescuing hikers and climbers in the high mountains. 
Over the years, we've noticed how many of our guests adore dogs and love to see how they are a key part of life in the Alps. We feel the same way! So, we decided to create a trail running tour featuring our favorite dog friends here in the Alps.
On this special first edition tour we'll learn about the important roles dogs play in these mountains, and how they are trained for their unique lives of work and companionship. 
This point-to-point tour intersects with locations in the Alps that have a connection with mountain dogs. We'll start in Chamonix, France, where our runs will be accompanied by four-legged Run the Alps Director of Hospitality, Izzy Mayer. We'll also meet several of the resident dogs at area high mountain huts. 
Next, we'll visit with hiking guide and dog trainer, Xavier Pauget. Xavier is passionate about dogs and trains people to work effectively with them during avalanche rescues. With Xavier, we'll experience first-hand the work of guardian dogs, and we'll learn how to interact with these protective four-legged workers. We will also see a demonstration with his search dog, Caramel. 
From Chamonix, we'll travel through the Mont Blanc tunnel to Courmayeur, Italy, on the "Sunny Side" of Mont Blanc. After enjoying some great Italian hospitality, we'll run along one of the more scenic sections of the Tour du Mont-Blanc, then over the "TMB" high point of Grand Col Ferret and down into Switzerland's Val Ferret. We'll stay overnight at La Peule, a rustic mountain refuge and working farm in this remote valley where dogs are a vital part of farm life. The farmers will talk us through how Chiens d'Alpage work in the pastures, and we'll even learn how the farmers make cheese! 
Our tour will end with some of the most famous mountain dogs in the world, as we run along quiet alpine trails to the famous Grand St Bernard kennels, high on the Swiss-Italian border. For four centuries, the large, gentle, fluffy Saint Bernard dogs that we know and love have been bred here at the hospice as rescue dogs. 
On our way to Montreux on the shore of Lake Geneva, we'll visit the Saint Bernard Museum, in the Rhône valley city of Martigny. We'll bid adieu to you in Martigny, as you head off to Montreux for your final night in the Alps, and a chance to have a relaxing evening in this famous, beautiful Swiss city. Montreux is just an hour and fifteen minutes by train to the Geneva airport, so you'll be well set up to depart the following morning. 
Book this tour
Cost
Fee: $3,100/person, $500 single supplement.

Dates
Jun 22, 2024 - Jun 28, 2024
Guides for selected date:
Make it private guided
Your companions, your dates, your tour– we do the rest.
Inquire here.
Itinerary
Izzy, Run the Alps Director of Hospitality, is ready to run with you. (Photo: Toni Spasenoski)
Day 1
A shared shuttle will take you from Geneva airport to Chamonix. Before dinner, we'll meet up in the beautiful garden of our hotel for an orientation briefing. Then, we'll enjoy a delicious dinner in one of Chamonix's many excellent restaurants.
Accommodations: Hotel Oustalet
Mountain Leader and Dog Trainer, Xavier Pauget, with his committed student, Etel. (Photo: Xavier Pauget)
Day 2
We'll meet with Xavier Pauget and his search dog, Caramel. In the afternoon, we'll hop on the tram to take us up for a run along the ridge line above Les Houches, where mountaineers start their ascent of Mont Blanc.
Accommodations: Hotel Oustalet
Nuptse, resident of Refuge Loriaz. (Photo: Refuge de Loriaz)
Day 3
We'll run a loop that reaches its high point at the Loriaz mountain refuge. We'll stop for coffee and to shake paws with the hut dog, Nuptse, and take in the incredible Mont Blanc view. 
Accommodations: Bouton d'Or
Patou puppy, growing up as part of the flock. (Photo: Tumblr.com)
Day 4
Our route takes us on the rolling section of trail between the Bertone and Bonatti Refugios, two wonderfully positioned mountain huts. After climbing Grand Col Ferret, we'll cross into Switzerland and descend to our rustic mountain accommodations at the La Peule farm.
Accommodations: Refuge La Peule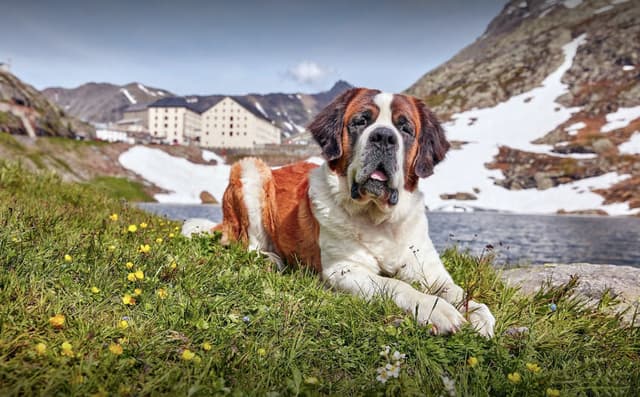 A St Bernard at the Grand St Bernard Pass. (Photo: Foundation Barry)
Day 5
We head to the Grand St Bernard Pass, which was founded in 1050, and to this day is run by monks. And, of course, we'll meet the famous St Bernard dogs that are raised here during the summer months. 
Accommodations: Auberge de l'Hospice
A new litter of St Bernard puppies at Barryland in Martigny. (Photo: Barryland)
Day 6
This morning we'll go to the Roman town of Martigny in Switzerland's Rhône valley to visit "Barryland" the St Bernard dog kennels and museum named for the most famous of St Bernards. We stay overnight in Montreux on Lake Geneva.
Accommodations: Hotel Eurotel
Tatsch, a swiss pancake. (Photo: Heddi Nieuwsma)
Day 7
Today you'll bid adieu to your Trails and Tails trip, taking a train directly to Geneva Airport, a scenic ride along the shore of Lake Geneva.
Meals: Breakfast
What's included
Guided daily runs with an International Mountain Leader. Accommodations for 6 nights at 3- and 4-star hotels in Chamonix, France; Courmayeur, Italy; Grand St Bernard Pass and Montreux, Switzerland, and one night in a mountain hut in Switzerland. Baggage transfers, except for the night at La Peule, the mountain hut. All breakfasts and dinners. (Last evening's dinner is on your own.) Trail snacks. Session with Alps dog trainer. Entries to two museums and Col Grand St Bernard kennel. Shared shuttle transfer from Geneva airport to Chamonix and all taxi and train transfers until Martigny, Switzerland. Run the Alps Guide to Trail Running in the Alps.

Want a helping hand to get ready? Run the Alps offers pre-trip coaching at our cost as a benefit to our guests. To read about our Personalized Prep Program, start here. Spaces are limited and this program routinely sells out. Contact us if you're interested!

Terms and Conditions: Read up on Run the Alps' Terms and Conditions, Covid-19 policy, and travel insurance.
Guides for this Tour
Tour dates: Jun 22 - 28, 2024
Book this tour
Cost
Fee: $3,100/person, $500 single supplement.

Dates
Jun 22, 2024 - Jun 28, 2024
Guides for selected date:
Make it private guided
Your companions, your dates, your tour– we do the rest.
Inquire here.