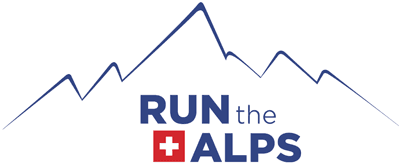 Matterhorn Ultraks
| Dates | Duration |
| --- | --- |
| Aug 20, 2024 - Aug 26, 2024 | 7 days - 6 nights |
Our Matterhorn Ultraks tour gives you the chance to enjoy one of the iconic trail races in the Alps, whether you're running or cheering others. We'll enjoy trail time in Zermatt, under the Matterhorn, on some of the best trails anywhere.
We'll start the week with 2 days in the hot springs resort of Leukerbad, where we'll take in some quiet alpine trails, and have fun with the Gemmi Challenge to the top of the famed, serpentine mountain pass.
After Leukerbad, we'll head across the Rhône valley for four days in beautiful Zermatt, perhaps the most famous mountain town in the world. We'll run sections of the upcoming Ultraks Skyrunning trail race, other great routes, and we'll enjoy all that Zermatt has to offer. Zermatt is surrounded by a stunning collection of 4,000 meter peaks, with a network of trails leading up into high meadows, through quiet hanging valleys, and through some of the most iconic and powerful mountain scenery imaginable.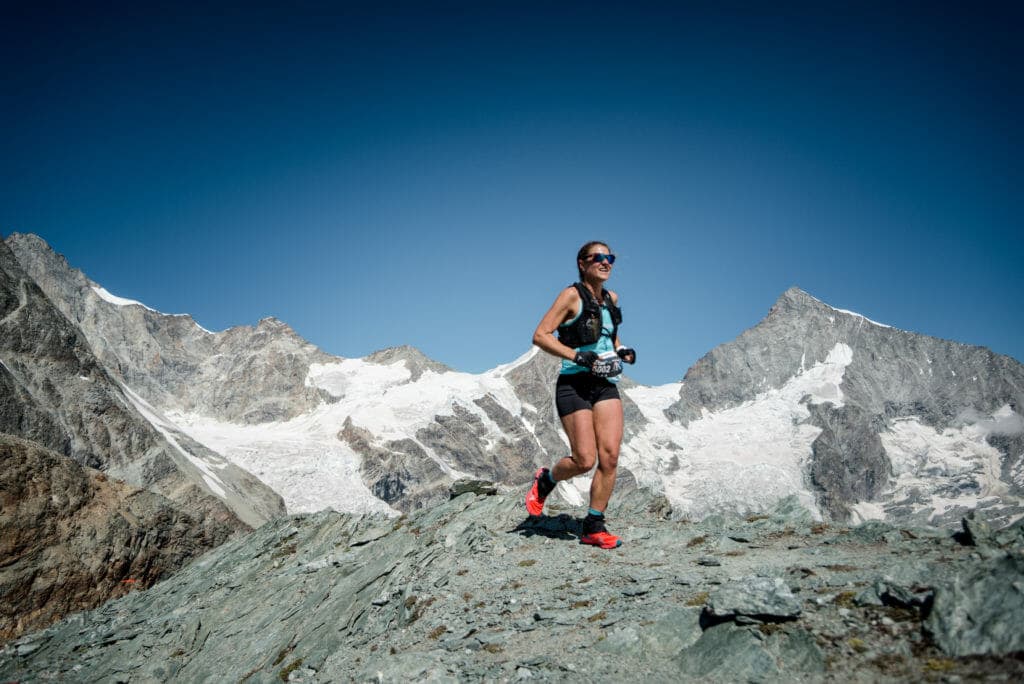 Saturday, it's time to watch some of the best runners in the world! This well-organized race incorporates great trail running terrain with one of the most scenic courses anywhere in the Alps. Run the Alps has a limited number of race entries reserved, if you'd like to run one of the four races. Or, just enjoy the ambience of an International Skyrunning Federation event.
Our typical day starts with a continental buffet breakfast at our inn – delicious fresh baked bread, local cheeses, cereal, fruit, coffee and juice – which gives us the energy needed for a full day of trail running. Soon we'll be out on the trail, perhaps 6 miles for those who want a more casual day, or an all-day outing of 12 miles for the more ambitious runners. Each morning, we'll bring out a variety of trail snacks for you to choose from, and many of our runs will include stops at mountain huts or alp farms where we can recharge with hot soup or a fruit torte.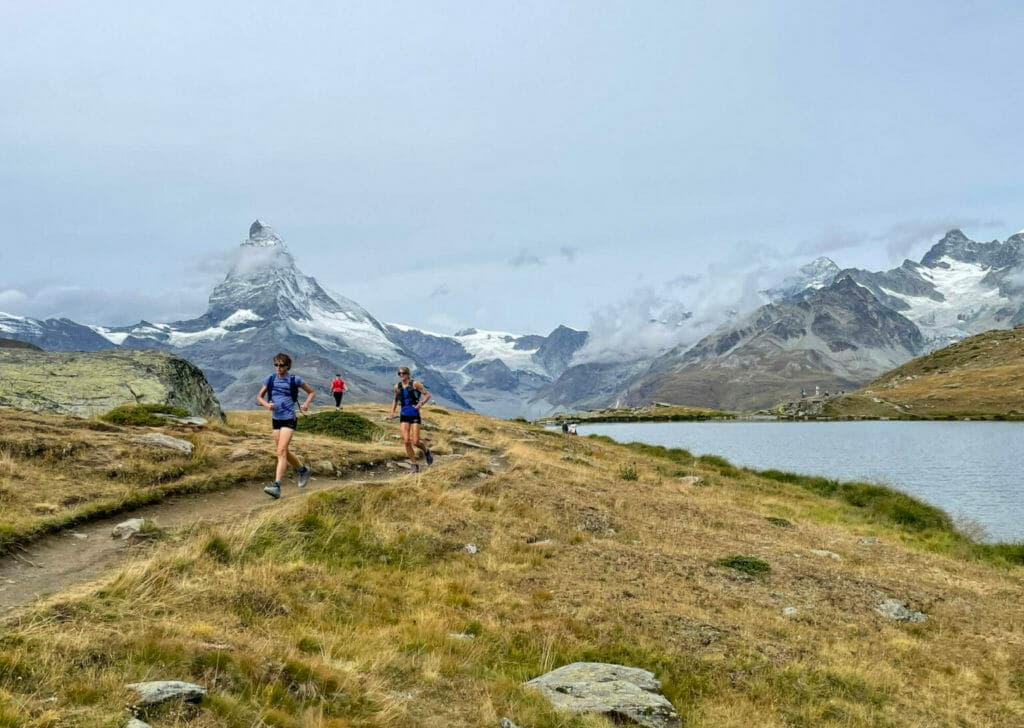 Most of our days will be leisurely, with plenty of stops to take in the view, visit local huts, and take photos. We should finish each day with plenty of time to relax. You will have your own bedroom every night. In the evening, we'll enjoy dinner together at our hotel or a local restaurant. These are multi-course feasts, often featuring local Swiss specialties, and will definitely be hearty, filling, well-earned and very delicious. We will leave one dinner in Zermatt free, so you have a chance to explore on your own and enjoy one of the many restaurants in town.
Guiding this trip will be Mark Brightwell, an International Mountain Leader. Read more about his guiding experience and skills here.
Book this tour
Cost
$4,050 per person
$500 single supplement
Dates
Aug 20, 2024 - Aug 26, 2024
Guide(s) have not yet been scheduled.
Make it private guided
Your companions, your dates, your tour– we do the rest.
Inquire here.
Itinerary
We got plenty of up. (Photo: Mark Brightwell)
Day 1
Arrive in Switzerland and transfer by train and bus to our meeting point in Leukerbad. For centuries, travelers have been coming to this mountain town to recuperate in the natural hot springs, and we'll join in the tradition.
Accommodations: Hotel Waldhaus
Sweet single track in Flüealp (Leukerbad). (Photo: Becki Penrose)
Day 2
Today's our chance to settle in and explore the Leukerbad region. We'll run a gentle route through the upper Dala valley to the Buljes Restaurant for lunch, then return on the loop trail.
Accommodations: Hotel Waldhaus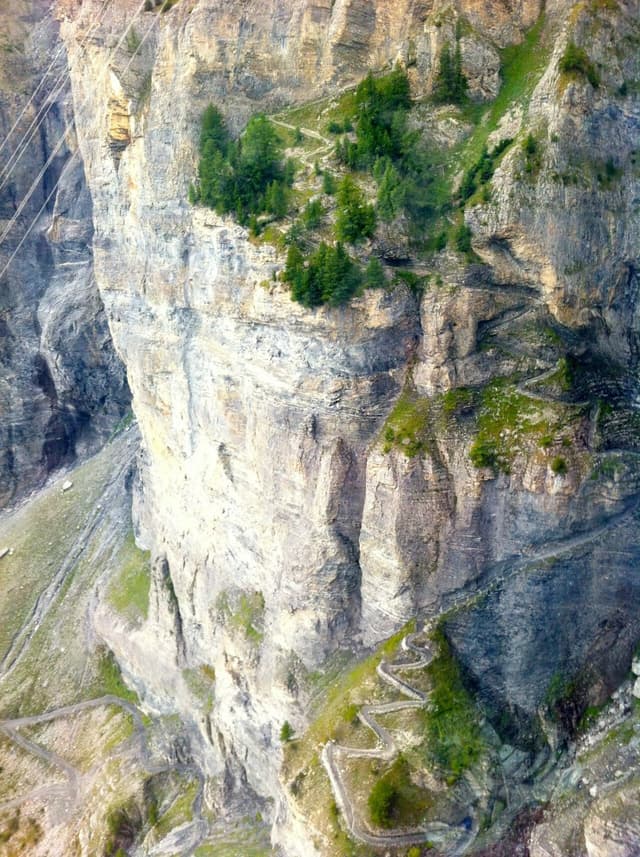 Would you believe it, if someone told you a trail went directly up this cliff? (Courtesy photo)
Day 3
We have a unique run or hike: the improbable Gemmipass Run, from Leukerbad up a serpentine trail to the famed Gemmi pass, with a village-sponsored prize, too! Afterwards, we'll head across the Rhône valley and take the famous railway to Zermatt.

Accommodations: Hotel Europe
We heart Zermatt. (Photo: Becki Penrose)
Day 4
We'll enjoy a variety of great runs around the Zermatt valley. Following portions of the 30-km Ultraks route through fields and forest, we have a range of choices up to the wide ridge of Gornergrat, past marmots and small glacial lakes.

Accommodations: Hotel Europe
We'll stop in at some classic Swiss Alpine Club huts. (Photo: PatitucciPhoto)
Day 5
Today, we'll climb up to the Hörnli hut– the Matterhorn climber's base camp–  to enjoy fabulous, close-up views of the icon peak and a sweeping look back at the valley below.
Accommodations: Hotel Europe
Start of the Matterhorn Ultraks "Active" 19km race. (Photo: Becki Penrose)
Day 6
Race day! We have a limited number of spaces if you want to join one of four different Matterhorn Ultraks trail races, or you can run at a relaxing pace to one of the viewpoints along the course to watch the race and take in the atmosphere.
Accommodations: Hotel Europe
One of those cute "pandas of the sheep world." Photo: Gayle Lindsay.
Day 7
There's time to sneak in a final morning run, or enjoy a coffee and pastry in town, before hopping on the train to either Geneva or Zurich.
Meals: Breakfast
What's included
Four nights at a four-star hotel, two nights at a three-star hotel, all breakfasts, light lunches, trail nutrition, five dinners, guided runs daily, all transfers to/from trailheads.

Plan to arrive the day your tour starts at the latest. Flights from the US usually depart the day before, so plan accordingly. The closest airports are Geneva and Zurich. There are train stations in each airport that will take you to Leukerbad (by train and bus). Your tour package will include detailed information about traveling on the Swiss rail system.

Plan your departure for the day after your tour ends at the earliest. The closest airports to Zermatt are Geneva and Zurich, both of which are a little over three hours away. Plan on one night at a hotel in your departure city if you have a morning flight (we can help with this if you like).

More options for this tour:

Self-guided: Everything but the guide… custom tour design, trail runs, and all the details.

Private: Make it private! Your companions, your dates, your tour– we do the rest.

Contact us for details.

All Run the Alps guests receive a copy of our Guide to Trail Running in the Alps to assist in preparing for their trip.

Terms and Conditions: Read up on Run the Alps' Terms and Conditions, Covid-19 policy, and travel insurance.
Tour stories
Matterhorn Ultraks: Coming in Hot
We had a fun crew of seven runners, including five members of a 2021 Tour du Mont-Blanc trip who decided to have a reunion tour! This group came together to run in Leukerbad and Zermatt, Switzerland with the option to race in the Matterhorn Ultraks. ...
Read more
Matterhorn Ultraks: Dream Trails
First, in Leukerbad, while staying at the lovely Hotel Waldhaus, we ran in the high pastures above town and beneath the Wildstrubel glacier. We took on the dramatically winding climb of the Gemmi-pass challenge, and from the chapel in the rock at Flüealp, we had stunning views all the way out to Mont Blanc. Next ...
Read more
Guides for this Tour
Tour dates: Aug 20 - 26, 2024
Guide(s) have not yet been scheduled.
Book this tour
Cost
$4,050 per person
$500 single supplement
Dates
Aug 20, 2024 - Aug 26, 2024
Guide(s) have not yet been scheduled.
Make it private guided
Your companions, your dates, your tour– we do the rest.
Inquire here.