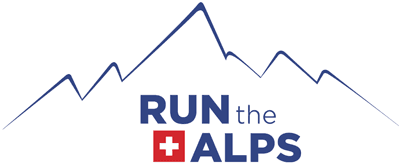 Environmental and Social Responsibility Sustainability
When I started Run the Alps, the inherent contradiction possible in the phrase "environmental travel company" was never far from my mind. How can we travel and experience pristine alpine environments, without simultaneously impacting that which we love? How do we make sure our intentions stay true, while making enough money to pay the bills?"  –Doug Mayer, Run the Alps founder.
History: 
Since its founding in 2013, Run the Alps has been committed to doing its best to "be good". The first step was becoming a 1% for the Planet member and donating 1% of our gross proceeds to support environmental initiatives. Over the years, our definition of "being good" has evolved, as our understanding of what it means to be good has developed, and also as our business has grown. In 2019, we took the UN Carbon Neutral Pledge and began our operations. In 2020, we developed an adaptation of the Leave No Trace principles to our local environment, and in 2021, we began proposing offset options to our guests. In 2022, we decided that offsetting shouldn't be optional, and we decided to include it in the cost of our trips.  
Being good, doing good: 
And yet, we still feel that's not enough. In 2023, we decided to replace trying to "be good" with trying to "do good". Reducing and mitigating our impact on the environment is important and we remain committed to continuously seeking out ways to improve in that area, but we think that sustainability shouldn't be limited to doing as little environmental harm as possible. We've expanded our understanding of sustainability to include not only environmental sustainability, but also a sustainable approach for our staff (making sure that the folks who work with Run the Alps feel supported and empowered) and also for our community (giving back to our local community and also trying to build the international trail running family).
So, what does "doing good" look like for a company like Run the Alps?
The first step has been to take stock of all that we have done and are doing, then develop a strategy for the future.  Our strategy pushes us to improve in the categories we've already begun (measuring/understanding our impacts on climate, biodiversity and waste, reducing that impact wherever we can, and offsetting what we're not able to eliminate), and then go a bit further.  
We are working on better feedback systems for the folks that work for us and with us so we can identify areas of improvement
We are beginning to work with our partners to learn more about what they are doing in the field of sustainability and share our approach
We've begun discussions with local nonprofits with whom we can volunteer our time and help introduce new folks to the trail running community
We are working to make sure our guides are well-equipped to share information with guests about climate change and other environmental issues, and developing content to ensure our self-guided guests get opportunities to learn as well
We're are committing to report back to you about what we're doing and how it's going 
We want to approach our social and environmental responsibility as an iterative process where we're constantly checking in and improving.  We would love to hear from you about how you think we can not just do good, but do better!

Did you know….
….that by far, the largest contributor to Run the Alp's carbon footprint is our guest's travel to the Alps? That's why we have chosen to offset not only the carbon emissions of our 
We're already offsetting your emissions, but if you'd like to help out with our mission, we encourage you to contribute to the organizations that we really care about:
Read our stories here:
Run the Alps Announces the Stewardship Project
How Climate Change is Affecting the Alps
What is Run the Alps' Carbon Footprint?
---
1% for the Planet
Since its inception Run the Alps has been a member of 1% for the Planet, a non-profit organization whose corporate members donate 1% of their gross proceeds each year to support environmental initiatives around the planet. In recent years, Run the Alps has supported the Chamonix non-profit CREA Mont-Blanc. 
---

UN Carbon Neutral Pledge
In August, 2019, Run the Alps signed the UN Carbon Neutral Pledge which binds us to reduce carbon emissions and, for those emissions we can't eliminate, offset their impact. Our charity of choice for carbon offsetting is Ripple Africa. We donate money to their cookstove project which replaces old cooking stoves with more fuel efficient stoves, reducing deforestation in Malawi.
---
Leave No Trace
We run all of our trips according to the seven Leave No Trace principals, including limiting group sizes. A typical guide-to-guest ratio on a Run the Alps trip is 6:1. We limit our group sizes to reduce our environmental and social impacts.
In the spring of 2020, Run the Alps became the first trail running guiding company to develop specific Leave No Trace principles for our trips.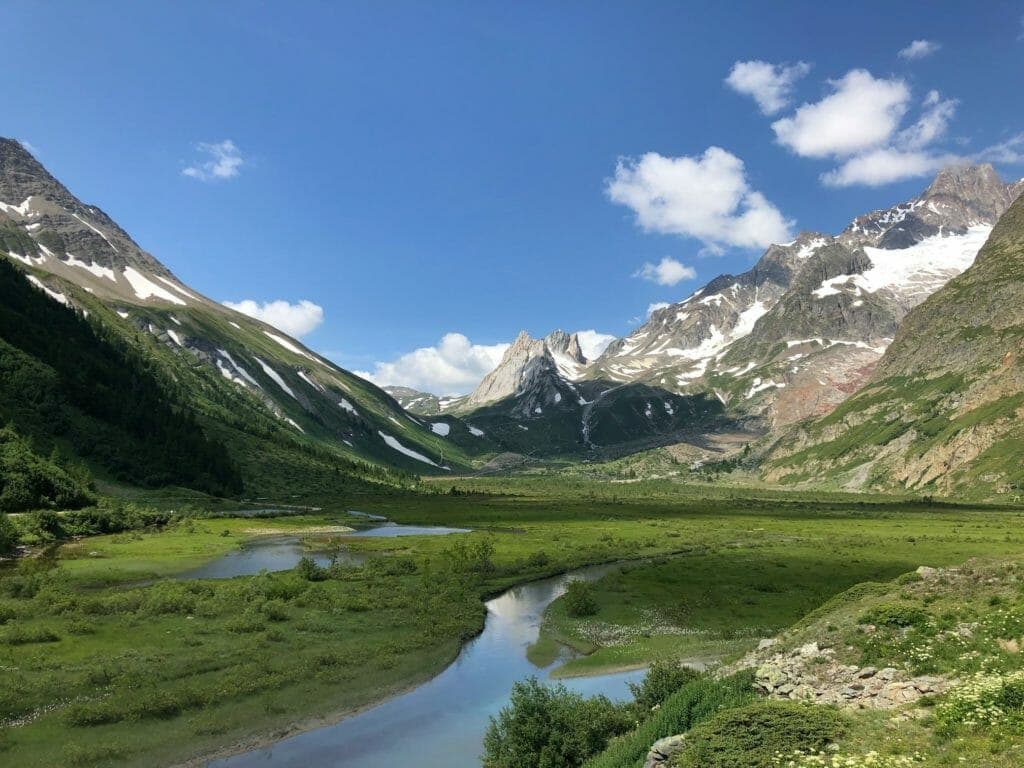 Run the Alps is lucky to call the Alps our home. The Alps are one of the most biodiverse regions on earth. Home to 30,000 animal species and 13,000 plant species, it's got some of Europe's last remaining wild places. However, the fragile alpine ecosystem is coming under increasing pressure from environmental threats such as climate change, air pollution and sprawl. As we share these remarkable alpine trails with our guests, we understand that our trips add to that impact. We're committed to eliminating what impacts we can, and mitigating as best possible, the rest.  
Blog
Running with Courtney Dauwalter: "Never Meet Your Hero" isn't Good Advice
What did we talk about while running and hanging out with Courtney and Kevin on our Dolomites trip? Save a few minutes here or there, it wasn't splits or race strategies or millimeters of drop in the latest trail running shoes. We talked about… life.
Guided
Mirnavator in the Alps
Smart, funny, endearing, our special guest Mirna Valerio also shatters trail running stereotypes. We can't wait to run with "the Mirnavator" in the Alps!
New gear
Run the Alps Salomon ADV Skin 12 Trail Running Vest
This is THE vest for trail running. No need to take our word for it- year after year, the Salomon ADV Skin has been the best-selling vest on the market. Period.