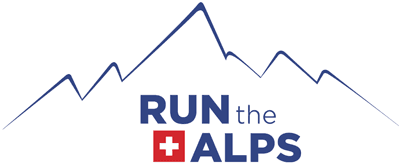 Run the Alps is Now 100% Carbon Neutral
Run the Alps is Now 100% Carbon Neutral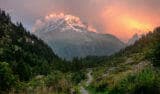 Sunset in the French Alps. Photo by Kim Strom
Run the Alps is Now 100% Carbon Neutral – Including International Guest Travel
This article is one in a series from our Run the Alps Stewardship project.
From the Run the Alps office in Chamonix, we are fortunate to have incredible views of Mont-Blanc and its glaciers. Sadly, climate change means that the glaciers are retreating at a rapid pace. Twenty percent of their volume has disappeared since 1980. [1]
Climate change is one of the biggest threats to the Alpine environment today. While temperatures have risen by 2.5°F in France over the 20th century, they have risen by 3.6° F in the Alps during that same period. [2] For those of us who live here, climate change isn't an abstract concept, but something we feel with the seasons and see whenever we look up. 
With a concerted effort to slow down climate change, even best-case scenarios show that by 2100 most glaciers across the Alps will be gone. [3] It's likely that in just a few years the Le Tour glacier above the Chamonix valley will no longer be visible from the valley floor.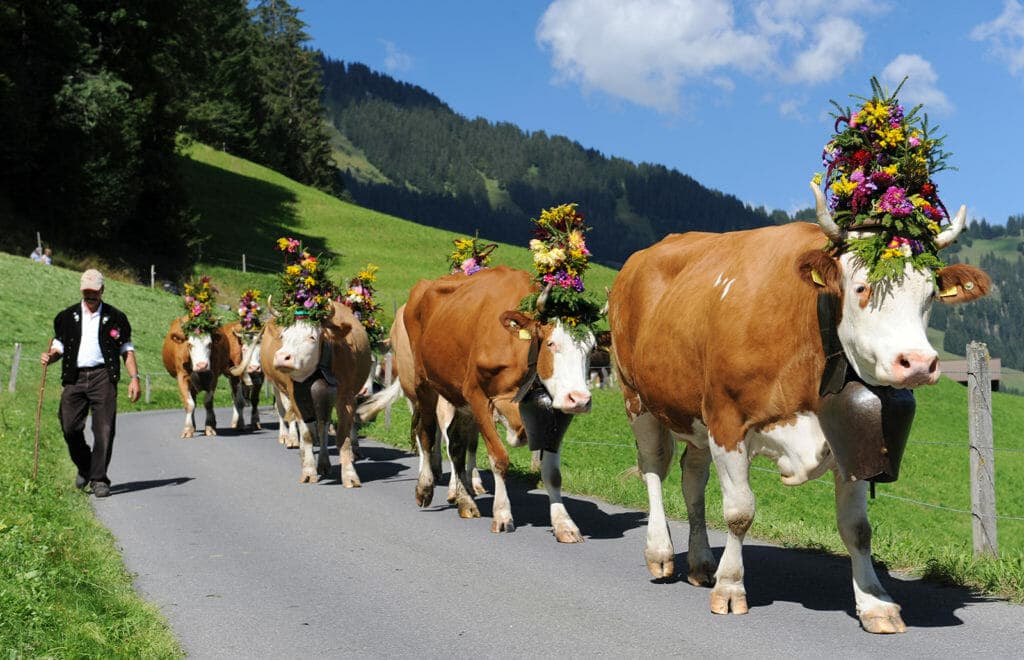 What we're doing to fight climate change
We know that combating climate change will require large-scale systemic society-level change. Nonetheless, we believe in the power of individual action, and want to contribute to fighting climate change in the way that we can. So here's what we're doing at the scale of Run the Alps…
Taking the UN Carbon Neutral Pledge
We want to protect the Alps and be part of the solution– so starting back in August, 2019, Run the Alps signed the UN Carbon Neutral Pledge. This binds us to reduce carbon emissions and, for those emissions we can't eliminate, to offset their impact. From the moment our guests land in the Alps, to the moment they leave, the entire carbon footprint of their trip is offset through UN certified emissions reductions. 
That only got us part way there, though. Starting with the first guests for summer 2022, we are going further, and will now also offset the international flights our guests make to and from the Alps.
Many of our guests and friends have questions about the greenhouse gas offset process. To share our thinking, and in hopes we can inspire further action, I sat down for a focussed discussion with our Director of Sustainability, Jen Stretton, so we can share an overview of our program. Jen is a geography graduate and International Mountain Leader. When she's not in the office, she guides groups on long distance hikes in the Alps, sharing her love of the natural world. Like much of the Run the Alps staff, Jen lives here in Chamonix, France. 
Here's our conversation:
Doug: How do you explain carbon offsetting?
Jen: As defined by the UN, "Offsetting is a climate action that enables individuals and organizations to compensate for the emissions they cannot avoid, by supporting worthy projects that reduce emissions somewhere else." Of course, it is best not to create emissions in the first place, but carbon offsetting is a good short term solution while zero-emission technologies are being developed.
Doug: I was skeptical of offsetting when we first discussed it, years ago. Do you consider it effective? What are the pitfalls? 
Jen:  Yes, it can be effective. The key is choosing the right program. For carbon offsetting to be effective, the credits you buy should be independently evaluated to ensure their impact is not overestimated and that the offset is "additional." Additionality is a bit of a buzz word in the carbon offsetting world. It simply means that any carbon credits you buy should fund a project that wouldn't have occurred without you buying the credits. So for example, if the carbon credits you buy directly pay for the planting of new trees that wouldn't have been planted otherwise, then that is classed as an "additional" offset.  

If any readers are interested in learning more about carbon offsetting, I recommend this excellent website by the Stockholm Environmental Institute. It's clear and detailed.
Doug: Can you talk about the project we have decided to donate to for our carbon offsets?
Jen: There are so many carbon offsetting projects on the market that it can be difficult to know where to start. 
After extensive research we decided to partner with Adventure Travel Trade Association's Neutral Together project for our yearly offsets. Neutral Together is a collective of like-minded adventure travel companies who are working together to reduce carbon emissions and make travel more sustainable. Each year, we all submit our carbon footprint accounting to Adventure Travel Trade Association and they purchase carbon offsets for the entire group. 
I like the Neutral Together scheme for two reasons. First, by being part of a collective of travel companies, we are inspired by the other members to strive to protect our beloved mountain environment. It's great to be part of a larger movement!
Second, their offset structure is well thought out. They split our collective offset between cookstove projects, renewable energy projects, and forestry projects. This seems more sensible than committing to one project, as it allows flexibility to allocate funding to the most effective projects available each year.
Doug: I remember the detailed carbon emissions work we did a few years ago, trying to figure out our own impact. It was a pretty interesting journey that helped us understand our own impacts. Can you share what the process was like for you? 
Jen: I started by writing as extensive a list as I could generate – with your help – of every activity we do as a company that produces emissions. We were as detailed as possible, including such things as office space, baggage transfers, hotel rooms, staff transport, pre-trip material and even new clothing a guest might buy in preparation for one of our trips.
Once we had this list, I worked in collaboration with the UN Global Climate Action team to calculate the emissions produced from each activity. It's notoriously difficult to be exact with carbon emission calculations, so we added ten percent to our total emissions to try to make sure we were fully covering our impact. 

If anyone is interested in the finer details, I wrote a blog post about how we calculate our carbon emissions. 
Doug: Why do you think it's important that we start carbon offsetting the international travel for our guests?
Jen: Although our original calculation included all in-country emissions, by far the biggest source of emissions created as a result of our trail running tours is the international travel of our guests. Last year, we matched the donations of any guests who decided to offset the carbon emissions for their flights. We were delighted that some guests took this option. Going forward, we want to make sure that the carbon emissions for all our guests' flights are offset, which is why we have decided to include guest flights in our annual calculations. It's part of the environmental impact of the trip, so it's incumbent upon us to work to mitigate it. That's our obligation.
Doug: If someone reading this piece is interested, how can they work out the carbon emissions for flights?
Jen: The ICAO calculator is a great tool (best viewed on Safari or Firefox browsers). You select where you are flying from and to, if you are flying direct or with multiple legs, and whether you are flying economy or first class. It will then calculate your emissions. You can also choose a project with which to offset your emissions.
Doug: Which project would you recommend a person uses to offset their emissions from a flight of their own?  
Jen: The United Nations Carbon Offset platform is a trustworthy structure that an individual can easily use. To use the system, you set up an account which is a very quick process, select a project, and pay using a credit card or PayPal.   They have excellent projects from which to choose. There are projects covering a range of initiatives such as renewable energy, fuel efficient cook stoves and public transport initiatives. All of the projects have been vetted by the UN and carry their gold standard. 
Doug: This carbon offset effort is just one part of our overall sustainability plan, of course.
Jen: Our carbon footprint is just one of the impacts that Run the Alps has on the environment. There are many others including trail erosion, noise pollution, habitat disruption, and cultural impacts of various kinds. We launched our stewardship project back in 2019 to address these issues. We are also members of 1% for the Planet and Leave No Trace. We'll be talking more about our Leave No Trace membership in an upcoming sustainability blog article.
Learn more about offsetting your carbon footprint:
Offset your flights – If you fly a lot, then the ICAO calculator is one of the most accurate to work out the carbon emissions of your flight. Once you know your carbon footprint, you can offset it with your chosen project.
See about having your organization take the Carbon Neutral Now Pledge – The team will help you work out your carbon footprint and support you in reducing your emissions — and offsetting what you can't reduce.
Sources
[1] Climate change taking big bite out of alpine glaciers (Deutche Welle)
[2] Climate Change and its impact in the Alps (CREA Mont Blanc)
[3] More than 90% of glacier volume in the Alps could be lost by 2100 (European Geosciences Union)
Read More Environmental Posts