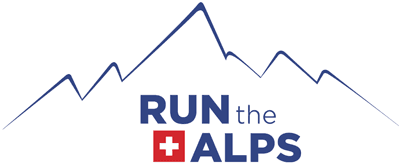 Cat Bradley on the Tour du Mont-Blanc and the Simple Act of Running
Cat Bradley on the Tour du Mont-Blanc and the Simple Act of Running
Editor's Note: We're psyched to share this great article from Salomon athlete Cat Bradley. Cat won the 2017 edition of the 100-mile long Western States Endurance Run, and in the fall she set a new Fastest Known Time for the highly sought-after Grand Canyon Rim-to-Rim-to-Rim run. She lives and runs in Boulder, Colorado. 
Sitting on the edge of my firm bed in a small hotel in Grindelwald, Switzerland, mustering up the courage to collect the soaking race gear splayed on the wood floor, I realized just how out of my league I was in the Alps.
The Eiger Ultra Trail had been a much-needed slap in the face. I'd heard it said a million times, but after 19 punishing hours fighting my way through Switzerland I finally understood: European trail racing is a whole different ball game and I needed to be better prepared for the next one.
After collecting my points at Eiger Ultra Trail, UTMB was on my radar. As the European trail scene's crowning attraction, the 170-kilometer (105-mile) loop observes the iconic Mont Blanc from all sides through three countries. More of a shrine to the Alps than a simple run through the mountains, UTMB has been a long time bucket list race for myself and all trail runners around the world.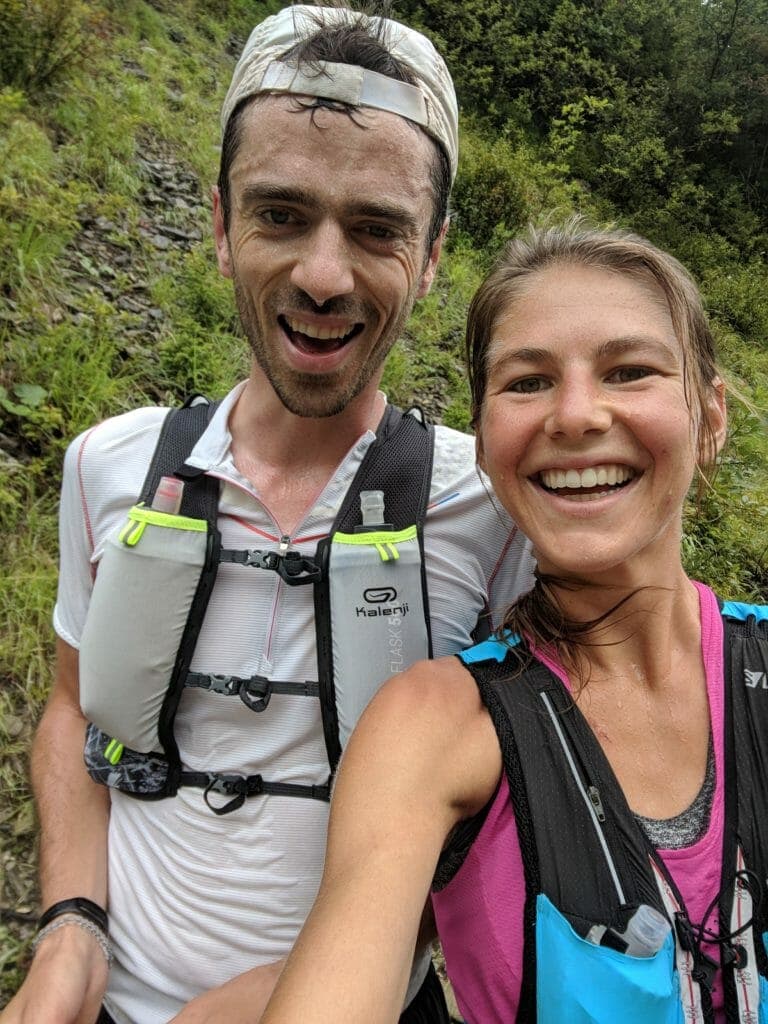 The last-minute opportunity to realize my little trail dream was surreal and I wanted to make sure I gave it the respect it deserved by doing everything in my power to ensure adequate preparedness.
Sitting on that firm bed in Grindelwald, inspired by the 101 ass-kicking, mountainous kilometers I'd covered the day before, I committed to spending the rest of summer to getting my legs Alp-strong and mind ready for the long day ahead of me for August 31st. In classic ultra runner fashion, that meant setting out to run the entire UTMB course over five days in the weeks before the race.
As far as planning, I didn't know where to begin. The area was as foreign as the language, and every time I opened my laptop to do a little recon I was quickly overwhelmed. At the suggestion of a friend, I reached out to Doug Mayer at Run The Alps who helped to plan my trip and book my accommodations. Before I even touched town in Chamonix, I quickly realized my tour of the TMB would not be possible without his team.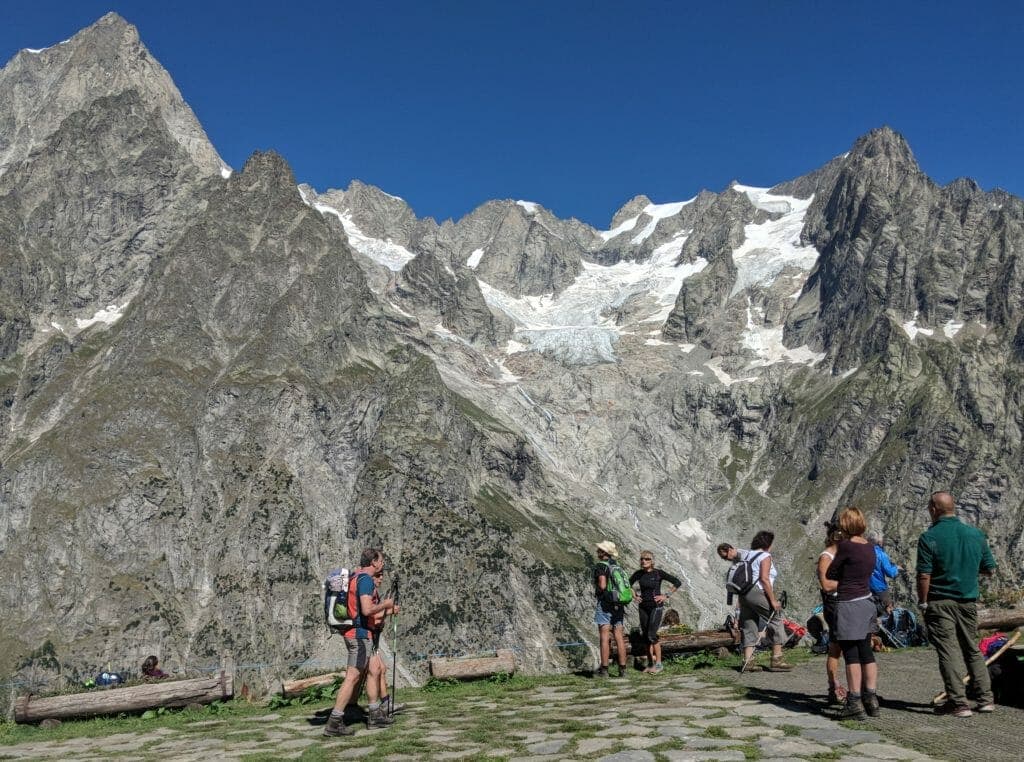 It's been difficult to sit down and write about this experience not only due to my unforgivably busy schedule, but also because I wanted to take my time, soaking in the experience and the lessons before I attempted to share it. I just spent a week in the Alps, running around Mont Blanc through France, Italy, and Switzerland. It was the best week of running I've ever had and certainly one of the best experiences of my life. I could write a book about my week touring Mount Blanc, illustrating every climb, every piece of cheese and every person we encountered. Instead, here are a few reasons you should run (or hike) the TMB too.
Of course, the challenge
The trail acts as a rite of passage for those attracted to serene alpine environments and endurance feats, climbing to 2,500 meters five times and totaling somewhere around 33,000 feet of total elevation gain. Each section of trail has at least one significant climb, usually followed by an almost equally brutal descent. It's certainly no walk in the park, but the rewards are well worth the effort. We chose to run the entire course over five days, a brisk yet not impossibly fast pace.
The less comfortable challenges
Let's be real; as athletes, we are very comfortable and familiar with the challenges associated with long days in the mountains. We know how to suffer. We live for those hard moments in a race or long run where the remaining miles seem infinite. So long runs or athletic feats, although challenging, are well within our comfort zone.
My favorite part of the TMB was finding solace in the comfort of the challenge I had ahead while also being tested by how nerve-wracking it is to travel to a country (or three) where you don't speak the language. I found a home within the magnitude of the effort and yet was still able to step out of my comfort zone in ways I never would be able to at home.
The food
The only thing I like as much as running is eating, and luckily clocking 20-plus miles a day demands a high caloric intake. The difference is, unlike big, remote adventure runs in the states, you don't have to rely entirely on gels and dehydrated meals on the TMB. From every snack to every meal, I ate like a queen. Villages with stores and bakeries are found daily, and more than 50 trail refuges offer reasonable prices for hot meals like raclette and beef stew. On top of that, post-run wine is cheaper than water, and there is more chocolate than even I could eat. When in Europe… right?
Hard terrain, easy to follow
One of the most appealing characteristics of the Tour du Mont Blanc is how accessible and well marked the trail is. Even with a running partner who is navigationally challenged and insisted the wrong direction at every junction, it was impossible to get truly lost. The trail winds through some of the most sought-after terrain in Europe, so people are always nearby and are usually willing to help. (If you still feel a little unsure and would like some professional help, go on a Run The Alps trip and they'll do the navigation for you.) Mindless running is sometimes the best running.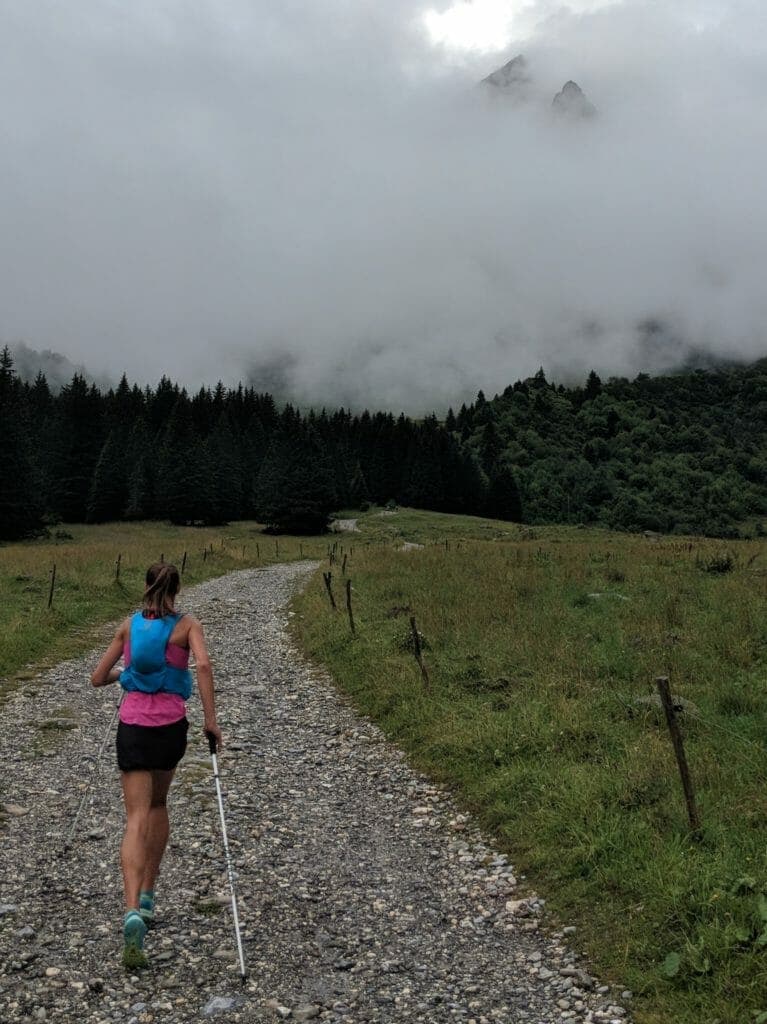 Simply the act of running
Running is always satisfying, but it's especially wonderful when the only thing on your agenda every day is to wake up and run through some of the most spectacular trails on the planet. The simple act of following the Tour du Mont Blanc each day from town to refuge to village to town rewards you with a sense of accomplishment. Run through the mountains all morning, then descend to town just in time for a late lunch. It is immensely satisfying.