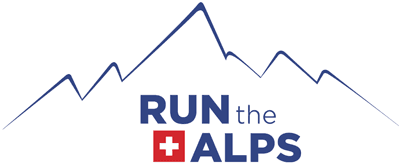 Sierre-Zinal: My First, But Not My Last
Sierre-Zinal: My First, But Not My Last
​As we look back on another great summer of trail running, Run the Alps is pleased to share this guest post about one of our favorite trail races in the Alps, Sierre-Zinal. Author Matt Flaherty is a professional runner, freelance writer, and running coach​ based in Bloomington, Indiana​. ​He's been running ​competitively ​for most of ​his life​, including cross country and track at the University of Illinois. Since 2010​, he has favored the mountain, ultra, trail scene, though he still likes to throw down in a road marathon now and then. He's also passionate about writing and performing music, and loves good coffee and beer.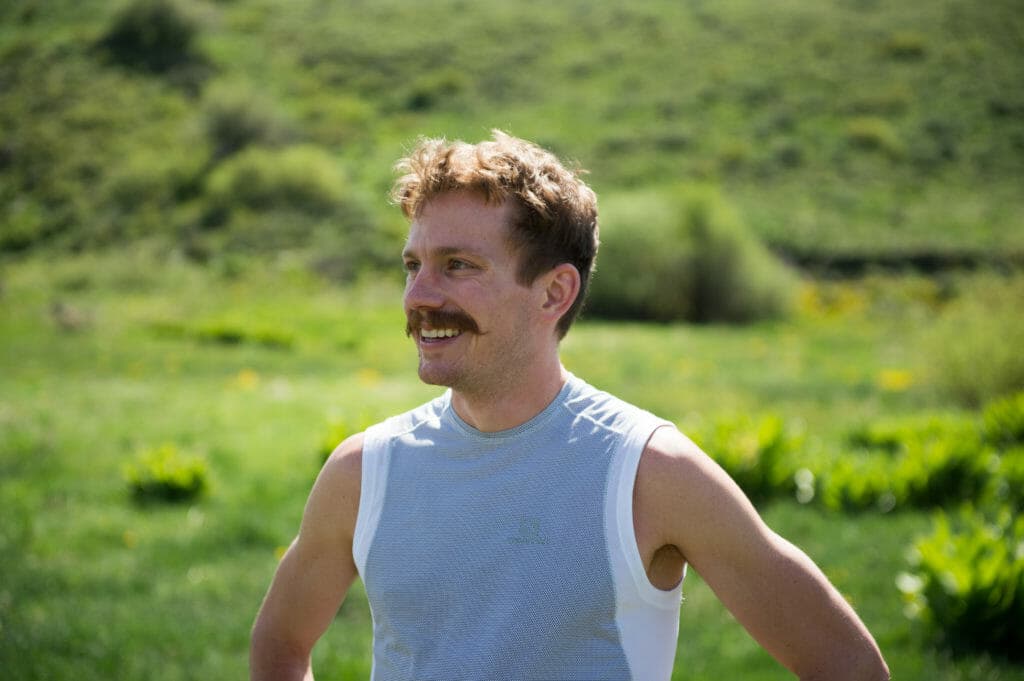 Where to start with Switzerland's famed Sierre-Zinal mountain race? Would it be the stunning beauty of the course—the race has five 4,000-meter peaks, as it is called? Could it be the world-class competition? Perhaps the long history and communal atmosphere? The jumping off points are endless, but they also feel inadequate. A race like this must be experienced. All I can hope to convey here is a first impression, a sense of why this is one of the greatest races around. And why you need to come run it.
My experience began on the Wednesday before the mid-August race. As I hopped off the train in Sierre to transfer to a bus for the final leg of my journey, I spotted a Team USA suitcase outside a supermarket at the station. Then another. Out of the shop walked Andy Walker and Matt Daniels fresh off the World Mountain Running Long Distance Championships in Premana, Italy. Andy had a beer in one hand, which seemed like a lovely idea, so I followed suit. Like me, they were headed for Zinal to see what this race was all about.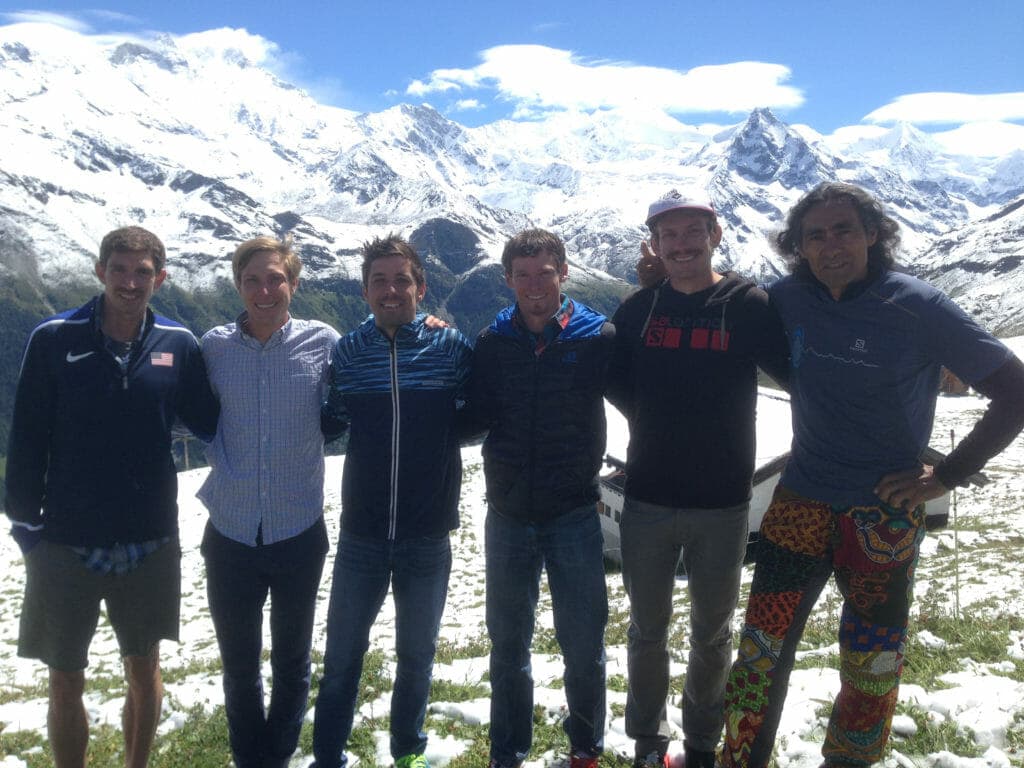 Over our brews, we chatted about our recent races and European adventures while our bus snaked its way up a rapidly climbing road, mirroring what would be the first ascent of the race. Sierre, where the race begins, sits on the broad Rhône valley floor, while the mountain hamlet of Zinal, where the race finishes, sits nearly 1,000 meters higher, located at the head of a narrow side valley. The course connects the two towns over a 31-kilometer route. However, it takes you relatively high into the mountains trails above the road we were traveling, such that it features 2200 meters (or about 7200 feet) of climbing and 1100 meters (or 3600 feet) of descending.
When we got off the bus in Zinal, we were greeted by American Pablo Vigil, a legend of this race as a four-time winner and former course record holder. Pablo lives in Colorado, but he finds his way back to Switzerland every year for Sierre-Zinal. The race is proud of its heritage and past champions—especially the multi-time winners—and makes sure they have a place of honor within the festivities. It is without a doubt part of what makes the culture of the race so unique and convivial. It feels a bit like a family reunion. All of the greats come here, both past and present.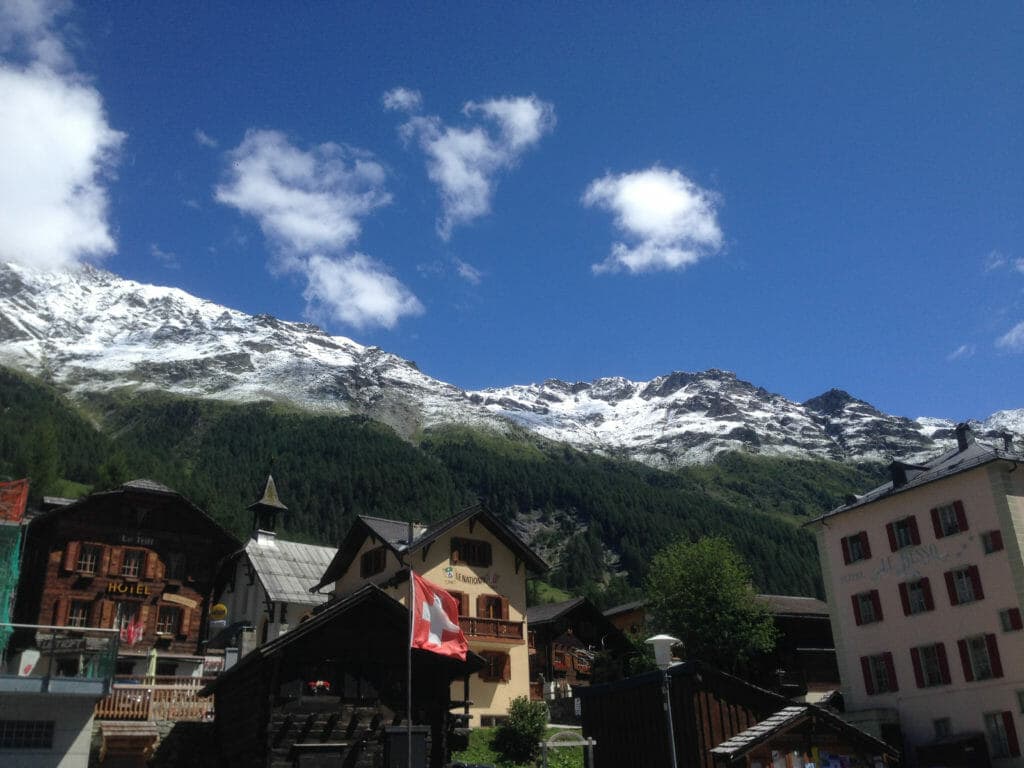 Pablo has made an effort to get more Americans to race Sierre-Zinal, especially at the pointy end of the field, knowing how competitive and rewarding the race has been for him. He reckons that year-in and year-out it is more competitive even than the World Mountain Running Championships. He's likely correct.
Pablo had connected Andy and Matt, along with American David Fuentes, another past Mountain Team member, to the race organization for this year's edition. Max King and I were also racing, along with much of our Salomon team. The five of us made up this year's American contingent. Unfortunately, there were no top American women at the race this year, though Stevie Kremer and Megan Lizotte (née Lund) have both won the race in the last 10 years—a feat no American man can claim since Pablo's last win in 1982. Pablo became our de facto guide for the week, introducing us to his old friends and competitors from around the world, taking us on a tour of the second half of the course, and giving us tips on how to race well here.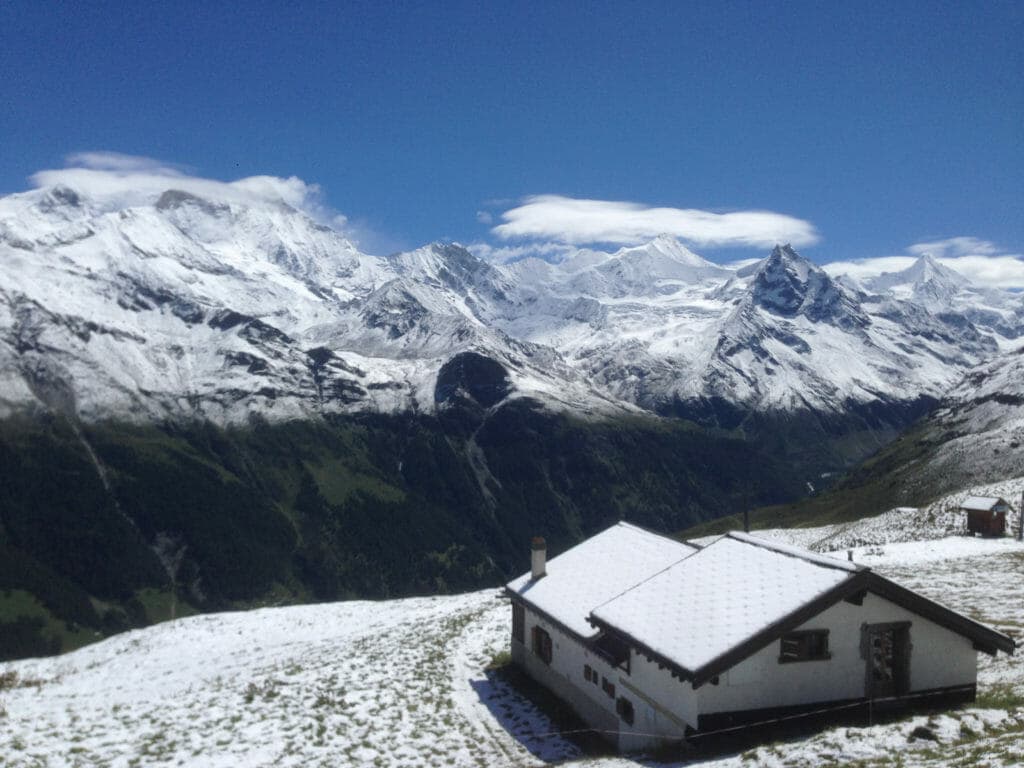 In the days ahead of the race, as the town steadily filled with anxious racers and their families and friends, the temperature steadily dropped. Zinal was engulfed by clouds. We couldn't see any of the famed 4,000-meter peaks towering above. Snow started falling and when the skies finally cleared after two days, we were seemingly in a winter wonderland—except of course that it was mid-August.
By Saturday morning, the day before the race, the skies had cleared. We took a gondola to a restaurant above the town, enjoying snowball fights and magical views in addition to our lunch. By race morning, temperatures warmed enough to melt the snow along the race course, and we raced over mostly dry trails under the sun.
The race itself can be thought of roughly in thirds. First, there is the massive climb out of Sierre. Perhaps the first mile and a half is at a runnable grade, but soon all runners are forced to a power hike. Depending on one's particular strengths, some combination of high-cadence running and hiking will see you through the next several miles to the checkpoint at Ponchette. For me, this meant I hiked the vast majority. It's all about keeping your heart rate and effort in check. Once you are barely past four miles, over half of the climbing is already done.
The middle section of the race continues to climb all the way to the stunning and historic Hotel Weisshorn, which dates back to the late nineteenth century, but at a much more reasonable grade and in a slightly rolling fashion. After the trying first climb, this section feels flat—at least at first—but it is deceptive in the toll it takes on you.
This rolling section first takes you through the small town of Chandolin, where hundreds of noisy and cheering spectators line the narrow road. Continuing through the forest just past town, the trail then emerges above the tree line amid the skiing areas just above the town of Saint-Luc. The views are panoramic, especially stunning this year for all the snow still on the mountains' upper reaches.
Spectators dot the course regularly from here, many enjoying a picnic and imbibing wine or beer. Throughout this section, I moved through the field steadily. I had no idea of my place, but knew I was roughly on target for my goal of sub-2:50, based on a few key checkpoints I made note of ahead of time. The race website has a convenient chart that shows what percentage of your finish time should be completed at each aid station. (This is of course for a well-paced race, and assumes you can avoid a blowup. Not easy to do!)
Past Hotel Weisshorn and a final short grunt of a climb, runners face a final 10 kilometers that descend first gradually and then precipitously down to Zinal. Pablo says that Weisshorn is where the race really starts. Everybody's hurting and just trying to hold on, but if you've got the legs, you can really fly. However, the trail is also at its most technical here, and plenty of runners were falling apart even with the aid of gravity.
Despite clocking in at less than 20 miles, the duration of the race is a bit longer than one's marathon time, so fueling is a must. Still, it's short enough to lure many runners into the trap of not consuming enough calories. Further, since the rolling terrain demands short spikes in effort, bonking becomes a very real possibility. Taking in 350 calories, I managed to avoid a bonk, but I would probably aim for more next time. Max King, racing his third Sierre-Zinal, took 500 calories. He also managed to run the final two thirds of the race faster than anyone.
Throughout the long, gradual descent, I continued to pick off runners. With just over a mile to go, the course veers hard to the right and down a grass slope of a 30 to 40 percent grade, before transitioning to only slightly more tame switchbacks. My GPS data had me losing 1100 feet in that final mile.
The final few hundred meters of the race are run down the streets of Zinal through a corridor of cheering spectators, many of whom have already raced. A nuance of Sierre-Zinal is that runners can choose to start in Sierre at 5 a.m. as part of the "Tourist" category, whereas the "elite" start is at 9:45 a.m. For most people, racing the Tourist category allows them to finish before the race leaders, which enhances the race finish for everyone.
This year, it was Kilian Jornet who hit the pavement of Zinal first to the cheers of the Tourist racers who had completed their running of the course. Kilian utilized his unparalleled descending skills to escape the pursuit of Robby Simpson and Max King—2:15 and 2:14 marathoners, respectively. All three men finished within a minute of each other, with Kilian breaking the tape in 2:33:05. Among the women, it was Lucy Wambui Murigi taking the win in 2:58:39 over last year's women's champion, Michelle Maier.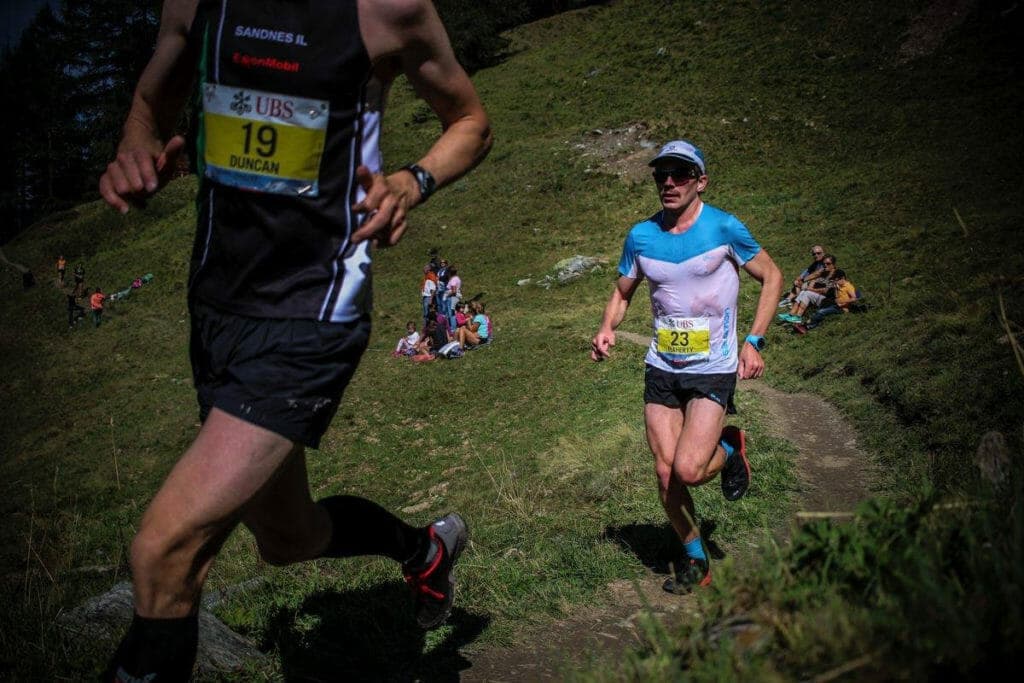 For Kilian, it was his fifth victory, which ties Ricardo Mejía of Mexico for the most wins. Still very much in his prime, Jornet seems poised to increase his win total, but another mark has of yet proved elusive—Jonathan Wyatt's course record of 2:29:12.
As for me, my early race patience paid off, as I came through the finish line in 2:48:40 to meet my time goal and finish in 28th place. I was racing a bit tired from a third-place run at the Swiss Alpine 78K two weeks prior, as well as a massive five-day, 200-kilometer run on the trails around Mont Blanc. Even so, I don't think I could have run much faster at my current fitness, and my placing speaks volumes about the race's depth. In the last few years, I've finished 31st at the New York City Marathon and 32nd at the Boston Marathon. That a mountain race's competitiveness is essentially on par with the biggest marathons in the sport is pretty impressive. I already want to race it again to try to improve my time and place.
My other American compatriots didn't fare quite as well, which is perhaps not totally surprising given that we were all Sierre-Zinal rookies. But they're all itching to race it again too. The course is a tricky one to master, but it's immensely fair in that is has something for everyone: only a moderate distance, a mix of runnable and technical terrain, and plenty of both steep grades (for either power hiking or reckless descending) and faster running. If one can manage it correctly and play to his or her strengths, anyone can do well here, which is part of what makes Sierre-Zinal so interesting. Runners from a wide swath of the mountain, ultra, and trail worlds can meet here and throw-down on more or less equal footing.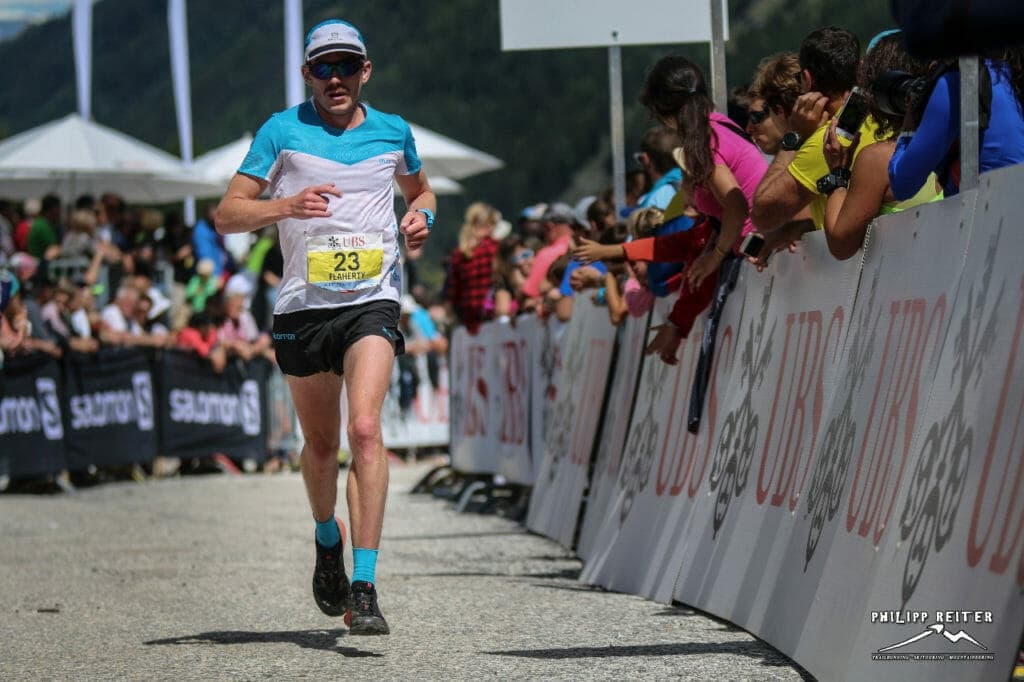 Once the race is finished, hours of merriment follow in a massive tent just up the hill from the finish line. Entertainment included a chorus of alphorn players, a band, and dancing, all leading up to the awards ceremony. This is accompanied by plenty of food and beer, the local melted-cheese delicacy raclette, and of course, stories. Stories of glory and carnage from the day. Stories of races past. And eventually stories set to music when Pablo busts out his guitar, as I gathered is tradition here.
In twenty years of competitive running across all disciplines, I've run a lot of races. Every now and then, you run one that you know you must come back to. The Boston Marathon is like that. I've heard the same of South Africa's Comrades Marathon, which I hope to make it to very soon! Without a doubt, Sierre-Zinal is one of these races. So consider yourself warned: if you come to race this incredible event, you're probably going to get hooked and want to keep coming. Maybe I'll see you there.
Run the Alps would like to thank Philipp Reiter for his excellent photos. To view more of his work, visit his web site.
For more information:
Why Sierre-Zinal is the Best Race in the World