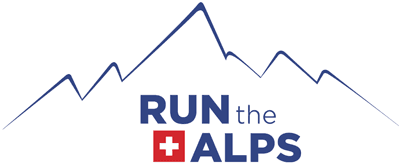 Trail Running through the Berner Oberland: "Exactly Where I Wanted to be"
Trail Running through the Berner Oberland: "Exactly Where I Wanted to be"
Some of our best stories come from guests on our trips. Here's one from Chase Willie, who joined Run the Alps with his family on our Eiger Ultra trip. We enjoyed Chase's story, and wanted to share it with you. — Editor.
I had never been on a train before.
Well, that's not entirely true. When I was six years old, I had taken a joy ride on the Georgetown Loop Railroad Train back in my home state of Colorado to look at the fall colors that dressed the Colorado Rockies. This was my first time actually relying on a train to explore a country, though.
My family and I were cruising on the train after our flight landed in Zürich. In my sleep deprived, jet lagged state of mind, I could only manage to focus on the small latte that sat in front of me and the blurred Swiss countryside rocketing by my window. My mom had planned this trip for my family to celebrate my high school graduation, so I didn't have a completely clear idea of where the train was going. I knew that we were headed to a small mountain town called Mürren, just outside of Interlaken, Switzerland, to meet up with a company called Run the Alps. Mom had explained that Run the Alps had built us an itinerary to see some of the best trail running as the Swiss Alps had to offer. They would schedule all our accommodations, suggest trails for us to check out, and provide us with a guide for some of our stay.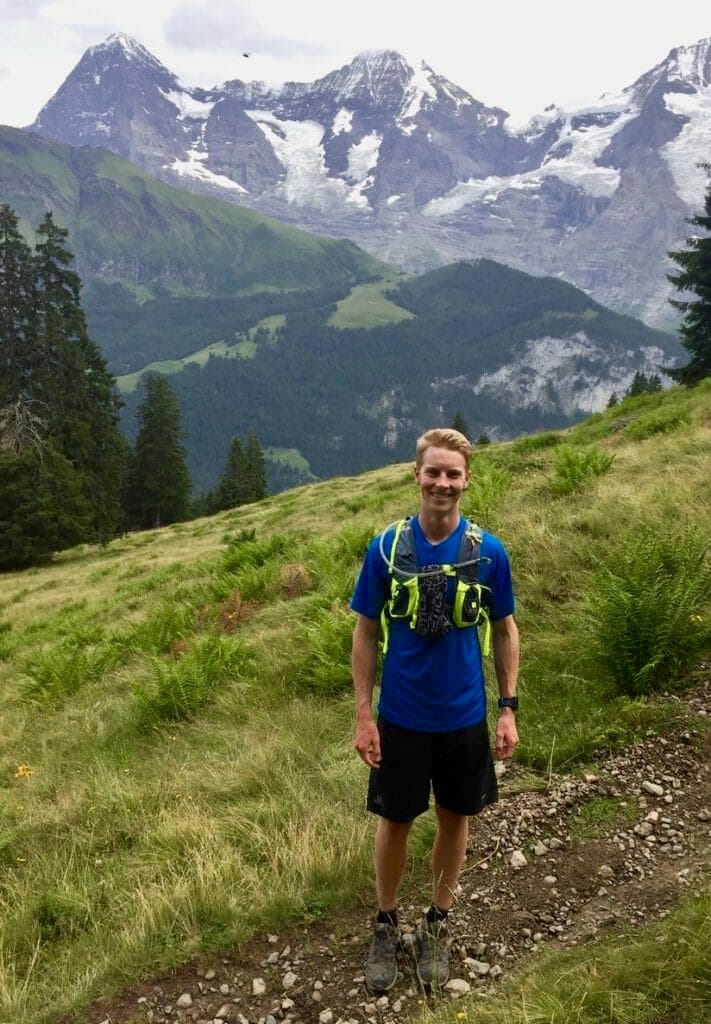 What I didn't know what how life changing this trip would be.
I had been to Europe before, exploring bits of Austria, Switzerland, Italy and Germany to play tourist around the cities. This trip was different. We were there to run. We were there to stay as far away from the big cities as possible. That is exactly what the small, cliff-side town of Mürren provided us.
Our train slowed to a stop in the Interlaken-Ost train station. As soon as I stepped off the train and out into the fresh air, my daze of sleep deprivation was crisply sobered. We took a minute to look at the mountains surrounding us before boarding one of the last few trains up to Mürren. My breath fogged up the windows on each of those train rides into Mürren as I stared at the scenery passing by.
Rain drizzled down as we exited the Mürren BLM cog train in the heart of the town. Light, delicate clouds rolled through the valley below us and ascended into the surrounding mountains. My smile could not have been bigger, and my mom's face mirrored mine.
My brother and dad were still drunk with jet lag and opted to check into our gorgeous chalet and slump into their inviting beds to recover. Mom and I were too inspired by the surrounding views to let a second go to waste. Run the Alps had recommended a short run close to the town to use as a warm up to the running scene in the area, and we took full advantage of it. We dumped our bags off at the chalet, changed from jeans to running shorts, and strapped on our trail shoes before taking the cog train to Grütschalp in order to run back to the chalet. Our knees bumped and bounced from anticipation while we anxiously stared out the train's window the whole ride down, and we could barely hold back as we waited for the train doors to open.
We immediately found the Mountain View Wanderweg trail that would take us back to town, which kicked the trail running trip off by setting the bar high. The trail silently tracked through the hills as it wandered towards Mürren and provided the perfect way for mom and I to get out and begin exploring.
Growing up in Colorado's Front Range, I had grown accustomed to beautiful scenery and mountainous views. I realized during this run that my idea of a beautiful view in Colorado was nothing compared to what was to be seen here in Switzerland. I've spent countless hours trying to figure out the best word to describe the mountains and valleys in the Alps. The only word that I think accurately describes them is Epic.
The jagged peaks towering over us seemed to frame our little moment of paradise during the run. Cow bells rang throughout the valley, peacefully disturbing the otherwise serene air that we ran through. The trail was lined with freshly mowed grass in some sections which almost forced my mom and me to twirl like Julie Andrews in The Sound of Music. Stones painted with red and white stripes led us in the right direction like a trail of bread crumbs. Every corner revealed another incredible view and only increased our eagerness to explore.
We were as far away from the big, touristy cities as we could be. We were running through the most stunning scene that I have ever experienced. I had just graduated high school and my smile couldn't have been bigger. I was exactly where I wanted to be.
And this was only the beginning of this trip.