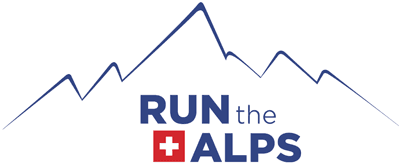 Training Tips for Trail Racing in the Alps
Training Tips for Trail Racing in the Alps
Sam Hill is one of our trail running guides here at Run the Alps. He also ably manages our extensive Race Finder. When he is not guiding our guests, he runs the trail and ultra running coaching business, Hill Performance.
Sam, it needs to be said, is no slouch! Among his many notable trail running achievements are completing the PTL, a 300km race around Mont Blanc and a very challenging winter season run on England's Bob Graham Round.
In this article, Sam shares a number of useful insights for getting ready for a trail race in the Alps– whether it's your first, or one of many. — Doug Mayer, Run the Alps
If you're into trail running — really into it– then the odds are, at some point in your trail running career, you'll make the pilgrimage to the Alps. And for good reason. It's hard to resist the combination of stunning vistas, great weather and delicious food, all tied together with a trail running history that goes back over fifty years. 
For many runners, a trail race in the Alps is the pinnacle of their running aspirations. Some of the most famous races in the world are held here, and there is no denying that the French, Swiss and Italians all know how to put on a great event! 
If you are planning on racing here, or you dream of racing here one day, I hope these suggestions and training tips will set you on track for a successful day at the races. 
Finding the Right Race
When I first started trail racing in the Alps, I was overwhelmed by the sheer number of races – everything from a local 15km trail run to the mountain hut above a small village, to huge festivals with thousands of participants. Many of us naturally gravitate towards the famous races, and for good reason. However, I think there is a lot of value in exploring some of the smaller, local races – you often get a true feel for the region, and these gatherings are far less intimidating than marquee events like the Ultra-Trail du Mont-Blanc. Somewhat shamelessly, I will add that I think Run the Alps has over the years developed and maintained a fantastic resource in the Race Finder. This is a great place to get started and find a race that will suit your interests. If you haven't heard of a particular race that is piquing your interest in the Race Finder, don't be put off! Feel free to reach out to us – among the guides and staff, odds are good one of us at Run the Alps can speak to the race in question.
So… Where to Start?
In some regards, training for an Alps trail race is not much different from training for a trail race anywhere else. When I work with athletes, we always begin with a long range plan. We start with the race and work forward from that point. Having the big picture of your training goals, no matter what distance or difficulty of race you are training for, is always beneficial.
As a rule, I work with the ethos, least specific to most specific. This means that if you have signed up for a hilly 50km ultra around Chamonix, France, the focus in the 8 – 12 weeks prior to the race will be on increasing running volume, so you are comfortable running at least 6 to 8 hours a week. As best as possible, we'll try to emulate the terrain on which you will be running. The more specific to the race you can make your training, the more prepared you will be when race day arrives.
In this example, earlier in the training cycle is a great time to focus on shorter, "interval" runs, then moving onto some tempo sessions that bring you close to your lactate threshold, which is an indicator of something called our speed endurance. Speed endurance is a measure of how fast we can run for a prolonged period of time and is generally measured up to about an hour.
During the interval runs, you'll be close to your VO2 max, which is a measure of your maximum capacity to transport and use oxygen during exercise. Your maximum VO2 is primarily determined by genetic factors, but we can make some gains with training. In fact, some studies show that athletes over 30 can increase their VO2 max by up to 30% through training. As VO2 max increases, so too can our lactate threshold.
These kinds of high intensity workouts are less specific than the long endurance days usually associated with training for long mountain races, but don't confuse less specific with less important! Training at higher intensities will improve the efficiency of your body's energy systems used to power all your efforts. Even at the lower intensities more common during longer races, our body doesn't switch off its systems responsible for providing energy during more intense exercise. They are still playing their part. So, the more trained we are in all areas of our trail running, the fitter, stronger and more efficient we will be overall.
Programming your training can be a bit of a minefield. There are many variables, and the rest of our life often gets in the way of training plans. Finally, there is often conflicting information out there – that's why coaches have a job! But, if you keep the "less specific to most specific" ethos in mind, you will be starting, literally and figuratively, on the right foot.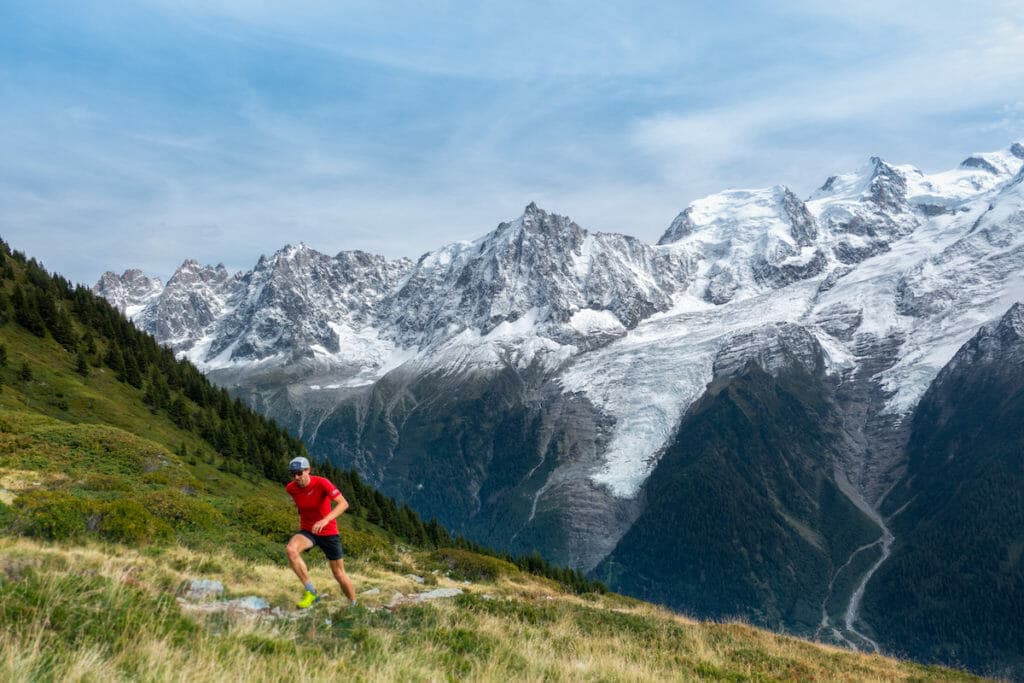 What about All That Vert?
The sheer quantity of vertical running can be one of the most intimidating factors for trail runners coming to race in the Alps. The prospect of 1500m climbs up to cols that are over 2500m high can be daunting. If you live in the mountains, you have nothing to worry about, however. Your weekly training runs are likely to prepare you well for the trails here.
But, what if you live away from the hills?
I work with plenty of trail runners from some pretty flat places but who run races with over 8000m of elevation gain. It can be done! I tend to avoid thinking about training for elevation gain and loss and weekly totals. Instead, I focus on the demands of every kilometer.
Say, for example, I am training for the OCC, a 56km race with 3500m of vert. The OCC starts in Orsieres, Switzerland and runs through the mountains to its finish line in Chamonix, France. I would take the overall elevation change (7000m, in this case) and divide that by the race distance (56km) which would give me the amount of elevation change meters for each kilometer. In this example, that number is 125 meters.
From this simple calculation, I can see that every kilometer of training I do should aim to have roughly 125m of elevation change. So, if I go out and run 10km, the aim would be to build in 625m of up and 625m of down, for a total of 1,250m of elevation change. This replication of the elevation range of a race is most important in the 6 to 8 weeks prior to the race. Most of us have some kind of access to hilly terrain, even if it is not exactly the same as the race on our calendar. And if it's not nearby, look at it as a great excuse to get away for a weekend trail running trip!
What about Trail Running Poles? 
My advice is simple: get yourself a pair of trail running poles and train with them. The gradient can be steep, and if it's not steep, then it's often long!
Everyone in the Alps uses running poles, and for good reason. Poles help prevent muscle fatigue by spreading the load. They also help keep your body upright, aiding uphill propulsion, and they provide balance and support on downhills. Those are just some of the reasons that learning to run with poles is a good idea.
The proper technique for using trail running poles is more akin to nordic skiing than hiking. Poles are not just accessories. They need to be used with purpose, so watch some YouTube videos or attend a nordic walking class. At Run the Alps, our guides specifically cover the use of poles during our trips. We make sure that all of our guests come away from their trail running vacation with all the knowledge they need to get the most out of running with poles. 
There are some scenarios where you might be better off leaving your poles at home. For example, if your race doesn't have very much elevation change (less than 1000m), a race course is extremely technical and requires some scrambling, or a race is fairly short. In these instances poles are less likely to benefit you – but remember, most running packs have attachments for poles, so even in shorter races if you decide to take your poles for the one long climb of the race and then attach them to your bag for the reminder, it is no big deal to have them along. I strongly recommend a running belt (like this) as a great way to stash your poles when not in use.
Racing on Technical Trails
Many visiting trail runners are anxious that they will not be able to cope with the technicality of some of the trails in the Alps while descending. As a result, one of the questions that I get commonly asked is, "How do I get better at running downhill?"
Here's my advice. First, start out easy. When you are selecting a trail race, be sure to investigate the technical challenges of the trails. It's often easy to get a good sense of the technicality of the route by looking at the course profile on the race's web site. If there is a lot of elevation gain and loss over a relatively short distance, then by definition there will be some steep ups and downs. That verticality often translates into a more technical course. Online mapping tools such as Fatmap can give also give you a great feel for the race terrain, before you even set foot on the trail.  
When it come to improving technical trail running skills, it's all about practice. Through repetition, our brain wires together motor nerve firing patterns. If you predominantly run on flat surfaces, and you decide to race on a flat surface, your brain won't have to think about what your legs are doing. The pattern has been saved and, at a subconscious level, your body knows what it needs to do. If you then move to running on steep and uneven terrain, however, your brain won't have a saved plan to deal with this situation. So, you will be forced into dedicating more conscious thought to managing your running. That's both less efficient and more tiring. 
In short, to get better at dealing with technical terrain, you need to practice. Fortunately, there are a few drills that you can do on the trails to help build proficiency more quickly, like practicing running quietly downhill and focusing your gaze a few meters in front of you, rather than directly at your feet.    
What about the Altitude?
Unless you are running a race like Switzerland's Monte Rosa SkyMarathon, a unique Skyrace that reaches an elevation of 4554m, you probably don't need to worry too much about altitude when trail racing in the Alps.
Here's a broad overview of mountain terrain in the Alps: Alpine valley towns tend to sit at around 1000m. Next, there is then often about 800m of forested hillside. Following that, we see around another 800m of open alpine meadows leading into rocky alpine terrain, which gives way to glaciers. With this typical profile, it is rare for trails to go much higher than 2500m above sea level. Simply put, the glaciers get in the way!     
In general, I recommend that Alp trail racers arrive about a week before their race. For most races, you won't be going much above 2000m, and if you do, it's only very briefly. At this altitude, you can feel some effects of the thinner air, but you are very unlikely to feel the full-blown impact, which is more commonly found starting at altitudes of 3000m. A week or so spent running some of the local trails in an alpine town will give you more than enough acclimatization.     
Do I Need to be Concerned with Heat Acclimatization?
I am originally from the UK, where the weather is best described as grey! If like me, you don't come from an area blessed with clear weather, getting used to a different climate can be a challenge.
The Alps can have plenty of that good weather, but here's the catch. You also need to be prepared for anything. I have seen snowstorms in the Alps in the middle of August! 
We can prepare for the cold with good equipment choices, but dealing with the heat often provides trail runners with more of a challenge. Just as with altitude, it takes time for our bodies to adapt. Within 6-7 days of coping with increased heat, we have made the bulk of our adaptations. By 14 days, our bodies have largely adapted to the heat exposure. 
If you come from a cooler area, it's possible to prepare for the heat beforehand by using so-called "passive heat interventions," such as a sauna or hot water immersion. Using dry saunas in conjunction with your training is a matter of balancing significant adaptations without negatively impacting your training.
Here are some general guidelines to use when thinking of using passive heat interventions. It is best to start this process 3 – 4 weeks before your Alps trail race. 
First, start post-workout when you already have an elevated body temperature. In this case, you'll only need to spend 20 to 30 minutes in a dry sauna. You should do this for 7 – 10 consecutive days if you want to experience meaningful adaptations.
After the first two days without passive heat interventions, you'll lose around 2.5% of your adaptation. So, after adding the block of heat exposure noted above, I then recommend adding heat exposure every third day.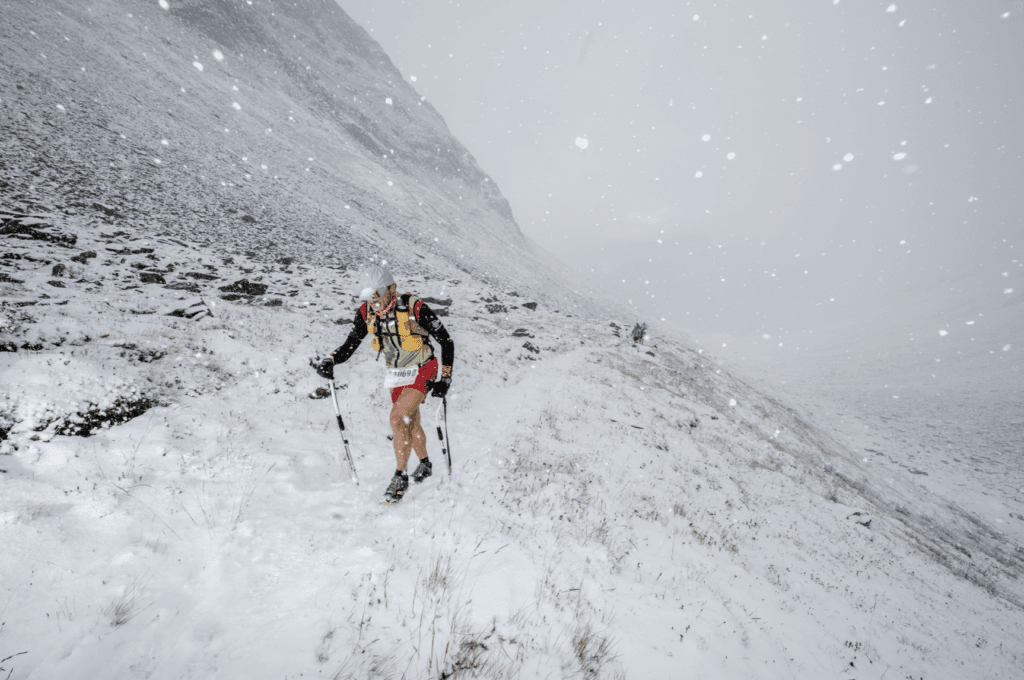 Planning for Alps Aid Stations and Food
In general, aid stations in alpine races are an acquired taste. In terms of sports nutrition, I find a lot of them lacking. If you eat a plant-based diet like I do, fueling become even more difficult. I remember running for about 20 hours in a big Alps trail race, when I arrived at the first aid station. I was starved for some good food. There was hot, bubbling lasagne waiting for the meat-eaters and bouillon broth and crackers for the vegetarians. I was not amused!
A typical spread at most Alps races includes cheese, dried meat, chocolate, fruit, nuts and if you're lucky, bouillon broth. For some people, this hits the spot, but I often find aid stations lacking in carbs and calories that are easy to digest. So, my advice is: prepare accordingly. Make use of drop bags and, if necessary, have a crew on hand to make sure you get the right nutrition at key points in your race. (Run the Alps offers a race crew service, if you are interested in getting support. Contact us for details.)
Where alpine races often do get food right is at the end of a race. There is usually a great selection of local food and drink, and you will probably feel a bit more inclined to try some of the local cheeses, now you are not busting a gut on the course. (Many of the local races even offer a wheel of cheese to the winners!) I have seen people tucking into all sorts of Alp delicacies at the end of races: tartiflettes, raclettes, local bratwurst and, of course, wine from the neighboring vineyards. It is often a real party atmosphere!
Final Thoughts
The more you can do to emulate the conditions of your upcoming race, using the "least specific to most specific" continuum, the more prepared you will be. If you don't have access to hills, altitude or heat… then just get fitter. The fitter you are, the more able you will be to deal with the conditions of your race. So, get out there, enjoy your local trails and let's keep our fingers crossed that races and travel all become a bit easier this year! 
If you would like to talk more about running, training and specific considerations for racing in the Alps then feel free to reach out to me. I'm always happy to chat. All my details can be found at hillperformance.co.uk.
Stay safe, and I hope to see you at a race in the Alps in the not too distant future!
Get in touch with Sam to talk more about training for alpine racing! You can email him at sam [at] hillperformance.co.uk or visit his web site at hillperformance.co.uk.