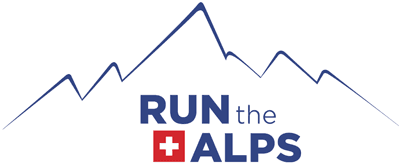 Endless Alps Neck Gaiter
$9.00
Is there anything more versatile than a neck gaiter? Here in the Alps, we use our lightweight Run the Alps neck gaiter year-'round. In the summer, it's great for a bit of bonus warmth when we're trail running in high alpine areas. In winter, when we're in ski mountaineering mode —"ski alpi" as it's nicknamed in the Alps --  it moves down around our neck to help eliminate those pesky cold spots between sometimes-not-quite-overlapping layers.

Our Run the Alps neck gaiter features our classic Run the Alps mountain design of cows, gondolas, rugged terrain, sweet single track, and—of course—a trail runner moving through it all.

If you don't have at least a few gaiters handy right now, you're missing out. Cozy around the neck, they can quickly turn into a lightweight cap or bandanna. And yes, we've used ours to transport a fresh slab of hard Alps Gruyère after generous hut guardians at Refuge Col de Balme on the French-Swiss border have made us sandwiches with slabs of 200 grams of cheese, each!

Models
Run the Alps friend Fran Waes is Deputy Head of sports and outdoor education faculty at College Alpin Beau Soleil in Villars, Switzerland. Fran is also a sports massage therapist, personal trainer, and is the co-founder of BOLD expeditions, a leadership development company.

Doug Mayer is the founder of Run the Alps, and recently did a lap through the Alps as part of the 320-km long Tor des Géants.
Garment Specs
Polyester microfiber manages moisture and dries quickly
4-way stretch design allows for maximum flexibility
Seamless construction for maximum comfort