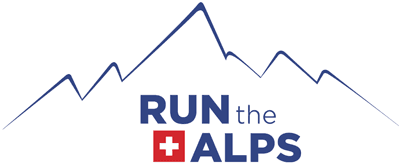 Courmayeur to Chamonix with Max King
| Dates | Duration |
| --- | --- |
| Jun 23, 2024 - Jul 1, 2024 | 9 days - 8 nights |
Join Max King, one of the true legends of trail running! We'll run through three countries on the Tour du Mont-Blanc, finishing in Chamonix, France with the option of running in one of the races of the Mont Blanc Marathon series.
We've been friends with Salomon international trail running athlete Max King for years, so it's with special pleasure that we get to announce a unique trip with Max– one that incorporates a visit to the legendary Salomon global headquarters, a chance to race in one of the world's best-known race series and— of course– plenty of time with Max, too. 
It's not easy to summarize the accomplishments of this resident of Bend, Oregon. Max has accolades that stretch back to World Mountain Running Championships in 2011, and run through to the present day. He's stood atop podiums around the globe, runs his own trail running camps, has launched a winter ski mountaineer program, and is a driving force for Salomon's global trail running efforts. Plus, simply, Max is a great guy, deeply admired for his skills, tenacity, knowledge, and willingness to share it with others. 
We're delighted to welcome Max to the Alps in 2024!
Our trip starts in the rustic Italian village of Courmayeur, on the south side of Mont Blanc. Our first day of trail running is along the high pastures of Val Ferret, within full view of Mont Blanc's glaciers. That afternoon, we'll have an optional navigation skills session with Max, then we'll spend the night in the welcoming and picturesque Rifugio Bonatti.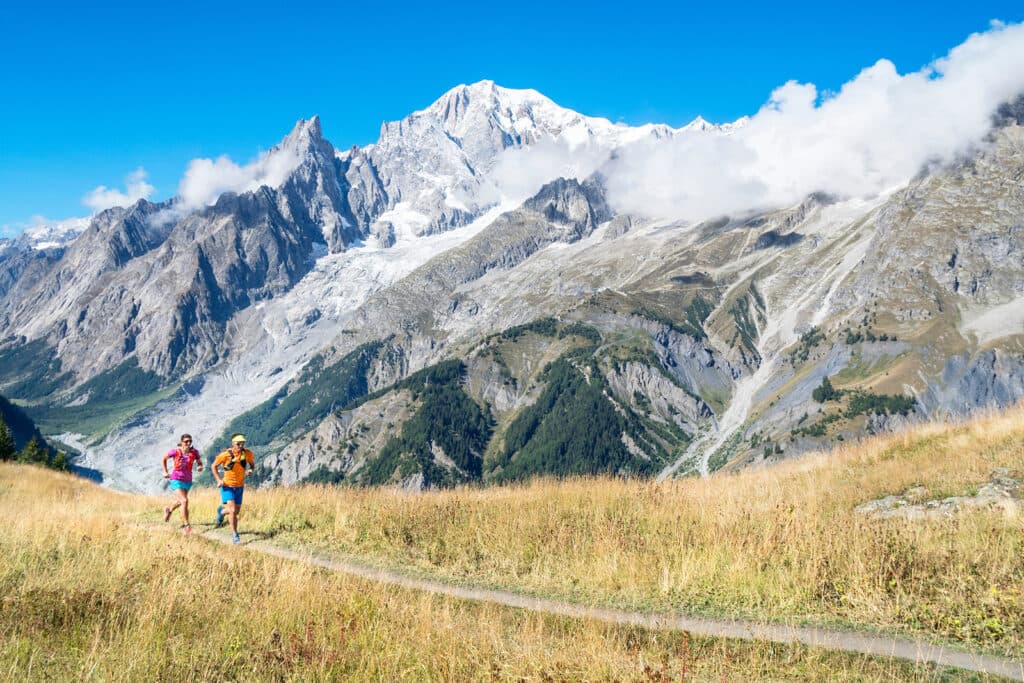 Our route then takes us over the border to Switzerland. We'll cross Grand Col Ferret and then it's on to the mountain villages of La Fouly, Champex-Lac and Trient.
From Trient, we'll run over Col de Balme on the French-Swiss border, and descend to Chamonix, having completed the northern half of the Tour du Mont Blanc. Chamonix is the world's epicenter of trail running, and no place has more trail running history, or is more alive with mountain runners. We'll be there for all the excitement of the legendary Mont Blanc Marathon series of trail races, which range from 10 km to 90 km. Many of the world's best trail runners will be on hand. A limited number of race entries are available through Run the Alps.
Chamonix is known as "La Vallée du Trail," and we'll take full advantage, sampling some of the best runs, through the Aiguille Rouge nature preserve, onto the high balcony routes on either side of the valley, and even the thrilling "Kilomètre Vertical."
Book this tour
Cost
$5,890 per person
$500 single supplement
Dates
Jun 23, 2024 - Jul 1, 2024
Guides for selected date:
Make it private guided
Your companions, your dates, your tour– we do the rest.
Inquire here.
Itinerary
The impressive breakfast buffet at Hotel Bouton d'Or in Courmayeur (courtesy photo)
Day 1
Enjoy a shared shuttle from Geneva airport to Courmayeur, Italy. In the evening, we'll relax at our charming Courmayeur hotel with Max, our guides and the rest of the group for our trip kick-off gathering and dinner.
Accommodations: Hotel Bouton d'Or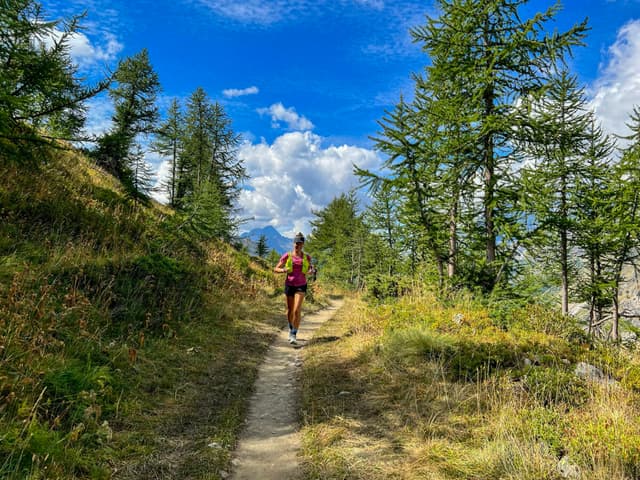 Cruising along smooth single track away from Courmayeur. (Photo: Lauren Rock)
Day 2
We'll trail run a breathtaking route on the Tour du Mont Blanc with a sustained ascents, and smooth single track, all with big views, finishing at the La Peule mountain hut in Switzerland. Max will share orientation skills with us after we settle in at the hut.
Accommodations: Gite Alpage La Peule
Leaving Italy's Val Ferret, climbing to the Grand Col Ferret (Patitucci Photo).
Day 3
Today we continue running through the Swiss Alps, down to the village of La Fouly. From here, it's easy cruising down this Swiss valley. We'll have plenty of stops at mountain huts on our way to our evening's destination, the lakeside village of Champex-Lac.
Accommodations: Hotel Splendide
Reaching the Col de Balme – the border between Switzerland and France (Photo: Daniel Fitzgerald)
Day 4
Gentle miles through Swiss hamlets take us to a climb up to Bovine, a classic stop on the Tour du Mont Blanc with stunning views, a herd of cows, and homemade cake and drinks. Next, we'll descend to the mountain-ringed village of Trient, followed by a final climb and descent to the Chamonix valley.
Accommodations: Hotel Lykke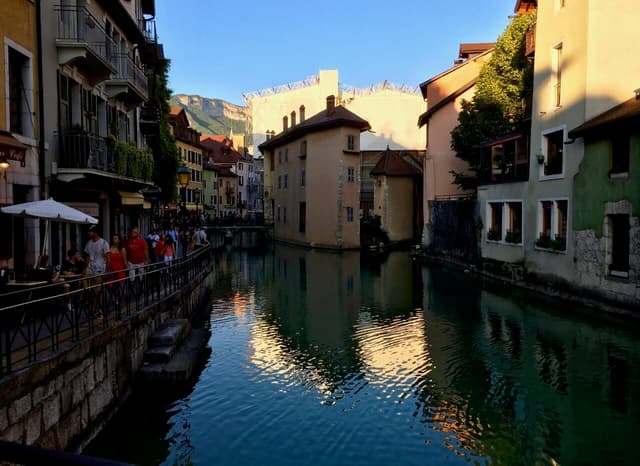 It's hard to resist Annecy's narrow, ancient cobble-stone alleys.
Day 5
Time for a unique road trip to Annecy, the "Venice of the Alps," a 90-minute taxi from Chamonix. We'll enjoy a gentle run before heading to Salomon's World Headquarters to hear some of the fabled stories of this iconic trail running thinktank.
Accommodations: Hotel Lykke
Trail running the Grand Balcon Nord Trail. (Photo: PatitucciPhoto)
Day 6
Pick your activity! If you're racing, it's time for some rest. If you'd like to run, our guides will lead you up to the Mer de Glace glacier, followed by a trip up one of the world's highest trams.  At night, you can pick one of Chamonix's many wonderful open-air restaurants for a dinner on your own, even as you watch the finish of Chamonix's 90 km race course from your table!
Accommodations: Hotel Lykke
Trail runners on the scenic trails above Chamonix valley with the Aiguilles behind
Day 7
Today is race day for the classic 23-km Cross du Mont-Blanc, and a 10-km trail race. Run the Alps has entries available for trip participants,  There are great trail-side locations to which we can run and cheer runners if you'd rather watch– your guide will design a varied and fun trail running route. 
Accommodations: Hotel Lykke
The view from Les Possettes during the Mont Blanc Marathon. (Photo: Gaetan Haugeard, Chamonix Club des Sports.)
Day 8
Today it's the Mont Blanc Marathon! Entries are available for trip participants, Those not racing can take in the race. The day ends with a celebratory dinner in Chamonix.
Accommodations: Hotel Lykke
The streets of Chamonix.(Photo: Kim Strom)
Day 9
It's time to take leave of the Mont Blanc region. Your shuttle will take you directly to Geneva for your homeward bound flight home. 
Meals: Breakfast
What's included
Round-trip Geneva airport transfers; 7 nights in village hotels; 1 night remote inn; Breakfast each morning; light lunches each day; Trail nutrition from Run the Alps partners each day; 7 dinners; Guided runs daily with certified guides and Max King; All transfers to and from trailheads; Luggage transfers; Run the Alps Guide to Trail Running in the Alps; License free photography; Visit to the Salomon ADC in Annecy

Not included: Flights; Drinks with dinner; 1 dinner in Chamonix (recommendations provided); Extra charges made at accommodations such as room service or laundry; Tips for guides.

Please read our terms and conditions before signing up.

All Run the Alps guests receive a copy of our Guide to Trail Running in the Alps to assist in preparing for their trip.
Guides for this Tour
Tour dates: Jun 23 - Jul 1, 2024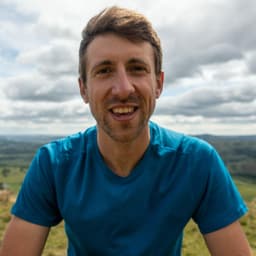 Book this tour
Cost
$5,890 per person
$500 single supplement
Dates
Jun 23, 2024 - Jul 1, 2024
Guides for selected date:
Make it private guided
Your companions, your dates, your tour– we do the rest.
Inquire here.