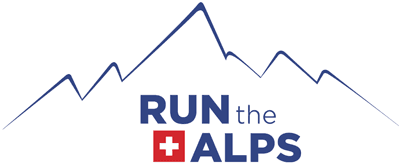 Via Valais
The Via Valais is one of the premiere multi-day trail running routes in the Alps!
This challenging high-mountain route was designed by our friends at ALPSinsight, specifically with trail runners in mind. You'll traverse valleys and run over high passes and through meadows on your journey across the Switzerland's Valais Alps, from Arolla to Zermatt.
Accommodations are hotels in rustic Alp villages or high mountain huts, where you'll enjoy hearty local cuisine.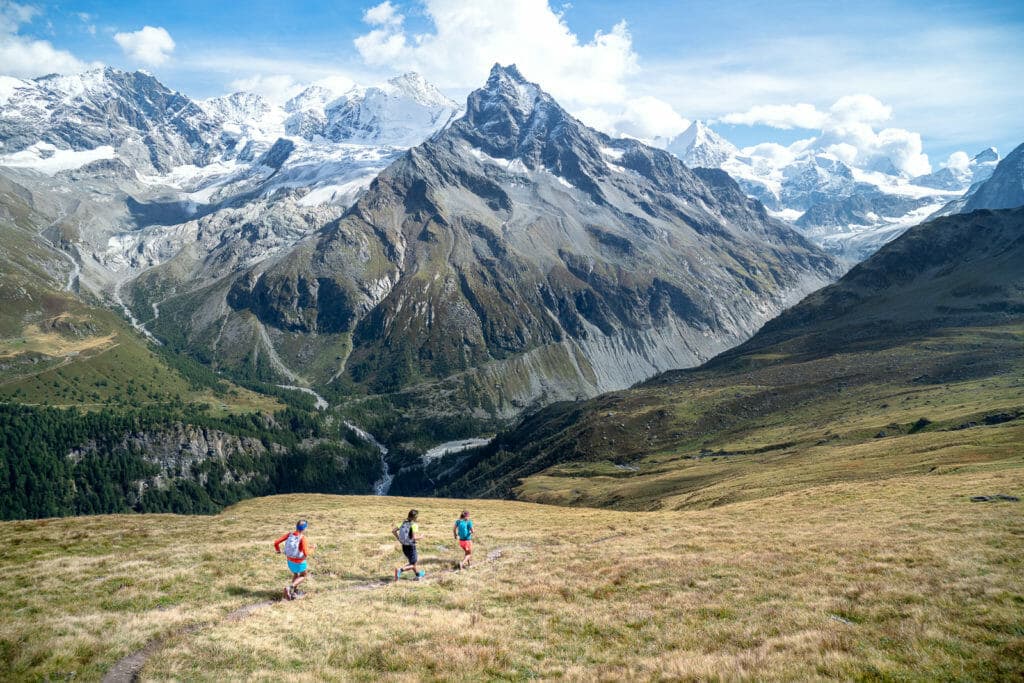 Our version of the Via Valais starts in the beautiful Swiss village of Arolla, famous as a base for mountaineering. After a day of travel, we suggest kicking your adventure off with a day of trail running in this wonderful, remote valley, before heading off on the journey towards Zermatt, at the foot of the Matterhorn.
You'll leave Arolla to head up to the Becs des Bossons mountain refuge at 3149m – your first "fast-packing" night, carrying a few extra items for a comfy evening at this high cabin. The next day you have a more undulating run, passing beautiful Moiry Lake, to your hotel in Zinal. As on some other days, there are options to make this route longer or shorter.
From Zinal, you say goodbye to French-speaking Switzerland and travel into the German-speaking region. Today's route follows the last section of the famous Sierre-Zinal race course, before you head over the Col de la Forcletta to end your day at the Turtmann mountain hut.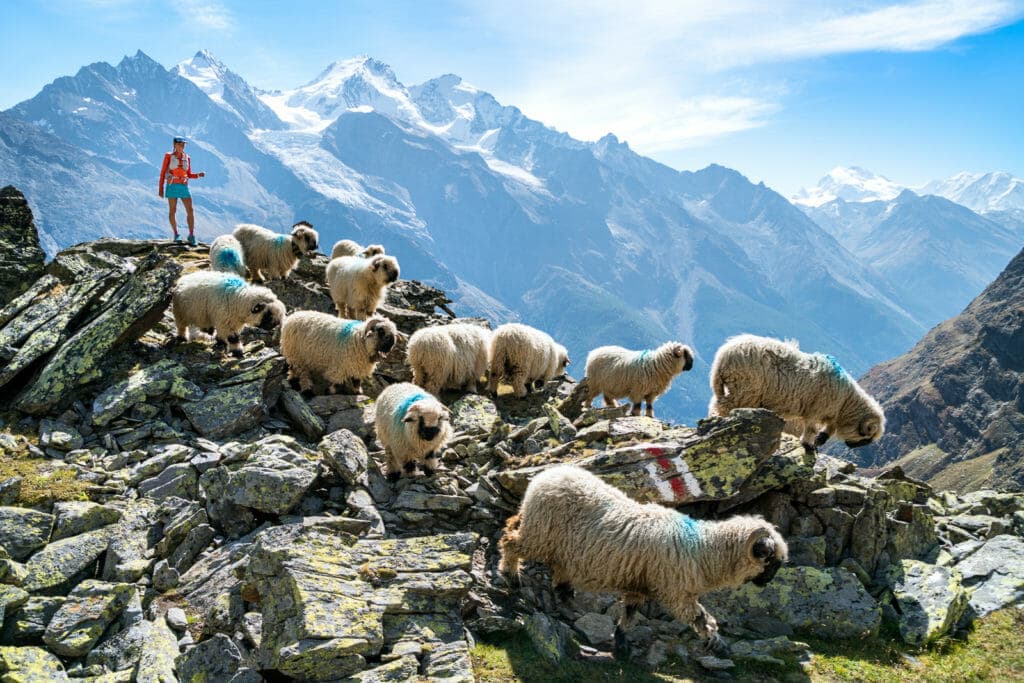 The next day you'll reach the final valley on your journey to Zermatt – the Mattertal. After staying the night in St Niklaus or Täsch, you will run part of the Europaweg trail to the Fluhalp mountain hut where you'll stay high above Zermatt. The final day of running takes you along cruisey trails around the head of the Mattertal – with plenty of café options along the way!
As part of this tour, one bag per guest will travel separately, and will be waiting for you when you arrive in each village hotel. During your nights at mountain huts, you'll need to be self-sufficient, bringing a few extra items to spend the night. Run the Alps will provide all information on what to bring for your hut nights, including recommended trail running pack sizes for those fast-packing days.
Sample itinerary:
Day 1 : Arrive in Switzerland, and travel to Arolla, the pretty village high at the end of the Hérens valley. You'll stay in the historic Hotel Kurhaus, where you can relax and enjoy the views from the lawn or shady terrace.
Day 2 : Get used to the trails by running up to Cabane des Aiguilles Rouges, or to the Pas de Chèvre. Alternatively, you could spend the day exploring the rugged, traditional Swiss village of Arolla.
Distance 18-25km;  Ascent and descent 800-1300m 
Day 3 : Take a taxi to Les Haudères, then head up to a mountain hut, with views stretching all the way to Mont Blanc. Bag delivery isn't possible, so you'll fastpack this section. You'll sleep in a rustic but comfortable dorm room.
Distance 15km (9mi); 1700m (5580ft) ascent
Day 4 : Head down to Lake Lona, over the Basset de Lona and down again to Lake Moiry. A bigger second ascent brings you up to Corne de Sorebois, then it's a long descent to Zinal village, either on foot or by riding a tram.
Distance 23-32km (14-20mi); 1000-1200m (3280-3940ft) ascent and descent
Day 5 : This route starts by reversing the Sierre-Zinal race course. You'll climb steeply to a balcony trail, then head over to the Turtmann valley. You'll sleep in dorm accommodation in the Turtmannhut, and bag delivery is not possible.
Distance 17km (10.5mi); 1800m (5900ft) ascent

Day 6 : You'll reach the Zermatt valley by heading over the Augstbord pass, then down to St Niklaus village. It's possible to avoid the descent by riding a cable car down from the mountain hamlet of Jungen.
Distance 15-20km (9-12mi); 1100m (3608ft) descent
Day 7 : Take a train to Randa village, then cross the exhilarating Charles Kuonen suspension bridge. Alternatively, avoid the bridge by making a slight detour. On the other side, follow the high traverse to your mountain hotel. You'll sleep in dorm accommodation, and bag delivery is not available.
Distance 21-25km (13-15mi); 1600-2025m (5250-6640ft) ascent
Day 8 : This route takes you around the head of the Zermatt valley. The trails are cruisy, with gentle gradients, and incredible views the whole way! A steep descent will bring you down into car-free Zermatt.
Distance 27km (16mi); 1300m (4265ft) descent
Day 9 : On this last day, you can take some time to explore Zermatt, a historic climbing and ski town dotted with centuries-old wooden chalets. You could go on a local trail run, using the trams or cog-railway trains to avoid too much up and down. Or, if you'd prefer to save your legs, you could just kick back and enjoy the hotel spa!
Day 10 : After a final breakfast in Valais, you'll start your journey home, elsewhere in the Alps, or wherever your travels take you next!
TOUR CHALLENGE
Challenging
Self-guided tour FAQ
When you sign up to run the Via Valais, your self-guided trip will be planned in detail by the travel specialists at Run the Alps.
Our Via Valais self-guided tour includes the following components:
* Three-star hotel and mountain hut bookings.
*Breakfast each morning and dinners each night.
* Thorough travel instructions, regional information, our Guide to Trail Running in the Alps , and detailed run descriptions printed on durable, waterproof paper, complete with a run profile, time estimates, bail-out options, emergency numbers, and a map. See a sample of the 'Overview' section.
* Typical pricing is $2,850/person for a 8-day, 7-night Via Valais self-guided tour, assuming double occupancy. Single supplement fee is $600.
* Typical pricing is $3,390/person for a 10-day, 9-night Via Valais self-guided tour, assuming double occupancy. Single supplement fee is $700.
*We'll make a reservation for you at the Turtmann Hut. They require payment in cash at the time of the stay. So you'll need to bring 100 CHF per person.
* There are shorter and longer options available. Please contact us to discuss the best tour for you!
* Recommended start dates for the Via Valais tour are from June 15th – September 12th.
Since tour planning time and materials are the same regardless of trip length, cost for shorter trips are not reduced proportionally.
As we work with you to develop your self-guided itinerary, consider adding one of the many great Alp trail races into your plans. Please contact us to discuss trail race options and timing.
No matter where you are, on every self-guided trip, if a problem arises, Run the Alps is just a phone call away.
Terms and Conditions : Read up on Run the Alps' Terms and Conditions, Covid-19 policy, and travel insurance.
The full Via Valais route, as outlined on the ALPSinsight web site , is nine days. If your schedule allows for the entire route, let us know and we can provide a self-guided itinerary with cost.