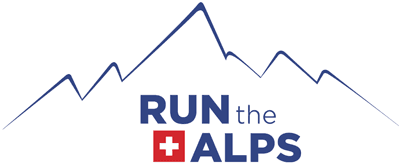 Women's Trail Camp with Meg Mackenzie
| Dates | Duration |
| --- | --- |
| Varies | Varies |
Join On Running athlete Meg Mackenzie for a special women's only trail running camp in Chamonix, France and Courmayeur, Italy.
Run the Alps is pleased to offer a special trail running camp just for women, hosted by Run the Alps friend and ambassador, Meg Mackenzie.
Each day of Meg's camp will feature a new trail run, as we explore the hundreds of kilometers of trails in Chamonix, France and Courmayeur, Italy.  After a morning run and a break for lunch at a high mountain refuge or in town, we'll gather later in the day to discuss the current challenges that women may face in mountain activities and how society's expectations may be holding us back. We'll then consider how to navigate these challenges with both confidence and courage.
For those of you who don't know Meg, she is one of our most energetic, upbeat and fun friends here in Chamonix. Meg has raced competitively around the world, and has had top finishes in races from Chamonix's Mont Blanc Marathon to South Africa's Ultra Trail Cape Town. And while Meg excels at trail running, it's just one part of her life. She's also a trail running coach, certified master life coach, and working on a documentary featuring the role of destigmatizing menstrual cycles in sport and life. In 2021, Meg moved fulltime to Chamonix, where she continues to represent her home country of South Africa. You can read more about Meg here.
Meg's style is inclusive, warm and supportive. Says Meg, "My goal is to get more women involved in trail running and help those already in it to gain more self-confidence on the trails. Too many women think they are somehow inadequate or not strong enough for mountain activities."
Meg will be joined by notable women athletes from the Chamonix valley and elsewhere in the Alps. Coming from different sports like free skiing and climbing, the unifying theme will be courage, overcoming obstacles and building self-confidence– all, no matter the level at which you run. While the confirmed list will not be announced until early summer 2023, possible guests include Stephanie Case, pro skier Hadley Hammer, internationally-acclaimed trail runner Fernanda Maciel and snowboarder Marion Hearty.
This camp is specifically open to all levels. Participants need only arrive with enthusiasm for trail running and basic trail running skills. If you have questions, you can email Meg via Run the Alps.
So, what's it going to be like? Here are two reviews from last year's camp:
The group was fantastic. Meg and the running guides did so well in ensuring we all had our pace and felt challenged but not overwhelmed. The routes were really well thought out and showcased such a variety. The restaurants were fantastic and the added guests triggered great conversation and discussion about women in sport. Amazing experience all round!
As a relatively new trail runner, there were plenty of opportunities for me to learn. It was absolute magic being able to do it in the beauty of the mountains and surrounded by the communal kindness, strength, and joy of all the inspiring women I got to share the time with. I really admire and resonate with Meg's message of empowering women in mountain sports and beyond. She is also the loveliest person. I came away feeling more confident in what I can do, and I hope more can get to experience this as well!
Book this tour
Cost
$3,190/per person
$450 single supplement
Make it private guided
Your companions, your dates, your tour– we do the rest.
Inquire here.
Itinerary
Here's what's for lunch at Chamonix's Chalet Floria. (Photo: Doug Mayer)
Day 1
You'll arrive in Chamonix, and there's the option of a casual group run of 6.8 km with 360 meters of vertical, to the colorful Chalet Floria.
Accommodations: Hotel Refuge des Aiglons
Cheers. (Photo: Kim Strom)
Day 2
A day exploring the world of trail running on the beautiful Posettes mountain above Le Tour, just a stone's throw from the Swiss border. Afterwards, we'll stop at Big Mountain Brewery in Chamonix, where we'll be joined by a special guest.
Accommodations: Hotel Refuge des Aiglons
Day 3
Today we'll ride through the Mont Blanc tunnel, to the historic town of Courmayeur, Italy. We'll run a high balcony section of the Ultra-Trail du Mont-Blanc course, above Courmayeur.
Accommodations: Hotel Walser
Plenty of pie at Refuge du Plan de l'Aiguille. (Photo: Meg Mackenzie)
Day 4
After a wonderful buffet breakfast at Hotel Walser, we'll shuttle back to Chamonix then hike up to the Montenvers hotel above the famous Mer de Glace glacier.
Accommodations: Hotel Refuge des Aiglons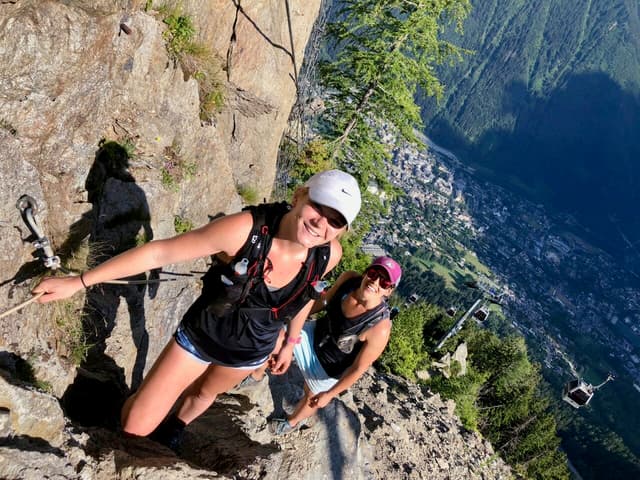 There are plenty of other options, but Chamonix's Vertical; Kilometer is still pretty cool! (Photo: Doug Mayer)
Day 5
We'll climb out of Chamonix on the dramatic and inspiring Kilometre Vertical. In the afternoon, we'll treat ourselves with a trip to QC Therme, the deluxe spa in Chamonix.
Accommodations: Hotel Refuge des Aiglons
Leaving the trails above Chamonix. (Photo: Kim Strom)
Day 6
Today we say Au Revoir to the other Run the Alps guests as we catch our shared shuttles to the Geneva Airport or continue our travels elsewhere.
Meals: Breakfast
What's included
Four nights at the four-star Hotel Refuge des Aiglons in Chamonix, France and one night at the three-star Hotel Bouton d'Or in Courmayeur, Italy. All breakfasts and four dinners, guided runs daily with an International Mountain Leader and On Running athlete Meg Mackenzie, round-trip Geneva-Chamonix transfers, all transfers to and from trailheads, special guests during group dinners, license-free photography. Run the Alps Guide to Trail Running in the Alps sent prior to the trip. Spa afternoon at QC Terme in Chamonix. Special gift provided at close of trip.
Tour category
Village based
Tour stories
Book this tour
Cost
$3,190/per person
$450 single supplement
Make it private guided
Your companions, your dates, your tour– we do the rest.
Inquire here.