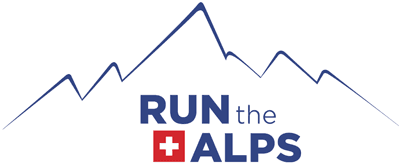 Gratitude
It's been a remarkable summer for Run the Alps. We owe huge thanks to a wide assortment of people.
This is my thought, as I make my last 700-meter climb of the season up to the Hotel Weisshorn from St Luc. It's my fall-back trail run, on days when I'm mostly tied up in front of my computer.
Fall has arrived and it's time for Run the Alps to wrap up for the season—and for me to head for home. Autumnal colors are here in the Alps, and the high pastures are quiet. Désalpe celebrations have taken place and most of the cows, sheep and goats are at their winter homes at lower elevations. The trails are quiet, with just a few local residents out for a walk, and an occasional lingering hiker. Or trail runner.
At the Weisshorn, I immediately start writing this post. I type furiously on my iPhone. When inspiration hits, I've come to realize you need to seize the moment, even if that means suffering through the curious looks of the hikers at the next table over. They must think I'm writing the world's longest text message.
It's a great spot, here. You can run hard for an hour, reach the hotel, and relax with one of the best views in the Alps and a cup of coffee. Or blueberry tart. Here's what it looks like as I write these words.
The season is winding down, and my compass is once again pivoting towards home in New Hampshire. I've started the slow process of gaining a bit of perspective on what has been one of the best summers in recent memory.
I had a routine this season, here in St Luc—an old village, high in the Valais Alps, in a valley that I think of as the epicenter for trail running in Switzerland. After each trail race, I pin the bib to the one from the prior race. By August, I had a Swiss-trail-running-mobile that hung from the corner of my tiny, rented chalet. Today, that string of race bibs reaches down to the floor of the deck.
I save race bibs. I'm sentimental about those events. The bibs get shoved in a drawer at home and every now and then, usually by accident, I come across them and remember those moments. They're tangible reminders of memorable and even sometimes dramatic moments in my life. Cormac McCarthy once wrote that, "Scars have the strange power to remind us that our past is real." Race bibs, of all things, are a bit like scars… only less painful. Mine remind me that, yes, I really did run 51 km all day, within sight of the Eiger. I did battle my way through another edition of Sierre-Zinal. I ticked off a fast (for me) run around the Dents du Midi range, good for second place in my age division, in the non-elite category. There's the Chandolin double vertical kilometer, too—an unrelenting uphill push with a great spirit about it. The list goes on.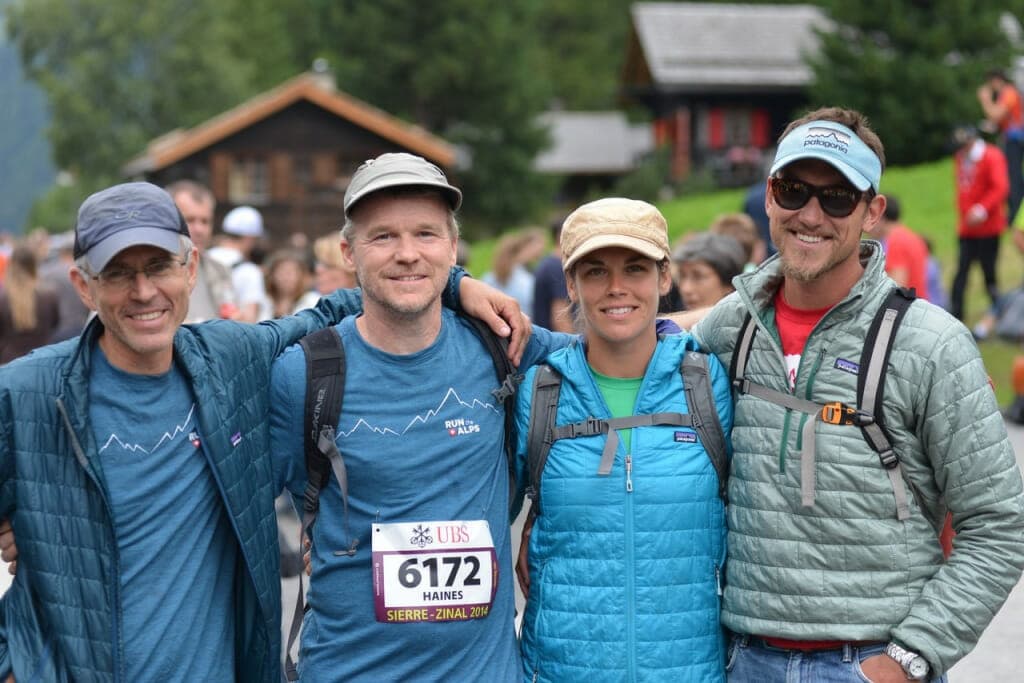 It's easy to think those events were the highlights of the summer. They're what first springs to mind when someone asks, as they are now starting to do, "So, how was your summer?"
But, races are just one chapter in the story—exclamation marks to long sentences that include an array of stunning trail runs with clients, family, and friends. Lenk to Gstaad. St. Luc to Zermatt. The Alpstein. Chamonix, Leukerbad, Champery, Zinal, Chandolin.
Dig a little deeper, though, and behind all of those great moments in the mountains, is a big list of great, adventurous, people. And that's where this story ends.
I owe a debt of thanks. If companies can give thanks, then Run the Alps owes it, too.
Here's my list: Troy Haines, Abby Strauss-Malcolm, Dan and Janine Patitucci, Marc Jones and Diane Sifis, Kate Allen and Curtis Moore, Nick Pittman, Ralph Näf, Martin Strahm, Seth Vanderwilt, Philippe and Sophie Zurkirchen, Gil Caillet-Bois, Connie Gardner, Brian Tinder, Graciela Pfannenstill and Sixten, Arash Kia, Ronnie Weed, Karen Murphy, Walter and Melissa Bleser, Igor Tavella, Andreas Irsara, Tite Togni, Val Stori, Tonya Olson, Cedric Pignat, Jean-Claude Pont, René  Pletschet, Michel Hodara, Emmanuel Vaudan, Mattieu Girard, Alex Schlich, Hadi Barkat, Tania Rinaldi Barkat, Heddi Nieuwsma, Nate Moore, Thom Fresneau, Johanna Stansfield…. and the driver of the last Postbus out of Zinal one August evening, who waited for me as I finished a 20 km run in the mountains with a mad sprint through town along La Barmette. There are many others, of course. This list is anything but comprehensive. So, thanks to all of you whose names elude me at the moment.
Thanks for a fabulously memorable summer. I'm grateful—and here's looking forward to another great summer. Before we know it, it'll be just around the corner.
Doug Mayer
Run the Alps
St Luc, Switzerland