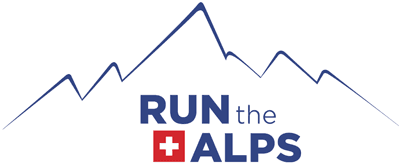 (What Just Might Be) The Greatest Trail Running Vacation, Ever
(What Just Might Be) The Greatest Trail Running Vacation, Ever
Not long ago, I was working with Troy Haines, the founder of Run the Alps' partners, Alpinehikers, when he posed the question, "If you had an entire month, and you could plan any trail running trip in the Alps you wanted, where would you go and what would you do?"
It was a tantalizing question. Once I got over the surprise, I started to daydream.
I had some cool ideas, which together we refined. I asked our guides and Run the Alps staff and friends for their recommendations.
What started as an outrageous brainstorm suddenly came to life.
Inspired, we got to work on an itinerary. We pushed ourselves to create a trail running experience that would be unique and very memorable. A true once-in-a-lifetime trip.
The result is our dream Alp trail running trip.
It's so cool, we decided to share it here.
This is the trip we would do if we had a month and wanted to experience the best trail running experiences the Alps have to offer. It's got many of the best trail runs, and what are arguably the two most iconic events in the region.
Oh, and we built in time to relax, too – at some of our favorite places to chill and get some downtime in the Alps.
Whomever goes on this trip, well, we're flat out envious.
Here it is.
August 1: Fête Nationale in Champéry, Switzerland
There are bigger towns in the Alps to celebrate Switzerland's annual Fête Nationale, but in our opinion, no place more special. You'll experience Switzerland's equivalent of the American Fourth of July in one of our favorite villages, complete with a traditional parade down Champéry's Rue du Village and glowing bonfires on the summits of the Dents du Midi range. You'll stay in a deluxe suite at one of our favorite inns anywhere in the Alps, Art.Boutique.Hotel Beau.Sejour, run by our dear friends, Philippe and Sophie.
August 2: Zermatt, Switzerland
From Champéry, you'll head by train, first-class through the Alps, finishing with a cog railway ride up to car-free Zermatt. The next day, you'll trail run under the Matterhorn, stopping for pastries and coffee at the Hotel du Trift, before finishing your run at Hörnlihütte – the Swiss Alpine Club's high mountain hut that's been the starting point for ascents of the Matterhorn for more than a century.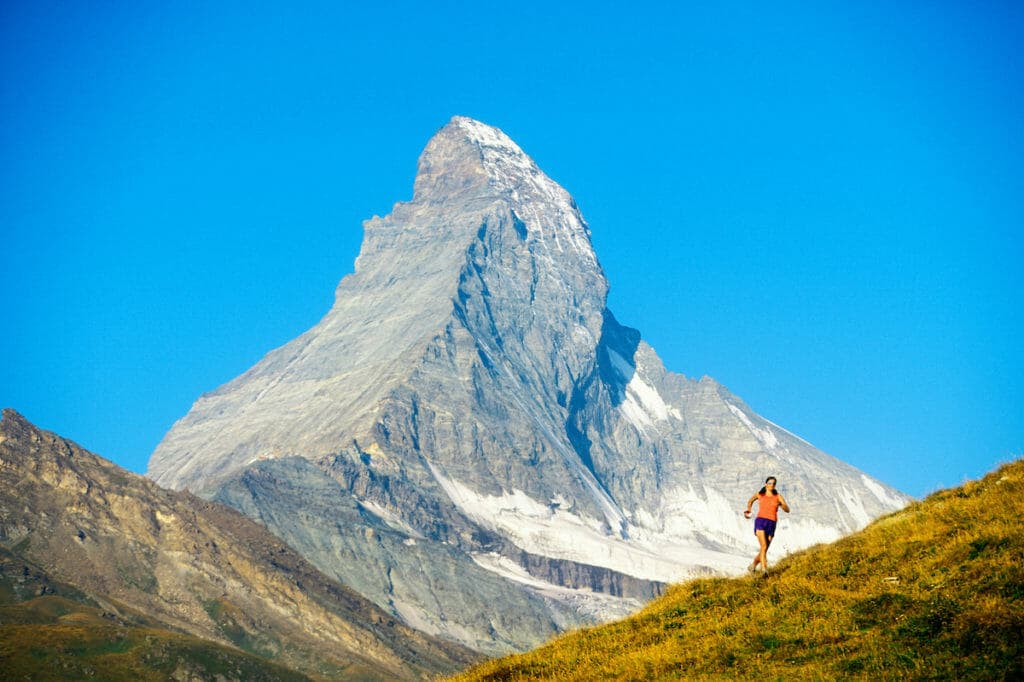 August 3-9: Trail Run the Berner Oberland (Guided or Self-Guided)
From Zermatt, it's on to Switzerland's magnificent Berner Oberland, for six days of inn-to-inn running. Your bags will be transported for you, freeing you to run with light trail running vests. You'll run past glaciers, into the Jungfrau-Aletsch World Heritage Area and stay at Obersteinberg, a rustic inn and working dairy farm high in the Alps. You'll stay in the car-free towns of Wengen and Murren, and spend several days in the famous mountain resort of Grindelwald, in the shadow of the Eiger.
August 9: Run the Hardergrat (Guided)
Trail run the world famous Hardergrat. One of the most dramatic trail runs in all of Europe, the Hardergrat has been put on the map by mountain sport photographers Dan and Janine Patitucci. (Here's their story about it.) A licensed Swiss mountain guide is required for this exposed, dramatic, once-in-a-lifetime run.
August 10: Enjoy Downtime at One of the World's Great Thermal Baths
The Hardergrat is a long challenging day, so you'll rest by taking SBB, the Swiss rail system, first-class to the Valais region of Switzerland. This is followed by a bus ride up a valley to the village of Leukerbad where, ringed by mountains, you can soak in the world-famous thermal baths.
August 11: Guided DIY Gemmi Run
Today's your day to try to Leukerbad's quirky but popular DIY Gemmi Pass Run. Originally traveled by Roman traders seeking a route through the Alps, the path is now a popular uphill trail run. See if you can get to the top in 65 minutes and win a free trip down in the tram!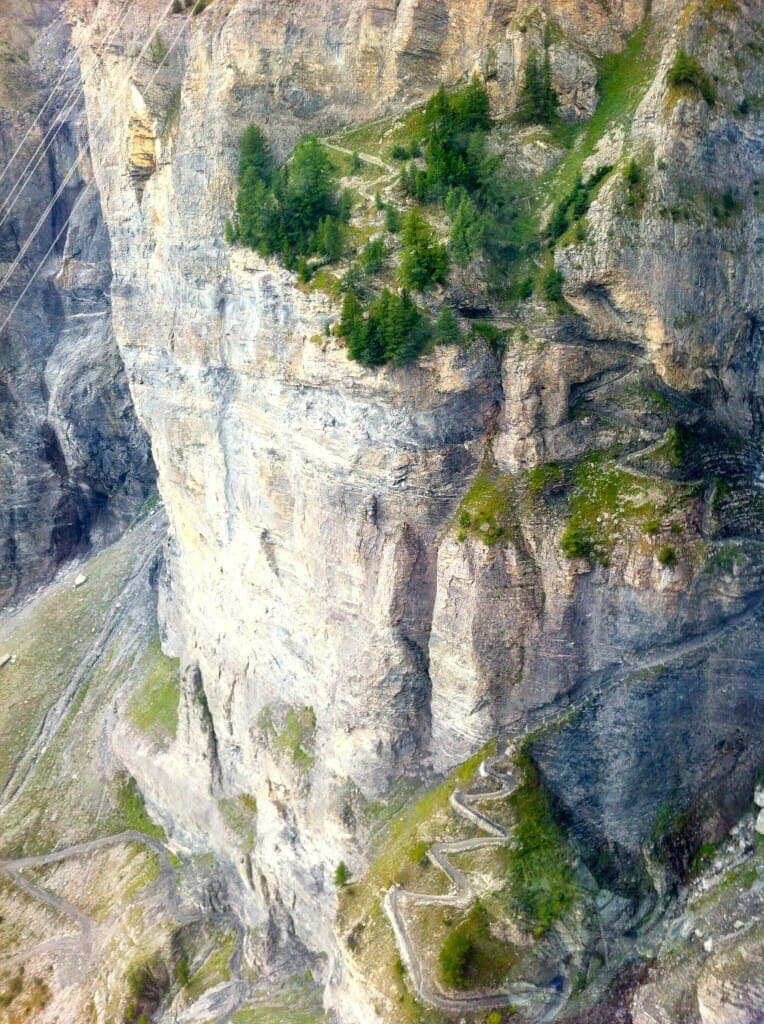 August 12-15:  Behind the Scenes at Sierre-Zinal
From Leukerbad, it's off to nearby Zinal, another village ringed by mountains – this time, on the Swiss-Italian border. Here, you'll take in one of trail running's unique scenes: Zinal village before the Sierre-Zinal race. Sierre-Zinal is a homecoming of sorts, with trail runners from around the world congregating in the lead-up to the race. We'll cross paths with some of the world's fastest trail runners, run some of the course of the "Race of the Five, 4,000-meter Peaks," and – if you want – run the 31-kilometer long iconic race, now in its 45th year.
August 15-17: Meet the Monks of St Bernard Monastery (Guided or Self-Guided)
After Sierre-Zinal, it's time to get away to a quieter corner of the Alps. You'll head off for remote mountain huts, trail running first to the Swiss Alpine Club's Chanrion hut, located at the end of the quiet Val Bagnes. Then, it's over the Fenêtre de Durand and into Italy, for a night at the Italian Alpine Club's Refuge Champillon. The next day will have you trail running along a high traverse to historic St Bernard Pass, on the Swiss-Italian border. Here, you'll spend an evening with the monks who for more than 1,000 years have managed the hospice and monastery in this location, home to the famous St Bernard dogs.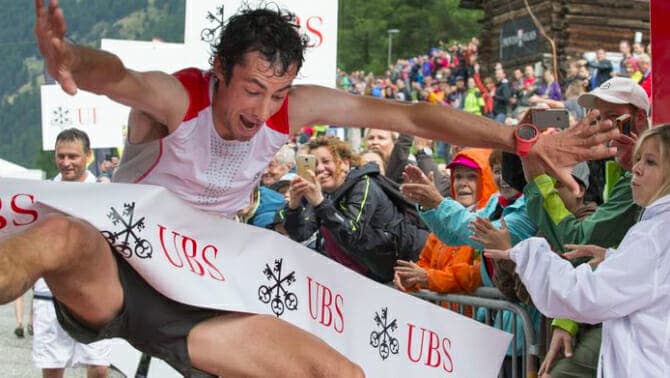 August 18-20: Time Out on the Sunny Side
Before the grand finale of our trip, it's time for some rest and relaxation. Fortunately, quiet Courmayeur in Italy isn't far away. You'll head into Italy, the "sunny side" of Mont Blanc, and enjoy a few days in rustic Courmayeur, known for its pedestrian walkways, quiet cafes, and famous cuisine. One day will be at the nearby Pré St. Didier Spa, a 220 year-old natural spa that today offers a variety of spa treatments and massage. You'll have the option to trail run in Courmayeur, with or without a guide, in the scenic Val Ferret or Val Veny.
August 21 –22: Preview the Tour du Mont-Blanc Course (Guided or Self-Guided)
Leaving Courmayeur, you'll take the gondola up the Italian side of Mont Blanc on the Skyway Monte Bianco, to Pointe Helbronner. From there, it's across the Mont Blanc massif, traveling above the glacial plateau on the Courmayeur-Chamonix gondola, to the dramatic Aiguille du Midi spire, over 9,000 feet above Chamonix, France. You'll see ice climbers on some of the world's most famous climbs, before descending to Chamonix.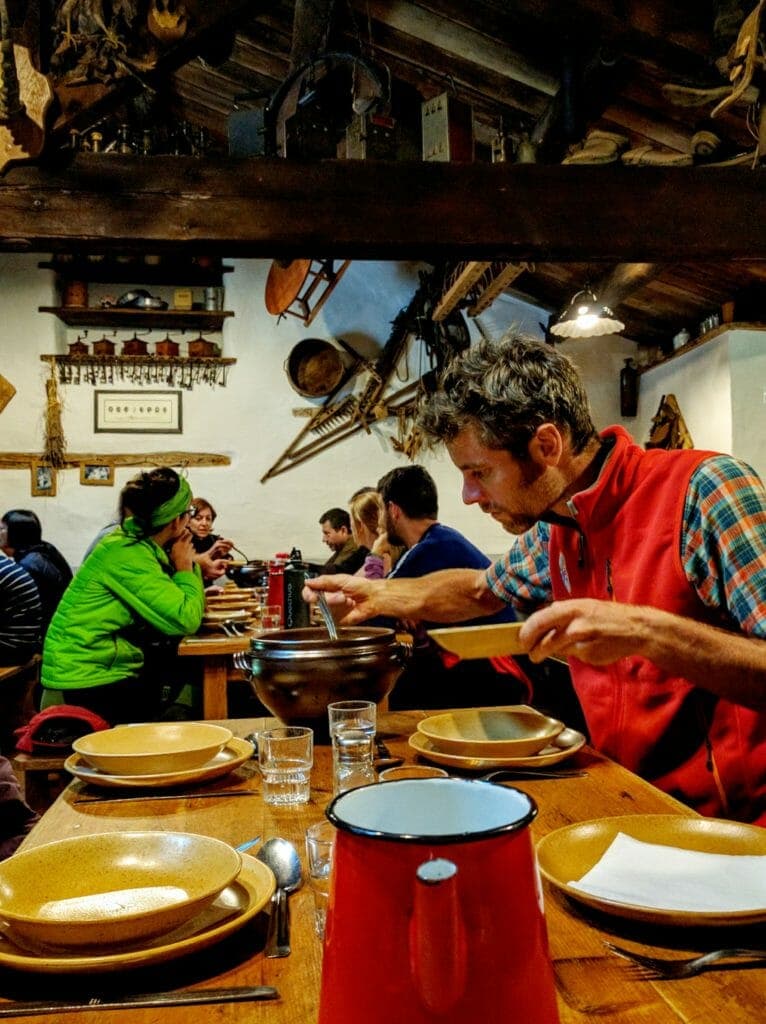 August 23-30: Run the Tour du Mont-Blanc (Guided or Self-Guided)
Now it's time to get on what may be the most famous trail in the world, the Tour du Mont-Blanc. Before heading off, though, you'll enjoy a sports massage from our friends at Clinique du Sport in Chamonix. Your eight-day route takes the same path as the famous ultra trail race, as we stay in rustic mountain inns and quiet Alp villages. The "TMB" is alive at this time, with elite trail racers getting in their final reconnaissance of the mountain route. The dramatic path winds its way around Mont Blanc, passing from France, into Italy, then Switzerland, before returning to Chamonix.
Friday, August 31 and Saturday, September 1: Get a Bird's-Eye view of the Race
Back in Chamonix, we'll watch the start of the famed ultra around Mont-Blanc, then we'll see the race from a unique perspective, taking a helicopter ride near the Swiss section of the course with Run the Alps' friend Caro Grange, a private helicopter pilot and former trail race committee member for the famous Fully Vertical Kilometer, in Fully, Switzerland.
September 3: Run the Alps Private Party
What better way to wrap up the month, than by joining the Run the Alps' guides and friends at our annual end of season party in Chamonix? Chances are good that we'll be joined by several elite US trail runners and friends, too.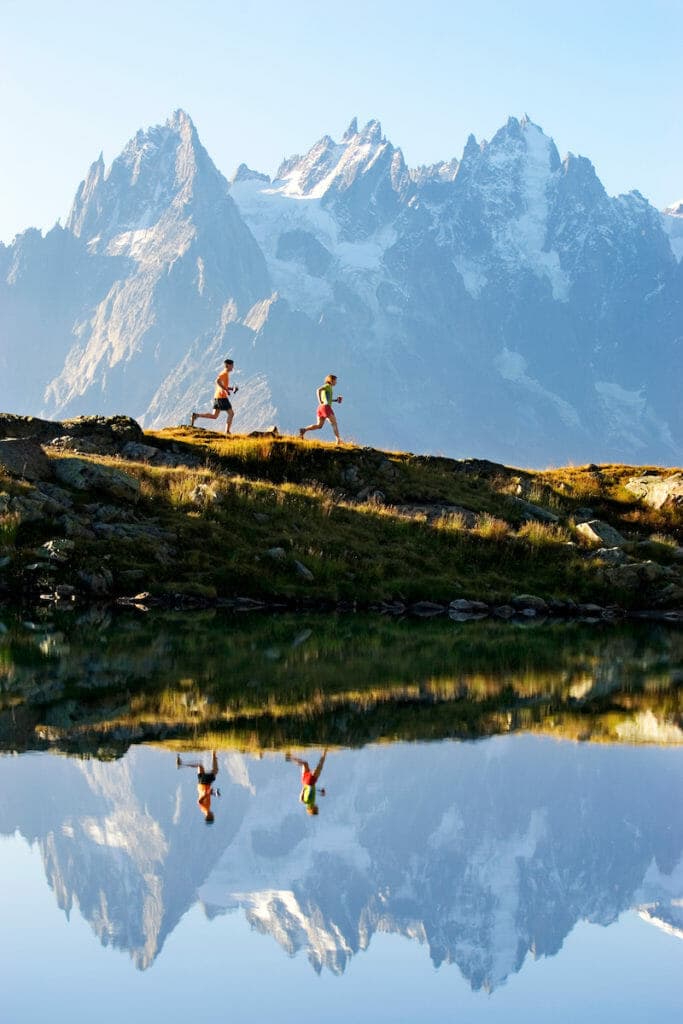 September 4: Heading Home
We'll bid adieu with a send-off breakfast in Chamonix, before you head for home. Within a few weeks, you'll have in your hands a beautiful, bound photo book of your trip, produced by Run the Alps staff. It's a keepsake we hope you'll cherish, as you look back on what we certainly expect will be one of the most memorable trips in your lifetime!
Guests need not be experienced trail runners. Optional trail running workshops can be integrated into the trip, to improve your trail running skills.
Included in trip: Detailed customization of the above itinerary, transportation to and from airport, optional private guide as requested, Run the Alps photographer at key points during the trip, full set of Run the Alps gear, customized photo book commemorating the trip.
Pricing: $17,000 per person with 3-star hotels, all self-guided except for four days on the Hardergrat and St. Bernard region. Price assume two guests. Single pricing is an additional $4,500.
Dates can be customized to match your needs. 
Contact us for information to discuss this unique trip.