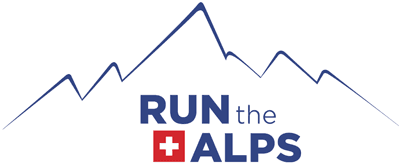 Coffee, Cake and Crêpes Fuel the Tour du Mont Blanc
Guided by Gary Daines
The Tour du Mont Blanc, "TMB," is a classic, and it always catches people unaware of how much up and down there really is along the route. Cake, coffee, and crêpes were the center point of each day and they helped fuel us for the climbs.
We met as a group of 9 guests and two guides for a shake-out run through the Chamonix valley. The next day, we all touched the church door in the center of Chamonix to signify the start of our TMB running adventure. We could say we were lucky with the weather, but to be honest it was a hot summer in the Alps. Finding the balance between carrying enough water but not being weighed down was hard at times, but we cruised the trails and laughed our way through the hard moments. 
Highlight on the trail
Every day had highlights, but one that especially stood out was finally getting past the 150 cows that were walking along the trail. Once we could pass, single track cruising through Italy's serene Val Ferret was just what we needed.
Most memorable non-trail moment
The group became a team over the course of the week and the level of support and care for each other was exceptional. I've guided the TMB a lot, but this group's dynamics and bonds were exceptional, plus the constant sound of laughter was infectious.
Best meal of the tour
The quality of the treats along the way was downright decadent, but the blueberry tart at Rifugio Bonatti took the cake, so to speak. With a shortbread heart on each slice and tumbling glaciers across the valley, that was our greatest cake moment on a very cake and coffee-rich running tour.
Lowest point
Our low point came when our guide and friend Sam became ill in Courmayeur. We had become such a close team, and when he could not continue we all felt his pain when he had to drop out for the last few days.
Favorite overnight stop
Without doubt the Gai Soleil in Les Contamines was our favorite overnight stop. The hosts, David and Valerie, are warm and welcoming, and the accommodation is cute and cozy. Arriving at their hotel with its big, grassy garden, we put our legs and feet in the cold trough. Dinner outside in the garden as the light dimmed and the valley cooled was a special ending to a great first day on the trail.
Group selfie on the TMB. (Photo: Gary Daines)
Cooling hot, tired feet in the fountain at Gia Soliel. What a treat! (Photo: Gary Daines)
Cruising along the TMB. (Photo: Gary Daines)
It's been a long hot summer. Keeping cool in the local fountains. (Photo: Gary Daines)
Cows on the trail. (Photo: Gary Daines)
Mmmmm, mid-run crêpes. (Photo: Brittany Rezowalli)
The award winning blueberry tart at the Bonatti Hut. (Photo: Kathy Maddock)
Stopped to take in the view, often necessary. (Photo: Mike Marlin)
What's on the menu at Col de Balm? Coffee and cake!(Photo: Gary Daines)
Start and finish at the church in the center of Chamonix. (Photo: Norma Tsai)