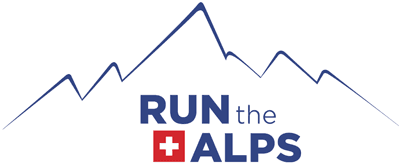 Mirnavator in the Alps
Guided by Emily Geldard
Mirna Valerio, "the Mirnavator," brought together a group of twelve wonderful women who are not often seen as typical trail runners due to their speed, body size, or ethnicity. And we all had a blast running trails in France, Italy, and Switzerland.
With Emily Geldard leading the tour alongside assistant guide Mike Murray, and guide and photographer Sam Hill, the group covered three countries and spent seven days running fabulous trails. We took in the famous "Grand Balcons" of Chamonix and the Aiguillette des Posettes at the top of the Chamonix valley at the Swiss border. We then traveled over the glaciers of the Mont Blanc Massif via cable car to spend two days in the quaint town of Courmayeur, Italy. From here, we traveled to the Grand St-Bernard Pass where we spent a night on the Swiss-Italian border, and ran down into Switzerland. We spent the last two days of the tour in Zermatt, with trips up the mountains to admire the Matterhorn and Monte Rosa. The weather was fair overall, apart from a little rain in Courmayeur, although we enjoyed the cooler temperatures that came with it.
Highlight on the trail
Many people on this tour were out of their comfort zone. There were lots of firsts, such as running in the rain, hiking rocky trails, trying trail running-specific clothes, and seeing other people who looked like them on the trails. On our way to Rifugio Bonatti we bumped into a Filipino family hiking the Tour du Mont-Blanc. They immediately hugged Liza, who was over the moon to see other Filipinos out on the trails.
Most memorable non-trail moment
There were some impressive vocals on this tour! From singing along to tunes in the bars to the support songs that we videoed and sent to Run the Alps founder Doug Mayer as encouragement during his epic 330-km ultra run. But the most remarkable songs came from Mirna, also a professional opera singer, who treated us to beautiful renditions of Italian opera songs at various points of the tour. Mirna also played some wonderful music on the piano at the Pavillon lift station in Italy – she is a multi-talented woman!
Best meal of the tour
We ate at Hotel Courmayeur and had wonderful food: baked eggplant with parmesan, salads with gorgonzola, and delicious ravioli. After dinner, the server provided génépi, a liquor made from an Alpine herb, and then it was time for a karaoke session! The whole group joined in with gusto, and it turned out there were a lot of great singers in the group.
Memorable moment
Traveling across the Mont Blanc Massif from Chamonix, France to Courmayeur, Italy via the Panoramic cable car was THE most incredible journey! The weather was deteriorating, so at times we were unsure if we could pull-off this ambitious plan, involving five different cable car changes. By the time we arrived at the 3842-meter high Aiguille du Midi above Chamonix, it was snowing, and there were murmurs that the lifts would need to close if the wind picked up. However, we made it across the Mont Blanc's high elevation Vallée Blanche to Punta Helbronner in Italy – and enjoyed a delicious Italian lunch on the way down to Courmayeur.
Favorite overnight stop
Staying at over 2400m (>8,000ft) elevation at the historic Grand St Bernard Pass was special in many ways. Our "auberge" hotel was more basic than our luxury spa hotels, but comfortable and spacious. We welcomed the cool fresh air coming in through our bedroom windows. We visited the chapel in the monastery, and Kimberly attended the evening mass. The group visited the St Bernard museum, and got a chance to hang out with these famous big dogs.
More from Mirna
We just had to share something about the trip from Mirna, too, in her own words:
I've been fortunate to partner with several small and fantastic tour companies and Run the Alps continues a special trajectory—one of extending what many think are experiences reserved for thin, fast folks to those who run trails but maybe a little or a lot more slowly. We got to see the same incredible vistas, to challenge ourselves in new ways, to eat raclette and rösti, have our bartender pour us drinks based on our personalities, to rest our sore limbs in expansive spas complete with ice caves, we immersed ourselves in several different cultures and got to speak ALL THE LANGUAGES. We saw two sides of Mont Blanc, we traversed the glaciers by cable car, sang karaoke I Wanna Dance with Somebody and More Than Words in an Italian restaurant. Some of us had rabbit for the first time. We drank countless bottles of excellent wine and really good beer.
We passed by folks making the pilgrimage from Canterbury through the Alps to Apulia, Italy (that is A LOT of climbing!) and many doing the Tour du Mont Blanc.
We made new friends and reconnected with old ones, and talked about changes to make in our lives, and how we appreciated the opportunity to be in such beautiful natural spaces moving and even loving our bodies as they did what bodies do.
We were led by three phenomenal guides—Emily, who some of us called the Mother Abbess, Sam the Mountain Goat, and Mike who we gave the trail name Ted Lasso. They cared for us, pushed a little when necessary, but mostly allowed us to move at our own trail running paces (AS IN A LOTTA HIKING UP AND RUNNING DOWN).
The conversations we had were scintillating and hilarious, deep and probing, light and sometimes existential. There's something about moving up, through, on, around, and down mountains that does something to you and allows you to let your guard down a bit.
There is so much more to tell.
Let's do it again!
We all had such a great time on this trip, and we hope to do it again! Watch our newsletter and social media channels for announcements about our Guided Tours with Guest Runners like Mirna!
Go Mirna! (Photos: Sam Hill)
Starting off on forest trails to get to the big views. (Photo: Sam Hill)
Trails above the Chamonix valley. (Photo: Sam Hill)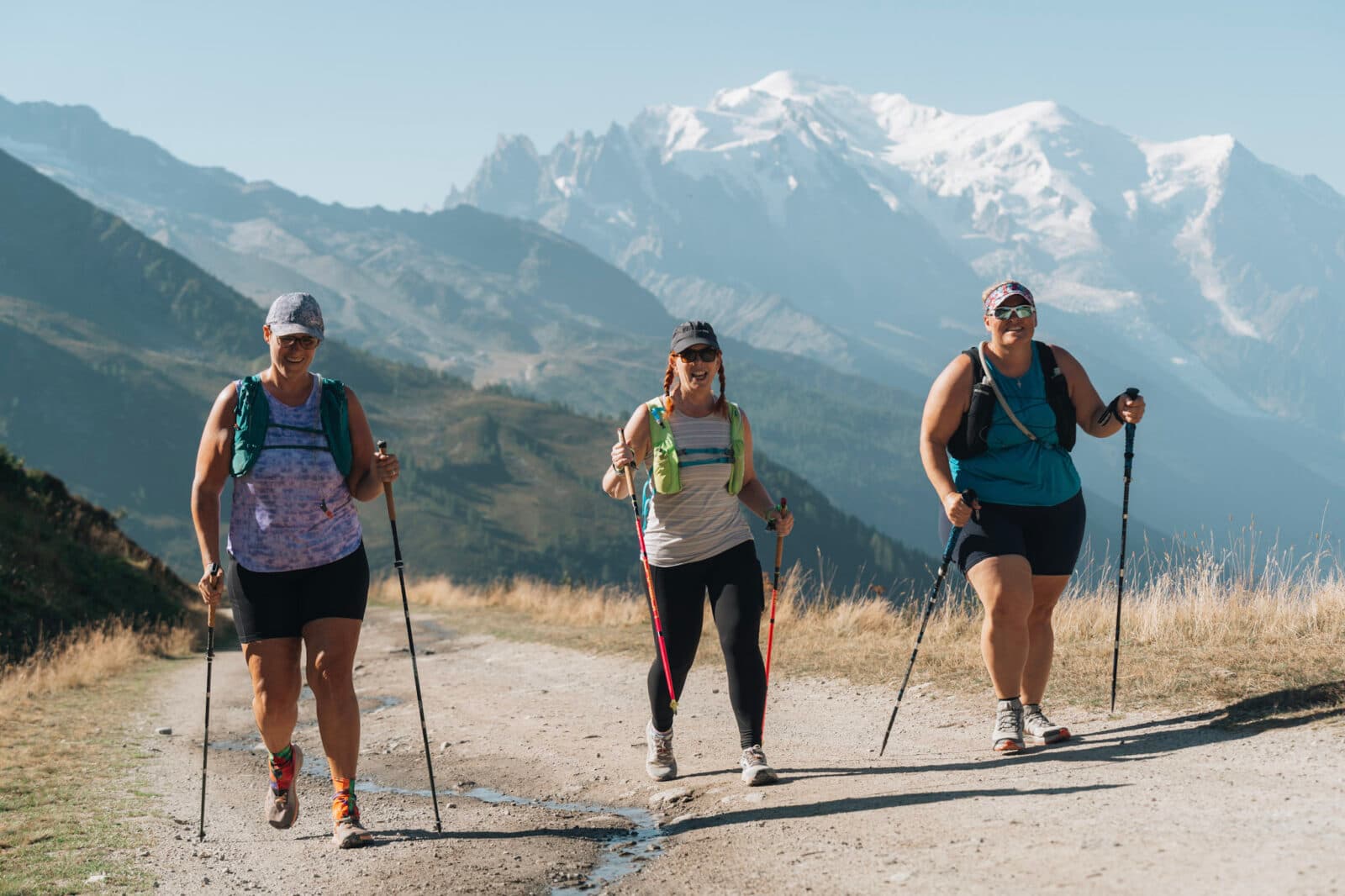 Yes, we flew! (Photos: Sam Hill)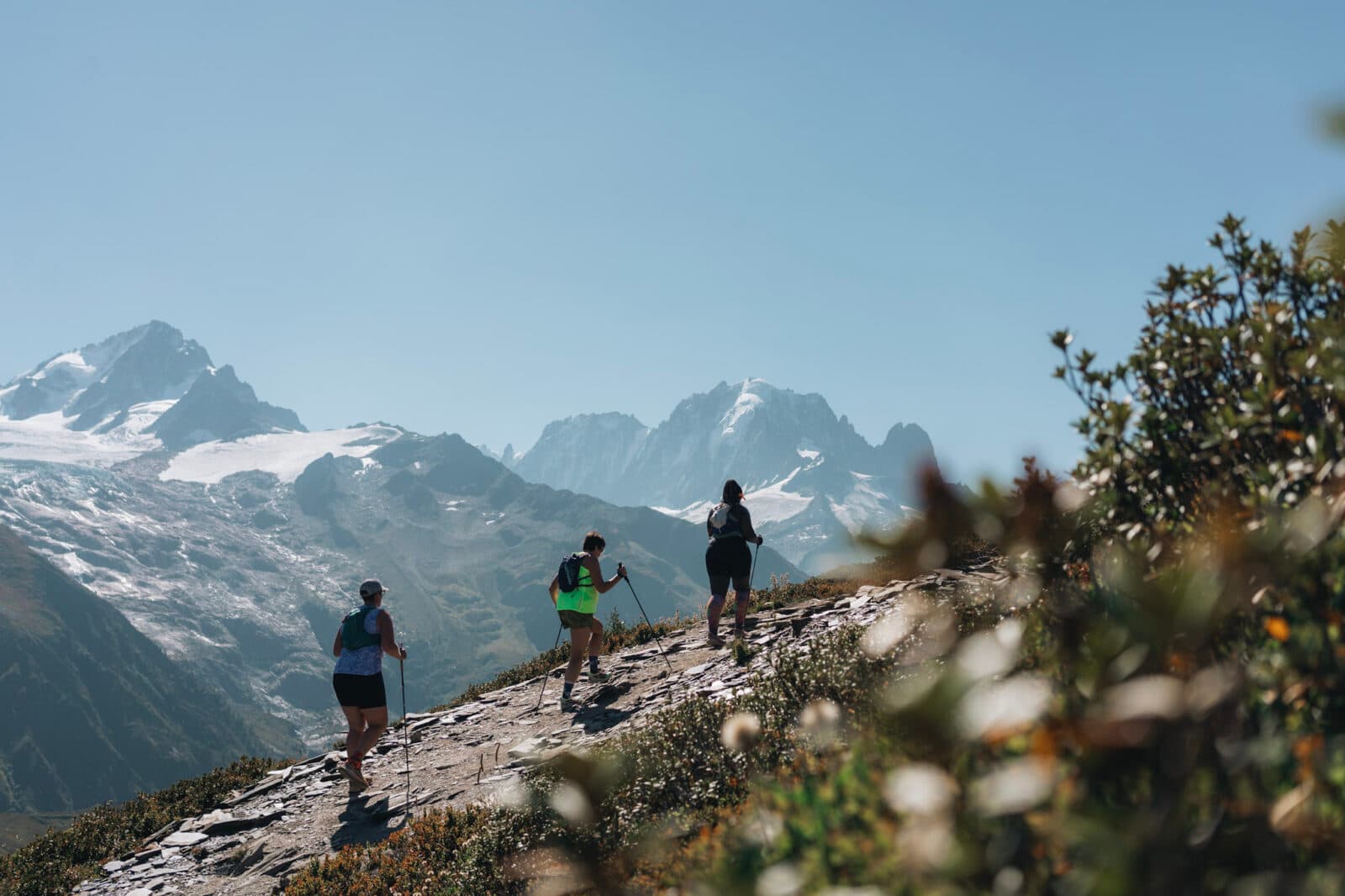 Climbing all the climbs. (Photo: Sam Hill)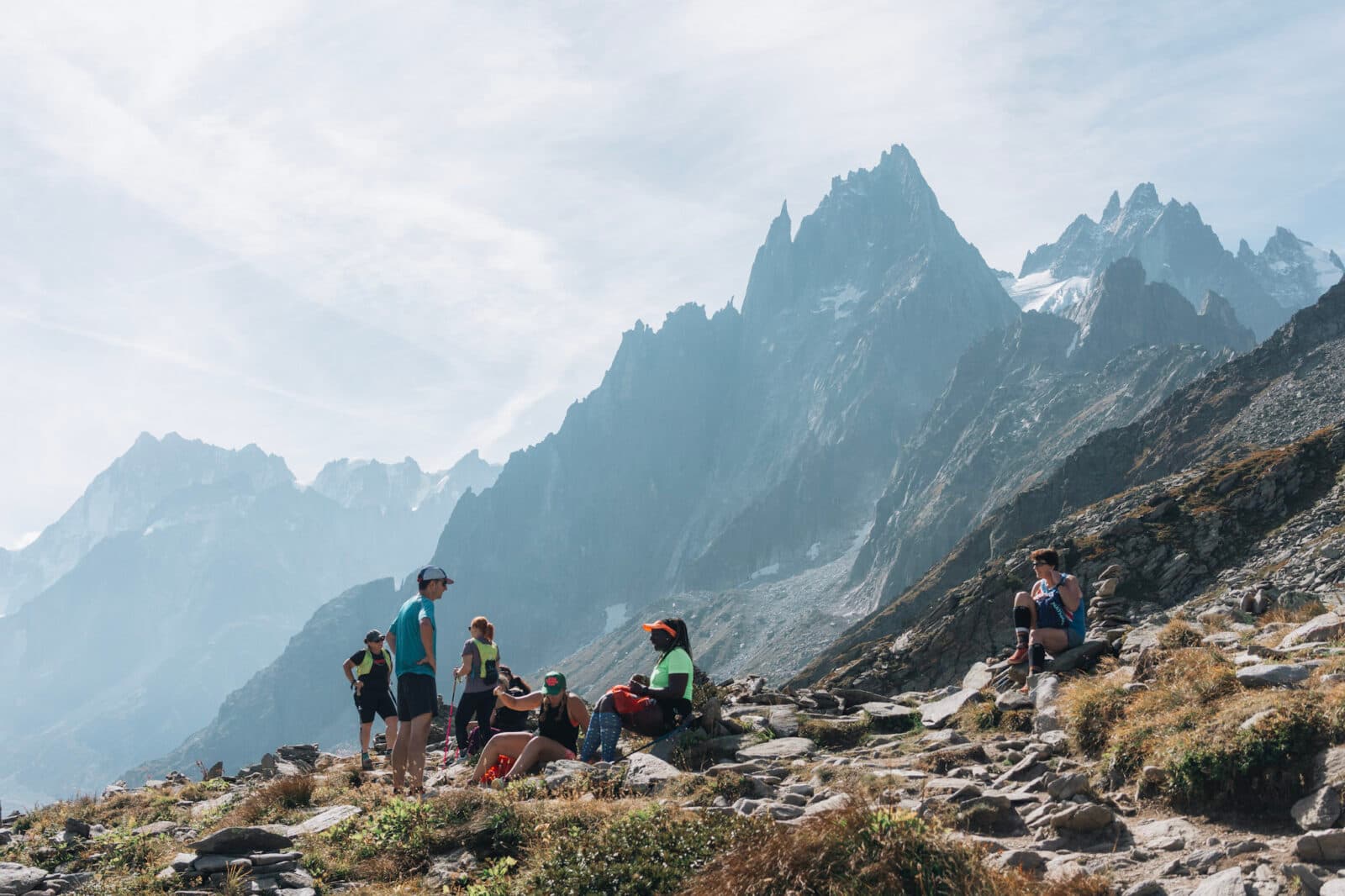 Taking a break to admire the view. (Photo: Sam Hill)
The Grand Balcon Nord above Chamonix. (Photo: Sam Hill)
No shortage of steep uphill. (Photo: Sam Hill)
Strong legs…and matching socks. (Photo: Sam Hill)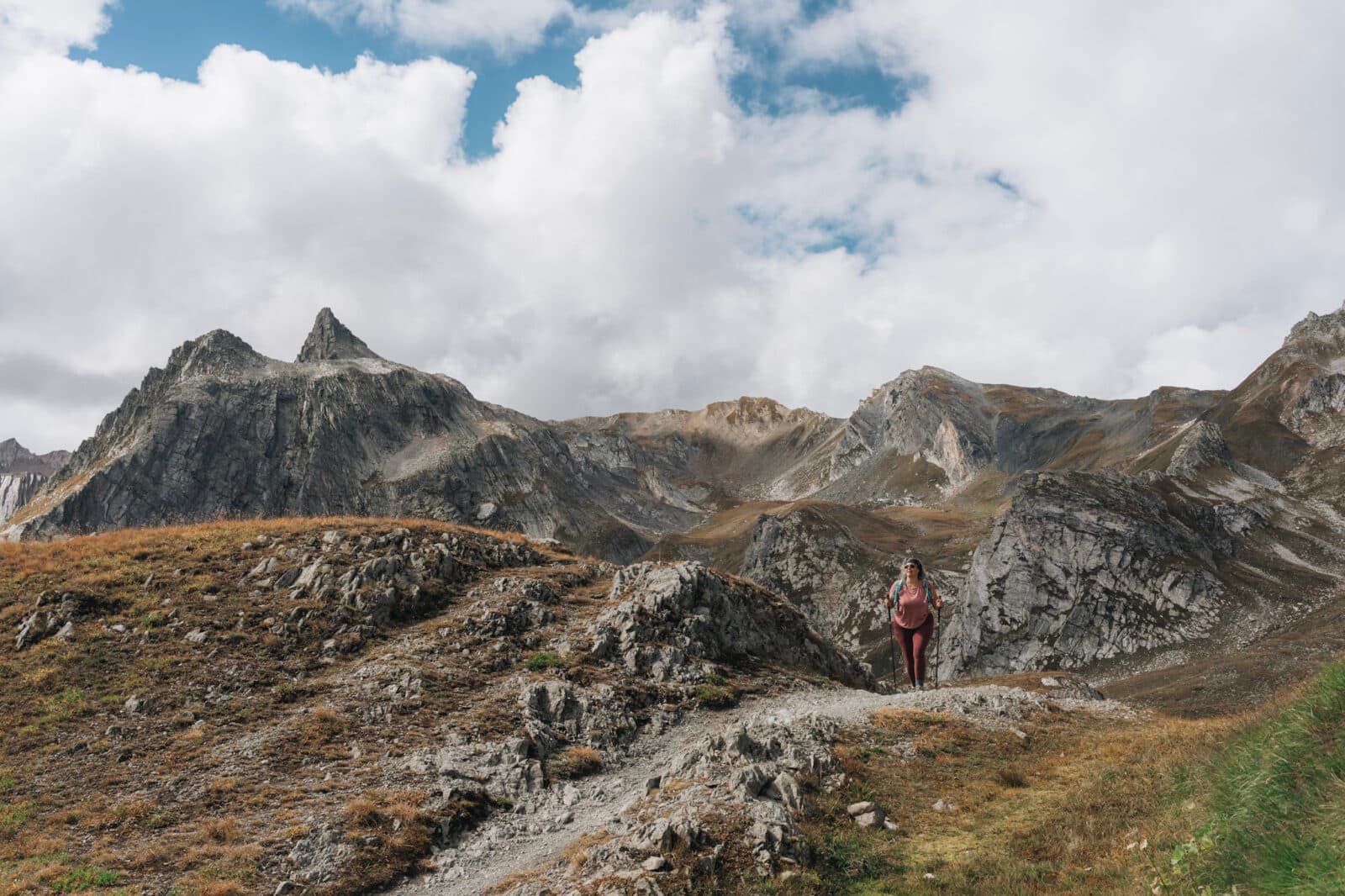 Feels like fall in Gd Saint Bernard. (Photo: Sam Hill)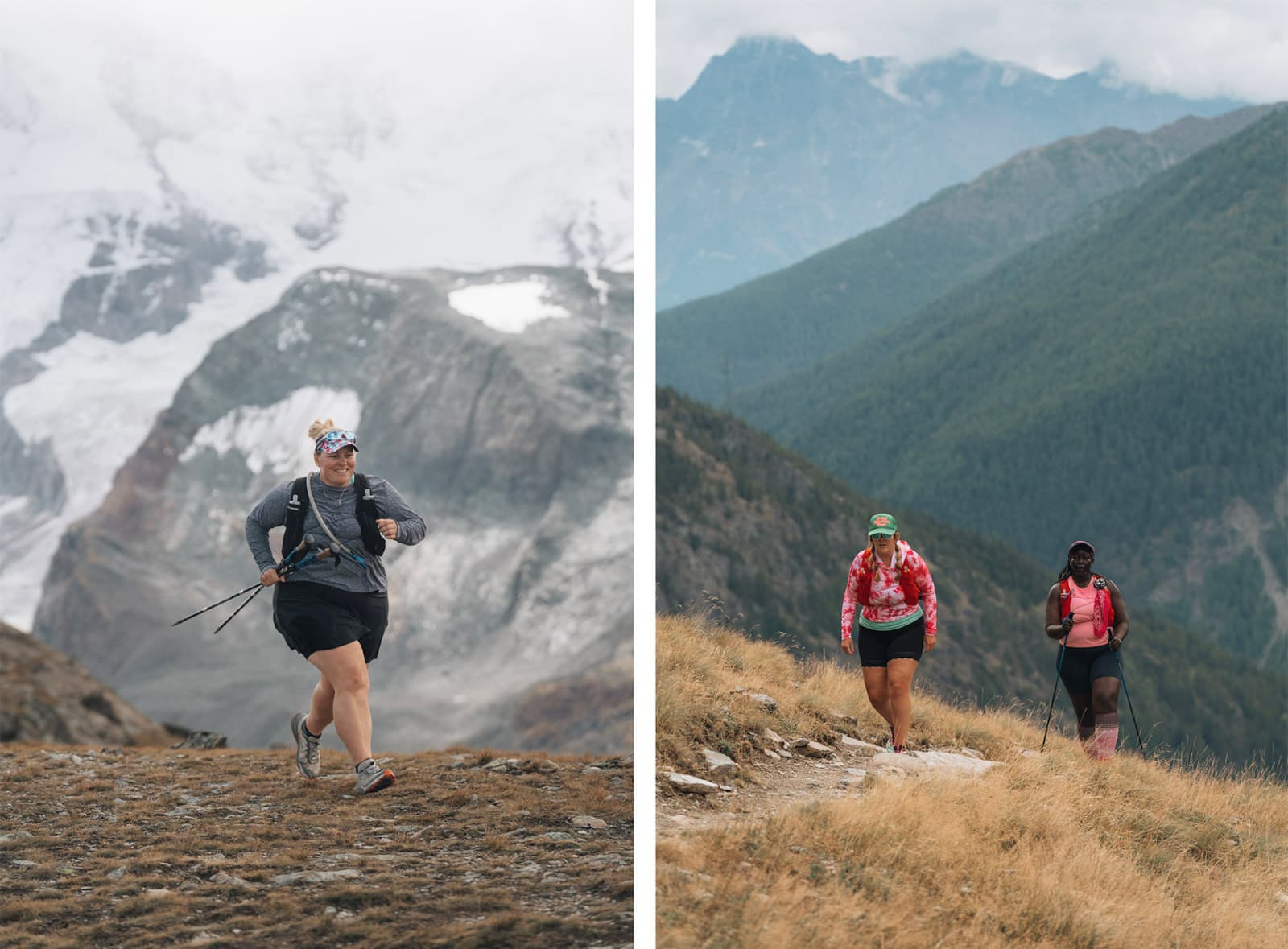 The Matterhorn. (Photo: Sam Hill)
Plenty of selfies along the way. (Photo: Sam Hill)
More running. (Photos: Sam Hill)
Emily Geldard pointing at things – a big part of guiding. (Photo: Sam Hill)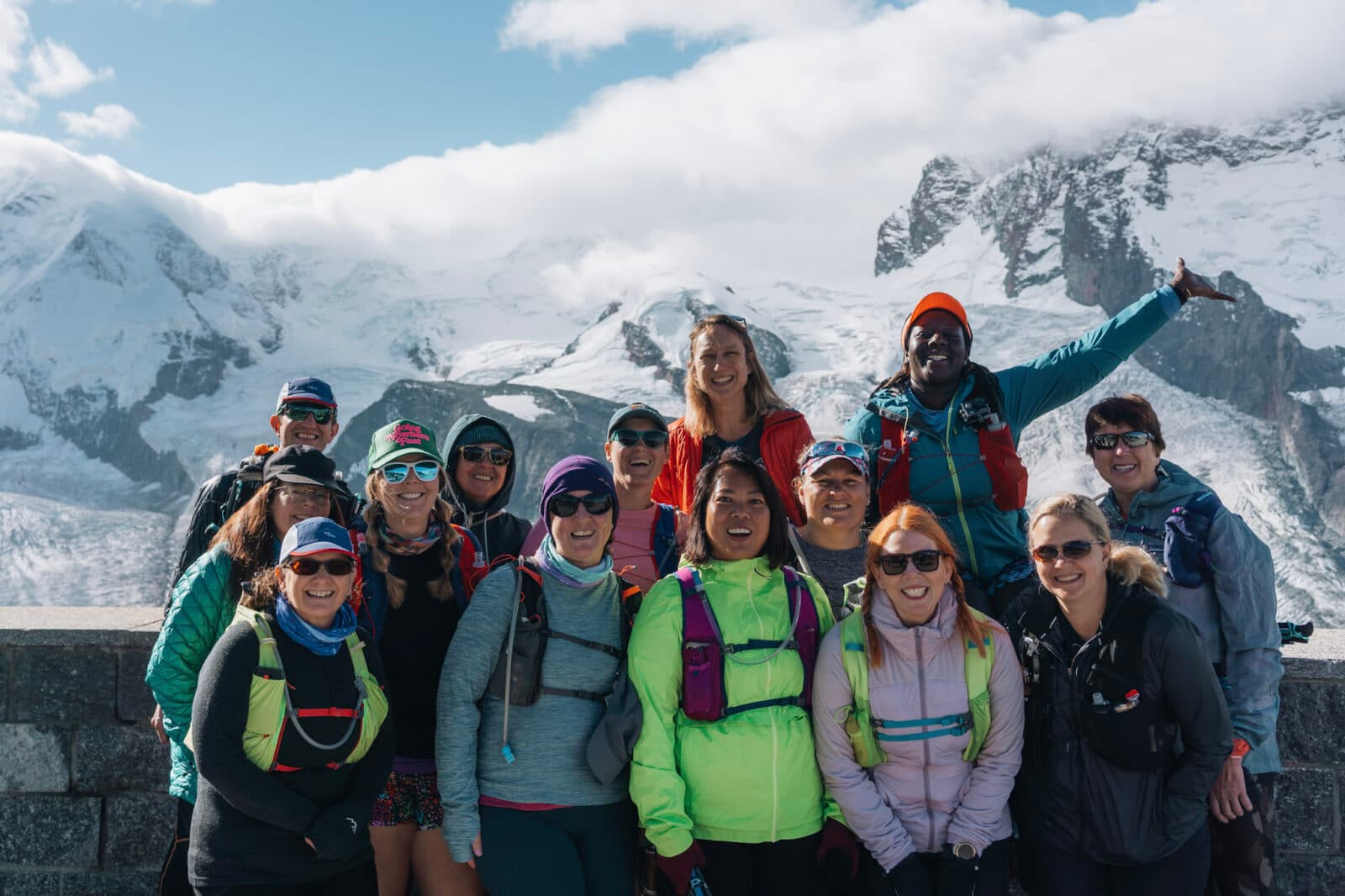 Our extraordinary group! (Photo: Sam Hill)