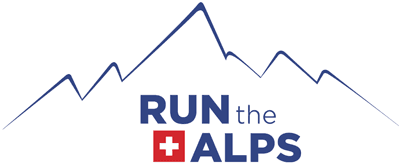 Run the Alps in the Dolomites: Single-track, Snowfields, Big Views… and did we mention Dumplings?

Guided by Bruno Yates
Run the Alps' first trip of the season ventured into Italy's Dolomites - and found sweet single-track, stupendous views, and great food. In other words, we found the Dolomites in the Dolomites. (And we became experts in dumplings, too!)
Our crew was led by Senior Guide Bruno Yates, who had spent last fall doing reconnaissance in the Dolomites, with guide Mark Brightwell. (You can read about their recon, here.) Bruno's hard work and epic days last fall paid off big time, with quiet single-track, and some – literally – off the beaten track running through high pastures.
Our group was all Run the Alps alumni. It was nice to see old friends and reconnect over stories from past trips. We met in Bolzano, the capital of the semi-autonomous South Tyrol region of North Italy, and taxi'ed up to the mountain destination town of Ortisei – staying at (wait for the awkward German word placement)… Hotel Hell (whose motto should be, "Anything But"). After a briefing from Bruno and a shared meal on the first day, we were off the next morning to the Resciesa Refugio and higher, eliminating some vert thanks to the local funicular. Bruno must have been channeling some UK fell running, because we immediately struck off overland, luscious pastures on our right, a Dolomites-style cliff on our left.
Next, he starred in his own modest version of an episode of Top Chef, and put on a gourmet lunch of local breads, relishes, cheese and meats. (Note: Bruno wins the Run the Alps award for lunchtime culinary excellence.)
A coasting downhill was briefly interrupted as I deployed several snowballs, courtesy of a nearby spring snowfield, to test the reflexes of Mr. Yates. (Fortunately, his aim was off – a theme that continued throughout the week, thanks to a snow-filled Spring in the region.)
Bruno's recon led us on miles of quiet trails, only occasionally intersecting tourist routes, which led to our first three lessons about the Dolomites.
1. The trails can be wonderfully quiet and untrammeled, if you know where to go.
2. The single-track in the Dolomites is about as nice as it gets. Often grassy, not too technical, and with big views.
3. There are mountain cafés around the corner, just when you want one. And we tried out most of them!
The warm-up day over, we switched gears and prepped fast-packs for a night at Plattkofel hut, high on Alp di Susi. At over 50 square kilometers, this is the largest Alp in the Alps! (The definition of an Alp is a high meadow or pasturage, by the way.)  The run to Plattkofel was memorable, with – in sequence: high pasture trail running, big views, cappuccinos, and strudel. Then repeat. And repeat again. Along for the run was our friend Milo Zanecchia, whose photos you see here. Milo gently asked us to repeat a few sections of trail, so we could do our best to channel Kilian Jornet. The day ended with us dodging dark clouds, as we ran through high valleys and along a ridge, to our hut for the night.
Plattkofel is a remote mountain hut, accessed by a rough track. We were without our bags this night, but managed to suffer through the evening with hot showers and gourmet cuisine. Here's where we learned our next four things to know about the Dolomites:
4. Come early in the season, and you'll have cool temperatures and quiet huts. We had entire bunkrooms to ourselves. Well worth it!
5. Bring poles to cross the snowfields. Those added points of stability pay off, so you don't slide into Bruno, who was ready to lend a hand.
6. The food is good. No, really, really good. Even at the high huts.
7. The dumplings at Plattkofel were ridiculously tasty. (Think of them as small spinach planets, soaked in butter and parmesan cheese.) We did not strategize accordingly, ate too much great food too early, and wished we had Salomon's dumpling-carrier trail vest accessory.
It was a long day, but Danielle got in bonus weight training for her upcoming trail race at Lavaredo Ultra Trail, David and Meghan proved their mettle from years of trail running, and Dora was constantly secretly sneaking up on us, making fast time over the flats!
The summit of Plattkofel was out of reach for us due to the heavy snows of Spring, so several of us were forced to hang out and drink more latte macchiatos, as Bruno and David ventured a few hundred meters above the hut to take in the views.
Day three, we suffered through more of the same scenery and single-track, making a diversion into the Games of Thrones-like scenery of the Langkofel cirque, with Rifugio Vicenza right in the middle of it all. Nearly surrounded by snow, it was a wonderful, high alpine spot for a hut. Hot drinks kept us warm, as Milo filmed a time-lapse of the clouds. Our day ended with more coffees at Piz Sella, as several of us decided to play with Buddy, a sporty Labradoodle-doodle (yes, it's a version of a Labradoodle) we met during our break. To finish the day, the boys raced each other down 700 meters to the village of Selva, while the girls were arguably wiser about their knees and quads and rode the gondola down to chill in town.
A rest day in Selva was anything but, as Milo and the crew headed up the Vallunga (Long Valley) to the Puez Hutte. A mini Yosemite Valley, the Vallunga is quiet, dramatic, and – yes – it features a local hut with great treats. After warming up on a pleasant trail up to the center of the valley, we turned off onto a small side track to tackle the steep climb up to the rim and reached the hut. Rested and refreshed, we tackled an alternative steep descent before the trail opened up, allowing us to enjoy perfect trail for a quick 6km cruise back to town.
That evening, we parted ways with Milo. It was really fun having him along—he's filmed and photographed trail runners, climbers and BASE jumpers from the Alps to Oman to Mongolia, and a lot of places in between. You can see more of his work on Instagram, here.
Leaving Selva the next morning, we ran and hiked our way uphill to (do we sound like a broken record yet?) a morning coffee stop at Rifugio Firenze. The morning was cool, after the evening's heavy rain, with clear skies. In short, a perfect Dolo day. Great conversation passed the time as we climbed, with Bruno stopping to point out some of the interesting flowers of the region. "Lady's Mantle" caught the interest of the group. An innocuous little yellow/green flower, the palmate leaves captured water droplets from the past evening's rain, which glistened like diamond jewels on the side of the trail. The leaves are edible and adorned one of our delicious risotto dishes at dinner.
Lunch at the Seceda high point featured a cheese plate designed for about 20 people, with local cheeses, fresh bread, and some tasty relish. We did our best to finish it, but reluctantly had to shove a kilo of fromage into Bruno's trail running vest while he was refilling his water flasks. Unfortunately, he found out immediately. Luckily for us, he has a good temperament, and ran for a few hours, fromage-laden, an "aroma" of cheese drifting behind him on the trail! For the rest of the day, we wound our way over Col Brogles, down through quiet, old forests, eventually landing in Val Funes. We weren't quite done, though – our stop for the evening, Hotel Kabis, was a few kilometers away in St Pietro, past the goats, chickens, and cows that roamed the fields and farms just above St. Magdalena.
The surprise for the day still awaited us, with a Cuban wedding at the hotel. We didn't get a memo, which was surprising, but the crew made the best of it. And no, we didn't crash the wedding. But it was tempting!
Clouds moved in after a week of near perfect trail running weather, and that was fine. The next day, Danielle rested (see: Hotel Kabis Wellness Center), while the rest of us stretched our legs with a hike up to Schluterhutte amid drizzle and fog, which got us just wet and cool enough to savor soup, pasta and french fries at the hut. The crew split on the descent, with Meghan speeding ahead to catch the hourly bus. Dora and I reached the bus as it was pulling out of Zanzeralp… but apparently the driver didn't see them! (Result? Café number 341 and – for a change – beer and tea consumed.) David and Bruno, meanwhile, powered along quiet, high single-track above St. Magdalena, and we all enjoyed a final, celebratory dinner at Hotel Kabis. (Prosecco on the house, to thank us for rolling with the wedding the night prior.)
Our final group dinner featured some thoughtful awards from Bruno: David received our team Sports Physiology and Psychology Commendation. Mark is a goldmine of useful info, thanks to his professional medical work and personal interests. Meghan was Most Directionally Aware, having been 100% on route, all the time. Dora was honored with the Stalwart and Ever Steady Commendation. Bringing up the rear, she was reliably there and speedy on the flats. Danielle was bestowed the Most Adventurous Guest Award – her Run the Alps travels have taken her to the wild Swiss Engadine region, and to two major Alps trail races, Sierre-Zinal and the 46km Matterhorn Ultraks Skyrace… with the Dolomites Lavaredo trail race coming up after the trip. Finally, I turned the tables and awarded Bruno the first-ever Run the Alps Order of Meritorious Reconnaissance for his hard work running what seemed like every single trail in the region last fall. Later on the drive back to our Run the Alps home in Chamonix, Bruno awarded me the Chatterbox Award. (Apparently, I was a bit of a motor-mouth on the trail!)
On the long haul back to Chamonix, Bruno and I talked about the trip and what it was that made the Dolomites so special. Bruno captured it in one quote, when he said, "It's probably the most beautiful part of the Alps I've been to – and I love Chamonix, the Berner Oberland, the Mont Blanc Massif, the Valais and Pennine Alps. But there's something pretty special about the Dolomites."
I couldn't agree more.
When I started Run the Alps, I thought that the trail running was the best part of the experience. I've come to understand that it's the personal relationships and friendships that form which are more special to me. I look forward to crossing paths again soon, in the Alps, the US, or elsewhere.
Thanks to our intrepid crew. Good luck and speedy trails to all! Allez-Allez!
Dora on the move, climbing through Alp di Susi. (Photo: Milo Zanecchia.)
Rifugio Vicenza in the Langkofel cirque: Not a bad spot for a cafe au last. (Photo: Milo Zanecchia.)
Snow before, snow after, en route to Selva. (Photo: Milo Zanecchia.)
David on the move, beating the storm on the way to Platkofel hut. (Photo: Milo Zanecchia.)
Up ahead: a cozy hut with drinks and treats to wait out a passing shower. (Photo: Milo Zanecchia.)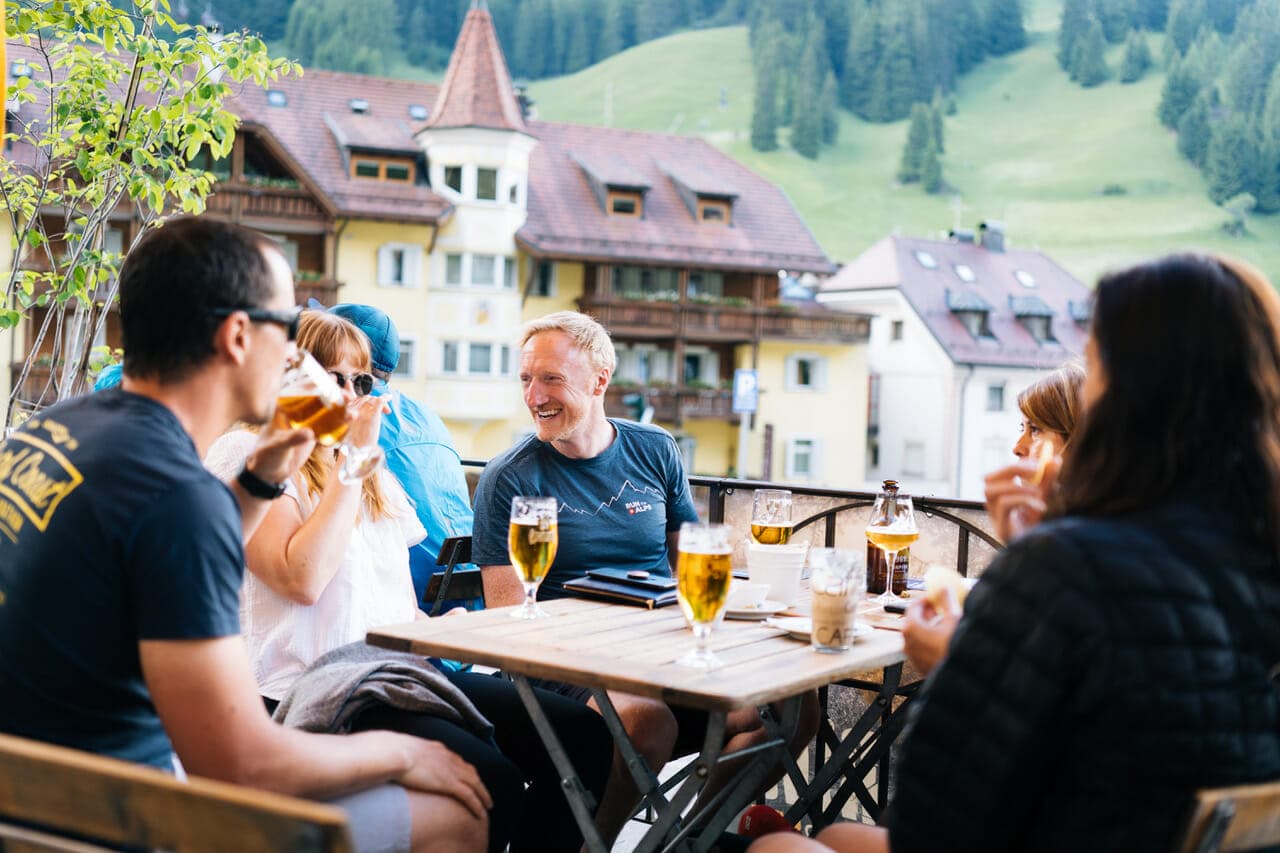 Day's end and time to rehydrate in Selva, Italy. (Photo: Milo Zanecchia)