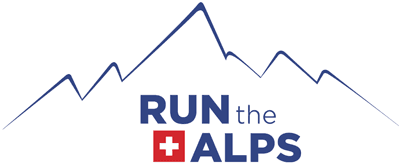 Y-M-C-A at the Col Grand Ferret and other Tour du Mont-Blanc Highlights
Guided by Giles Ruck
Our band of merry trail runners coalesced nicely in Chamonix, and from there on it was all trail running, cafes, and - yes - even some Sound of Music. Here's our story!
Posing for pre-tour photos on the steps of Chamonix, France's church of St-Michel, we were set for our odyssey around the Mont Blanc massif. Following a shakeout run the day before on the stunning Balcon Sud, mind, body and soul (and running gear) were ready for the journey ahead. The group was made up of Heidi, Stella, Laura, Mike, Laura and Jenny, who had travelled from the US to come and run in this beautiful alpine landscape.
We set off on a stunning blue-sky day with many opportunities to capture running photos with appropriately Alps-like backdrops. We even captured the occasional synchronized group shot in perfect step – well done team! Although, this level of coordination was hard to recreate, not least while trying to spell out Y – M – C – A on the beautiful Grand Col Ferret, some days later. Clearly running was our strong suit, spelling less so! (And no, we were not advocating for the construction of a YMCA at the top of the col.)
The sunshine, gorgeous trails and plenty of well-timed cafés set the tone for the trip. We had to pull out all the stops, including rain jackets, only twice over eight days – when faced with wet weather and the occasional rumble of thunder. Undeterred on one such day, we fast-hiked up to "Spaghetti Refuge" (known to others as Refuge Bonhomme) to refuel and dry out. Hidden talents emerged, with Laura demonstrating her singing, and cajoling, abilities. She soon had us happily singing from the soundtracks of The Sound of Music and We Will Rock You! Other refuge dwellers visiting for lunchtime were entertained, and we carried this bonhomie on to our home for the night, Refuge Les Mottets, set in a pretty alpage, or high alp pasture, close to the Italian border.
The trails continued to flow and all enjoyed some superb running, including the sweeping descent down from Col de la Seigne, on the border into Italy. Then came everyone's favorite; the balcony trail traversing along Italy's Val Ferret – which took us to the not-to-be-missed Bonatti Refuge. There we tested out the theory that a teaspoon will stand upright in their famous hot chocolate – yum! (Test results: It does!)
With smooth, long trail sections like these Mike took the opportunity to demonstrate his running skills – although we like to think it was just his long legs that took him so quickly to each new destination! Just behind him was Jenny, whose excellent trail skills were only matched by her modesty, for it took us a while to find out about her trail and nordic ski race experiences and high rankings back home.
Mid-trip we took a rest day in Courmayeur, Italy, including a group visit to the stunning QC Therme spa. Built around a centuries-old spa, the contemporary version included countless saunas, jacuzzis and pools and even rooms with salt, mud and other concoctions to soothe tired muscles. The spa lunch was firmly in the wellness category (read: where's the caffeine, guys?), but fortunately the breakfast at Run the Alps hotel favorite, the Bouton d'Or – arguably the best breakfast in the Alps – gave us more decadent calories. Andrea and Patrizia, owners and hosts, start preparing it pre-dawn and Andrea's expertise in patisserie left the group stunned – and well fed (read: delicious cake for breakfast).
Farther along, having enjoyed the boutique-like feel of Courmayeur, and its legendary pizza and gelato (much consumed, for the record), we found a contrast in the quiet, off-the-grid feel of the Swiss side of Val Ferret – even enjoying being off WiFi and cell service for an evening. This led to playing the fun board game "Rummikub," an alpine favorite and a great chance to test brain cells, instead of leg muscles. Long-term player Giles was flummoxed by how easily the newbie duo of Stella and Heidi won the first round … hmmm, another round of drinks and a rematch was in order!
We enjoyed chatting with Heidi about her year ahead. She and family were on sabbatical from the US to Chamonix for a year, and our "TMB" trip came right at the start. Time on the trails together gave a great opportunity to learn about her passion, and expertise, in Montessori education and also to start listing out all the Alpine trail races for which she could start signing up. The TMB was the kickstart to the alpine trail scene for which she had been looking.
As we moved around the tour, Stella impressed all with her running, managing some knee pain without a grumble, always pushing quickly on the steeps, and occasionally forging ahead leaving us wondering how to catch-up. Fortunately the group's warm and thoughtful interest in one another led to a preference to regroup when occasionally spread out, and generally to run together.
Waking up at Trient, Switzerland's Hotel de la Forclaz on our final morning, we were faced with a choice of three routes to kick off our homeward stretch to close the loop back into Chamonix. I opted to lead the group on the Refuge Les Grands route. This provides a quieter, and somewhat wild and more mountainous stage than the regular TMB path leading up to Col de Balme on the Swiss-French border. We knew a small storm system had been forecast, but this came through early in the morning. This gave us contrasting sun and shadow mountain views, through parting clouds, which you only get to glimpse by braving through a little tough weather.
The Col de Balme proved a foggy and chilly final high point on our tour and we opted to descend quickly (and boy were we fast!) down to the comforts at the charming Tête-a-Thé in Argentiere – for coffee, cake and even vegan muffins. This is a firm favorite café of Run the Alps, and a not to be missed break before the final five-miles along the River Arve, leading into the heart of Chamonix. Re-grouping along the river trail gave the chance to soak up final views as the sun came out once again, to chat about trip highlights and, mainly, to decide which restaurants to choose for a late lunch and for dinner that evening. Doug met us with tasty cold beers, on our finish line up the steps of St-Michel, where we closed the loop on our 100-mile, 30,000 vertical feet journey around the Mont Blanc massif. Smiles, hugs, photos …. and amazing memories. Well done team, you made a trip to remember!
Crossing a rocky stretch on the way to Les Contamines (Photo: Giles Ruck).
Pausing by the lake in Champex-lac (Photo: Giles Ruck).
The team back in Chamonix, at the end of their TMB odyssey (Photo: Doug Mayer).