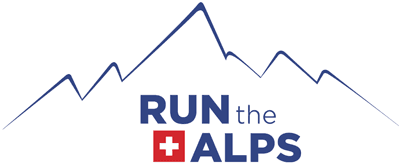 Mirnavator in the Alps
| Dates | Duration |
| --- | --- |
| Varies | Varies |
Smart, funny, endearing, our special guest Mirna Valerio also shatters trail running stereotypes. We're so looking forward to welcoming "the Mirnavator" to the Alps! No speedsters on this trip - As Mirna says, we're going "Slow as F*ck."
What do you see when you close your eyes and think of a typical trail runner? Although trail running seems to be the domain of thin, fast people, it is also a sport that has welcomed people like Mirna Valerio, who in her own words is a plus-sized, slow-AF runner who lives and breathes the trail. This 47-year-old African-American adventurer, hailing (presently) from Winooski, Vermont, defies trail running stereotypes.
Who doesn't want to share what we love with others, no matter what we look like, or how slow we think we may be?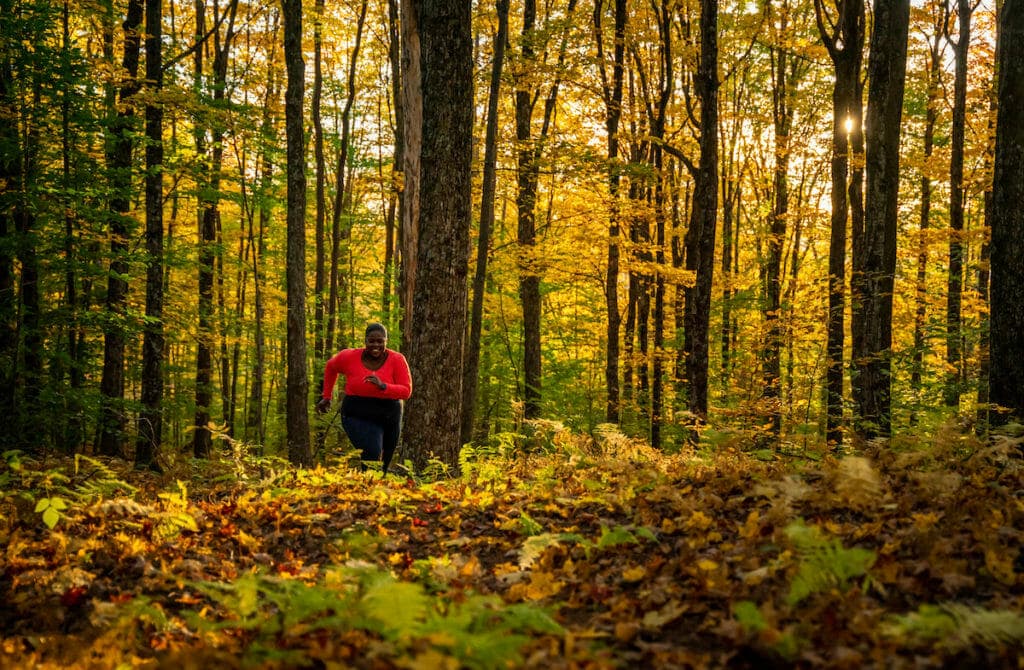 Here's the best part, though: Mirna has already won us over with her easy-going, down-to-earth style, smart insights on life, and kind demeanor. (Can you tell we are psyched to welcome her to the Alps?) 
So, where are we going? We'll start in Chamonix, France. With its hundreds of kilometers of dramatic trails to run, and lively trail running culture, Chamonix is considered the world's home for trail running. From there, we'll take cable cars over Mont Blanc, and run on the "sunny side" of the range, in Courmayeur, Italy… then it's off to Saint Bernard pass for a night– and yes, there will be dogs to visit. Our trip ends in Zermatt, Switzerland, where we'll get to run and sample gourmet Alps cuisine, all while having a jaw-dropping view of the Matterhorn. 
Licensed trail running guides will be along every step of the way to steer us along the trails and provide useful trail running tips. Joining will be Run the Alps Photography Manager Sam Hill, a licensed guide and professional photographer. (So, yea, Sam's got your Instagram covered for you!)
Join us for The Mirnavator. This trip will feature great food, top-notch hotels, a wine tasting, a cable car trip across a glacier, no shortage of laughs and– oh yes– plenty of trail running, too! It's going to sell out, so sign up now if you want to guarantee yourself some high-quality Mirna time. (We'll keep a wait list if you're late to the party, so email us just in case!)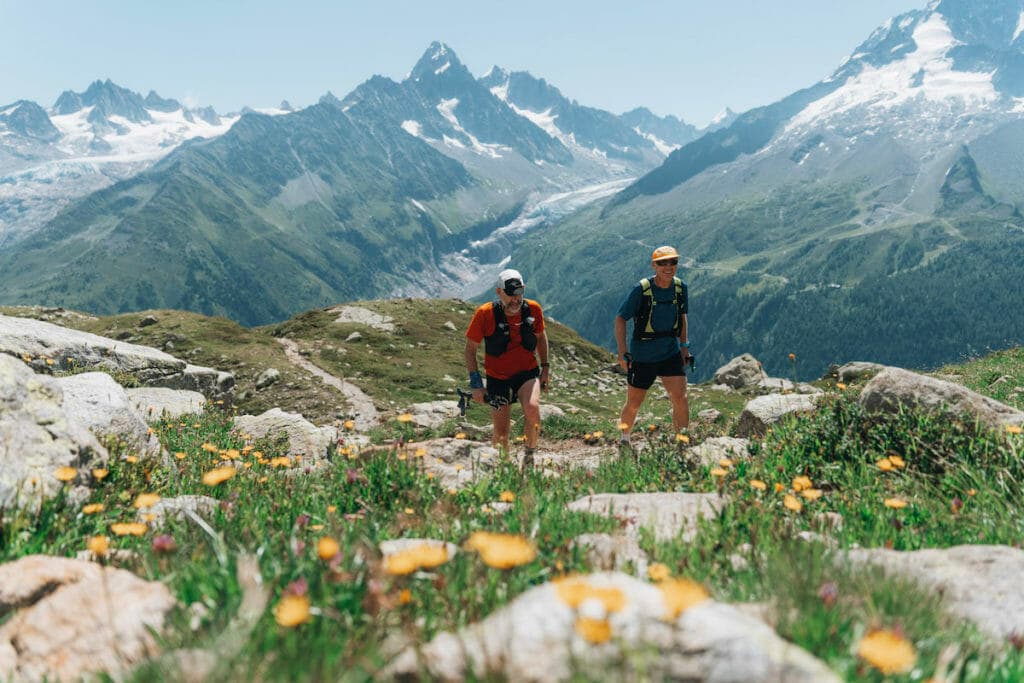 Check out this film to learn more about Mirna:
https://www.rei.com/blog/run/rei-presents-the-mirnavator
Book this tour
Cost
$5,700 per person
$500 Single supplement

Make it private guided
Your companions, your dates, your tour– we do the rest.
Inquire here.
Itinerary
Day 1
You'll arrive at the Geneva, Switzerland airport and take a 1.5 hour shared shuttle to Chamonix, France where you can settle into your spa hotel.
Accommodations: Heliopic Hotel and Spa
High above Chamonix, with Mont Blanc in the background. (Photo: Emily Geldard)
Day 2
Today starts with a hearty buffet breakfast where we can enjoy French favorites like fresh croissants and local cheeses before heading out onto the "Grand Balcon Sud", a balcony traverse above treeline in the Aiguilles Rouges mountains.
Accommodations: Heliopic Hotel and Spa
Flowing trails with big views above Chamonix. (Photo: Kim Strom)
Day 3
Today we'll take the train up to the village of Montroc, and set off on a tour at the head of the Chamonix valley, running through quaint old chalets and along the Arve river. We return to Chamonix, where a wine and cheese tasting experience awaits us.
Accommodations: Heliopic Hotel and Spa
Trail running the Grand Balcon Nord Trail with views of the Mer de Glace near Montenvers. Chamonix, France. (Photo: PatitucciPhoto)
Day 4
Our third day of running in the Chamonix valley will take us up to the Mer de Glace glacier, and on a traverse below the mountains of the Mont-Blanc range, known as 'aiguilles' or needles.
Accommodations: Heliopic Hotel and Spa
Running in Italy (Photo: Jeremy Johnson)
Day 5
Today we head to Italy – by the most incredible route! We'll take the cable car straight out of Chamonix up to the 3842m (12,605ft) high Aiguille du Midi.  The change in language and culture will be clear as we enjoy a delicious Italian lunch and descend to the town of Courmayeur, our home for the next two nights.
Accommodations: Grand Hotel Courmayeur
Mirna is used to all sorts of terrain in trail races! (Courtesy photo)
Day 6
We'll run in Italian Val Ferret, on the best and most flowy single track of the entire UTMB course! Rifugio Bonatti with its huge views onto the Mont-Blanc range is a great place to stop for lunch before circling back to town – to hang out in the spa.
Accommodations: Grand Hotel Courmayeur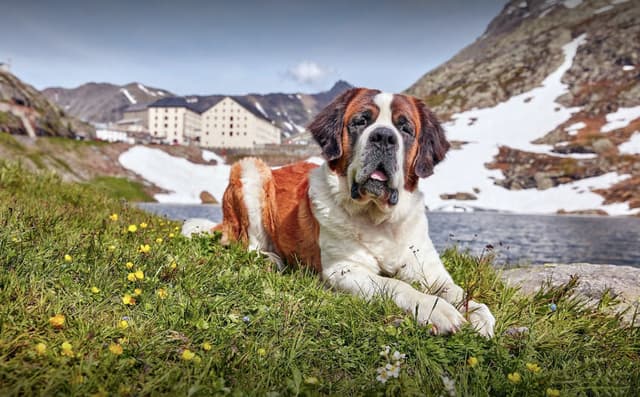 A St Bernard at the Grand St Bernard Pass. (Photo: Foundation Barry)
Day 7
It's time to head to Switzerland! Our accommodation is right on the Italian-Swiss border, at the 2469m (8100 ft) high Grand Saint Bernard Pass. We'll travel on the historic Via Francigena to reach the Hospice, which has assisted travelers since it was founded in 1050. It is home to the Saint Bernard dogs, and to this day is run by monks. 
Accommodations: Auberge de l'Hospice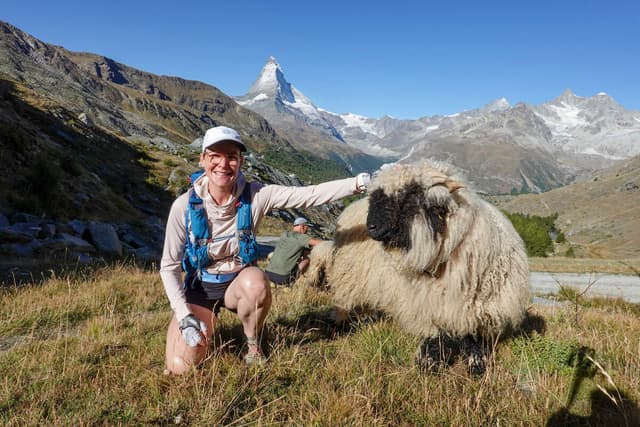 Making friends around Zermatt! (Photo: Steph Lefferts)
Day 8
We'll run down into the Val d'Entremont, in the Swiss Canton of Valais, then jump into taxis for the rest of our journey along the Rhone valley to Zermatt, at the foot of the Matterhorn.
Accommodations: Hotel Ginabelle
A Swiss rösti – a popular dish. (Photo: PatitucciPhoto)
Day 9
We'll have a leisurely start and take the cog train to Gornergrat to get great views of the glaciers and the Matterhorn. We'll run down via Riffelsee lakes to Riffelalp where we'll stop for some lunch.
Accommodations: Hotel Ginabelle
Day 10
Today we say Au Revoir to Zermatt, Mirna, and the other guests, and catch the train to our post-tour destinations.
Meals: Breakfast
What's included
6 nights at a 4-star hotel, 2 nights at a 5-star hotel, 1 night at a mountain hotel, shared shuttle from the Geneva Airport to Chamonix, 9 dinners, all breakfasts, trail snacks, wine and cheese tasting, a bottle of François d'Haene wine upon arrival, in-tour lifts, trains, and taxis, 3-day lift pass in Chamonix, Pré Saint Didier Spa, Luggage transfers (all nights), License-free photography, Run the Alps' certified trail running guides; Run the Alps' Guide to Trail Running in the Alps and other supporting materials.
Tour category
Village-based, with one night in a mountain hotel
Tour stories
Mirnavator in the Alps
Mirna Valerio, "the Mirnavator," brought together a group of twelve wonderful women who are not often seen as typical trail runners due to their speed, body size, or ethnicity. And we all had a blast running trails in France, Italy, and Switzerland. ...
Read more
Book this tour
Cost
$5,700 per person
$500 Single supplement

Make it private guided
Your companions, your dates, your tour– we do the rest.
Inquire here.