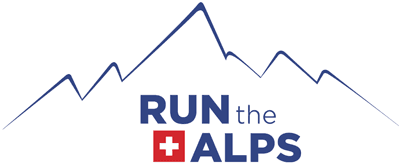 Running the Niesen — Minus the Staircase
Running the Niesen — Minus the Staircase
I've heard of a lot of downright twisted trail races over the years. There's Mount Marathon in Seward, Alaska. (Check out this rather intense video of the race.) There's Fully, Switzerland's Vertical KM, considered one of the steepest, most direct vertical races the world. Nearby Leukerbad has its quirky thermal sprint. There are plenty of others.
And then there's the World's Longest Staircase.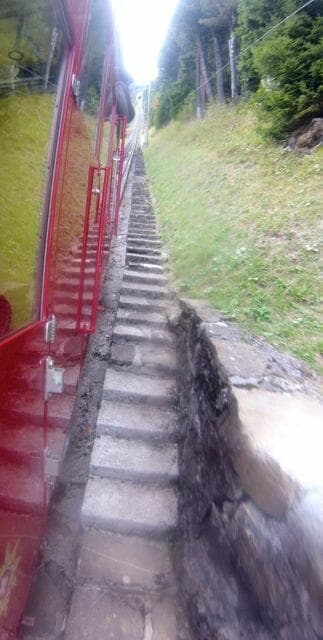 To be clear, I didn't run it. There's no recreational running allowed, since the staircase is part of an active funicular route on the Berner Oberland's Niesen. But I did get to inspect it up close. This staircase, 3.5 km long with 1,669 meters of vertical and reaching grades of 68%, telegraphed pure pain and lactic acid overload directly into the innermost cortex of my brain. And, that's just from observing it from the funicular ride down. Actually running up it? I'll 'fess up. I've met my match. Nein danke, Niesen.
Instead, I ran the far more bucolic, woodsy trail that switchbacked beautifully up the peak, touching the staircase in a few spots, just in case you needed reminders of just how harsh things could be. I enjoyed an hour in old woods, with plenty of shade. An occasional pasture and herd of cows were interspersed for diversion. The view included everything from Bern to Meiringen to Kandersteg, snowy summits glinting on the horizon.
En route, I met Paul, a mountain runner from Bern. We talked as we slow-ran our way uphill. The Niesen is one of those under-the-radar Swiss favorites, and recreational runners are often to be found headed for the summit. "Not so hard on these," says Paul, tapping his knees. "The ride down. It's good." He runs the Niesen four or five times a year. "My time? Two hours," he says. We're both enjoying a morning out by ourselves, so I stop to take photos and let some distance come between us. But I notice we're running exactly the same pace. En route, I stop to take a lot more photos and a few videos. I top out at 2:05. Paul's there with a highly un-Swiss exuberant high-five for me.
The Niesen, I discovered, is nicknamed the "pyramid of the Alps," and there are posters juxtaposing the two. Looking out at one of the finer views in the region, I couldn't help but think that the marketing team missed a chance to go to their strengths. Something about seeing Giza and the Swiss Alps in the same illustration just freezes my brain in an intercultural, "Say what?!"
Taking in the view, I remind myself to thank friends Dan and Janine Patitucci, who had told me about this outing. Their batting average with me is about 110%. Whenever Dan says, "You should check it out," the subject in question gets etched on my running "to do" list. At the time Dan mentioned the Niesen, my trail running season in Switzerland was winding down. Still, I knew I had to do everything in my power to check it out, before I found myself at airport security.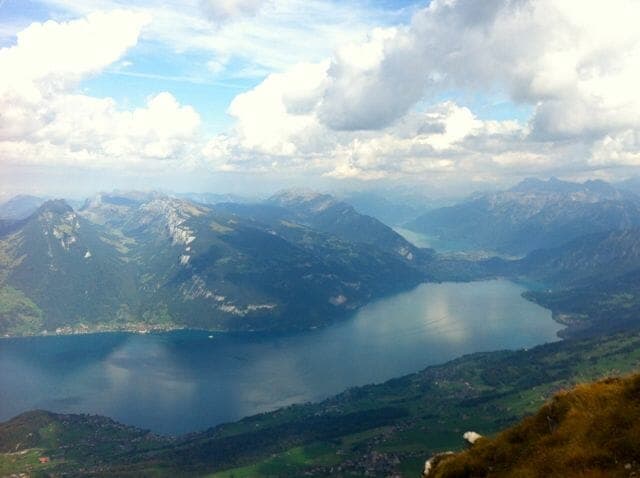 Why was it on Dan's must-run list? For starters, there's the outrageous view. The Niesen is strategically positioned, and takes in an enormous swath of Switzerland's big peaks, and towns from Spiez to Interlaken to Kandersteg. Next, there was also the convenient, hard-morning-run aspect: the route isn't an all-day outing. And then there was this novel twist: at the summit, you can grab a hot shower, milchkaffee at the Berghaus Niesen, and then hop the funicular down.
The shower, by the way, was downright genius. It's often used during the week, before work. Imagine getting up early, enjoying one of the best mountain runs in Switzerland, showering at the summit, and hoping a funicular down to your job. Not a bad scheme, whomever assembled this concept. The shower is modern, and is tucked away in the corner of the summit building, which is built into the side of the mountain. There are Swiss hut blankets to stay warm if you're summiting on a chilly day.  The entire operation was courtesy of the local sports shop, Birchersport Thun. There's no attendant — just make a donation of any amount in the jar near the shower. Someone's got the right idea here, I think. I wish every American ski area had a deal like this at its peak.
On the ride down, in a tiny funicular that can only be described as Swiss transport cute, I lower the window, crane my head and stare at the thousands of steps next to me. They look like the work of M.C. Escher, curving steeply uphill off into infinity. The optical illusion is disturbing. I try to imagine what tricks my brain would play on me, after, say, running 10,000 steps. My mind went numb at the thought. I had met my match.
Useful Links:
swissinfo Video, World's Longest Staircase