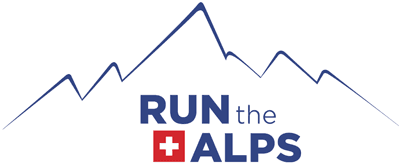 A Midwesterner in the Alps: Hoka's Emily Schmitz Tackles UTMB's OCC
A Midwesterner in the Alps: Hoka's Emily Schmitz Tackles UTMB's OCC
Run the Alps friend Emily Schmitz is an American trail runner living in Chamonix, France. In 2019, she finished 5th in UTMB's OCC race. This year, she finished 11th.
I am not a natural mountain runner. I grew up in Milwaukee, a city that sits in the heart of the Midwestern US, known for breweries, Harley Davidson motorcycles, and also for being… flat. Very flat. I came to realize my love for the mountains later in life, mainly because I had seen so few of them as a child. Wisconsin, where I spent most of my youth, is known for flat plains and corn fields. At best, we sometimes get rolling hills, but they are few and far between.
My first real encounter running hills was in the sixth grade, when I joined the cross country team. My coach informed us that our races, while mainly flat, would also have some hills. He also told us that we should run, not walk, these hills. As a midwesterner who only knew flatland running, this was unfathomable. We were told that in order to run up these hills we would need to first practice this skill. This, we were told, is referred to as hill training. This was also an unknown concept for me.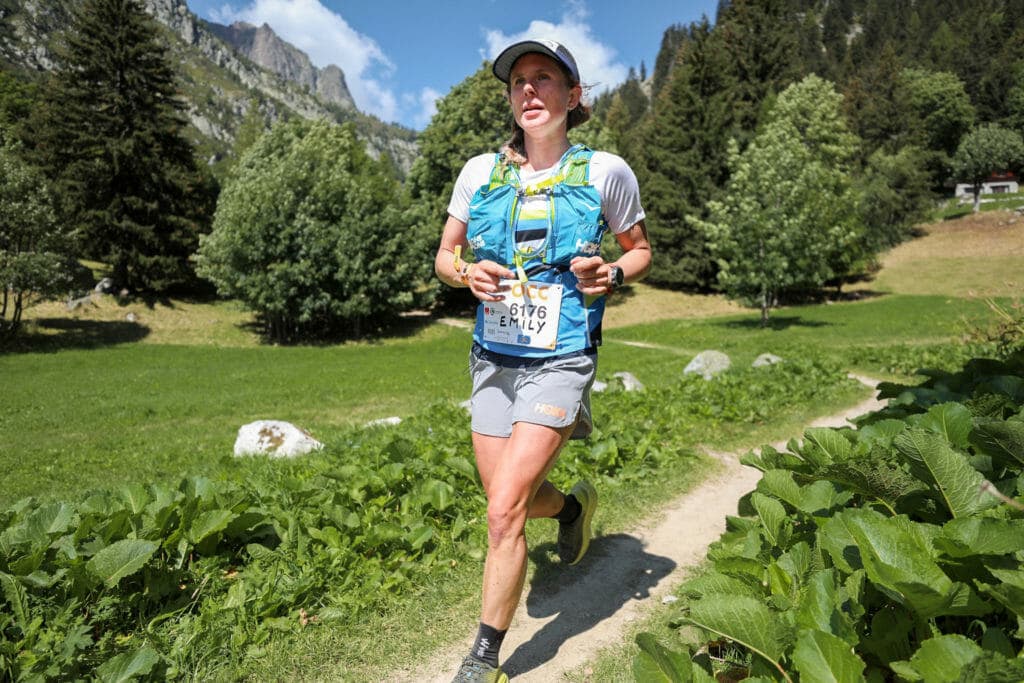 One day before practice, our coach told us to fill our backpacks with our heaviest textbooks. I packed my Jansport backpack with everything I had in my school locker. It was 1996 and nothing was online. My books were hardcover, large and bulky, and I was exceptionally small even as sixth graders go. I forced the zipper shut and put on my backpack. It sagged with the added weight, knocking awkwardly into the back of my knees.
I don't have many memories from middle school. But I do have a clear memory of this workout. I can recall the pit that formed in my stomach when coach told us that our workout consisted of running up our local hill with a backpack full of our biggest, heaviest books. Numerous times. This, he said, was called hill repeats. I remember standing at the bottom of the hill and looking up. I ran as fast as I could… then doubled over when I reached the top.
I didn't discover trail running until my mid-thirties. Leading up to this, I had declared myself a sworn anti-hill runner. In my first trail race, which I admittedly signed up for because it was free, I was passed on the uphills by what felt like the majority of the participants. Not only did they pass me with rigor, they seemed to even enjoy going uphill, smiling and giving me words of encouragement. It took me many years to find what runners call my "mountain legs," which is just a fancy way of saying that the thought of running up mountains no longer produced fear and panic, but rather feelings of joy and tranquility.
In 2019, I arrived in Chamonix for the first time. Like thousands of trail runners every year, I was drawn to UTMB®, and what is considered the biggest trail running event worldwide–the Super Bowl of trail running–and wanted to experience it for myself. As an added benefit, I also secretly hoped that running in Europe would help me understand why European runners are so agile and fast on steep, rocky mountain passes. I have yet to discover this secret.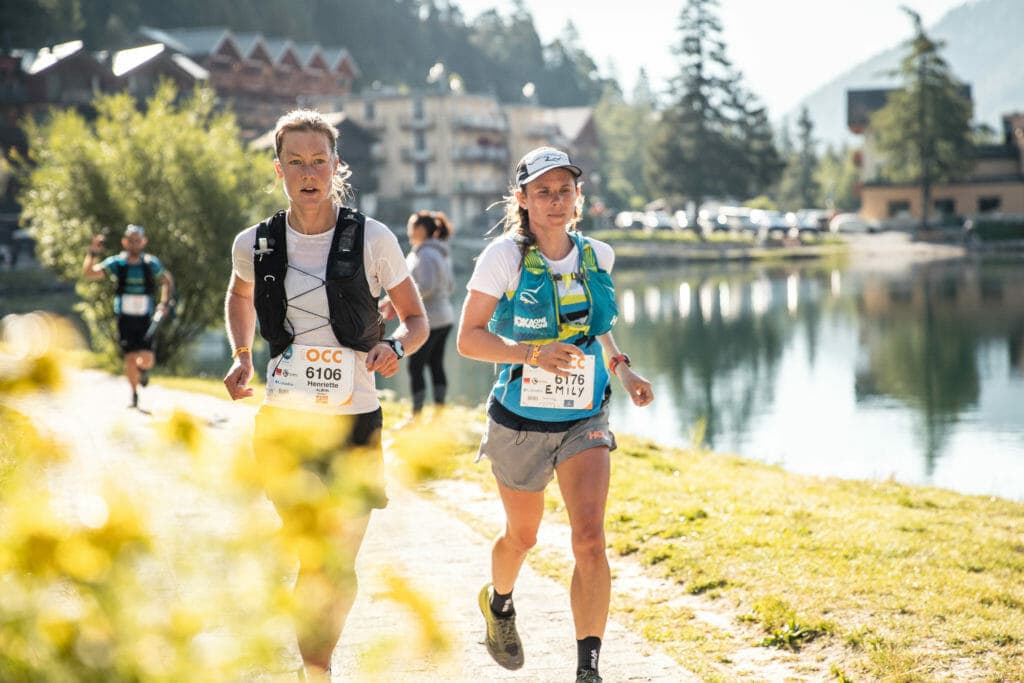 In 2019, and again in August of this year, I ran the OCC, a 56-kilometer race that starts in Orsières, Switzerland, passes through the high village of Champex-Lac, crosses the border into France, and then ends in Chamonix, France. This 34-mile journey climbs 3,500 meters (a bit over 11,000 feet) as it makes its way up, over, and around the Alps. For UTMB® fanatics, however, it represents just a fraction–specifically, the final third–of the full 170km distance of that race.
In comparison with longer races such as UTMB®, the 100km-long CCC and the 145 km-long TDS, the OCC sits beside them like a little sibling. But, despite it representing just a fragment of these longer distances, it is also a race of its own, requiring an entirely different strategy, mentality and preparation.
For example, the OCC is explosive — this year's top runners covered the first mile alone in a speedy 6 minutes– and unlike longer ultra distances, 56 kilometers can generally be run without the use of a head lamp or drastic changes in temperature associated with night running in the Alps. There is generally no need to change shoes or socks, or deal with debilitating stomach issues.
While the full loop around Mont Blanc will forever remain the central focus of this iconic week of trail running, the growing popularity of the sport has sparked interest in shorter ultra distances and they have become more competitive, and increasingly speedier. While the men's UTMB® record has remained untouched for the past 5 years , the OCC course records have dropped consistently. 2021 was no exception, with Blandine L'Hirondel lowering the women's record by five minutes from Ruth Croft's 2019 winning time, and all four top men breaking Stian Angermund's 2019 record.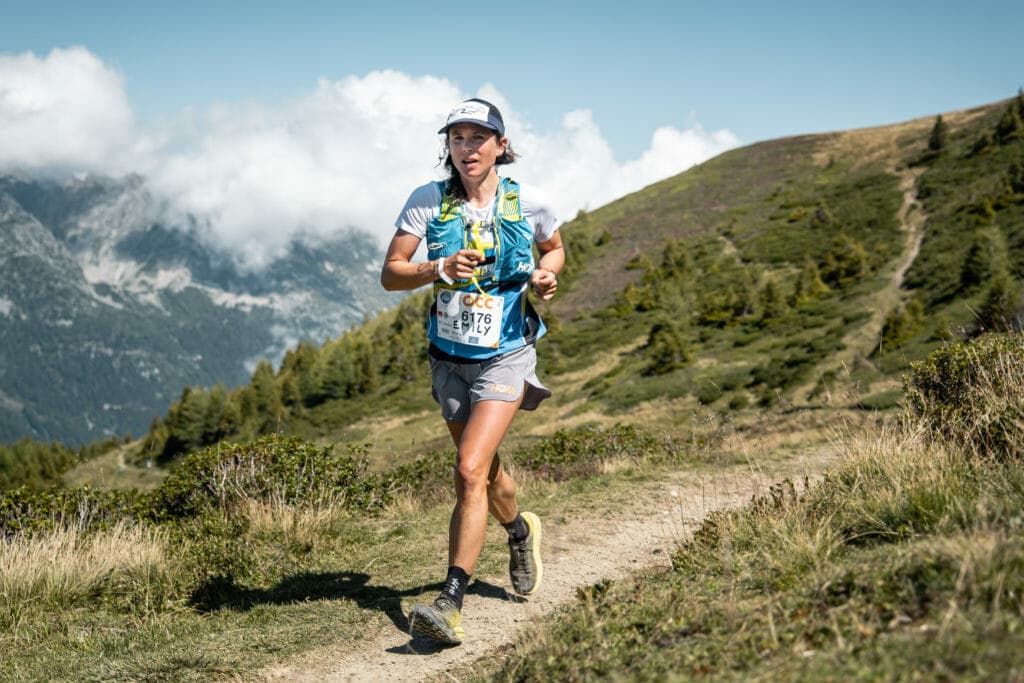 If I had told my middle school self that one day, I would run over 11,000 feet up and around the Alps, I would have laughed in disbelief. Or maybe my above-mentioned animosity toward hills would have had me walking away from the sport altogether.
At the time it would have seemed– and been– impossible for me. But every running journey is unique. Mine has taken over 25 years, with ups and downs, and months and even years when I have sworn off the sport completely.
But, still, I am constantly amazed at what my legs can do. But even more, I am amazed by the evolution of the sport and how much I still have yet to learn.
Follow Emily, and learn more about her trail running coaching work, on Instagram at @emilyschmitz.runs.