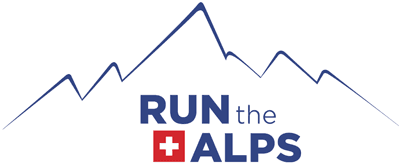 A Three-Year Journey to Chamonix
A Three-Year Journey to Chamonix
We're pleased to share this story from Bret Bechis, who discovered the Alps trail running scene through Run the Alps' Doug Mayer. Bret is based in the San Francisco Bay Area, works for Airbnb, and runs the outdoors clothing company HeyHeys. For his part, Mayer confirms the accuracy of the story, but wants none of the credit. "The Alps trail running scene is infectious all on its own," he says, "And once you get the bug, it's nearly impossible not to spread it to others."
Every so often someone unexpectedly pops into your life and reshapes your entire understanding of the world. I happened to meet Doug Mayer in 2014. At that time, Doug planted a seed of trail running in the Alps that ended up blossoming into the biggest race of my life, UTMB's CCC. Along the way, I gained a friend who has challenged me to think bigger and bolder each year. Together, we swapped stories along the way.
It started with an email to NPR's Car Talk program. I was working as the Market Expansion Lead at the ride sharing company, Lyft, and I thought there could be no better partner than the good guys over at Car Talk, who had been building a community of NPR fans for the past 30 years. I lobbed an email their way, and received a jovial response from Doug, who – for those of you who don't know – has been a producer at the show for more than two decades. We agreed to meet at Car Talk Plaza in Cambridge, Massachusetts.
When Doug and I sat down, he pulled out a laptop with a case that had been customized with one of the most amazing trail running shots I'd ever seen – a runner on a knife edge ridgeline of a high alpine meadow, striding beneath a bluebird sky. (I later found out that was the noted photographer Dan Patitucci on the Hardergrat.)
"Ok, we have an hour," I started, "and I think, for this hour, and likely the next, we are only going to have time to talk about that photo…" Doug smiled. "You like to trail run?" he asked.
I had only recently gotten into trail running, but was already quite familiar with the feelings of untouched alpine singletrack on a brisk morning. However, I knew very little about the US racing circuit and its legends and much less about its much bigger brother in the Europe. Doug was quick to pick up where my acumen trailed off, and with such enthusiasm! By the end of our conversation, I had a reading list that would last me weeks, and a whole set of names – trails and runners alike – to look up.
It was clear Doug was the rare person who really lived the world in which he was operating. He'd run many of the trail races in the Alps, and wrote about them on the Run the Alps blog, for Trail Runner Magazine, and other outfits. He took his Car Talk work – including my emails and calls – with him on trains between trailheads. The excitement he had for exploring the region, meeting all of its heroes and lesser-well-known organizers, and participating in an incredibly special culture, was both palpable and inspiring.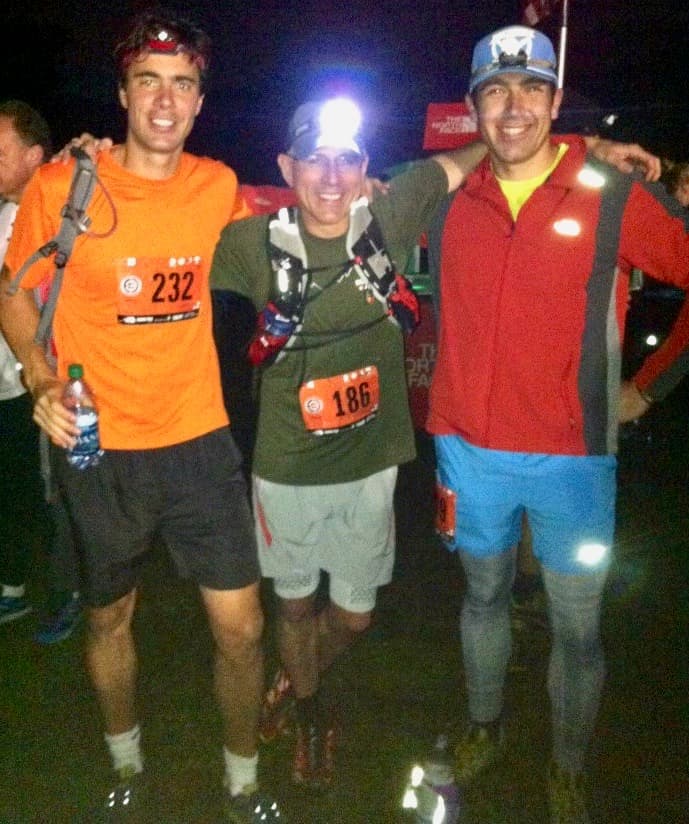 Back in Doug's home base of New Hampshire's White Mountains that Fall, we went out for our first trail run amidst brilliant New England foliage, and we got a commitment from Doug to show up for my favorite race, The North Face Endurance Challenge, California Championships – aka "TNF": a 50-Miler along the Marin Headlands.  It would be Doug's 50th birthday, and he figured, "What better way to celebrate?"
Come early December, Doug showed up on my Bay Area home turf, ready to rumble. Also along for the run was my longtime, dear friend, Alex, who was contemplating a move back to San Francisco from Brazil. Doug was a master of the pre-race warmups. "Oh, hey, do we really need headlamps for this?!" he joked. "So, this is your short run, right?," he nudged one of my friends at the starting line. Then we bumped into his friend, Salomon runner Rickey Gates, and all said hello. Then, another of his friends….  And so it went. "Who is this guy?" Alex and I thought. We laughed, left the starting line, then got smoked by Doug by about two hours. At the finish line, Doug was beaming, cheering and storytelling the afternoon away. He was a kid in a candy store. He left California with a single teaser… "I'll see you in the Alps next summer!"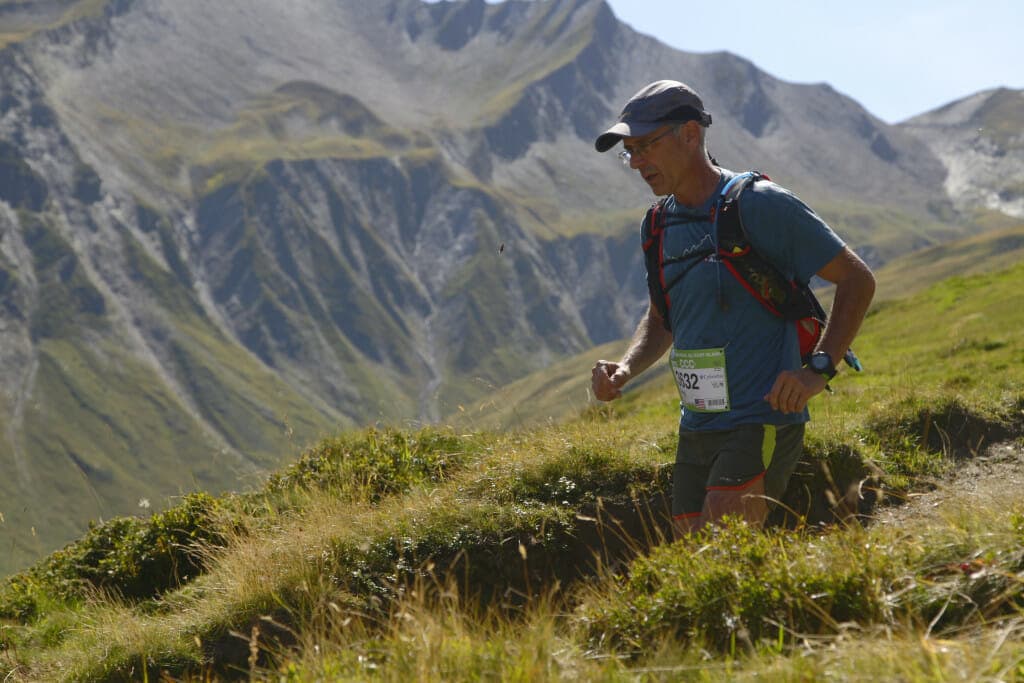 Well, summer in Europe turned into winter, and I was headed to Norway on a backcountry ski trip. The first person I reached out to for advice was Doug. Without a moment's hesitation, he recommended several mountain guides in the region, and I was on my way. We kept in touch and Doug kept prodding me to make a trip out to the Alps, but it wasn't on the cards. Instead, Doug updated me on races, and stories, and standings, and all of the excitement continuing to build in the trail running scene. He even planned a repeat of the TNF.
For Alex and me, 2016 was our year to really get serious about the Alps. We earned the points needed to get into a race or two in the UTMB series, which Doug had raved about nearly every time either of us had spoken with him. "You guys, this is the Superbowl, your birthday and New Years all rolled into one," he'd gush. "And it just keeps getting bigger – you really need to come check it out…" He was positively relentless, obsessed, and passionate about it all. It was as if he knew he was in possession of the greatest gift in the world and was intent on sharing it.
So, it was time to follow through and really dive in to the Run the Alps world. Alex and I read Doug's recaps of the CCC from the year before: the euphoria, the semi-hallucinations, the suffering and, ultimately, the satisfaction. We could only smile at the looseness with which Doug approached these events, while still managing to keep in perspective the grandeur, the history, the elites, all in one headspace. We dove into our training with a summer ski trip to Svalbard, Norway to develop fitness as we pushed hard uphills. We got into the TNF 50-miler from the waitlist, a week before the race. I'd done some UTMB research and noted Alex and I would have enough points to qualify for the lottery for the CCC, which less than half of first-time entrants would complete.  On a week's notice, I convinced Alex to run TNF. Doug stayed at my apartment. It was the least I could do for a man who'd carried our curiosity for the sport this far. "For the points!" our rally cry echoed through the starting line at the 2016 TNF, Doug there cheering with us. "Just get those points, guys!" Doug offered over his shoulder as he broke off from us twenty minutes or so in.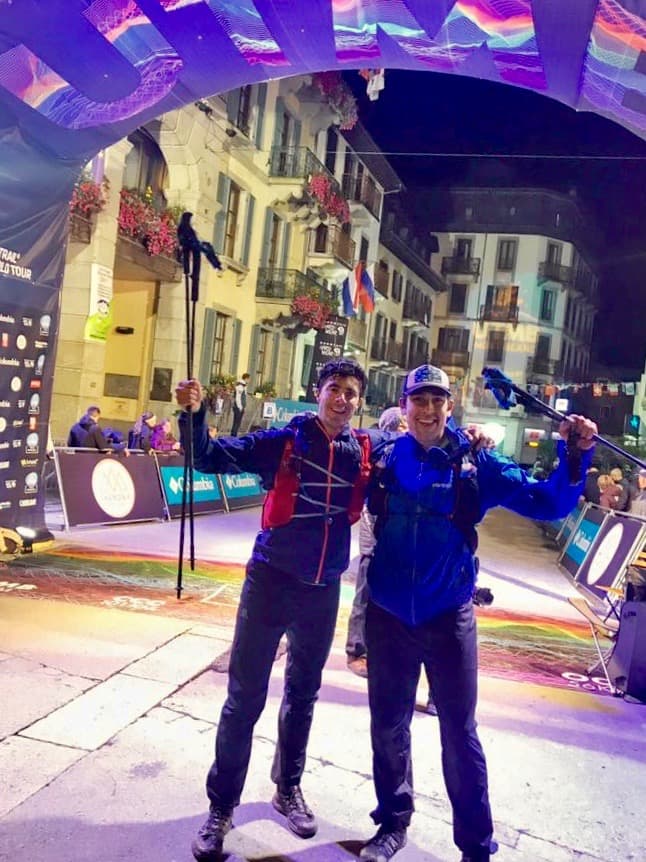 Our day ran long, with a massive slow down at mile 35, but Doug's cry rang loudly in our spirits as we coasted through Marin's final hills in the sunset. We crossed, beat tired, but with a critical step complete. I was pumped. Alex was skeptical.
On the day of the CCC lottery, I woke up early to submit my registration and set a calendar alert for the results. I reminded Alex and Doug to do the same (like he needed that!). On results day, I checked my email. Nothing. Shoot! As ridiculous as our path to that present moment had been, I felt a huge let-down. Then I checked my spam folder, and found an official congratulation. I was in to CCC! I pinged Alex. He didn't get the email. I told him to check his spam. He was in! I pinged Doug, "See you this summer!"
"Okay, guys! You really need to train for this one, though. Like, really. Man those hills at the end," Doug happily warned us. "But what about accommodations?" We focused on one step at a time. Doug jumped at the suggestion to help and, moreover, went out of his way to help my Mom plan her trip through the pensions of Switzerland to follow the race. For her, it  turned into the trip of a lifetime.
Doug, and Alex's Grandmother, had sufficiently motivated us to lay out a strict training regimen (consisting of various segments of the Pacific Crest Trail and multi-lap days up Marin's most accessible sea level mountain running, Mt. Tam) and to be sure we shared our progress with Doug along the way after each ridiculous training adventure. From his end, we'd get the updates, "This is going to be the most stacked CCC and UTMB in history, it's going to be really crazy! Seriously though, are you prepared for those hills?"
And then came traveling day; Doug was on email, and then there he was in person, meeting me at the Chamonix bus station for lunch. He filled me in on the status of various elite trail runners in town for UTMB and CCC, the economic impact of the races, possible strategy with the pending storms, and all of the other storylines to keep track of over the coming days. He wished us luck, and let us know he'd be keeping an eye on us.
At one point, that literally meant emailing us in the middle of his race, the UTMB race itself. Unbelievable. Equally unbelievable, though, had been Doug's race day tips and strategy. With his 2015 CCC race recap etched to our memories, we retraced Doug's steps along our own path, noting things like, "Oh, this is where Doug passed 100 runners," or "This is the place he forgot what he was doing and had nothing to write about!" Our thoughts drifted to his present race, as well. "Where do you think Doug is right now? Think he caught a word with Kilian? Think he's started making his signature move on the pack yet?"
We finished CCC at 5am, eternally grateful for our shared experience. We celebrated with beers and croissants, and thought about where Doug could be on his course, with an entire second night of running still ahead of him. Alex and I tucked in for some well earned rest, then woke up to watch the UTMB winners among a crowd of over 10,000 spectators. We soaked in the atmosphere, and began a calorie intake exercise that lasted a solid week. We kept Doug in our Live Trail race tracker and rooted him on from behind our pizzas, burgers, rostis, beers, and fondue.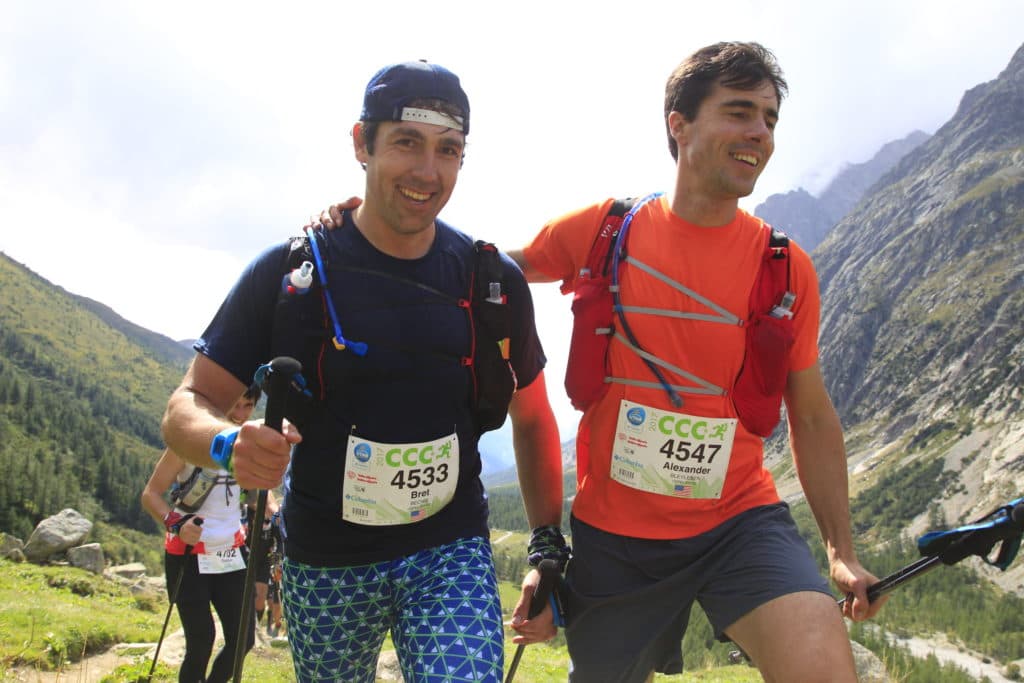 The next morning, we posted up at a bar by the UTMB finish line to keep an eye out for Doug on the home stretch. Husbands and wives rolled in, fathers and sons, entire families hand in hand. The finish of the 167-km long UTMB is an amazing spectacle, especially considering the 101km we had just finished was only a little more than half the race these competitors were now wrapping up. We pounded against the corral that lined the finish route in support. And then, in came Doug, rambling with a determination that took me back to our very first conversation in Cambridge that started over that simple Run the Alps laptop skin.
We cheered and hobbled around the corner to cut off the course and catch him at the finish line. As he ran it home, Brevent in the background, Alex and I looked up to see a paraglider jumping from a cliff high above. That, we realized, is Chamonix in a nutshell. No matter how big a day you think you had out there, there's always someone doing something bigger and crazier than you.
This year we still managed a victory lap of sorts at the 2017 TNF, when we all serendipitously came together at the same moment, at the Tennessee Valley aid station with nine miles left in the run. Alex had been running the entire day. I had dropped just two days before the race due to a back injury, but elected to try to pace Alex in to the finish. Doug had been running all day, once again moving up as the day went on. With the past four seasons top of mind, the UTMB in our hearts, and the Alps in our minds as we rolled through the much-tamer hills of Marin County, it was the best nine miles I've run this year.
Doug has transformed our world, changed our perspective, shown us the best of a world in which he has been one part student, one part leader, one part documentarian, and one part super fan. Run the Alps is the embodiment of this energy and passion. If you let it in – even just for a one-hour conversation like me – be careful. Doug and his team may just set your life's compass in a remarkable direction. Don't worry though, they'll be a big part of every step of the journey.