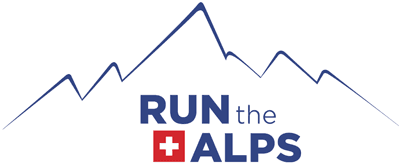 Adidas Ultra Runner Brian Tinder on Running Europe's Oldest Trail Race
Adidas Ultra Runner Brian Tinder on Running Europe's Oldest Trail Race
As we look back on a great season trail running in the Alps, here's part two of our interview with Adidas Ultra runner Brian Tinder, in which we talk about his second-place finish in Europe's oldest mountain race, the Trail des Dents du Midi. The race takes place each September in the mountain town of Champéry, at one point skirting the region's alpine border with France.
Run the Alps will offer a unique self-guided tour next year, in conjunction with this fabled race. You can get more information here.
Part One of our interview, about Brian's experience preparing for the race and trail racing in the Alps, can be found here.
Run the Alps: So… How'd it go?
Brian: I thought it would go out faster, but I'm glad it didn't. I don't like to go out as hard as I can, but a lot of European races do that. The first climb, which took about an hour, was pretty comfortable. I got to see people's strengths and how they were handling the terrain. Then there was downhill running to the first aid station. I knew the Europeans would be much stronger on the uphill, and they were. I was able to push the pace on the flatter areas and catch up. On the downhills, I was really surprised. I was able to hold my own. Going down into Verrosaz, a couple of guys bombed it. But I passed them later.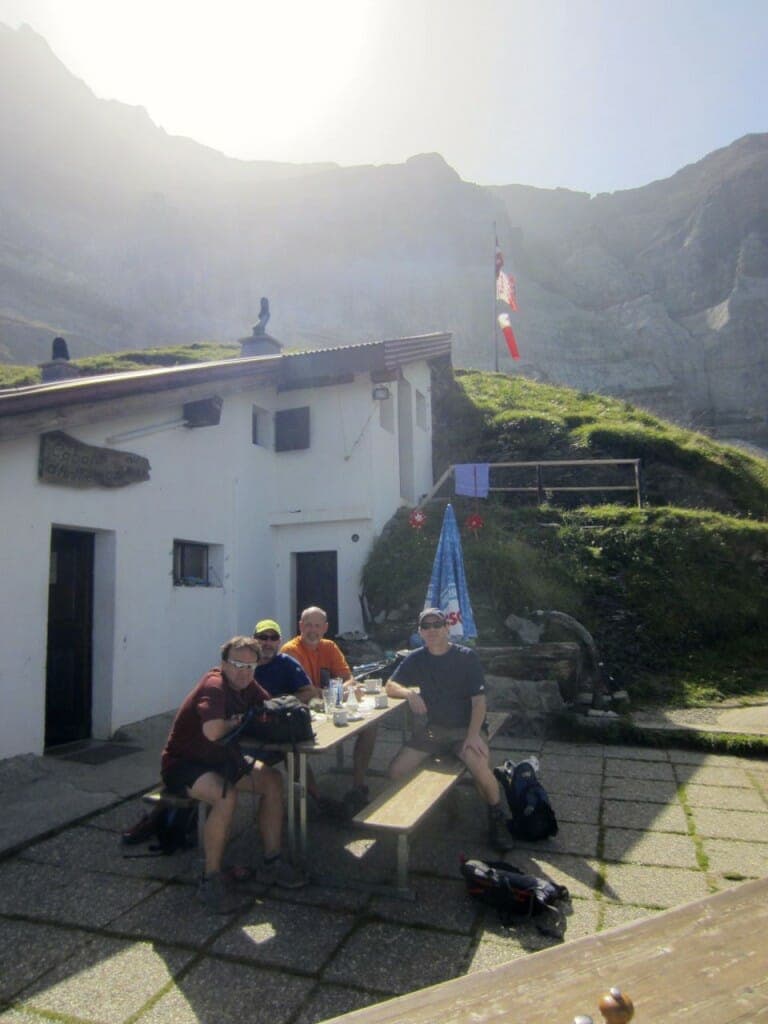 The course is always more challenging than the profile, in my experience. A couple of times, I'd look up and see people scaling a cliff and think, "Nah, that can't be it. Where's my route?" And, of course, it was the route!
Run The Alps: What about the scenery?
Brian: There was never a dull moment, whether running through a small village or over an alpine pass, with Switzerland behind you and the border with France ahead. We had the local animals to contend with, too—a few stubborn goats and slow moving cows. That was scenery that was a bit of a challenge!
Run The Alps: We have to talk about Manu. (The eminently likeable Emmanuel Vaudan, one of Switzerland's strongest and most adored runners. In October, 2010, he captured the world record for the Vertical Kilometer, at nearby Fully.)
Brian: I got brief opportunities to chat with him during the race. He's very nice! We talked about the work we do, the course, the other runners. To watch him run uphill… well, I'm not sure I even would call it running. On the steeper terrain, he gets on all fours and scrambles like a mountain goat or a wolf. I've never seen anything like it. He's an animal.
I tried to push every step to Col Susanfe, knowing that with every one of my steps he was taking two. He gained seven minutes on me on that climb! I gunned it all the way on the downhill, and gained three minutes back, despite rolling my ankle on the downhill.
Run the Alps: The descent… It's very technical in places!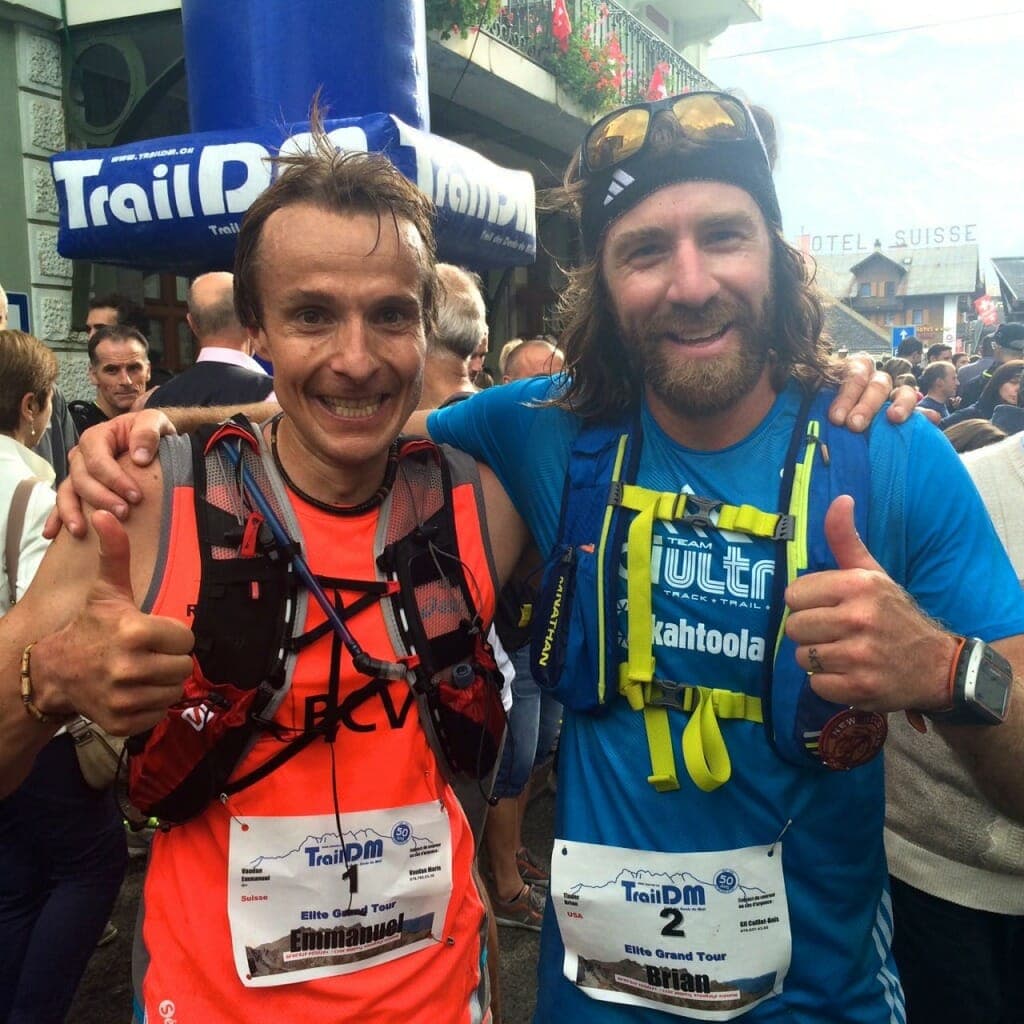 Brian: At times, you're going down something smooth but extremely steep. You can't stride it out. You have to try to trot. I do a lot of skipping—it's my style.
Some of those down hills, you're running with drops of two feet at a time. We were also hitting the mass of the early starter, which complicated matters. I'd leap from rock to rock. You had to be careful, too, because it was greasy.
Run the Alps: So, overall…?
Brian: The race played out just exactly as I expected. I stayed calm and I stayed strong. I was very happy to get second to Manu. He's a famously strong runner, who's one of the best in the world on uphills. And, he knows this course inside out. This is his home territory, and it was his third win here.
Run the Alps: Do you think there'll be more folks coming from U.S. next year for Trail des Dents du Midi?
Brian: I think so. I'm going to work to get the word out about this race. It's the oldest mountain race in Europe. It's beautiful. It's got energy. It's something to be remembered. This is a great destination. There are vineyards and wineries in the area, and the Matterhorn not far away. Champéry is a small village, but I couldn't believe the hundreds of people lining the final 200 meters, cheering us on through the main village road to the finish.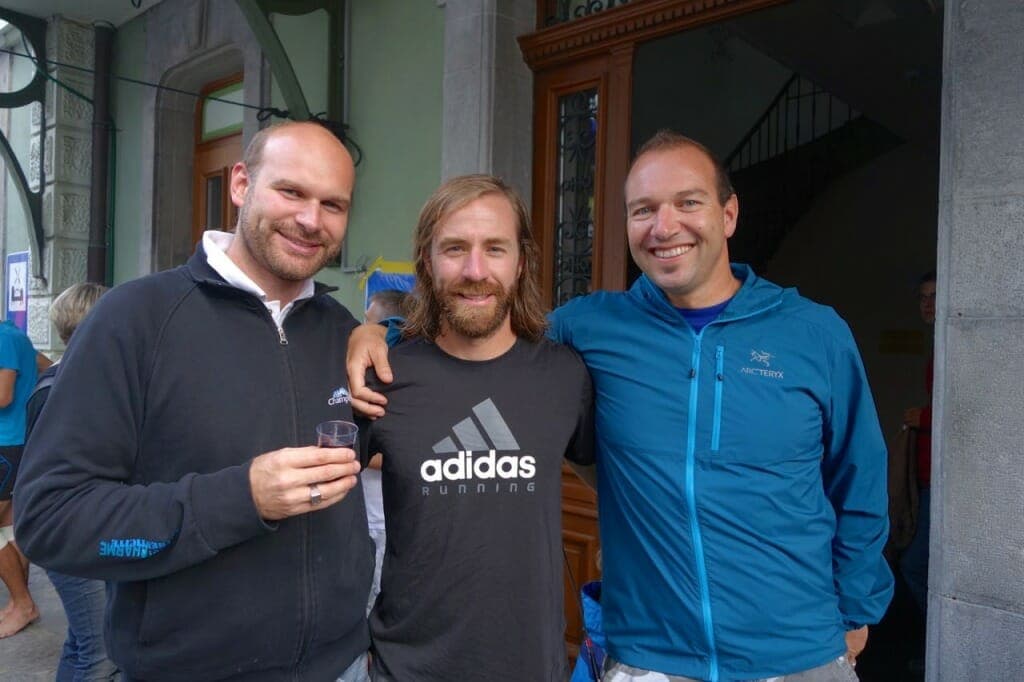 Run the Alps: Any personal goals over here for next year?
Brian: I'd love to be here again. My main goal is to have an opportunity to run the North Face UTMB.
Run the Alps: Thanks for your time, Brian, and congratulations on a great race! Anything you'd like to add?
Brian: Thanks. I'd like to say, these are some of the best hosts I've ever been around. Philippe and Sophie at Beau Sejour, Gil [Caillet-Bois], and everyone else we've met. They've all been very warm and welcoming. This place is comforting in so many aspects. It was a great experience.