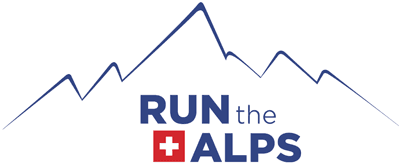 Alain Bustin: Chamonix Trail Runner, Volunteer, Author
Alain Bustin: Chamonix Trail Runner, Volunteer, Author
A dozen different trail races each season. Some of the best mountain trails in the world. Home to one of the strongest collection of trail runners anywhere. And, what might be the most active trail running club anywhere. It just might be that Chamonix has the most vibrant trail running scene of any town in the world.
It all happens thanks in no small part to a core of enthusiastic volunteers. Alain Bustin is one of those people. Retired from a job as Sales Director for a major multinational company based in Brussels, the 66-year-old has now thrown himself into trail running. Among other accomplishments, he has run UTMB five times. A regular contributor to one of France's leading trail magazines, Esprit Trail, he's authored three trail running books: Albert ou la quête d'un marathonien, La Course de Lumière and Courir: Un Autre Regard.
This past season, we had the chance to talk with Alain about trail running in the Chamonix valley, life as one of the key volunteers behind some of the world's most famous trail races, and what the future holds for one of the world's trail running hot spots.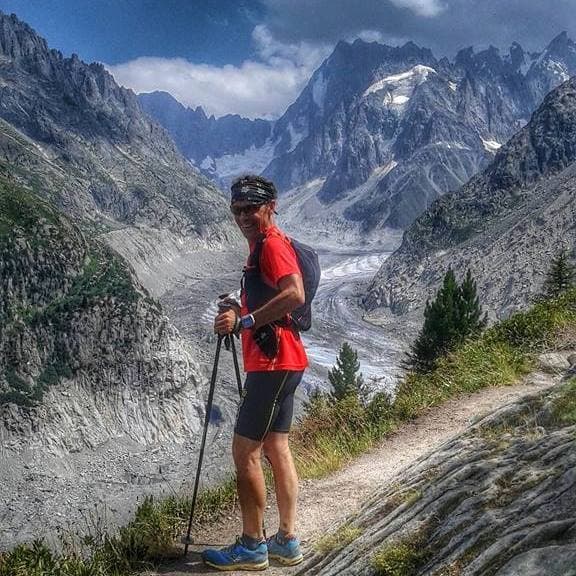 Run the Alps: This past year, you once again were a "post chief," or key volunteer in the Chamonix-Mont Blanc marathon, which is really four races over the course of the June weekend. Can you give us a sense of that experience?
Alain: The spirit among the races is very good, but each is quite different from the other. The 80 km is a long distance race. The marathon and cross, feature shorter-distance runners with different skills. All the races have different skill levels, different types of mountain runners.
For three years now, the Cross and the Marathon require matériel obligatoire. When the runners get their bib numbers, we try to explain why it's necessary. People are now getting used to it, and that's a good thing—this year, for example, we had heavy rain during part of the Cross.
The greatest demand is for the marathon, then the 80-km ultramarathon, then the 23-km Cross du Mont Blanc. The Cross is the classic race in the series. The vertical is a nice one, and popular too—there are many people who don't want to do too much downhill. For people who are fast uphill, the vertical is perfect!
Run the Alps: Who manages the races?
Alain: The Cross was the first race, over 40 years ago. Today it has grown and is managed by Chamonix's Club des Sports team. The local trail running club, CMBM also collaborates, and in the future I hope there will be even more collaboration among all the trail running organizations in Chamonix.
Run the Alps: The races now go by their numbers, such as 80 and 42, not their names. Why is that?

Alain: Here in Chamonix valley, the terrain is technical. The Marathon du Mont Blanc is now called the 42 km, because when you say "marathon," people think of an easy city marathon. The 42 km is hard, even compared to the Zermatt or Jungfrau Marathons. For example, there you can go on a four-wheeler to get an injured runner. This is not so easy in Chamonix.
Run the Alps: The Cross was one of the first trail races in the Alps, wasn't it?
Alain: The Cross will celebrate its 39th running in 2017. Along with 44-year-old Sierre-Zinal, it's really where the heart of mountain running lies in the Alps. [Editor's note: Though just 31 km long, Sierre-Zinal has a challenging 2,200 meters of climbing, and a daring, diving descent into Zinal during the final 3 km.] The story of trail racing in the Alps starts with these two races.
I love Sierre-Zinal as well. I have a long connection with that race, I've run it 18 times!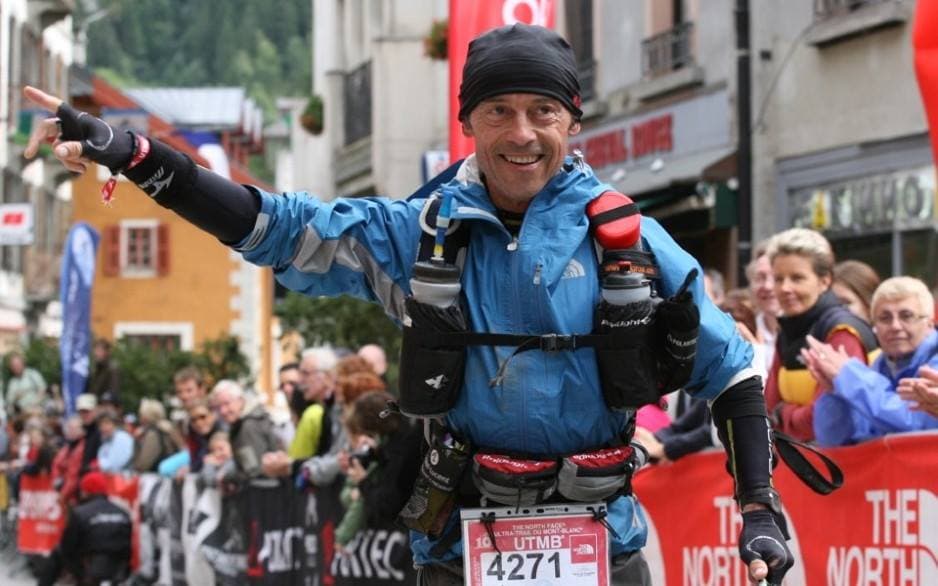 Run the Alps: Can you tell us about doping control at these races? How does that work?
Alain: It's overseen by ITRA, the International Trail Running Association. The race organizations do not know who will be picked or many other details. So, there is no chance for the organization to be accused of fixing results. It happens when the bibs are given out—some of them are marked for doping control. This year, ITRA tested 40 elite runners and 40 recreational runners. As volunteers, we stay with the runner and observe them, when they go to the testing.
Run the Alps: What's the scope of volunteering behind the Marathon du Mont Blanc?
Alain: The marathon series of races has 450 volunteers—a remarkable number. In my role of supervising bib preparation and distribution, and doping control, I supervised 130 people.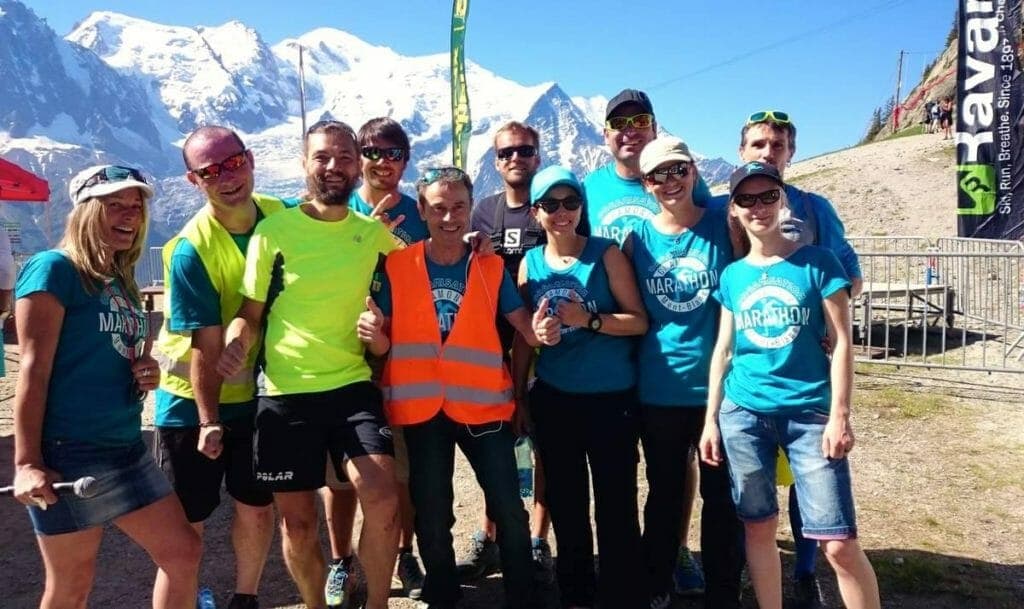 Run the Alps: Can you tell us your routine?
Alain: The work starts the Monday before the races. I arrive early at the Club des Sports to set things up. At 9 a.m., several dozen volunteers arrive. We begin the work of preparing 9,000 bibs—we work in lines of six. Each line has line six or seven people. We put two bar codes on each bib, then each racer gets a lottery ticket, matériel obligatoire checklist, and confirmation of their medical certificate.
When I took the job four years ago, it took five days. Now, with new methodology, we're all done in two short days!
Then, on Wednesday, we train the volunteers. We go through exercises and review issues that may arise. Thursday morning at 9:00 a.m., we start bib distribution. That takes 13 hours! This past year, Friday was even busier—I stayed until 11:30 in the evening.
Run the Alps: What's the best part of your job?
Alain: The mindset of the volunteers! They work long hours, and they even refuse to stop for lunch. Without people like that, you can forget the races ever happening. For me, this is the kind of work that I love—working together as a spirited team. It's great!
What's sad is that runners sometimes forget that these people are volunteers. They arrive for their bibs, but without proof of identity, and get upset at a volunteer when he or she cannot give them a bib.
Run the Alps: What's your biggest challenge?
Alain: We always have some runners who come to the mountains thinking they are running the Paris Marathon. They don't have the matériel obligatoire. They don't know what a real mountain race is all about. For example, for this year's 80-km race, a high percentage dropped out—almost exactly 50 percent. The 80 is a beautiful course, but it's a real mountain race! You need to understand that.
And, sometimes, those with proper equipment may not know how to use it. For example, for the Cross du Mont Blanc, there were many people who didn't know how to use a survival blanket. They were wet, and they put it outside. The don't know that it goes on the inside, to reflect heat back to your body.
It's getting better, though, as more racers come to understand why the matériel obligatoire list matters.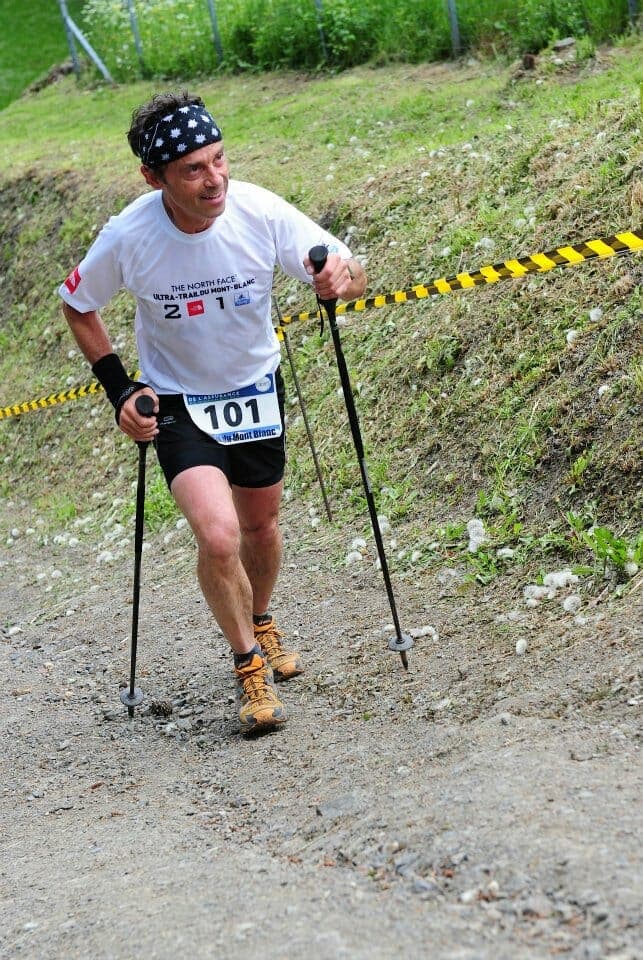 Run the Alps: This past summer's Cross du Mont Blanc, with lightning and heavy rain for part of the race, was a good example of why it matters.
Alain: Exactly! After the races, runners were coming to me and saying, "You were so right!"
There are other surprises, too, aside from injuries or poor weather. For example, the téléphérique at the finish of the Cross and Marathon at Planpraz might not be running, due to wind gusts. That's why the finish is sometimes in Chamonix, similar to UTMB.
Run the Alps: What does the future hold for the Marathon du Mont Blanc?
Alain: Well, for one, the lotteries will have to continue. The demand is huge—it's more than double the capacity of the race. In Chamonix, in the mountain environment, it's so beautiful. These are all beautiful courses. In 2017, a new race will be taking place, too.
Run the Alps: That sounds like a lot of work already… but you also are a key volunteer for the UTMB races. What is your work there?
Alain: I am in charge of the Mini-UTMB, which takes place in Chamonix. We have mini versions of each race, from PTL to OCC. It's a big event. This year had about 1,000 children, aged 3 to 13, plus about 40 volunteers. The events range from 400 meters to 3 km. The youngest racers run with their parents.
I've done it for four years now. It's fun. I'm in love with this event—it's fantastic. Each child has bib #1. We don't rank the results, and everyone gets the same gift at the end.
Catherine Poletti is there for the start of the races, too, just as she is at the adult races [Editor's note: She is a co-founder of UTMB]. The starts are insane—the kids, they go out fast! The Mini-UTMB is 1.8 km long. Sponsors enjoy being part of these races, too—after all, this is the future of trail running.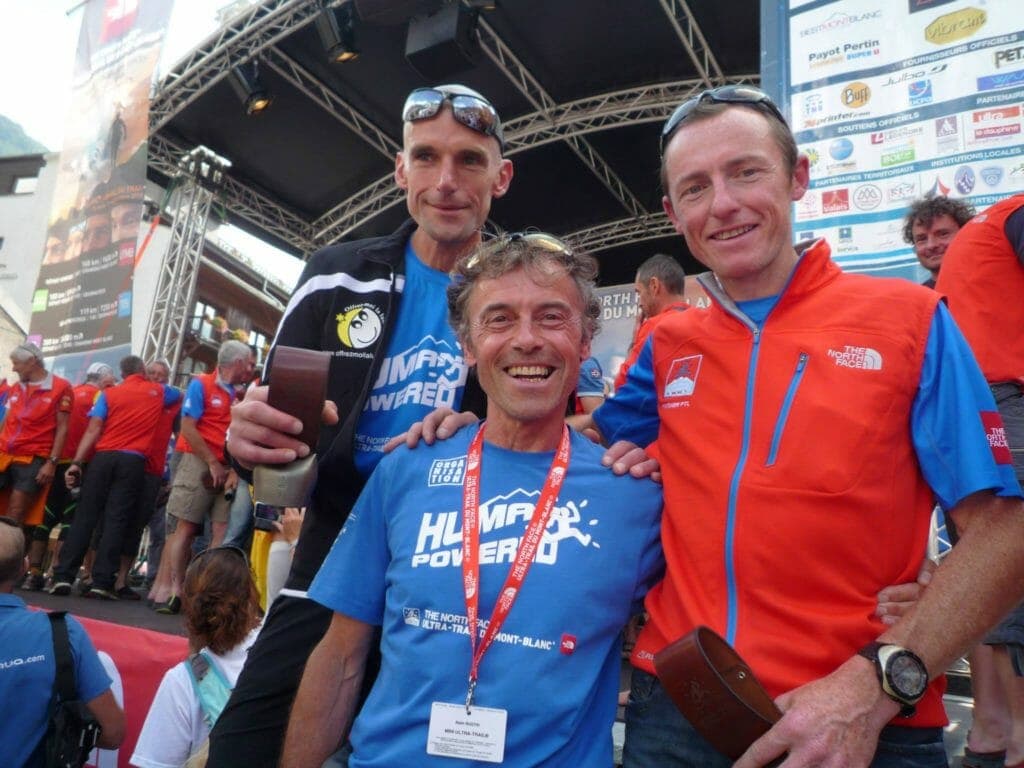 Run the Alps: What kind of difficulties do you encounter?
Alain: Well, the parents! Last year, we had a father whose son was in the mini-UTMB. Parents can't go in the race, of course. This father said he would follow his son alongside the race. At the high point of the course, the father had a medical problem. He said, "I never thought it would be so fast!" He was okay, thankfully.
You have other problems with the parents, too. The first year, at the start, one parent went over to his son and said, "You will WIN!" The child was white as death. After the race, the kid vomited from stress. It was sad. The wife came and was yelling, too. Sometimes parents don't understand it's just for fun.
Run the Alps: UTMB is really powered by volunteers. Can you tell us about that?
Alain: There are 2,500 volunteers, more or less, supervised by a UTMB staff member, Nicolas LaGrange. He's got a big job.
There is a huge volunteer spirit around UTMB. The link between the runners and the volunteers is very strong. For UTMB, I'm also in charge of the protocol for elite runners, for the ceremonies.
Volunteering is part of the Chamonix spirit. There are many great volunteers here. It's one of the town's best qualities—they volunteer for UTMB, the Marathon du Mont-Blanc, Cosmo Jazz Festival and other events.
Run the Alps: Can you tell us a bit about your own running?
Alain: Well, I started running on roads in my early 30s. I was a part-time tennis pro, teaching kids. The kids had good technical skills, but they were not in good physical condition. So, every Saturday and Sunday morning, we started introducing 5 km of running. I used to ride on a bike. One day, one of the boys said, "How come you're not running?" He was right, of course. So I started running.
There is a complicated piece to my running, too. As a child, I had a number of problems with my parents. It was hard for me to survive. I was in trouble.
One day, looking through a box, I found a photo of my father running the Paris Marathon. He was so sporty looking—very different than the father I had come to know. In a sense, that photo inspired me to run my first marathon, the Paris Marathon.
Run the Alps: And your first trail race?

Alain: Ten years after the Paris Marathon, I ran Sierre-Zinal. My friends thought it was crazy for someone from Belgium to run in the Alps, it's so steep here. But, of course, you don't run all of Sierre-Zinal. You hike the steep parts. The mountains are always stronger than you, right? You feel it during the race. The people who know Sierre-Zinal, they know they are being greeted with a "welcome" to the mountain during that first, hard part. They take it easy.
Then, you arrive in full view of the five, 4,000 meter peaks for which the race is famous. Wow! The view! That first Sierre-Zinal race for me was fun and a little bit crazy.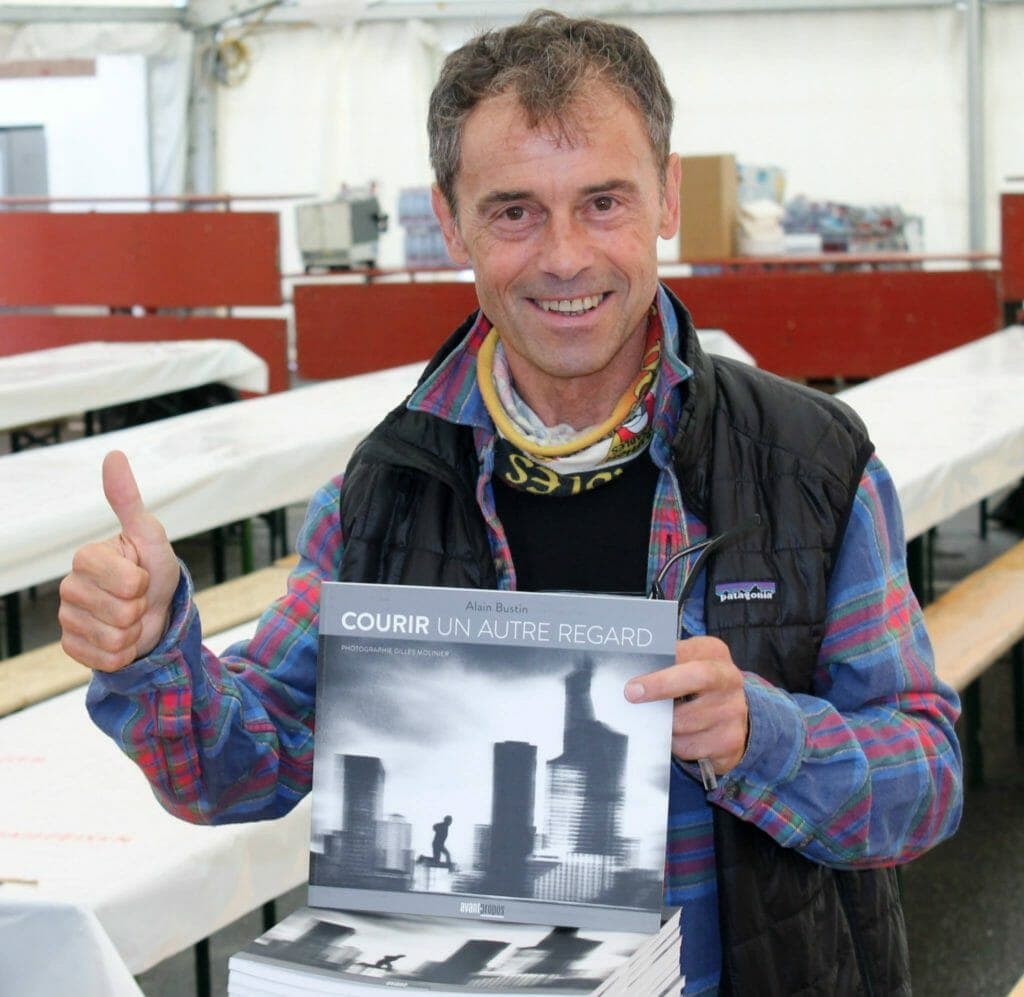 Run the Alps: And these days?
Alain: I feel happy trail running. I feel free. Running is a good tool to help or improve yourself. Now, I have run UTMB four times, and CCC once. But, I have only run the Marathon du Mont Blanc twice. I'm too busy volunteering!
This past year, I ran the Madeiera Ultra trail, Trail Gapen'cimes and the Zermatt and Jungfrau Marathons. That was work, also—for articles for Esprit Trail.
Run the Alps: How did you get started with Esprit Trail?
Alain: I like to befriend people. A long time ago I met the head editor, Serge Moro and his wife, Isabelle. Isabelle is a four-time world mountain running champion, a former European champion and 14-time French champion trail runner. They interviewed me about my trail running books.
One day about five years ago, Serge asked if I would want to write for them. "Could you cover the Ultra Trail Costa Rica?" I said, "Why not?" It's a fun race with just 50 runners. It's a very challenging course.
Since then, I have written about Madeira, Capetown and others. This summer, I wrote about the Zermatt and Jungfrau Marathons, which I think are perfect races for introducing road runners to trails.
Run the Alps: What do you do when you're not helping organize races, or out trail running yourself?
Alain: I also work as a volunteer for the French government in prisons. I work with parolees who are in an eight-week transitional program, before they get out. Many of them have been in prison for 20 or 30 years. I talk with them in the prison library. To get there, two big guards escort me, and we go through what seems like 50 doors!
I move the table out of the way, we put the chairs in a circle, and we talk about, "What is life?" You know, each of us can be in their shoes. It's a thin line. I just try to give what I can to them. I don't ask their stories. The work is very rewarding but exhausting. I leave completely tired!
I also speak at a lot of conferences, on the topic of the link between resilience and extreme sports. Next on my list is the University of Dunkirk—I'll be talking with students, faculty, everyone. I try to give them some way to find their own answers.
Run the Alps: The Ultra-Trail World Tour has you traveling some, too, right?
Alain: Yes. This last year, Michel [Editor's note: Michel Poletti, co-founder of UTMB], knowing that I wanted to run the ultra in Capetown, South Africa, asked me to evaluate the race to see if it was ready to become part of the Ultra Trail World Tour. It's a great event—you go to all the best places around the area, and the race has a great spirit and approach. They had some challenges because of some nature preserve regulations—not unlike some of the requirements we have here in Chamonix, with the Aiguilles Rouges Preserve. So, we'll see. They are working towards resolution.
Run the Alps: What's next for you?
Alain: Well, I will be 67 next year. Now, I share my time between Chamonix and Belgium, I enjoy mountain activities. I'm writing my fourth book. And I continue to talk at conferences.
Run the Alps: You give a lot to others. You also say the mountains give to you. What do they give?
Alain: That's a big question!
When we are born, we each get a story. The existential question for each of us is to find our way in this life and then to ask, "What will I do with this story?" I view sports like trail running as a tool to help find your own story.
The mountains, you know, are very interesting. If you go in harmony in the mountains, the mountains can give you a lot of happiness. What does it mean to be happy? It means to be in harmony with yourself. When that happens, then you can be in love with others—and can give to others.
That's a big question. There is more to it, much more. Maybe we'll talk about it on a run sometime, okay?
Related Stories:
Is Chamonix the Trail Running Capitol of the World? 
Mont Blanc Marathon: Chamonix's Other Trail Running Weekend