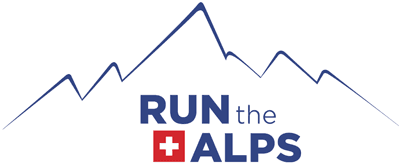 Tips for Early Season Trail Running in the Alps
Tips for Early Season Trail Running in the Alps
The signs of climate change are clear in the Alps. Glaciers are retreating, the snowpack is thinner and the summer season is extending. While none of this is good news, it is increasingly possible to get out on the trails before summer officially kicks-off.  All the same, the Alps still receive several meters of snow over the winter, and new snowfall can continue as late as May. 
In spring and early summer, the trails become visible from under the snow, and we can smell the trees and the flowers calling us up our favorite trails while there are fewer people on popular routes and before the heat of full-on summer.
While it's exciting to get up high as the days warm up and lengthen, running in the early season increases the objective risks we face. In April, May and June, we're more likely to encounter slippery footing and undermined or "rotten" snow. There's a higher risk of high-consequence falls compared to summer trail running, navigation is harder, and snow surfaces can be changeable when the snowfield is long or includes differing aspects. In the early season, too, streams are also likely to be flowing faster with a higher level of water.
The good news is that, as trail runners, we can manage these challenges and minimize risk.  
To help get the most out of your early season trail running, we've polled some of our guides, who are already trading their skis for trail shoes. Here's their advice.
Gear List: What to Carry on Early Season Trail Runs
One of the first things to consider is what extra equipment could be useful. 
Traction: Poles and Spikes
If there's the possibility of encountering a snowfield, you'll cross it more safely with the help of poles with metal tips, and traction for your shoes, such as Microspikes or Yaktrax.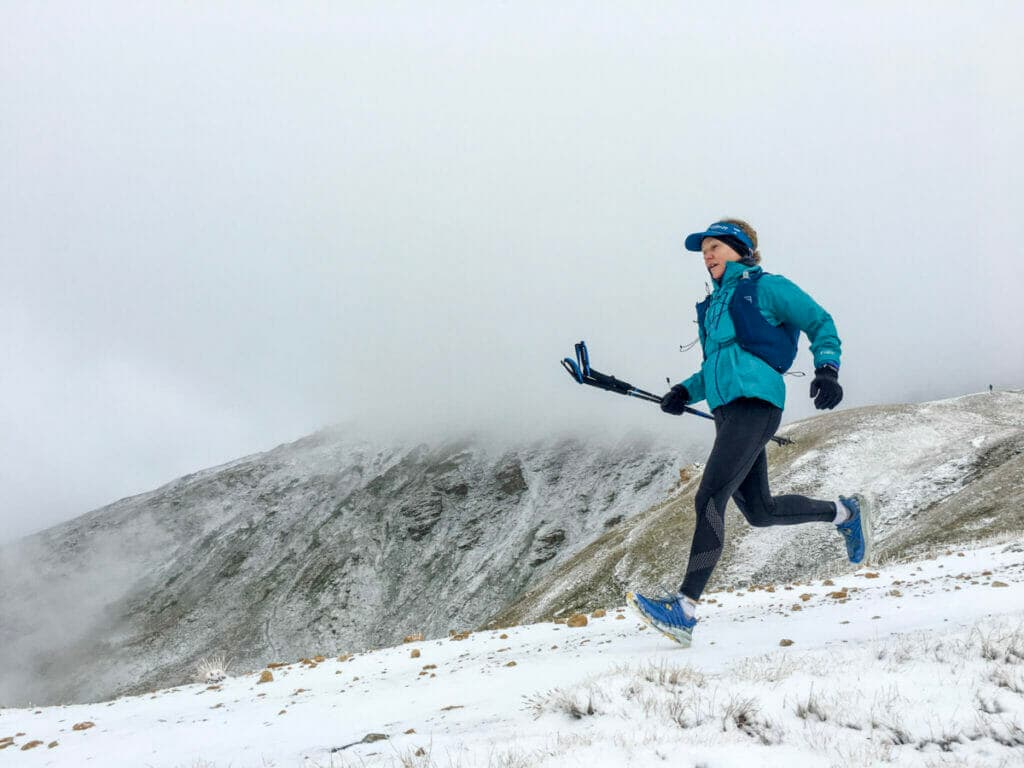 Clothing Coverage
If you're going to be on a fair amount of snow, it's also a good idea to wear clothing to cover your whole body to protect you in the event of a fall. 
And as weather can be more unpredictable in the early season, a windshell, rain shell, or extra outer layer is worth bringing along. It also doesn't hurt to carry an extra dry top to change into, to avoid getting cold in a wet shirt. 
Keep your hands and feet comfortable by packing along a pair of gloves and wearing wool socks, which will help keep your feet warmer even when they are wet. 
Sun protection is important for skin that's newly exposed after being covered all winter. Your chance of sunburn is amplified from the sun reflecting off the snow. Don't forget sunglasses, a hat, and sunscreen. 
A very small item that can make a big difference is a buff. Use this to warm your neck, a place where we lose significant heat. You can also use a buff to block your face from wind or sun, or cover your ears and head. 
Once you're all geared up, some extra time planning will help your day go well. Here's what our guides had to say about planning your early season adventure.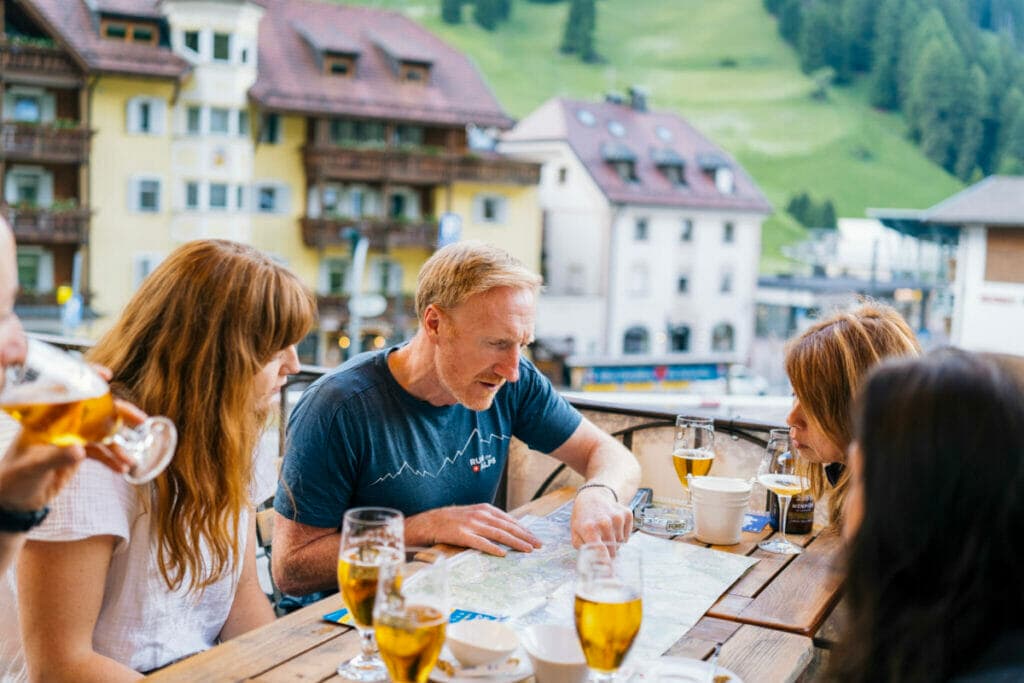 Planning Ahead
Identify where snow is likely to be. Early season snowpacks tend to stay longer up high and on north-facing slopes. Bear in mind that temperatures up high can still be freezing in the daytime, even when it's warm down in the valley. As a rough rule, the air temperature is 1 degree Celsius colder for every 100 meters that you climb. So, for example, if the forecast calls for 10 celsius in Zermatt, that means the air temperature at Gornergrat will be about -4 celsius, because it's 1400m higher!
Know Where the Snow Stays
Snow clings to the north side of passes, where the sun isn't as available to melt it. There are also common locations to find large snowfields on various popular running trails. These are usually higher-elevation locations, north-facing aspects, or pockets where blowing snow is deposited during the winter months. For example, on the Tour du Mont-Blanc there's likely to be snow on the Col du Bonhomme, Col de la Croix du Bonhomme, and Grand Col Ferret. Around Grindelwald and Mürren any runs above 2000m could have snow, and on the Via Valais, all the passes are likely to have snow before mid-June. During the early season, trail workers have yet to install the seasonal bridges that are used during the summer. This can pose an additional challenge when crossing seasonal brooks with rapidly running water.
Research the Current Conditions
Good sources of information are the mountain huts that you will visit, the hotel you're staying in, tourist information, and in Chamonix, the non-profit association, Chamoniarde.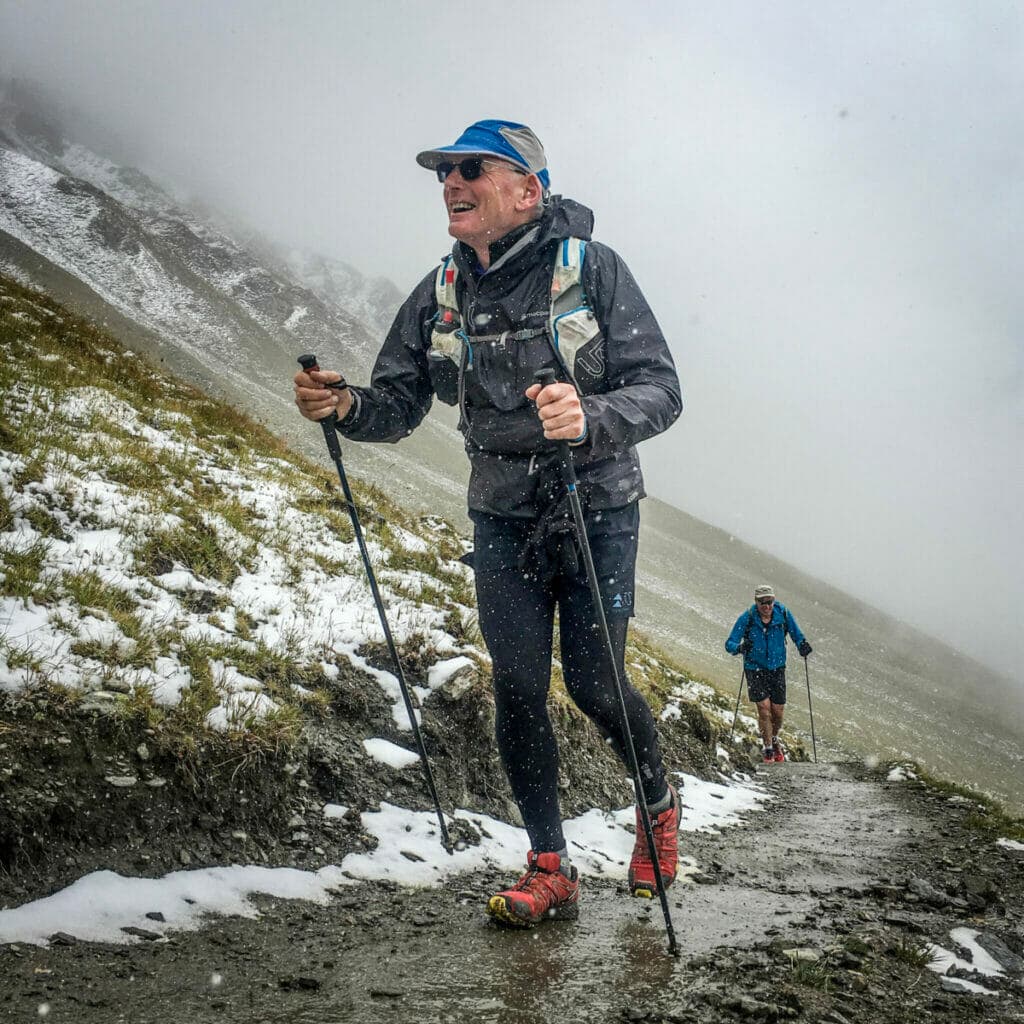 Weather
Check the weather forecast! Because you are already introducing a number of additional objective hazards, it's a good idea to avoid crossing long or challenging snowfields if the forecast is uncertain.
Time of Day
Consider the time of day that you'll be crossing the snow. In the early morning the snow will be frozen solid and difficult to cross. From late morning to the afternoon it is likely to be softer so you can kick steps into the snow and have less risk of slipping. It's okay to wait an hour or so at a nearby refuge or a great view, for the snow to soften up if you arrive too early! Finally, plan ahead when it comes to spring snowfield crossings, and consider descending before any steep snow fields refreeze later in the day.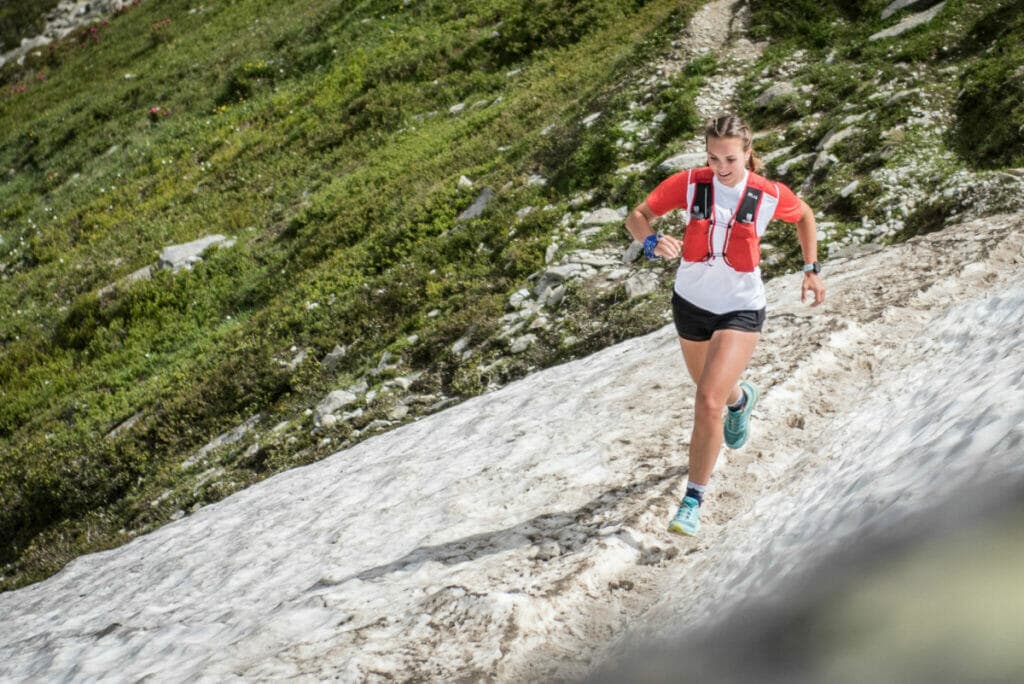 Time Out
During the early season, you'll need to factor in that you are moving across a changeable surface. Snow, unlike soil and rocks, can be a constantly evolving terrain. If you luck out with grippy but packed spring snow conditions, it's actually possible to move efficiently with the technical terrain buried under the snowpack. But in general, you're unlikely to travel across snow as quickly as you would run the same section of trail when it's snow-free, so allow some extra time for your whole route. Your time might be slowed by highly variable snow conditions, post-holing when the snow is soft, or making slow, delicate steps if the snow surface is icy.
You'll also need extra time for putting on and taking off clothing and traction, and for on-the-spot risk-assessment and decision-making.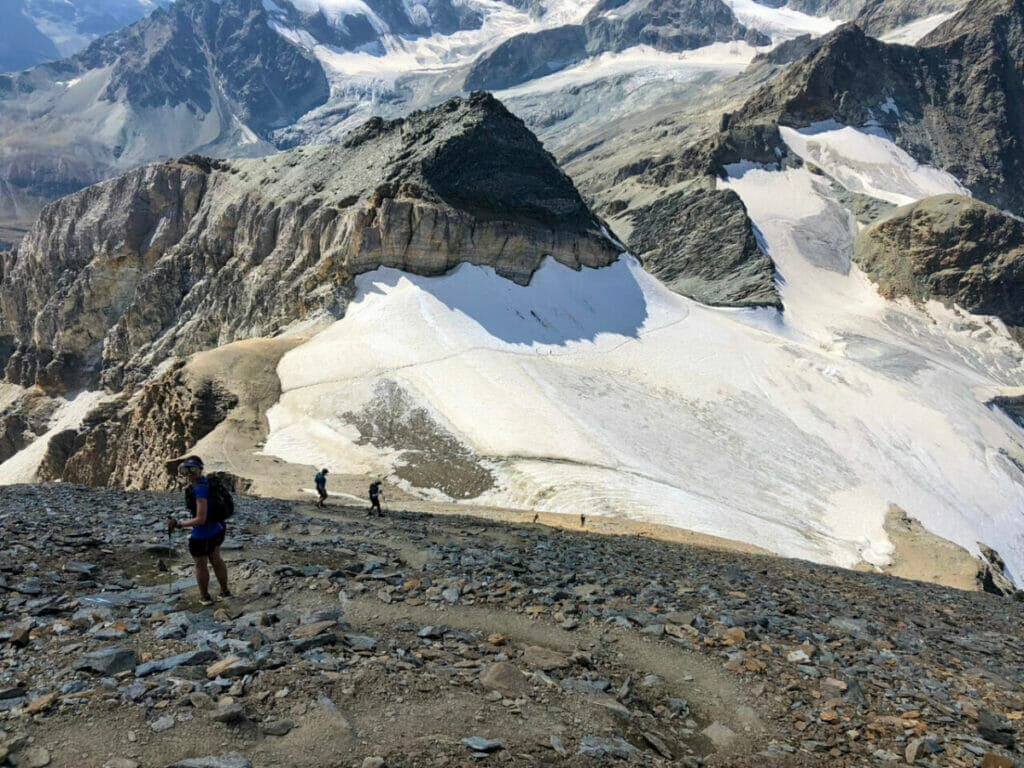 Risk Assessment on the Trail
You may need to stop to weigh risk versus consequence. Ask yourself, "What is my risk of falling?" And, "What is the consequence if I do fall?" As part of this risk assessment, consider these factors:
Undermined areas can be difficult to determine and can result in a long plunge into ice-cold water or rocks that can cause serious injury or worse. Avoid hollow cavities formed by running water where a snow bridge is thin and likely to collapse.
Look below you at the "run out." If you were to slip, would you hit rocks, or simply slide safely along the snow to a stop?
Does the snowfield change aspect and go into the shade where the surface may be more firm and easy to slip on?
If both the risk of a fall, and the consequence of a fall are high, you should turn around. If there is any doubt, turn around, and make other plans.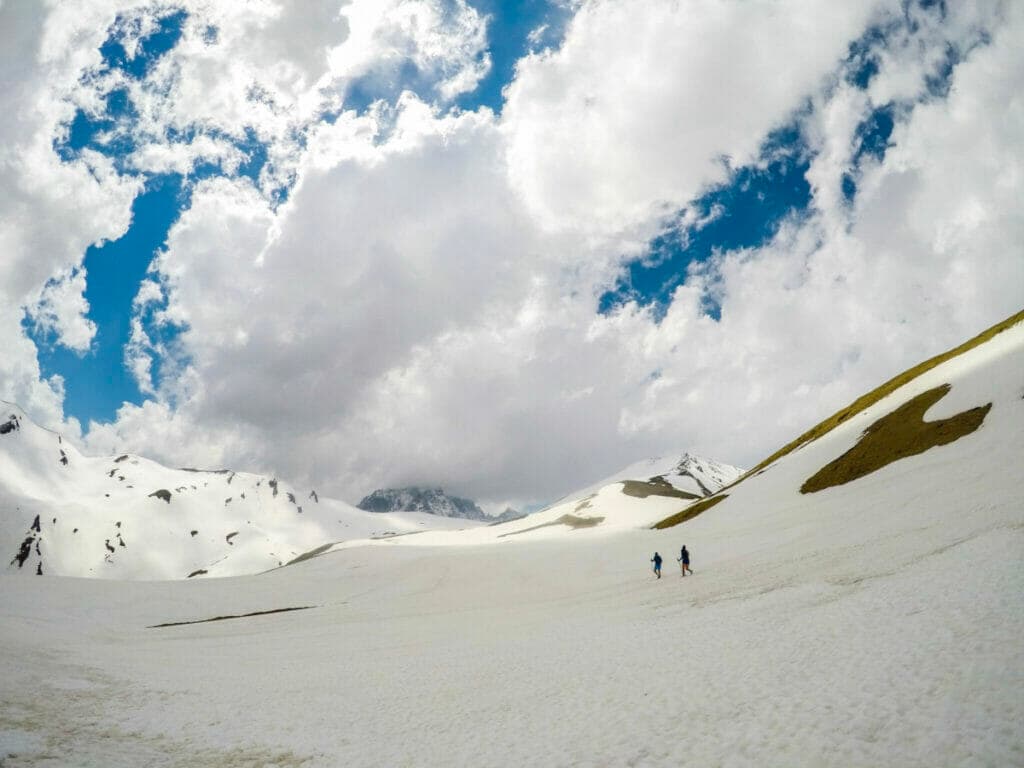 Snowfields
Here are a few tips to ensure a safe passage when you're on the trail and have decided a snowfield is safe to cross:
Stick to areas where travelers before you have recently crossed.
Kick your shoes firmly into the snow on each step, to assure solid footing.
Take the time to get out your poles and put on your traction before the snowfield. It's harder to change gear on the snow!
If possible, cross with the aid of a fellow group member. Stronger members of the group should go first to kick steps into the snow to assure better footing.
Stay aware of the overall route direction and keep scanning for paint blazes and trail signs, which may be hidden by the snow.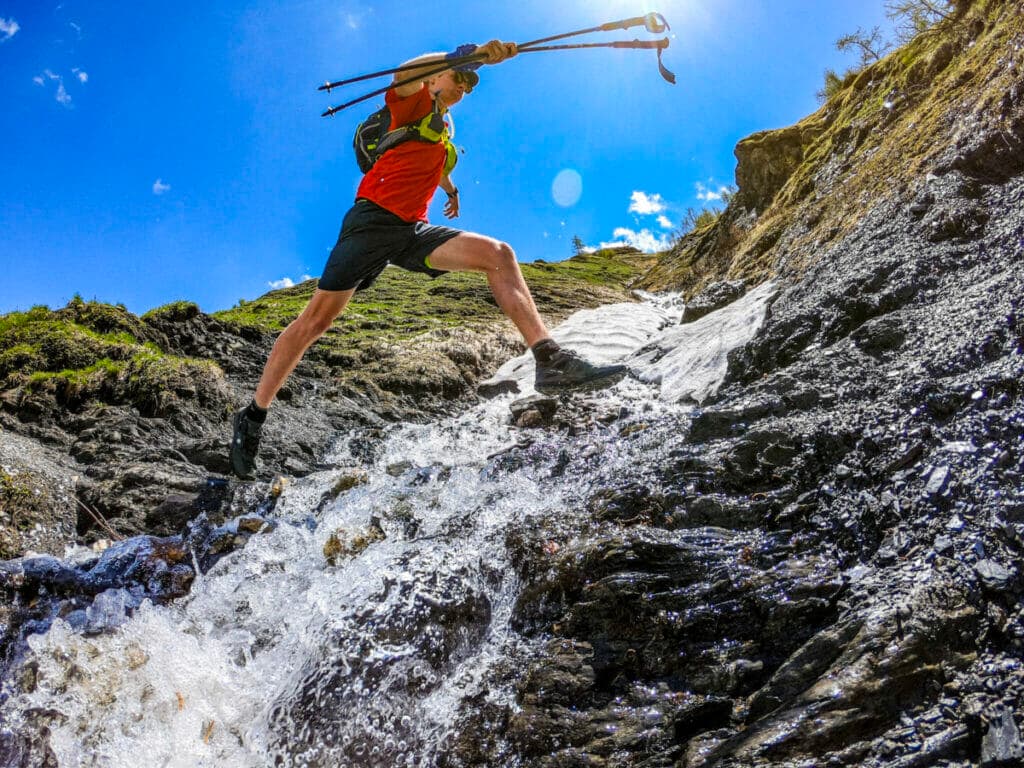 Stream Crossings
Early in the summer, streams can be very high due to the snowmelt. Here are some tips to help you get across safely:
Look for places where the stream has split into multiple channels which will be shallower than one large channel.
Use your poles for balance when crossing.
Rather than trying to jump from rock to rock, step cautiously and slowly, testing each rock as you go. When in doubt, minimize the risk of falling or slipping by walking through the water. Even though you'll get your feet wet, it is safer if the rock-hopping feels risky to you.
Consider what will happen if you fall. Cross in a place where there are no dangers downstream, such as waterfalls.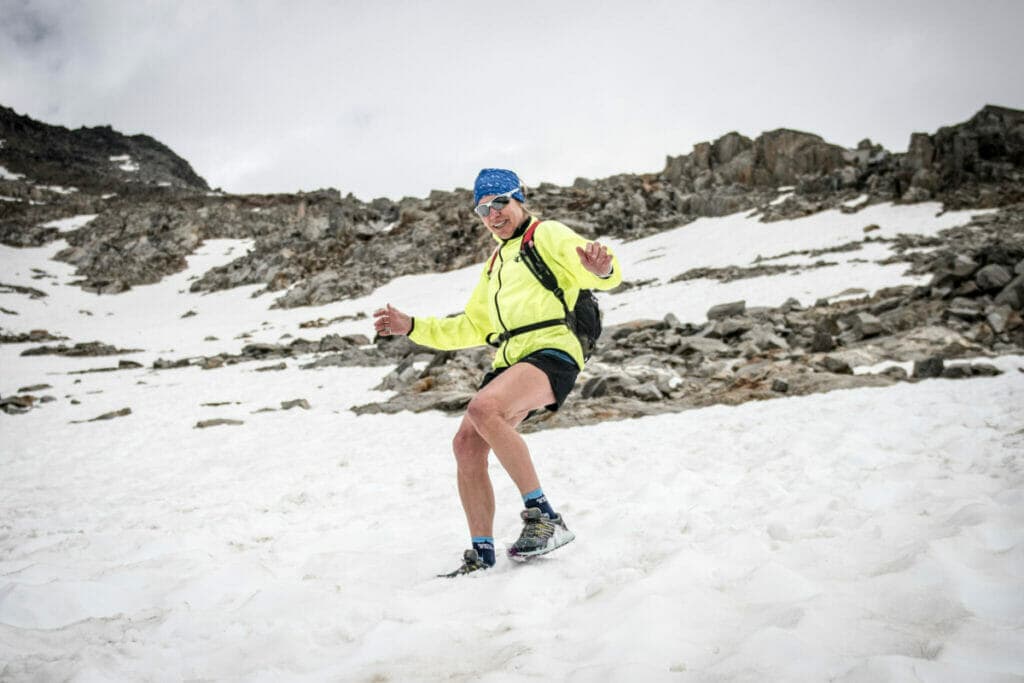 Techniques for Early Season Trail Running in the Alps
Heel and Toe Punch Sometimes you'll encounter angled slopes that are hard and icy. If the run-out looks safe and the consequences of a fall are low, you may feel comfortable moving forward. In this case, one method to aid in passing through this terrain is to kick steps into the snow to create a more stable surface for your foot. Use your toe to punch steps uphill into the snowpack. Dig your heel in, to make a step downhill. And sidekick with your fore/midfoot to carve into a slope to traverse. The harder you kick your foot in, the better step you'll make.
Pole Use Carrying poles has come up frequently when discussing early season safety. The added balance of poles is useful in stream and snowfield crossings. Get comfortable with using them for stability and added support on slick surfaces.
Post-holing Post-holing is when your foot "punches through" a breakable snow surface like a crust, and your leg sinks into the softer, unconsolidated snow underneath. Wear tall, thick socks or long pants to protect yourself from bloodied shins if you do break through the snow surface. Do your best to avoid routes where post-holing can cause injury: for example, the undermined areas described above, or locations with protruding rocks nearby, indicating you may punch through to the rocky ground underneath. 
Glissade Sometimes snow actually makes an area easier for running. If it's normally very rocky terrain, a solid base of snow (that doesn't post-hole) can be faster and easier to descend. Surf style, butt slide, the techniques take some practice. Learn to glissade on a low-angle slope with a safe runout. First remove the traction from your shoes if you're wearing spikes, which can catch and cause a lower-leg injury. Only consider this technique when there's no chance of hitting rocks, sailing off a cliff, or encountering other hazards if you get out of control. You might be surprised to find you can start sliding very fast, very quickly! 
Having considered many of the challenges of trail running in the early season in the Alps, here's the good news: you can have lots of fun! The spring snow will likely be soft, the views wonderful, and you'll experience some solitude in the mountains before summer visitors arrive. You're likely to see remarkable views known only to those who venture into the mountains at this time of year, and will get some great photos. And, best of all, you'll have time for an impromptu snowball fight!
Happy trail running– no matter the surface!