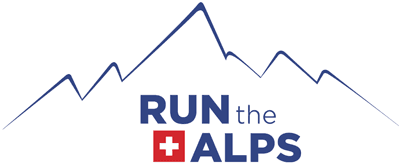 What It's Like Being on a Run the Alps Trip?
What It's Like Being on a Run the Alps Trip?
This summer, I had the opportunity to spend a few weeks learning everything I could about trail running around Chamonix, France, into Italy, and elsewhere in the Alps for stories for Run the Alps. During that time, I dropped in on two different Run the Alps trips — the Chamonix Trail Camp with Mimmi Kotka and a Tour Mont-Blanc Guided Run. The TMB trip runs 105 miles around Mont Blanc, the high point of western Europe. The camp, by contrast, stayed in Chamonix, trail ran around the valley, and stopped occasionally to work on skills. This trip was hosted by one of the world's best ultra runners, Mimmi Kotka, who I found to be impressive and informative, and also inviting, low key, and funny. 
I got a sense of what it was like running with a Run the Alps group, got to know the guides, and had a chance to speak with guests about their experiences. Here's what I learned!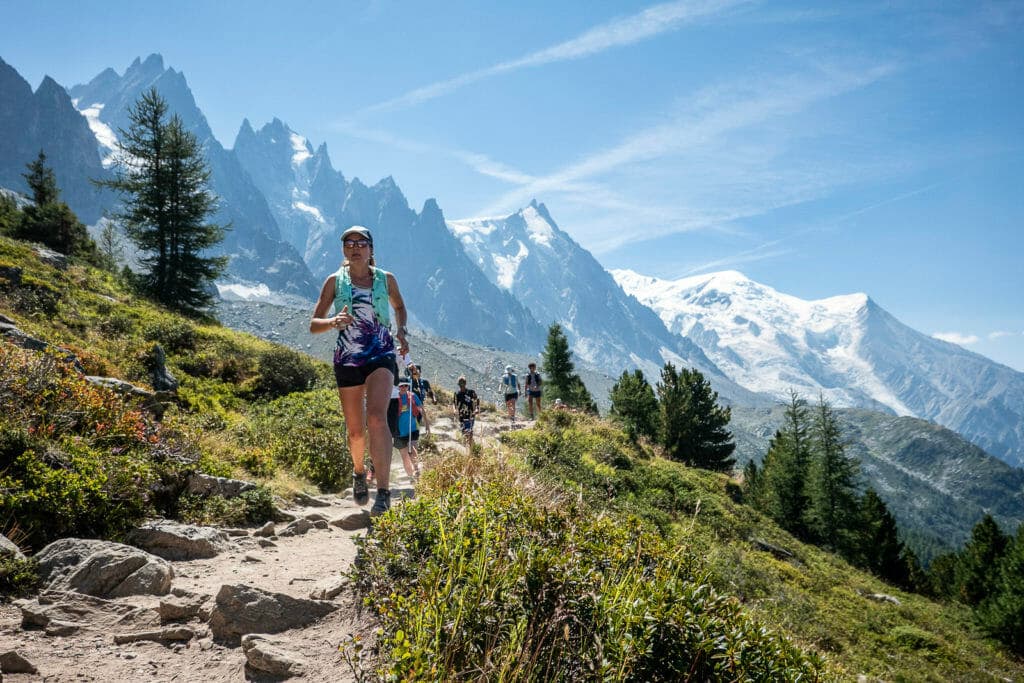 Pre-Trip Doubts
Will I be fast enough? Have I trained enough? What if I can't keep up?
I'm a runner, but I'm not a runner runner … what if people can tell and I don't fit in?"
Those were the thoughts I had *ahem* running through my head before joining a Run the Alps trip. I'd received the pre-trip packet on trail running in the Alps with a packing list, international tips, running gear recommendations, and a week-by-week training plan and I'd followed everything loosely, but not perfectly, so I wasn't sure. 
At the same time, the photos of singletrack through green pastures with misty silhouettes of mountain ranges in the background, huts perched in front of glaciers, and perfectly reflective alpine lakes looked incredible. The itinerary plans sounded like a dream, if maybe a little daunting — running intense and gorgeous trails every day with breakfasts and dinners covered, plus mid-run stops for tarts and cappuccinos? I was sold. But could it really be that good? Something's going to go wrong or it's not going to live up to expectations, I thought. 
And then I got into Chamonix, saw Mont Blanc for the first time, and met Giles — one of the Run the Alps guides. 
"Oh. *Deep breath* yeah, this is all real, OK."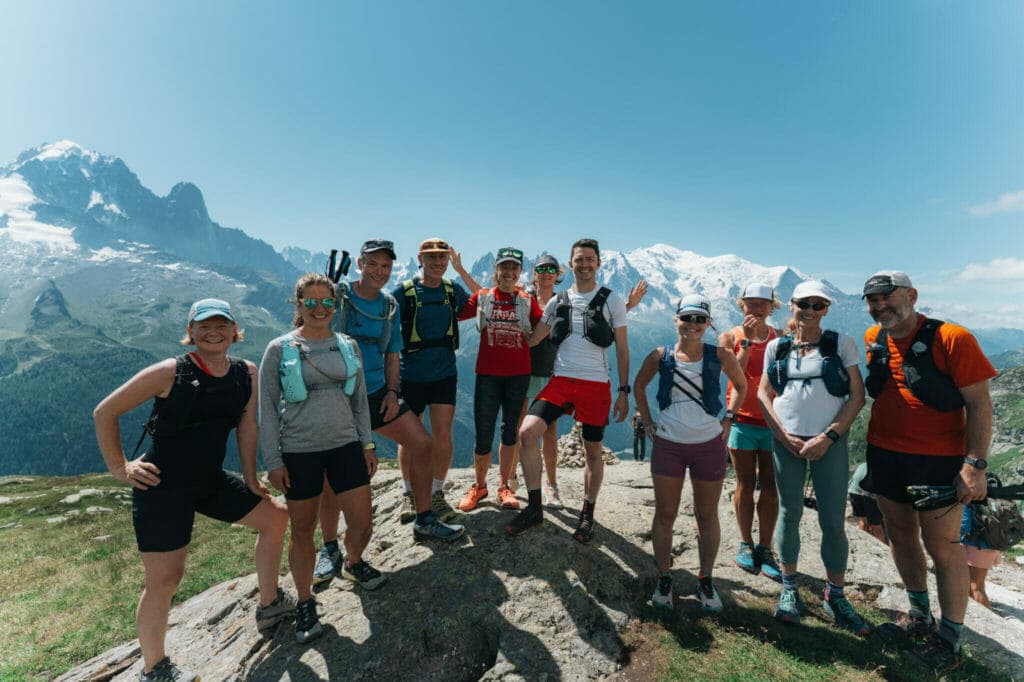 Meeting the Groups
Chamonix Trail Camp with Mimmi
When I met the trail camp in the back garden of Hotel L'Oustalet, I immediately felt welcome. Giles saw me, waved me over, and pulled up another chair for the three tables they'd pushed together. There were people from around the world of all different ages from 18 to 60, with different levels of trail running experience. The group was still filtering in from their rooms looking freshly showered and relaxed at the end of their day of running. Everyone seemed easygoing and there for a good time — it is a vacation after all!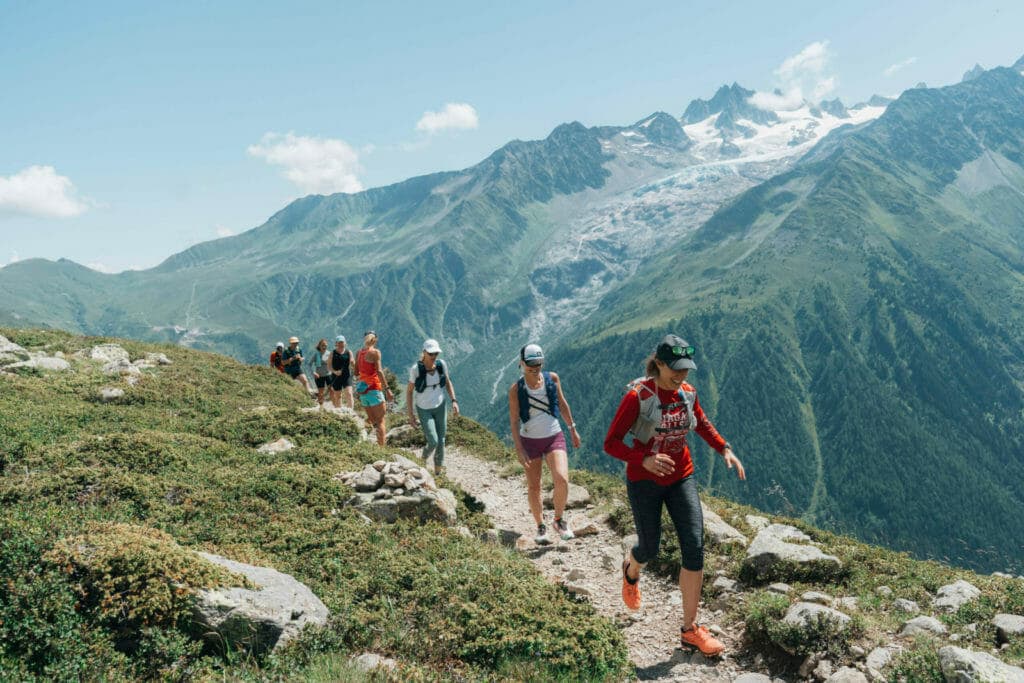 When we were all settled, basking in the evening sun with a cold drink, the group checked-in about that day's run and went over tomorrow's plan. There was a comfort and openness in the group. A safe vulnerability. Something about the combination of patient guides, beautiful surroundings, having all the plans taken care of, and spending hours on the trails together brings a special kind of intimacy. 
"I felt sluggish at the start and was afraid it was going to be like that all day, but it picked up later on," said Pamela, a guest on the trip. In response, she got nods of understanding from around the table.
"Yeah, at the end, you were going fast!" said the assistant guide, Marion Giraud. 
"It was after I had the quiche I'd brought with me."
One of the other guests joked "so the secret is to pack quiche with you."
"I was packin' quiche!" said Pamela, laughing.
It was okay to say the runs were hard. And there was space to say it was too much. On the Chamonix trail camp the guides offered options to make the next day's run easier using the cable cars and chair lifts. 
There was a lot of challenge, but there was also mutual, uplifting positivity and support. 
At dinner, I started to learn why people came on this trip — some had birthdays, one was training for a race, some wanted a solo trip, others came with friends. Almost all of them wanted a break from everyday life. They wanted to ground themselves. They wanted to feel taken care of and safe — all while doing challenging runs in a foreign country.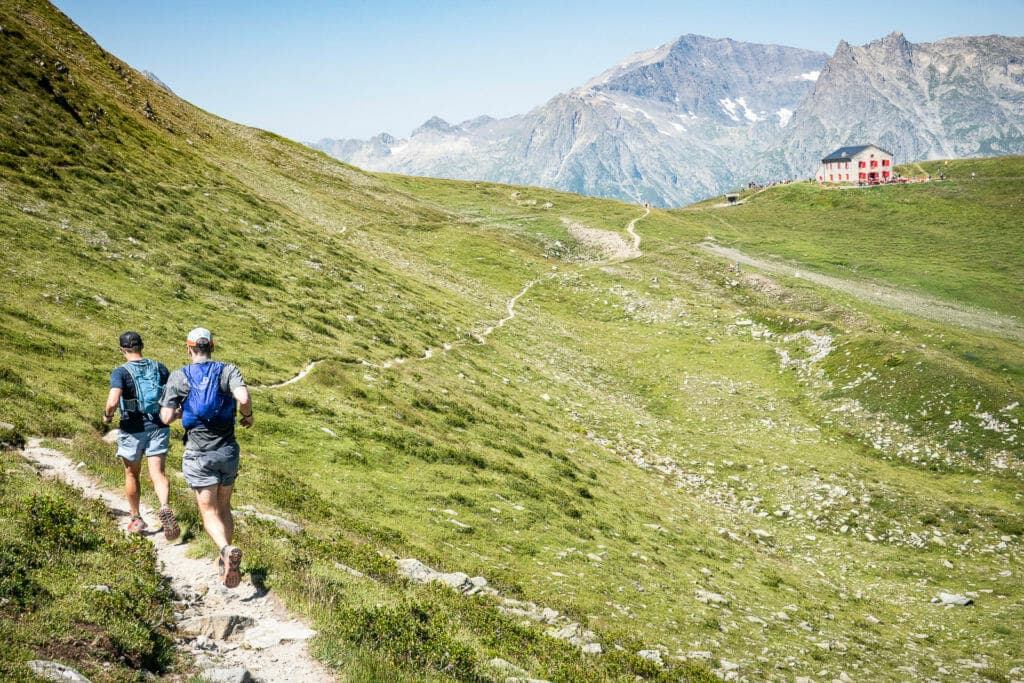 TMB Trip
I met the TMB group in Courmayeur, Italy in the outdoor seating of the Hotel Walser. It had been a long, hot run down to Courmayeur that day and they were tired, but in good spirits. We walked to the restaurant of Hotel Courmayeur for dinner and chatted over aperol spritzes and mocktails with hors d'oeuvres before our main meal.
When it came time to pay for our individual drinks and hop over to our dinner table, one guest, Tia, swiped the drinks bill and shuffled us out of the line to pay and towards our table saying, "It's fine, I got it."
Deciding on what to order, it was hard to pick just a couple dishes and not order too much food. One woman, Kirtee, said to her daughter Maansey, "I want to get the salad, risotto, and tripe, but that would probably be too much food…"
"I'll split the risotto with you if you want," said the guest sitting beside her. 
When the food came, it was like a big family dinner trying bits of everyone's food — "this is SO good, do you want to try some? Anyone else want a bite?"
Plates and forkfuls of food were passed around to share.
By the time dessert came around, one dish got the most attention: a custard cake with raspberry topping. 
"It's like a cheesecake and jello had a weird baby," one guest said and everyone laughed, agreeing. She looked across the table at me, "Is this the type of content you were hoping for? Are you getting all the information you need?"
"Oh definitely, this is perfect," I said. "The cheesecake and jello line and I'm all set."
She pointed at me with her spoon and looked at me with a fake serious face, "Don't forget the weird baby part."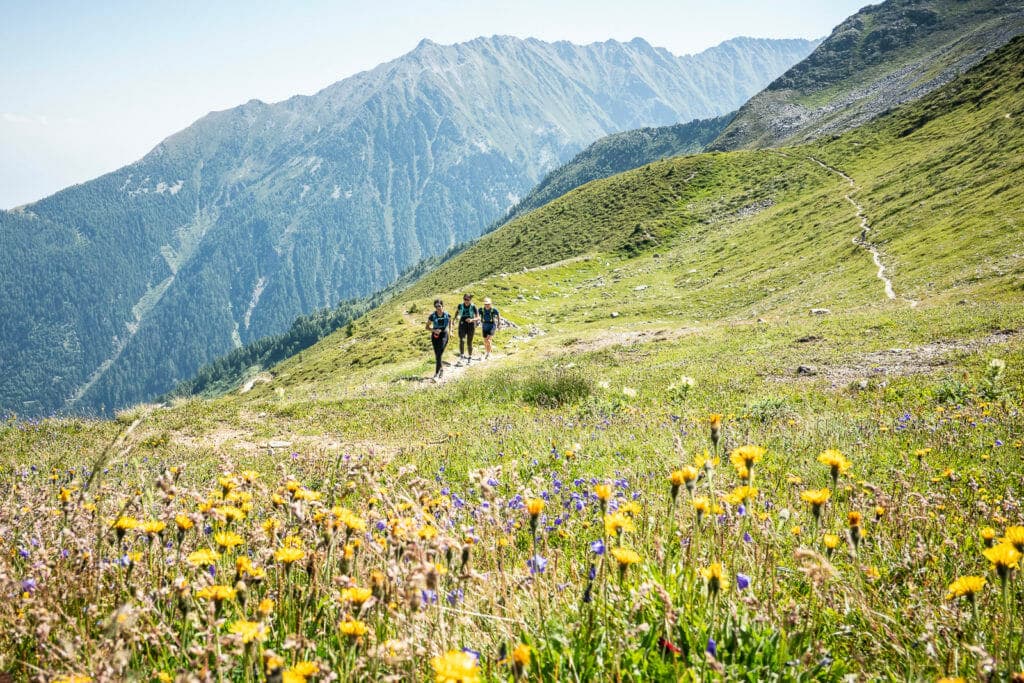 Running with Run the Alps
I won't say we were solely running for the snacks, cappuccinos, and mountain tarts at different refugios along the way, but they were high up there on the list of incentives. Getting a "two-tart day" came up as an objective at least once over dinner for the TMB tour.
The challenge of the run largely depends on the trip's difficulty, but running with the Chamonix trail camp—a two mountain trip on Run the Alps' trip rating scale—felt like a healthy blend of difficulty and fun. Plus, a whole lot of "How in the world does a place this beautiful even exist?!"
For the run I joined, we ran along the "Balcon Nord," starting at the Refuge du Montenvers. It's perhaps a misleading name– the "refuge" is really a recently renovated grand hotel, made from enormous blocks of locally cut rock. Inside, it's beautifully updated but still has a rustic feeling. From there, we ran the 6 kilometers to the Refuge Plan de l'Aiguille, a much smaller, simple mountain hut overseen for several decades by local Chamonix resident Claude Quenot and his partners, Eddy and Adeline. (Among Chamonix locals, it's generally accepted that Claude makes the best tarts in the valley, and each day a variety of fresh, seasonal tarts are available for hikers and trail runners.) 
We grouped up at Montenvers, stopped for some coffee and lemonade on the patio, then started out on the trail, Mimmi and Marion in the lead, and Giles taking up the back. After the first 15 minutes or so on the singletrack, we started to spread out at our own paces in smaller groups.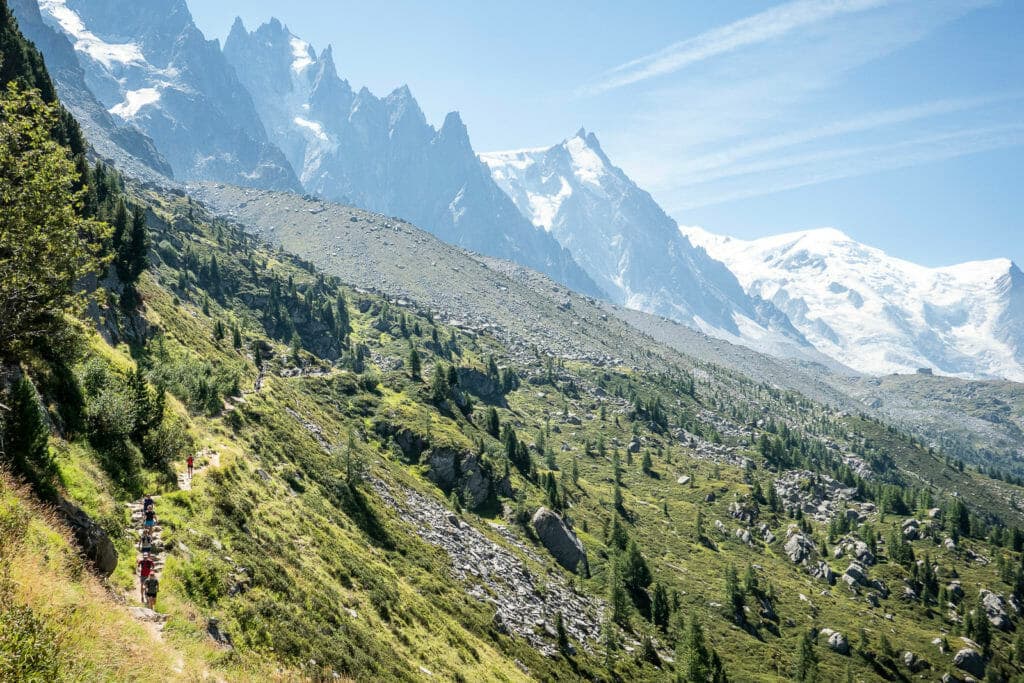 There wasn't any pressure to go at a certain speed. The trail felt technical enough that I couldn't run all of it — I fast hiked parts. During the times I did pick up speed, I felt like a kid on an obstacle course dancing from one rock to the next. Deciding each foot placement and rock jump felt like a mental game almost as much as a physical challenge. All the while, being able to slow down and look below at Chamonix, across to Brévent, an 8,284-foot-high alpine summit on the opposite side of the valley, and ahead at Mont Blanc. 
Some of us talked when we were going at the same pace, but mostly we were quiet, listening to our breathing and footsteps on the rocky trail. We stopped a couple of times along the way to regroup and check in. Some people took pictures. Others just enjoyed the view. 
When we got to Refuge Plan de l'Aiguille, the red window and door shutters and Haute Savoie flag flying in the front created a bright and welcoming atmosphere. We all came together and got two picnic tables out front overlooking the valley. In what I've learned to be classic Alps trail running fashion, we stopped and got food from the refuge. Some got a slice of one of the famous tarts, while others went savory with an omelet. A few, including myself and Mimmi, got both. They were out of blueberry tarts for the day so I got a raspberry one – sweet and refreshing.
At the tables, Laura, one of the guests teased Mimmi about her description of the 6km traverse being "flat."
"It's what I'd call an asshole gradient," said Mimmi, smiling. "It's a little uphill, but still flat enough that you feel like you should run it."
Laura laughed. "Asshole gradient! I'm going to remember that!"
Having delicious trail snacks on a run is one thing, but to get a tart with fresh raspberries and a freshly made omelet while sitting on the side of a mountain and looking out at endless peaks? THEN add in laughing and joking with a small group of genuine, kind, like-minded people? That felt unreal.
The Overall Feeling
While the food was delicious, views unbeatable, and running empowering, they weren't the best parts. Honestly, I could get all those through my own trip to the Alps. The part that struck most, and what I saw and heard from other guests, was the community. Sitting outside with the trail camp crew at Hotel L'Oustalet, Mike, a repeat guest, noted while each day somehow seemed to top the previous day for views and fun, his favorite parts were the slower moments taking breaks along the trails and hearing the random stories that came up from Mimmi, the guides and other guests in the group.
Meeting other runners — guests, guides, and guest trail runners — through even just the short time I spent on each trip I immediately felt plugged-in to the Alps trail running community.