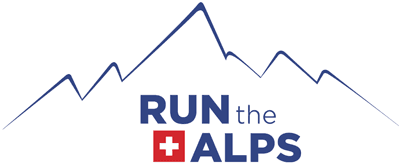 Choosing the Best Trail Running Shoes for the Alps
Choosing the Best Trail Running Shoes for the Alps
We get a lot of questions from our guests about the gear they should bring for their trail running trip to the Alps. One of the more common ones: "What kind of trail running shoes should I bring?"
When it comes to trail running in the Alps, you want to make sure you're putting your best foot forward– literally. That means having a pair of shoes that is just right for big days out in technical terrain. 
To help you choose the best trail running shoe for your Run the Alps trip, we talked to a variety of Run the Alps trail running guides, pro trail running athletes, and trail running shoe experts about what they recommend for the Alps. 
Plus, we've included some of our experts' favorite shoes for running in the Alps.
Meet the Experts: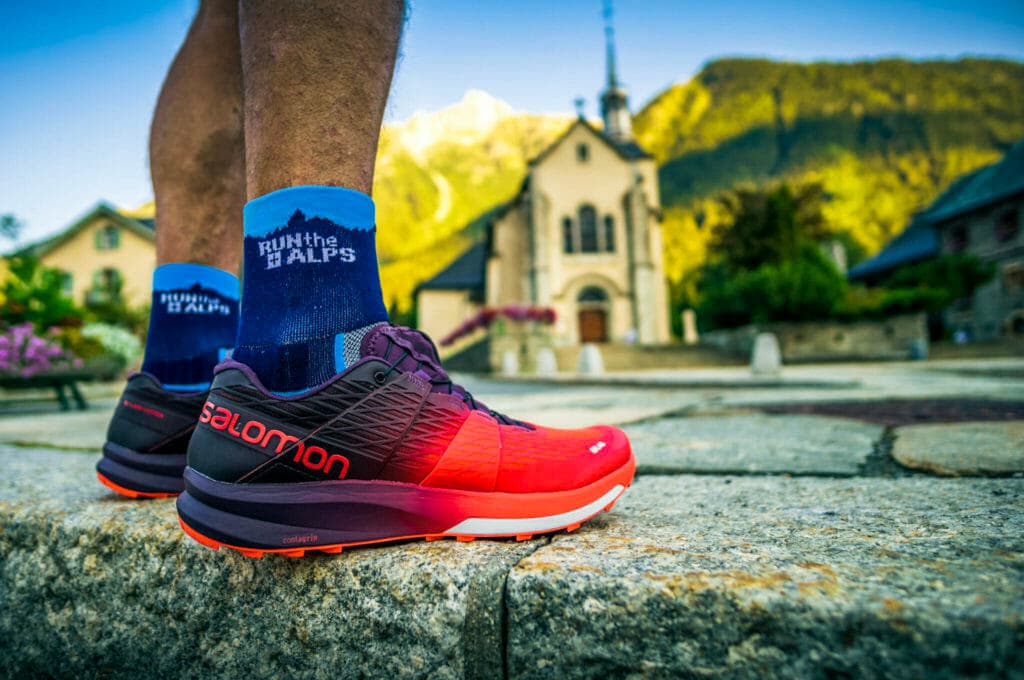 The Two Most Important Points to Know About Choosing Trail Running Shoes
We'll dive into plenty of technical information for finding that perfect pair of trail running shoes for the Alps, but before we get into the specifics, we should note two points: 
A big factor in your choice depends on personal preference. 
What shoes are comfortable for your feet? And, what kind of trail running will you be doing?
No matter what shoes you chose, make sure you wear them in, before your trip. Blisters from new shoes are a surefire way to disrupt your fantastic running vacation plans.
Mike Ambrose points out, "Some people like a lot of cushion, some like wider shoes, some like firmer, more stable shoes and some like grip." 
How do you implement these two points from Mike? 
Here's our suggestion. Head to the nearest local running shop, have them assess your specific foot needs, and try on a bunch of different pairs of shoes. Find something that works for your foot shape, arch, and comfort preference. 
If you don't have a running shop nearby, you can order several different pairs to try on at home, then return the ones that don't work — it's like having a running store in your home. Many brands and online shoe stores allow returns as long as the shoes haven't been worn outside the house – some even if they have been worn a few times outside within 90 days. The drawback is you have to front the original cost of several pairs and some additional shipping cost, but that can be well worth it to find the right pair.
"The beauty of trail running shoes today," says Ambrose, "is that there are a lot of options to fit different people's preferences."
Once you have that pair that seems to work, implementing point #2 is easy. Simply start by wearing shoes around town in your daily life. Break them in a bit before you head onto the trails. 
Now, let's jump into the essential features to consider for your Alps trail running shoes.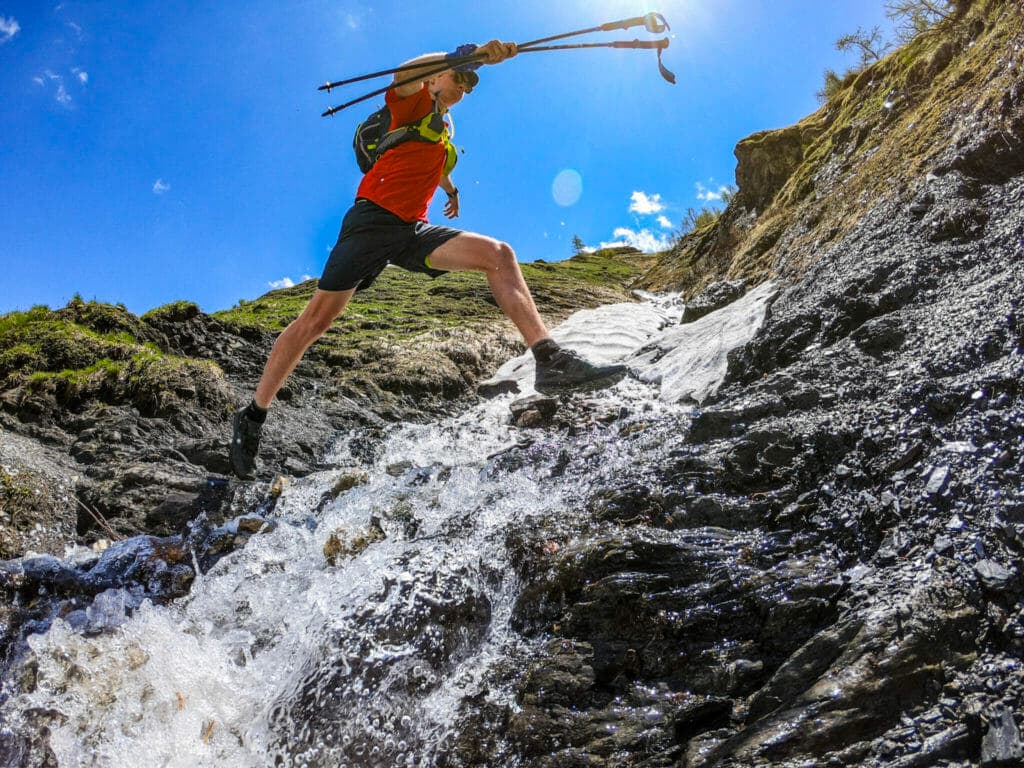 Main Features for Alps Trail Running Shoes
Even within the range of shoes that work for the Alps, Ambrose notes that an ideal shoe choice can vary a lot depending on where you plan to run. If you plan to stick to the valleys and forest, "You don't need as many technical features as the trails are a little more forgiving," he says.
However, if you plan to run higher in the mountains– it is the Alps after all!– these are the main features on which we recommend focusing: grip, stability, protection, drying speed, and cushioning. Here's our rundown on each of those points.
Grip
When it comes to trail running in the Alps, grip is essential. "Trails can be a little bit technical, so having good grip is really important," says Hillary Gerardi. "That can be Vibram or other compounds from other companies."
On many trails in the Alps, you'll find rocky ascents (sometimes scrambling) and downhill sections that you don't want to slip or trip down. Having that solid grip can make the difference between a great, challenging run and lots of bruises and scrapes (or worse).
Stability
On the trails, you'll hit lots of uneven surfaces that can make it easier to roll an ankle or lose your balance. Getting a shoe with plenty of stability can help keep you on your feet even when the going gets rough. 
However, stability looks a bit different in a trail shoe than a road running shoe. With trails, pronation is less of a concern because the angle is constantly changing. Instead, look for a shoe with a stiffer sole that makes you feel in control even when you're hitting the ground at different angles.
Protection
"Having some protection under foot either in cushioning, rock plate, or even toe bumpers is great," says Ambrose. Sharp or unstable rocks, tree roots, or other unexpected trail obstacles are going to end up on your path and when they come, having that bit of extra protection is huge.
Quick Drying
"In the Alps, you're going to be at a lot of different elevations and there can be many different conditions and temperatures," says Gerardi. "So if you are going through a wet patch or have to go through some snow, you'd like a shoe that can get wet and then dry relatively quickly."
Gerardi opts for a shoe that's breathable and drains water well rather than going with a waterproof, GoreTex style shoe to avoid moisture buildup. Often, if you're in wet conditions, that water is going over the top of your shoes anyway, so the GoreTex will only trap water inside and make it harder to dry. Plus, it makes the shoe less breathable so sweaty feet can become a real issue! 
Cushioning
Having the right amount of cushioning for your trail running shoe is important, but we can't tell you the exact amount of cushioning you should get — it's another personal preference! Ambrose notes, "For a long time it was thought that max cushion, or soft cushion wouldn't be good on technical terrain, however we are finding a lot of people just prefer the comfort."
From a different perspective, Gerardi's personal preference goes away from the ultra-padded "boat shoes" because she finds it hard to feel the ground underneath.
The right amount of cushioning can also depend on how long your runs will be — for extra long runs like UTMB Mont-Blanc, you'll likely want more cushion than you would for shorter, technical runs.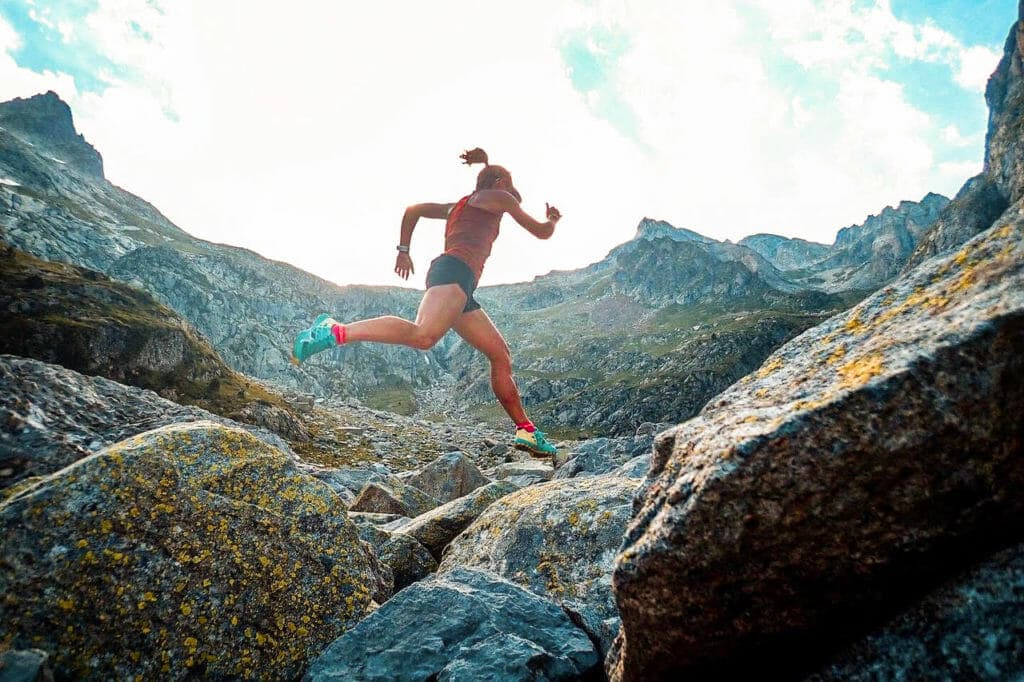 The Best Trail Running Shoes for the Alps, According to the Run the Alps Team
Now that we've hit the general features of trail shoes for the Alps, these are some specific shoe recommendations that our crew at Run the Alps use themselves. Over the years, our team has probably tried every trail shoe out there and these are the ones we're obsessed with.
Salomon Ultra Glide Trail Running Shoes
Founder of Run the Alps, Doug Mayer is "addicted" to the Salomon Ultraglide. Mayer did the entire Tor Des Geànts in one pair of the Ultra Glides and said his feet felt fine after all 330 kilometers. 
"It's the perfect balance between feeling the trail and all-day comfort," says Mayer.
Steph Lefferts, Run the Alps tour manager, also uses the Ultra Glides as her shoe of choice. "If I had to pick one shoe for a two month stint in the Alps, it would be the Ultra Glides!" she says. "The fit and comfort is fantastic and the tread gives me confidence that I won't slip."
This powerhouse of a shoe has a heel stack of 32 mm with 6 mm heel-to-toe drop and has a rock plate for a stiffer, more protective shoe.
Editorial Note: Run the Alps has a partnership with Salomon, but our recommendations would stand even without the partnership and we wouldn't partner with them if we didn't believe in the brand's high quality products and commitment to trail running as a whole.
Salomon Sense Ride 4 Trail Running Shoes
For short, steep, technical trails, Mayer loves the Sense shoes. "It's maybe the most comfortable, super light shoe I have ever worn, period," says Mayer. "It's like a glove, yet breathable. Not enough protection for a long day out, but that's not the point there."
The shoe has the same amount of cushioning as the Ultra Glide (32 mm heel stack height), has an extra 2 mm heel-to-toe drop (8 mm total), but doesn't have a rock plate like the Ultra Glide does. 
Scarpa Spin 2.0
Scarpa's Spin 2.0 is Gerardi's favorite trail running shoe. "It's not a shoe that you'll put on and be like, Wow, that's really comfy, but it is a shoe that I can run fast for up to seven to eight hours in and I feel like it's super dynamic," she says.
The shoe has minimal cushioning and underfoot protection, but a super grippy Vibram outsole to give you plenty of control and security with each step. Plus, the breathable mesh fabric holds your foot securely in place without feeling overly built up.
Editorial Note: Gerardi is a sponsored Scarpa athlete.
Saucony Peregrine
Trail running guide since 2004, Gary Daines loves the Saucony Peregrine line of trail running shoes. He loves both the Peregrine 11 and Peregrine 10 (though the newest 12 is now out as well).
With a 4 mm heel-to-toe drop and only 26.5 mm heel stack, the padding is fairly minimal, but Daines says it's still "enough cushioning to make it all work." 
"I find they are great shoes for every terrain," says Daines. "The sole has a great grip and the toe box is wide enough for me."
Hoka Torrent 2
Accounts and Administration freelancer for Run the Alps with over 20 years of experience in the French Alps, Stephanie Lightfoot, runs in the Hoka Torrents. "They're the perfect shape for my feet and are cushioned enough so I don't feel every single rock, without being crazy 'high rise' like some of the other Hokas are."
These shoes have a lower profile cushion bed and stiffer sole to give you a responsive ride that still offers some protection from rocks. The shoe has a 6 mm heel-to-toe drop and has a supportive mesh upper from recycled polyester fiber.
La Sportiva Mutant
Ambrose says another classic trail runner brand, La Sportiva, makes shoes that are typically good for really technical trails where you want good grip and precise footing. (They can also run on the narrow side.)
Trail running guide Giles Ruck loves the La Sportiva Mutant. "They just seem to fit so well — so long as you go a size larger than normal." The Mutants have a higher heel-to-toe drop of 10 mm but still relatively low profile cushion with a 26 mm heel stack. "I've never had blisters, they grip pretty well on most mountain terrain, and have good toe guards for when you kick off rocks," says Ruck.