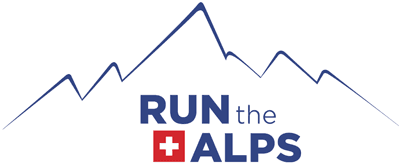 In Order of Importance: Cancer Survivor Steph Lightfoot Runs MCC
In Order of Importance: Cancer Survivor Steph Lightfoot Runs MCC
On the first anniversary of her last chemo infusion, Stephanie Lightfoot ran the MCC. Part of the 2023 UTMB Mont-Blanc® series, the MCC covers 40 kilometers from Martigny-Combe in Switzerland to Chamonix, France, and gives priority registration to regional residents and UTMB Mont-Blanc volunteers®. Steph is a local friend of Run the Alps and has a strong, competitive drive. In order of importance, she's a mum of 5-year-old twins, an athlete, a partner, a friend, a sports coach. She's originally from the UK, but has lived in the Chamonix valley in the French Alps for over 20 years.  
After completing the MCC in rain and snow, Steph shared a bit about getting to the start and finish lines with Run the Alps. 
Here's our interview with one tough mother-runner: 
Briefly tell us about your cancer journey these past few years. 
Steph: I was diagnosed with breast cancer at the age of 46, on 21 December 21. It's a nice symmetrical number that I will never forget. 
From the first moment I heard the news, I knew I wanted a double mastectomy and that I didn't want reconstruction. It's an unusual choice to go flat. But for me, the right one. I do so much sport and I just wanted the simplest surgery, with minimal invasion and the quickest recovery time – so I could get back to my kids and my life. I didn't care about having breasts; I just wanted to do whatever I could to prevent recurrence. So if that meant removing a healthy breast, I was all in. My driving force was – and still is – to see my kids grow up (at that point our twins were just 3). 
I thought the double mastectomy would be the end of the story and I'd be back to normal in a few weeks, maybe with a couple of weeks of radiotherapy and perhaps a few years of tamoxifen – a hormone therapy drug. It looked like it had been caught early and was going to be a simple story. Unfortunately, cancer journeys are rarely linear, and the post surgery pathology showed that the cancer had spread to my lymph nodes in spite of not showing up on scans. Fast track to PET scans, shaving my head, and an entry into a whole world of oncology that I wouldn't wish on anyone. 
Chemotherapy is not a lot of fun, but it also wasn't as bad as I imagined or had been led to believe by what you see in the media. I am convinced that my previous life prepared me well – a decade of partying in my 20s meant I have experienced many, many hangovers. I know what feeling poisoned feels like. A decade of running long distances in the mountains in my 30s taught me about training, consistency, movement and looking after myself. And having kids in my 40s has given me my reason to live.  
During chemo, I made it my mission to move every single day, even on the days I felt absolutely awful. And I think it saved me: exercising through treatment gave me purpose and meant that my side effects stayed manageable. As well as giving me something to focus on that I could control. Getting a cancer diagnosis is like getting on a runaway train; everything happens so fast and you have to accept the decisions of your medical team. So it's important to grasp hold of the things that you can take ownership of when everything else is spiraling. For me that meant exercise, nutrition, sleep, friends, and making sure I used my reduced energy tokens to spend quality time with my kids. 
I was incredibly lucky to have an amazing support network of friends and family who were willing to put up with me going slowly and come with me on walks, trots and little bike rides. I also had a brilliant and supportive oncologist, who is himself an ultra runner and understands my mentality and need to move.  As he put it, 'Cancer treatment is the longest ultra of your life.' 
We think of you as one of the under-the-radar speedy, strong trail runners in the Chamonix valley. How did treatment impact your athletic, outdoors world?
Steph: Thank you – that's a lovely compliment coming from you guys! 
Chemo is poison. It has an impact on every cell in your body, including your heart. So for me, my athletic performance fell off a cliff. But I kept moving, albeit with a very different focus. My runs were a lot shorter and a lot flatter. I wasn't allowed to let my heart rate go over a certain level, which meant walking uphill when I would normally have run. I'm lucky (or at least stubborn enough) that I could still run, even if running ten kilometers felt like running a marathon. 
The first chemo protocol I was on was pretty hard core. I had treatment every three weeks and the first three days after it were hideous. I forced myself to walk my chemo loop – a one kilometer loop around my house – once on day one, twice on day two, three times on day three. Slowly, but I did it. By day five, six, seven, I could start moving a bit more; maybe a thirty-minute bike turbo session and some gentle pilates. It was a question of experimenting. On one occasion I pushed it too hard and then couldn't sleep all night as my heart was racing. It scared me! 
By weeks 2 and 3 in between treatments, I was able to do more. I felt 'nearly normal.' It was a cycle. Each one got a little bit harder. I never ran more than 15km during chemo, at a lot slower pace than normal. And I never went up into the mountains. I couldn't tolerate too much sun and I was scared to be too far away from safety in case I felt weird or needed help. So I just ran in the valley. To keep me sane, as my running deteriorated, I got more into indoor rock climbing, which felt safe and was something that I could do at a similar level to before. It made me feel like 'me' in a way that running didn't as I had so little endurance. 
The second phase of my chemo was much easier going: a weekly mini dose of a drug called Taxol, which wiped me out for twenty-four hours but otherwise didn't really have too many side effects. I was able to up my training a bit and start building a bit of endurance back. I felt like I was getting back to being me again, until right at the end of the 12 weeks of treatment, when my white blood cell count dropped and I felt dreadful. So it was back to little walks and gentle stretching. But then, just 3 weeks after finishing 6 months of chemo, I bounced back and biked a hundred kilometers over three of the Alps' most iconic cols. Pedaling alongside forty friends, we celebrated the end of chemo. It's pretty amazing what bodies can do!
Radiotherapy was very manageable to start with. I had literally zero side effects for the first three weeks. So I enjoyed getting out on the trails as much as I could. I didn't have lots of time on my hands, though, as treatment was every day. The last couple of weeks of radiotherapy were annoyingly exhausting. 
My whole cancer journey was a roller coaster. Two steps forward and one step back. I was so ready for it to all be over but the side effects of radiotherapy, mainly fatigue, stayed with me for a lot longer than I had imagined.  
I finished chemo just under a year ago and honestly, I feel like I am only just getting over it. While my passion for mountain sports is still as strong, I'm having to accept that I will never be the same athlete I was. It's a tough pill to swallow, but an understandable reality that all of the treatment, plus early menopause and hormone therapy, have taken their toll. My current biggest challenge is painful feet, which is a common side effect of anastrozole, the hormone therapy drug that I will be on for at least ten years. It's a physical and emotional battle as the foot pain can be debilitating. I'm not ready to give up running yet as it's so much a part of my identity, but I'm having to learn to compromise, manage my time, and not put pressure on myself. It's a journey and I'm learning to enjoy the ride.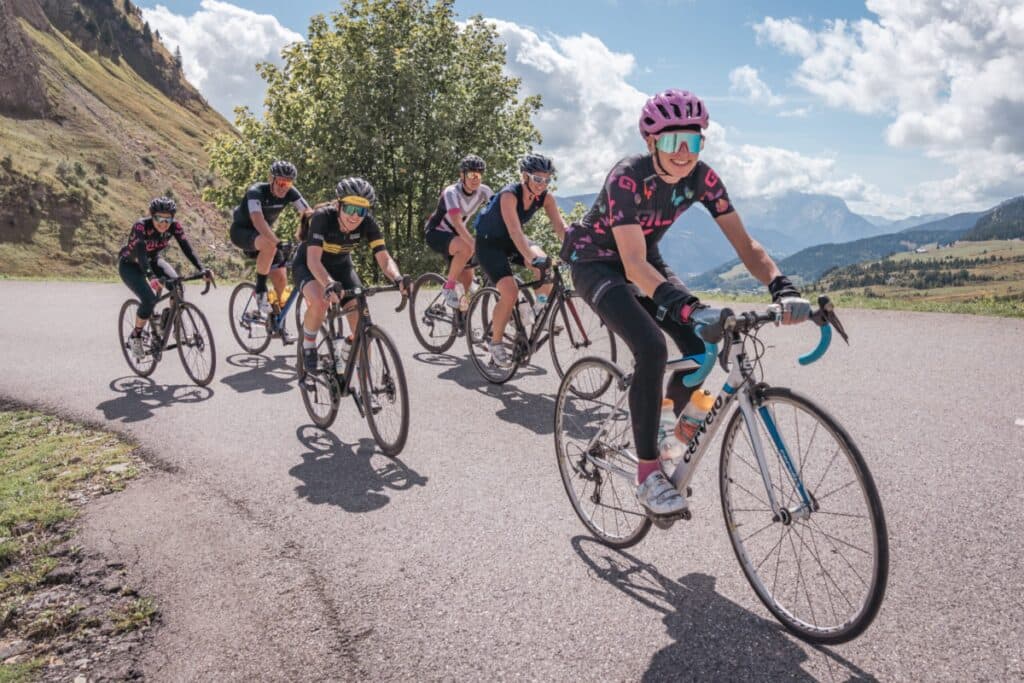 When did you start getting out in the mountains and running again? How did it go?
Steph: During the first few weeks of radiotherapy, I was able to run and hike a bit further than during chemo, which felt so good! It was autumn here in Chamonix and the mountains are quiet and breathtakingly beautiful. I would spend my mornings going to the hospital for treatment every day, rush home, hit the trails for a few hours and then go and pick up the kids from school. Being able to breathe mountain air again made me feel alive, and helped me process what I'd just lived through. 
I then spent last winter in the gym, trying to rebuild a strength base. As part of this journey, I've also found out I have osteoporosis in my spine so my focus is on building muscle to help support my bones. It's no longer just about running or staying in a certain shape, but about protecting myself into old age. Not only do I want to see my kids grow up, I want to be able to run and ski and bike and climb with them. I need to make sure I build muscle, stay strong, and work on balance so I don't fall and injure myself. The stakes have suddenly gone up: a tumble could now mean a fracture that might be hard to come back from. 
I had a final surgery in February this year to remove my ovaries, which took about six weeks to bounce back from. So I've really only been able to get back to the mountains this spring and summer. On the one hand I'm so happy to be back doing something I love so much. On the other, I have to manage my expectations as I don't have the fitness I used to, and I have to juggle the pain in my feet. I can still run but I have to make sure I don't over-do it. Right now, that means not running longer than two hours and not more than twice a week. I'm also doing a lot of physio and strength work. Luckily biking and swimming both feel great and don't hurt so I am becoming much more of a multi-discipline athlete.
What is your life like these days? Changes from pre-cancer?
Steph: Life is pretty hectic with two energetic five-year-olds and in many ways, nothing has changed! There's never a dull moment and I rarely have time to sit down. But I have taken the time to make some tweaks to my lifestyle. 
I have become much better at being present and living in the moment. I value people and experiences even more highly than before. I just want to make memories and have adventures, for myself and my kids. And I am much better at setting boundaries. I know when to say no and I have a clear perspective on what's important to me and which battles to fight. 
In terms of lifestyle changes, all cancer patients have to make a choice about how they want to live their lives after treatment. It's totally individual. From what I have researched, the most important factors in preventing breast cancer recurrence are exercise, maintaining a healthy weight, and limiting alcohol. I don't need to be told to exercise and I have always eaten pretty well, so I have fine tuned these elements rather than making radical changes. I have chosen to follow the advice of my oncologist and focus on everything in moderation, rather than cutting out food groups. So I still eat meat and dairy and sugar, but I do try to buy organic when I can. I don't use deodorant any more. I try very hard to get a good sleep each night. But I do still allow myself to have the occasional glass of wine, if I fancy it. 
Exercise-wise, my reason to move has changed drastically. I used to run pretty competitively and I liked to be at the front of the pack. Now, I do sport and train in the gym to stay fit and strong for the future. I was pleased to podium recently (in my age group) in a couple of short events, but it's no longer the reason behind it. I exercise now to make sure osteoporosis doesn't get the better of me. I exercise to manage the side effects of my hormone therapy. And I exercise for my mental health. It's my coping mechanism to help me process what I've lived through and help me manage the fear of recurrence. 
Work-wise, I have been on extended sick leave, which ends in September. I am already a sports coach so now I am going to specialize in working with cancer patients. It's a huge area for growth and the statistics are astonishing: patients who exercise regularly after breast cancer can prevent recurrence by up to 50%. That's a huge number and I'm super excited to pass on some of my knowledge and experience. 
What does running MCC mean for you?
Steph: It's so exciting to be part of a local race and to be part of one of the UTMB events. Many people who live in the Chamonix valley avoid UTMB week: all the crowds and the craziness. But I love it. The mountains literally come alive with runners and it makes me smile every time I think about it, especially in the middle of the night, when you know there are thousands of athletes out there putting one foot in front of the other in the race of their lives. It's a real privilege to stand on the start line of one of the races. 
I went into it with an open mind. Given my lack of endurance, limited training, and pain levels, I was honestly not sure how far I'd get. Running 40km didn't used to be a big deal and back-in-the-day, I would have been gunning for a podium place. This time, if I'm honest, I was nervous I might not make it to the finish line. My feet seem to be the main limiting factor. Once they start being sore, it quickly becomes debilitating and I lose control of my gait. So I went into MCC having made the decision to stop if I needed to rather than risk a fall. It's not worth it! The longest I'd run in the last 2 years is 20 km and my body has been through a lot in that time. So I relied on determination and being buoyed along by the atmosphere. I'm pretty stubborn and there's probably some very distant muscle memory in there, so I was hoping I might surprise myself. 
How did MCC go?
Steph: It was amazing to cross the finish line! I'm super happy to have made it in really challenging conditions, when I really wasn't sure I would make it at all. It was definitely a type two fun day: wet, muddy and snowy, a sudden change from 37 degrees (almost 100 Fahrenheit) here last week. The atmosphere and support was fantastic and I felt strong on the first big climbs up to Col de Forclaz and then to Col de Balme. It was cold up top, though, and I got worryingly chilly at one point. But by the time I got back down to Le Tour, I could finally feel my fingers again. My husband and kids were waiting there, which was the perfect boost, and spurred me to keep going. From Le Tour, the route back to Chamonix is mainly downhill, with a few nasty little uphill kicks. I felt pretty good until about 30km, when my feet just stopped wanting to play and the pain started to ramp up. To be fair, it was a lot to ask of my body: it's the furthest I've run since before having kids, so I feel super proud of myself for managing to trot, limp, shuffle all the way home. I even pushed out a little 'sprint' finish. It's a huge privilege to cross a finish line in the center of Chamonix – an iconic moment and another step on the journey to putting cancer behind me. 
---
Read More UTMB Mont-Blanc® content from Run the Alps' archives:
Meet Xavier Thévenard: UTMB Mont-Blanc®'s Most Accomplished Runner
The Race that Changed Running: The Inside Story of UTMB®
Run the Alps Underground Guide to UTMB® Week in Chamonix