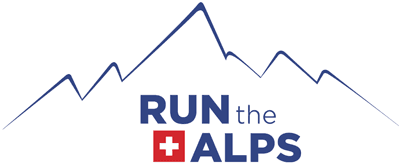 CCC 2019: My Dream Race
Guest Post by Paul Martin
CCC, short for Courmayeur-Champex-Chamonix, is sometimes referred to as UTMB®'s "Little Sister"– a 100 km trail race that runs over the second half of the UTMB® course, from Courmayeur, Italy to Champex, Switzerland and finishing in Chamonix, France. 
In recent years, however, the CCC has come into its own, with a highly competitive field of elite runners, and a registration lottery with odds nearly as tough as those of UTMB®. 
Run the Alps friend and past trip participant Paul Martin, of London, ran this year's edition of the race. Here's his story. 
Lucky enough to emerge successful from the January, 2019 CCC lottery on my first attempt, I fantasized, imagined, plotted and schemed for months leading up to the race. Those months prior were consumed with thoughts of UTMB® week in Chamonix, France– and, of course, my CCC race.
I desperately wanted to do well in Chamonix, a place that has become increasingly special to me in recent years. Chamonix has become my spiritual home– a place that makes me happy, shares my values and feeds my spirit.
In 2018, I spent a memorable trail running trip on the Tour du Mont Blanc with Run the Alps. Loosely speaking, it was a reconnaissance of both the UTMB  and CCC routes, over a leisurely 8 days of running past mountain huts, staying at inns each night.
That trip with Run the Alps spawned many meaningful friendships. Among those was our guide on the trip, Giles Ruck. After the trip we stayed in close touch and, ultimately, I found myself lucky enough to have Giles as my 2019 CCC crew, along with my girlfriend Lisa.  He kindly offered to help over the course– and I kindly bit his arm off in exchange, not giving him a moment to reconsider the offer! Such an experienced, guiding hand during my training leading up to the race proved invaluable. I was lucky to have him onboard.
My aim was to come to Chamonix and do myself justice– to leave nothing in the tank, to give the course everything I had. Given recent race results from this past spring and summer, I thought that 21 to 22 hours should be realistic. Giles, Lisa and I planned accordingly.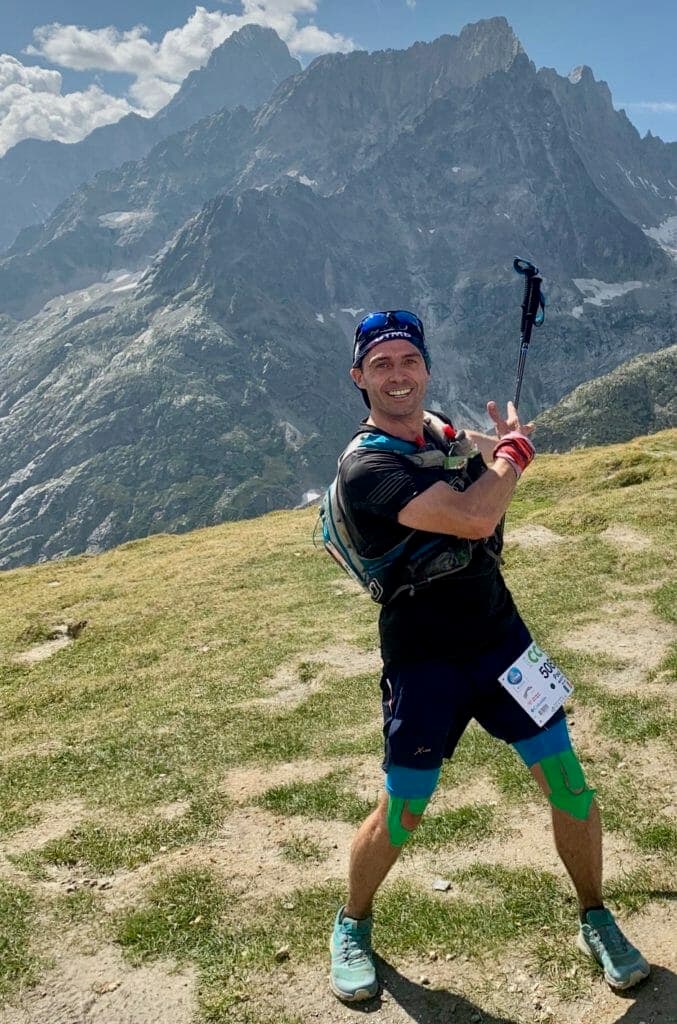 Race day strategy was straightforward. Thanks to advice from others, my aim was to land in Champex, Switzerland feeling good, with the capacity to make gains into the night, ultimately finishing around 6:00 or 7:00 in the morning.
Giles said the key for me would be to beat my position in the starting wave out of Courmayeur and make gains in the early part of the race, and not get caught in the train of trail runners moving up the first big climb of the CCC to the summit called Tête de le Tronche. Aside from that piece of advice, I wanted to focus on having fun, enjoying the moment, my time on the trail, and the event itself.
I am competitive with myself and want to do my very best. Thus, I focussed on my race and not the races of others around me. I was (no pun intended) ultra-determined not be distracted, but instead stay tuned in to how I was feeling throughout– almost in a bubble, my crew and I.
The race start was superb. I bounded out of the starting line and got to Tête de la Tronche in 2 hours, 15 minutes– far ahead of schedule and already making big gains. I sailed past Refuges Bertone and Bonatti, only stopping momentarily to hydrate and nab some cheese and orange slices.
I was shocked at the amount of people sitting around yapping and not moving. Unlike those runners, I was fired up and moving very quickly. At the next aid station, Arnouva, I again went straight through, only stopping to take on cheese, down the guilty treat of a cup of Coke, and some eat some chocolate. Again, there were lots of folk sitting down. I wouldn't dare! I was in full flow and feeling strong, and the Grand Col Ferret, the high point between Italy and Switzerland, was calling me.
I remember the Ferret climb well from my time with Giles last year, so I knew what to expect. I passed many runners on the way up, applying sun lotion and eating a full bar of chocolate. It was hot and the climb was hard, with many participants sitting still, stopped and appearing dead. Once up top, there was the obligatory photo at the top of the Col. Looking at my phone's screen, I was glad to see that I was still smiling and happy.
Now headed into Switzerland, Giles messaged me that I should watch my legs on the descent to the small, end-of-the-valley village of La Fouly.  Lisa, meanwhile, was expressing concern at my pace. Could this be sustained?
I took both concerns on board and ran down from the Col cautiously, minding my quads, with the long night ahead firmly at the forefront of my thoughts. I pulled into La Fouly and had more cheese, then dunked my head in a water trough. A quick inventory of my body revealed that everything was working well. I was nausea-free, with happy legs and mentally in a good space.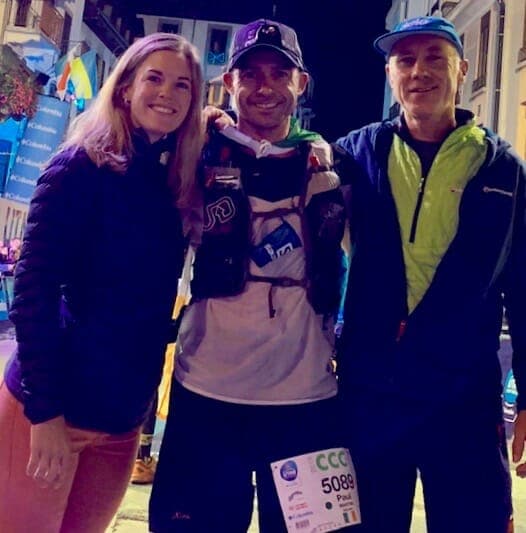 I am grateful to have a lot of people following my progress via a GPS tracker and sending me messages, some expressing awe at my pace. They know that, at this rate, finishing under 20 hours could be possible. As for myself, I didn't dare to dream it… yet. There were still 3 huge climbs that had be ticked off. It was uncharted territory as to whether I could maintain my pace over such a such distance and with that amount of vertical ahead. Giles and Lisa recognized how well I was doing, but rightly wouldn't allow me to start talking about finishing times. There was still much more to be done.
My stops at Champex and Trient, in Switzerland, and Vallorcine, France were executed with military precision. I had a quota of love and hugs from Lisa, but once inside the aid station tent, Giles was efficient. He coached me and he was so focussed, I had little opportunity for thoughts to wander, or for me to get messed up or turned around. It was like a Formula 1 Pitstop – 15 or 20 minutes at each aid station that felt like it was being timed.
At Vallorcine, 20 km before Chamonix and the next-to-last aid station en route, we started to believe that a finish time of 19 or 20 hours could be in the cards. I had been maintaining a consistent pace all day and felt strong. While I was still a little worried that the wheels could come off, so to speak, I just had one more climb to get done– the push up to Flégère, a ski lift station high in the Aiguilles Rouges to the north of Chamonix. Flégère stood between me and the finish line at Place du Triangle de l'Amitié. I wasn't about to let myself get carried away.
The final climb was brutal. I was really starting to struggle. My body felt like it was giving in on the strong fight it had contributed to the effort. The heat from earlier in the day was taking its toll. A mid-climb break for more Coke, courtesy of the Vallorcine aid station, helped with my sugar levels. Topping out, the climb became the most rewarding one on the course for me.
By the top, however, my legs were shaking. But, I knew I  was close. Seeing the Chamonix lights below, from the ridge next to Flégère, I found a renewed sense of strength. I shivered with excitement when I realized that I was going to finish within 20 hours, and maybe within the top 500 of 2,132 starters– barring, that is, any drama on the way down to Chamonix.
I crossed the finish line in tears at 4:30 am, 19 hours and 15 minutes after leaving Courmayeur and in 414th place. Somehow, everything had clicked – a "Geronimo" day. As a write this, I am still emotional when I think about how I was able to maintain such a good pace over the course of the day. In recent ultras, maintaining a steady pace has been a weak spot.
CCC 2019 was my dream race. To get it done and to do it with close friends around me meant a lot. Having them support me made it that much more special.
Doing these races is not about me, however. I just do the running. I love every moment of it, but the big win and accomplishment is a team effort. I couldn't have crushed this race without Lisa and Giles. They were above and beyond in their efforts on my behalf. It was unreal.
This result doesn't change my trajectory. Rather, it reinforces a particular track. 2020 is in the planning stages. For me, the outcome of this year's CCC was off the charts. Landing back in my spiritual home of Chamonix close to 3 hours ahead of my predicted schedule gives me that much more confidence in my future trail running plans.
One thing is for sure: The races will be bigger and bolder in 2020 and the same people will be involved: Run the Alps, Giles, Lisa, and my wider trail running community. They are, after all, my tribe.