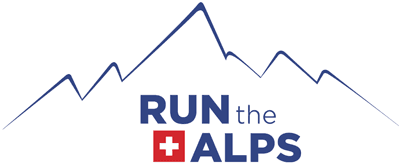 Celebrating 50 Years of Sierre-Zinal: Race Legends Look Back
Celebrating 50 Years of Sierre-Zinal: Race Legends Look Back
This year, Sierre-Zinal celebrates its 50th running, making it the longest continuously held trail race in the Alps. Connecting the Swiss city of Sierre and the mountain village of Zinal in the Anniviers valley, it is one of the most famous trail races in the world. The 31-kilometer course has 2200 meters of elevation gain, 1100 meters of descent, and includes some of the best scenery anywhere, passing through high mountain pastures and alpine villages like Chandolin. Called the "Race of the Five 4,000 meter peaks," runners can catch sight of five of the most famous peaks of the alps: the Weisshorn, Obergablehorn, Dent Blanche, Zinalrothhorn, and the Matterhorn. The route begins in the Rhône valley, climbs steeply to gain a ridge, then stays above treeline until plummeting to Zinal, at the end of the valley. 
Sierre-Zinal annually draws many of the best trail runners in the world and is now part of the Golden Trail race series. 
These days, "SZ" as it's known to the cognoscenti, also features a shorter youth race, an obstacle course for children, and a live band that plays in Zinal, the evening after the big race.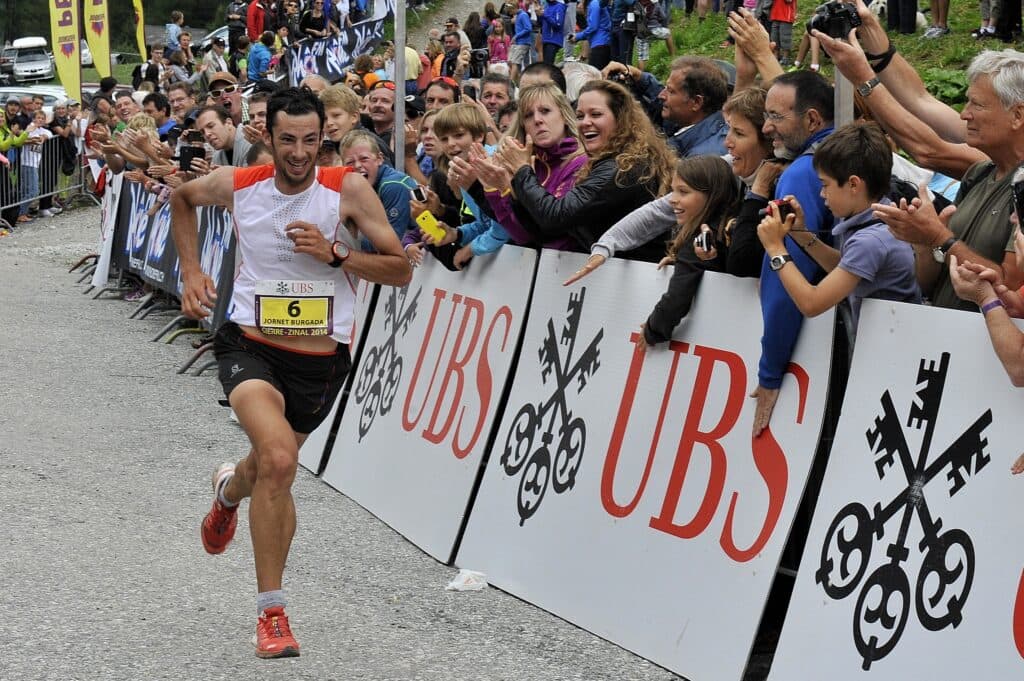 Racing Sierre-Zinal: In their Own Words
Many of trail running's top athletes have gathered in the small village at the end of a quiet Valais valley over the past five decades to test themselves on the iconic Sierre-Zinal course.  
Many of the Run the Alps staff have run Sierre-Zinal, too. It's a race that is at the very heart of trail running in the Alps. So, when it came time to celebrate the race's golden anniversary, we asked ourselves, "What has this race meant to those closest to it?" 
To find out, we reached out to top finishers over the past four decades, and asked them two questions:
During your time racing Sierre-Zinal, where would you place the race in the world of trail racing?
When you look back on your time at Sierre-Zinal, what are the feelings and emotions that come to mind? 
Thank you to Kasie Enman, Marco De Gasperi, Rickey Gates, Megan Kimmel, Stevie Kremer, Pablo Vigil, and Jonathan Wyatt for taking the time to share your Sierre-Zinal insights and stories with us.
Ready for a trip down the memory-trail? Here we go!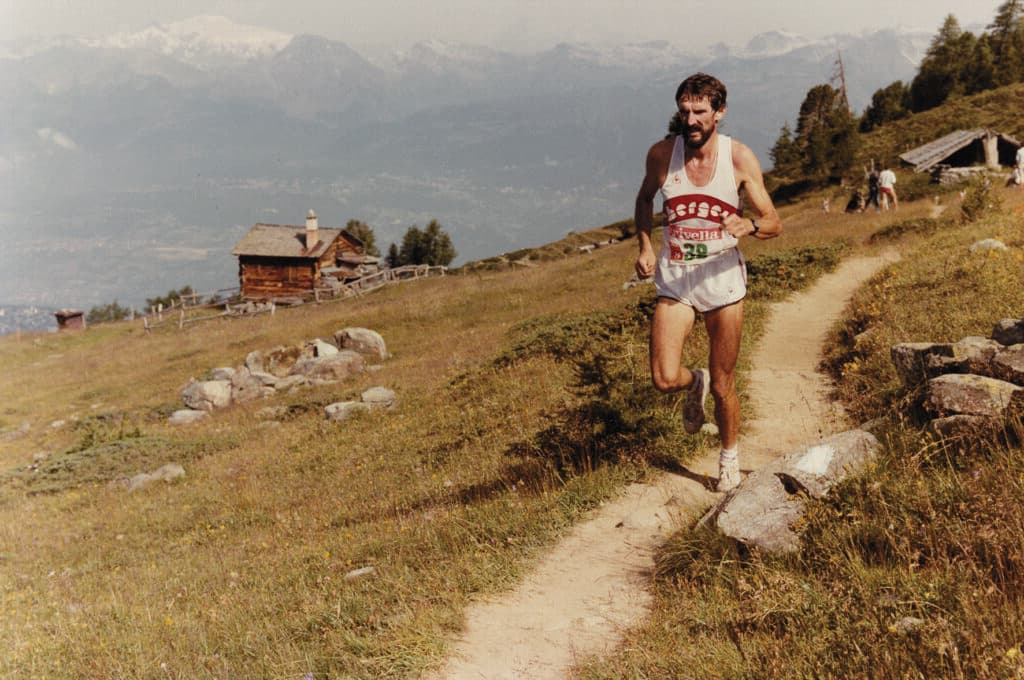 Rickey Gates
Rickey Gates is a Salomon athlete, an author, photographer, husband, and – most recently— a dad.. He lives in Sante Fe, New Mexico, and runs the trail running tour company Hut Run Hut.
Sierre-Zinal is one of those races that you've never heard of until you have. Then once you know about it, it holds a spot in your heart. The race coronates the kings and queens of the trail running world. It brings together short and long distance runners, roadies and trail-philes, climbers and speedsters. Dedicated to self preservation, the race retells its own story year after year in the most beautiful manner – by celebrating previous battles in photo, video and word. 
I hadn't heard about Sierra Zinal until my first season racing in Europe in 2008. I was traveling and racing on a shoestring budget, trying to get by without losing too much money. A fellow dirt-bag runner suggested I go run this race in the Swiss Alps. "They'll put you up, they'll feed you. Just give the race your all and you'll have won their heart." I had a disappointing result that year, but my friend Martin was right – they didn't care. I had given the course everything I had to give and that's what mattered. I returned the following year for a fourth place finish, ducking below the 2hr 40m mark. When things go well on that course, you aren't running so much as flying. There's no other race like it.
Kasie Enman 
Kasie is a longtime mountain runner who is a 2011 World Mountain Running Championships Champion. She has won Skyrunning races around the world, and is a multiple winner of the Vermont City Marathon. She lives in Vermont's Green Mountains with her husband and two children. 
I raced Sierre-Zinal in 2014. Heading into the race, I had heard stories of the legends of our sports having tested themselves there throughout the race's history. I was a couple of years into doing some European mountain racing when Pablo Vigil reached out to me and a couple of others with the goal of sharing the race with top Americans. Pablo offered to help get me a race entry and travel support. I was honored that he reached out because he is one of those legends. I also knew that two of my friends, Brandy Erholtz and Megan Lund, had been really successful at Sierre-Zinal, and it sounded like the course would suit my strengths well. 
Upon arrival, I found the race to be unique in how large the field of international athletes was. It really hit me at our first meal there. The invited athletes all ate together in a dining hall that the race set up and, looking around, it was an impressive sight of who's who in the world of mountain running past and present. I think my favorite part of the day might have been doing a cool down jog with Pablo Vigil himself. 
Unfortunately, my performance in the race wasn't my best. I learned over the years of racing overseas that my best races came after a period of acclimatization, after getting the travel out of my legs, being settled into the time zone and all. The year I did Sierre-Zinal, we set it up to bring my family along (my husband, and our almost 3 year old and 1 year old) and stay in Europe for a few weeks of races. Sierre-Zinal was the first of the set so it felt like off the plane and onto the start line. (I did stay and have progressively better races after that at Matterhorn Ultraks and Trofeo Kima). I had also gone out too hard in a few races earlier that season– Zegama, Mont Blanc Marathon, Speedgoat– and decided to start this one more conservatively. That backfired and just led to me being out of the race without the sharpness of mind and body to get back into it. I'd actually love to go back and try Sierre-Zinal again sometime as the scenery was gorgeous, a fun mix of terrain, and the whole weekend had a nice vibe. It's important for our sport to have races like Sierre-Zinal that carry history and draw the community together. It's definitely in the category of epic classics.
Marco De Gasperi 
Marco De Gasperi is a European trail running legend. He has won six gold medals at the World Mountain Running Championships and countless other races around the world. Many consider him to be the father of modern Italian mountain running.
For me, Sierre-Zinal was obviously a very different race than what we know right now. It was more familiar – the kind of race where everyone who was invited was part of a big family. The organizer at that time, Jean-Claude Pont, was a pioneer of the sport. It was very, very important for him to have everyone from each country receive support, to open opportunities for athletes from poorer countries to compete. But he was really keen also to have Italians and racers from other traditionally strong countries in the sport of trail running. 
This, I think has changed, after 2012 or 2013, with the shift in the organization. And so Sierre-Zinal is different compared to what it was before. It was more romantic in those days. The level was not as high as now, but there were a few runners that could run very fast. So, this has changed over time, and according to a more professional attitude of the runners at the moment, everyone wants to be involved in the most important race in the world.
Of course, I've been there a few times. And every time I look back to running Sierre-Zinal, only good things come to my mind. The first three times I did it were fantastic for me, because I won all three times. And it was always very important to come back, to challenge myself time by time. For sure I've gotten older, and so am probably not as competitive as before, but the motion is always the same. I have my footprint in the center of Zinal, because all the winners have their feet pressed into the cement of the sidewalk in town. It's something that reminds me that I have the fortune to be one of those legendary winners of this race, and for me it means a lot. I will come back this year as well, and I think I will get back the same feelings I have every time. So Sierre-Zinal will always be very emotional for me.
Megan Kimmel 
Megan Kimmel has won technical Skyraces around the world, and in 2018 she won Colorado's Pikes Peak Marathon, establishing a new course record. She lives in Ridgway, Colorado. 
World class top-notch race! It has always been one of the highest caliber races. Since my intro to international trail racing in 2007, Sierre-Zinal was the race you peaked for if you wanted to be an accomplished mountain runner. If you wanted to win you had to give your time and energy to it as your number one focus, much like a big marathon. In the world of trail racing it still is the King/Queen race, you cannot deny the winner of Sierre-Zinal as being one of the very best runners of their time. 
The Sierre-Zinal course has it all – a big uphill, flat, undulating hills, and a big descent. Yet you simply have to have turnover/speed to do well there. This is one reason it makes it the test piece that it is. But mostly, it used to be (and I'm sure it still is) a race that would pull more runners from disciplines outside of the European mountain/trail circuit. 
Sierre-Zinal is classic and classy. It has a calm prelude to such a wallop of a race. It was/is a great gathering of athletes and the race has always been organized to celebrate athletes coming together as a group of like-people as an inseparable part of the competition itself. Again, another reason it has always been one of the sport's best races.
Oh gosh, I am not so good at remembering the years, but I ran Sierre-Zinal almost definitely in 2017, 2018, and one year prior to that, probably 2015.
Pablo Vigil 
Pablo Vigil has stood on the podium in marathons around the world, and has won Sierre-Zinal four times in a row, from 1979 through 1982. In 2012, he was inducted into the Colorado Running Hall of Fame. He lives in Fort Collins, Colorado. Read more about Pablo in this Run the Alps interview.
Where would I put Sierre-Zinal globally in trail running? Simply, historically the race has been the crossroads of the running world and it continues to be. It has attracted the best male and female runners globally. The scenery, ambiance, organization, support from the locals, prize money, room and board, longevity, results…. All of that has made Sierre-Zinal the best trail and mountain race globally. 
Sierre-Zinal originally attracted the crème de la crème of runners, and 50 years later continues the tradition. Longevity, success, and results say it all. Jean-Claude Pont, the founder of Sierre-Zinal, started it 50 years ago. I'm sure it will continue snowballing. I'm very lucky I was a small part of it.
As for my emotions and feelings in retrospect to Sierre-Zinal. Well, winning the race was a life-changing experience, especially winning the first time. The fourth consecutive win wasn't as exciting, but as I've gotten older, I like the 4th victory even more. 
At times, I think none of this really happened, that it was all a great dream.
I came to Sierre-Zinal thanks to American Chuck Smead, the first USA runner to win Sierre-Zinal, in 1977. Chuck was also a badass roadrunner and also won the Pikes Peak Marathon several times.  I first ran Sierre-Zinal in 1979, running the course in 2:33:47. I set a new record by over five minutes. I ran again in 1980, 1981, and 1982, winning each of those years. 
Súper Kudos to Chuck for getting the Sierre-Zinal ball rolling for future American runners. Later on, I continued this tradition of helping to bring others who became Sierre-Zinal winners, such as Megan Lund and Stevie Kremer. Many great American runners have come to Sierre-Zinal, but only four have won. 
It's been over forty years since an American male has won Sierre-Zinal, and hopefully my ramblings help inspire future runners from the United States to race Sierre-Zinal…I've always felt the USA has the talent and guts to kick a$$ in Europe, and globally in trail and mountain running. We simply have to pay our dues and prove it.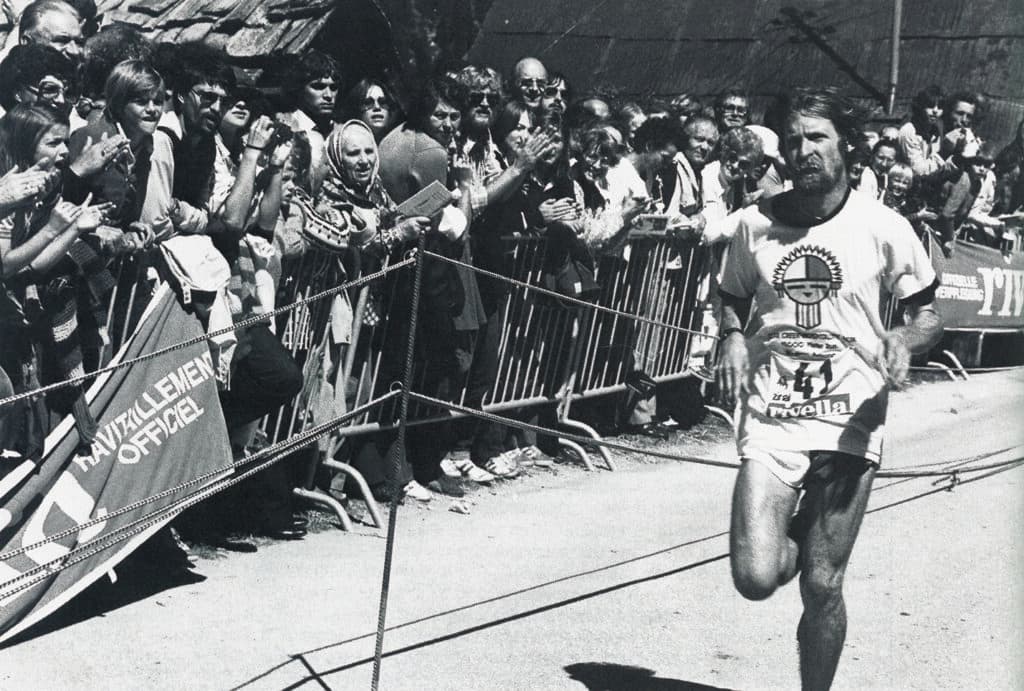 Stevie Kremer 
Stevie Kremer has won races around the world, including the Mont Blanc Marathon, Jungfrau Marathon, and the Limone Extreme Skyrace. She is also a champion ski mountaineering racer. In 2012, she won Sierre-Zinal. She lives in Crested Butte, Colorado. 
I would say hands-down that Sierre-Zinal is one of the top, if not the top, world trail running events. I say this not only because of the course, the varied terrain, the ups and downs, but also the competition, and of course, the fans. People of all ages line the course, starting before the sun comes up, cheering and yelling in multiple languages. The competition comes from all over the world and there are all different ages. It's not only a race, it's a reunion. 
The greatest feeling I have from Sierre-Zinal is from 2012, the first year I competed. I came in with normal street clothes, while every other athlete was logo'ed head to toe. I felt beyond intimidated. No pun intended, but it was all so foreign to me, as I'd never been with that level of competition or sponsorship. As I started running, I wasn't sure what to expect in terms of my placement, but seeing my parents at every major checkpoint, and then at the finish, where I certainly surprised myself, and them, and probably everyone else too, was the greatest feeling. (Editor's note: Kremer was the second women's finisher.) Seeing my parents was the only time I felt comfortable during that entire race! To top it all off, I missed my flight home because I couldn't finish my drug test, I was so dehydrated!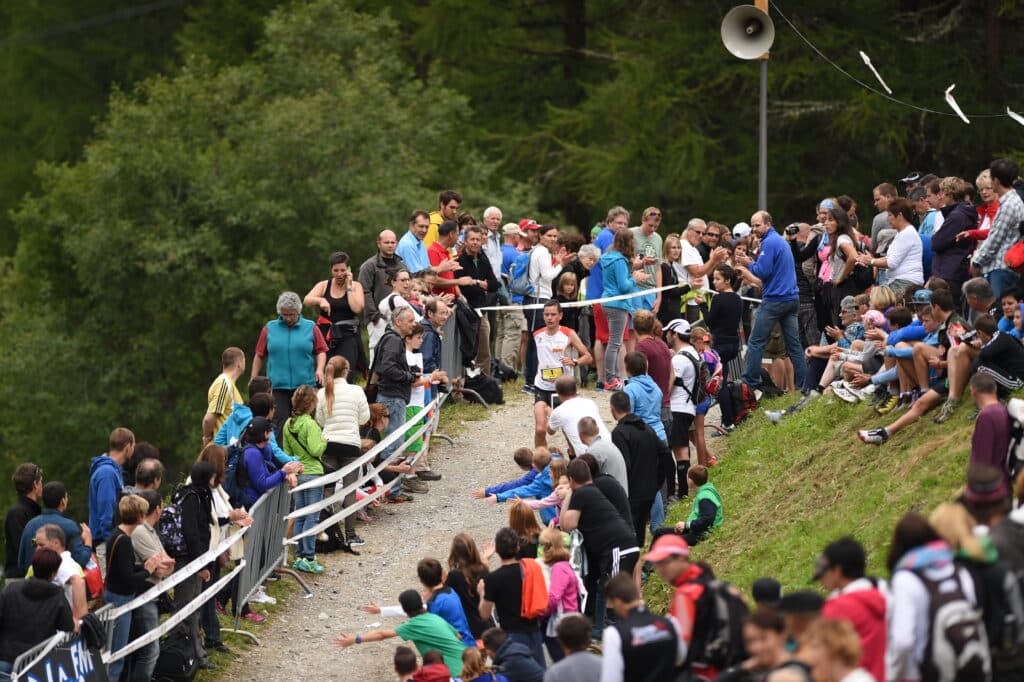 Jonathan Wyatt
Jonathan "Jono" Wyatt is an international trail running legend. He is a six-time World Mountain Running champion, and has won and set course records at races around the world. His 2003 course record at Sierre-Zinal stood until broken by Kilian Jornet, 16 years later. Originally from New Zealand, he lives and runs in Northern Italy. He is a past President of the World Mountain Running Association. 
I think the first thing to say is Sierre-Zinal is not so much a trail race as it is a mountain race. With 50 years of history, it reflects something about the changes we see in how the sport is viewed. The race has always been a mountain race, and in fact was even a part of the Sky Running circuit when I raced there! Today we can see trail running everywhere, but Sierre-Zinal has its roots in mountain running, which is why we view the race as the "Queen Stage" in this year's Valsir Mountain Running World Cup. 
During my time the race was always known as a tough mountain race, but where speed was a big part in the second half of the race. I raced on-and-off over a 15-year period, and the course has changed in that time, with trail work removing all but a single kilometer of the technical running that used to exist in the second half.  During that time I would always place it in the top category of competitive and beautiful mountain races. Today is no different – except with media coverage, which is a fantastic window into the sport. Currently, the race can be seen at a competitive level getting pretty close to the recent World Championships held in Innsbruck. This is a great credit to all of the organizational team who work so hard to bring everyone together. 
I think what we have seen over the years is an evolution where the race has grown to represent a coming together of athletes who specialize in mountain running or ultratrail or sky or road. And the course and distance offer any one of these specialists the opportunity to potentially win! This is something unique about Sierre-Zinal. Combining this with an organizer who provides fantastic support for the runners and wants to see it grow internationally, we can understand why the race attracts so many top runners and fascinates both elites and amateur athletes in equal measure.
It was an interesting time when I raced my best there, without wanting to be negative at all – Sierre-Zinal was always a great race, but in a way, I still used it as a part of the season to prepare for a World Mountain Championships, or it came after a major championships. Back then, I also still had road running objectives or track racing ambitions in mind. In 2003 when I ran the record, I had enough margin in order to finish it off in control and relax the last third, knowing that I had the Jungfrau Marathon coming up in the same season.  
I would work hard on the climbing section in the first part of the race, and this was my forté, but I still had the road and track speed to run well in the next section. To be honest, if I didn't have to smash myself on the downhill, I wouldn't! That definitely was not my strength, but I love the way the course has these distinctly separate characteristics.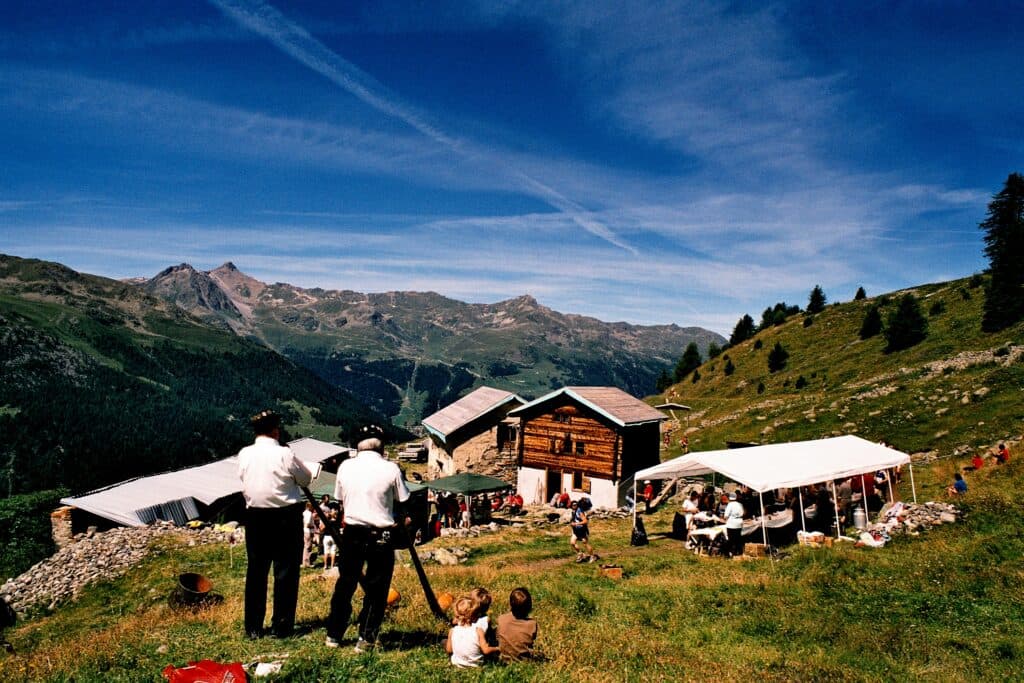 ---
Origin of Sierre-Zinal
Want to know how it all started? Run the Alps founder Doug Mayer spoke with Jean-Claude Pont, who 50 years ago started what became Sierre-Zinal. 
"People said I was completely mad. They said it was stupid. It was impossible. 'It's too long!' 'It's too far!'"

He pauses for dramatic effect.

"I didn't listen to them."
Read Sierre-Zinal: The Heart Before the Watch which originally appeared in the April 2015/DIRT issue of Trail Runner Magazine.
---
Want to Learn More about Sierre-Zinal?
Here's just a few other articles about this iconic race from Run the Alps' own archives:
Recreational runners, sponsored-elite athletes, and many trail runners in between consider it a race to add to their personal "bucket lists." The race has a spirit all its own, cultivated over decades by the father of the race and long-time Race Director, Jean-Claude Pont.
Signing up for "The Race of the Five, Four-Thousand Meter Peaks" and running it successfully can be a bit tricky, however. Run the Alps offers 12 tips for having a great experience.
"At some time unknown, the 31km Alps trail race known as Sierre-Zinal slipped into my subconscious as a special event. It was one not to lose track of, a race to do one day, a bit like an exceptional mountain to climb." Run the Alps guide Giles Ruck shares his story of running this race.
What makes Sierre-Zinal such a remarkable event (maybe even the best in the world)? Here's Run the Alps Founder Doug Mayer's short list.
Back before GPS watches, back before compression shorts, Gu, Facebook and Strava, trail running was simple: old shorts, a pair of shoes, and the desire to move quickly through the mountains. U.S. trail running legend Pablo Vigil keeps it that way too. He's as highly accomplished as any U.S. trail runner, ever. Among his accomplishments, Vigil won one of Europe's most prestigious trail races, Sierre-Zinal, four times in row, from 1979 through 1982—a record that stands to this day. 
The fun thing about running in Sierre-Zinal's tourist division is that it's about collective enjoyment of the mountains, not competition. The finishers aren't categorized by places, to earn—or not earn—medals. Everyone receives the same finisher medal along with the same perks of a free meal, massage, and diplôme, or race certificate. Run the Alps' Lead Tour Designer, Abby Strauss-Malcolm, discovered the joy of running Sierre-Zinal for herself.
Race website: Sierre-Zinal. Lead image: Milo Zanecchia.