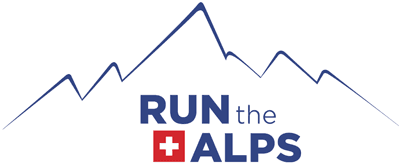 Courmayeur in a Nut Shell
Courmayeur in a Nut Shell
This Run the Alps guest blog post is from US trail runner Tim Tollefson. Tim is a familiar face here in the Alps. He was second in UTMB's CCC in 2015, and third last year in the UTMB. Tim has also qualified twice for the US Olympic Marathon Trials. He's here in Chamonix now, getting ready for the UTMB. We wish him and all the other runners good luck out there!
***
Courmayeur is rad. When Chamonix gets slammed with UTMB festivities, Courmayeur is a quiet oasis situated at the southeast foot of Mont Blanc, with dramatic views of the sleeping giant.
After just a short drive, or a fifteen euro bus ride through the Mont Blanc Tunnel, you'll enter the more relaxed and sunny side of the massif.
For the past three years I've set up camp at Hotel Bouton d'Or. This is a fantastic little spot with incredible hosts in Patrizia, Andrea, and Jessica. They treat you like family and their breakfast spread is dangerously top-notch!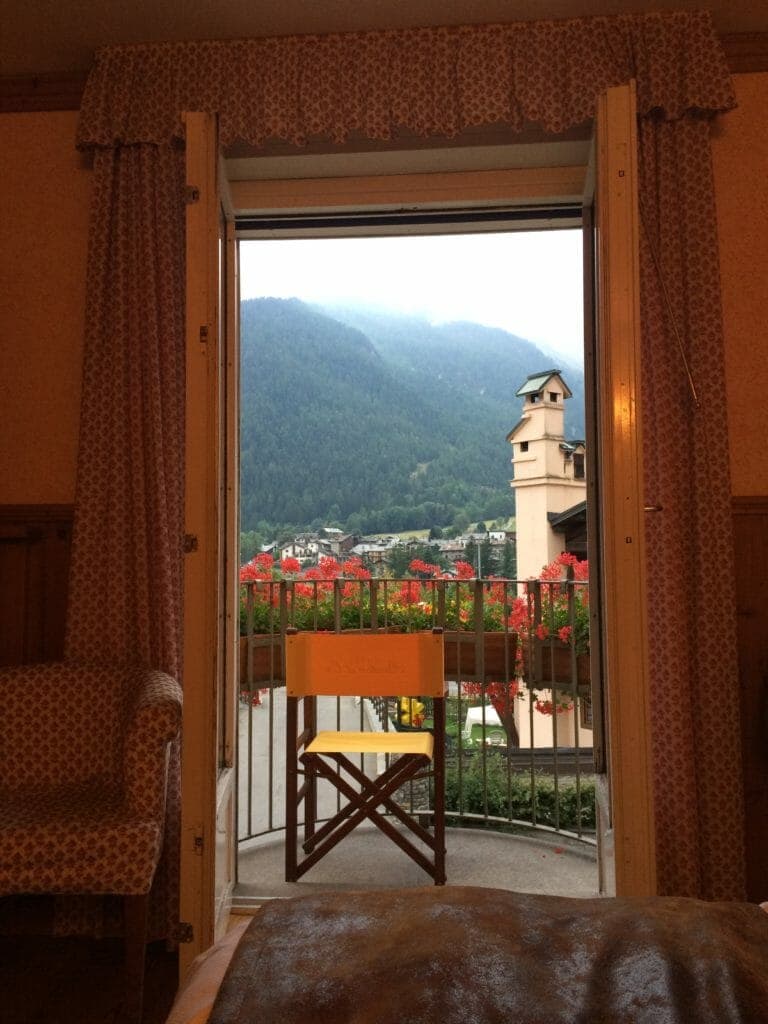 Here are two of my favorite trail runs around Courmayeur:
1. Arnouva – and a Bivvy Adventure, if you want it
Take the Tour du Mont-Blanc towards Switzerland from town, and head up Val Ferret. Your first stops will be Rifugio Bertone – home to the world's cutest goat! –  and then the Rifugio Bonatti before dropping into Arnouva, where I'd recommend lunch at Chalet Val Ferret. Afterwards, for just two euros, you can take the bus back into Courmayeur.
If you want additional adventure and you aren't suffering from a food coma, climb up the steep spinal trail from Rifugio Elena, to an incredible bivouac location situated at 2,724 m next to Glacier de Pré de Bar.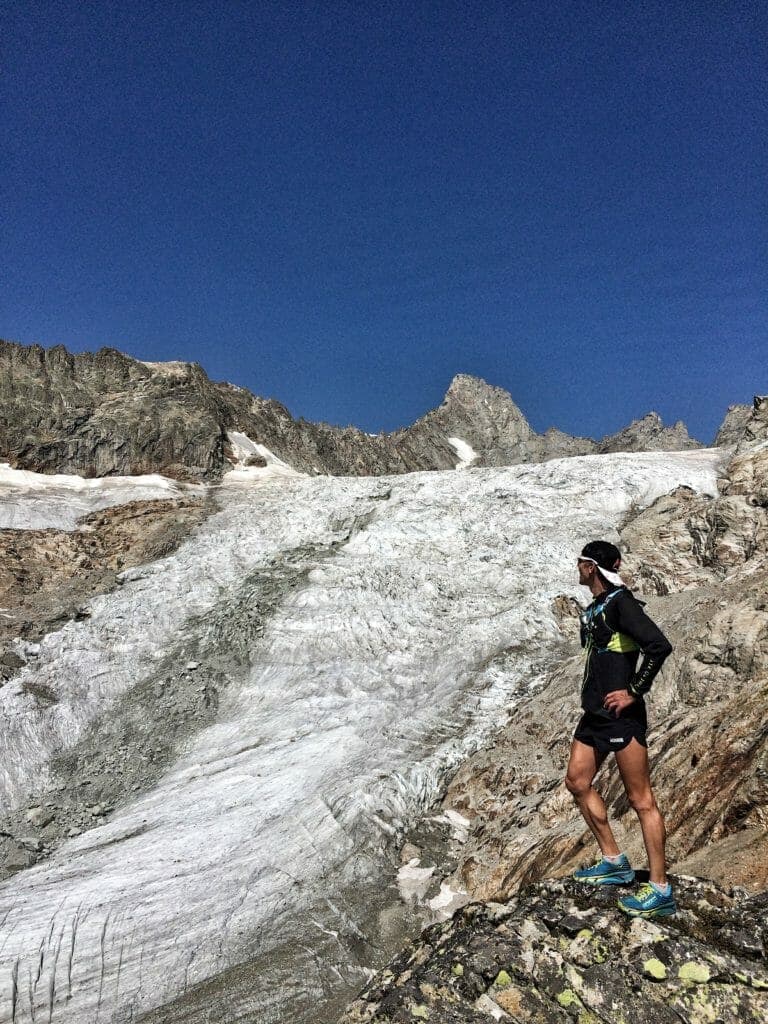 If you're really adventurous, stay for a night or two on their cozy bunks!
If you're looking for an alpine soak, the river descending from Arnouva is the safest and has the mildest temperatures around.
2. Col de la Seigne and back to Courmayeur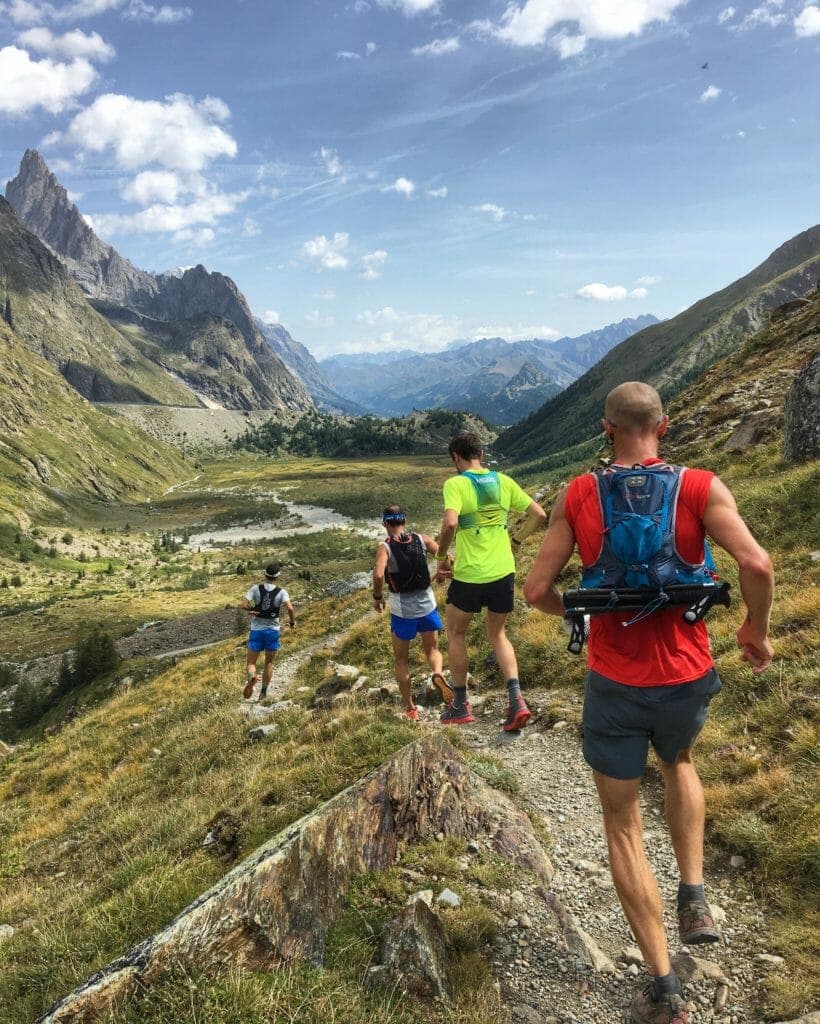 Another fantastic run is part of the Tour du Mont-Blanc from Col de la Seigne to Courmayeur. Again, utilize the local bus system – this time going in the opposite direction from the run described above. It's a two euro bus trip up Val Veny to Lac Combal. Run via Rifugio Elisabetta to the Col de la Seigne for some beautiful bonus kilometers, then run back along the "TMB," being sure to stop and feast at Rifugio La Maison Vieille di Giacomo. Ask for the "Topher" special– named for longtime UTMB friend Topher Gaylord. It's the best meal I've ever had mid-run! Then, work off your meal by descending the steep single track back to Courmayeur.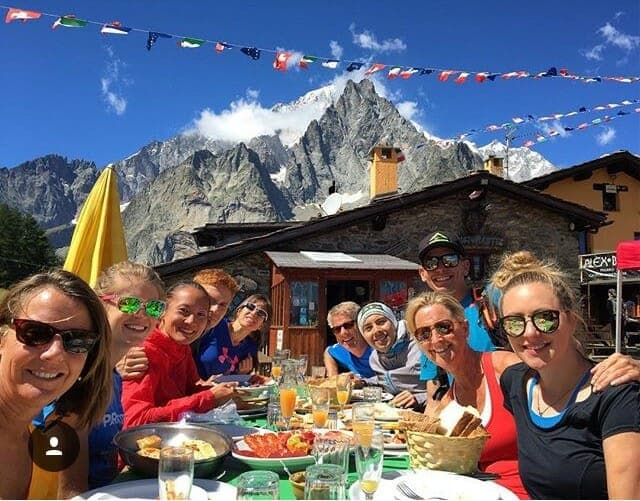 Looking for a great evening activity? Grab a bottle of wine and hike up to Baita Ermitage along a sweeping trail through Pussey, then watch the sunset over the valley and Mont Chetif.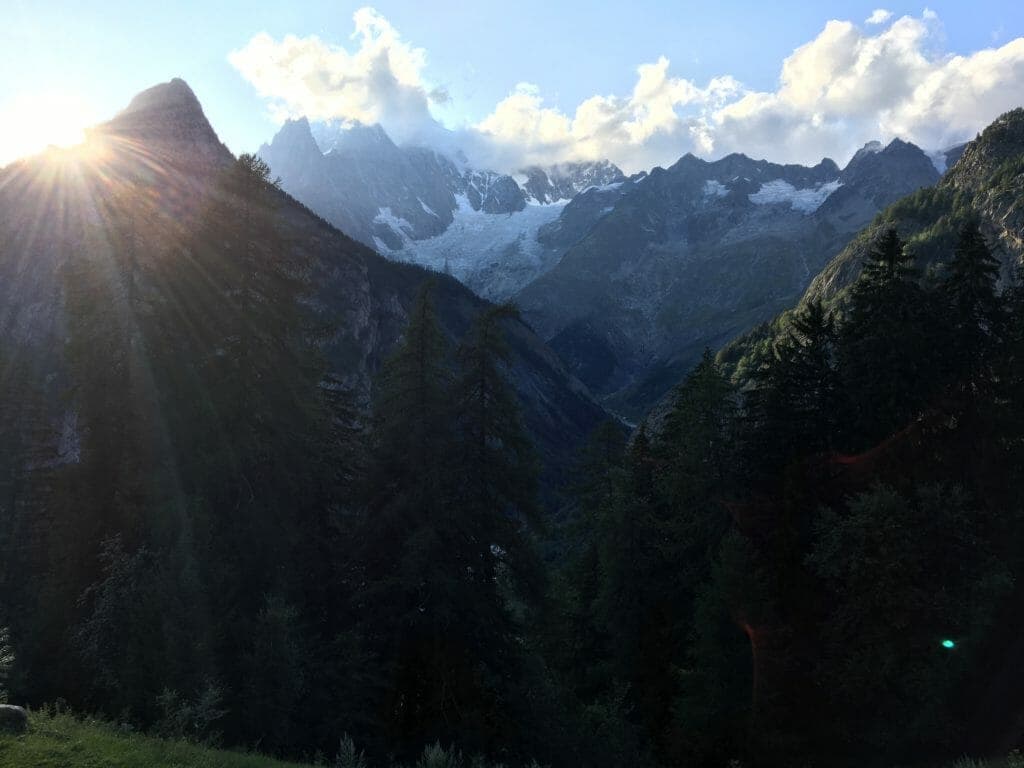 Finally, although not confirmed, I'm pretty confident that when in Italy, if you retire without an evening gelato, it's considered disrespectful. Don't be disrespectful to the people!