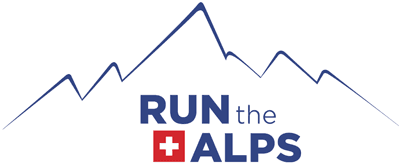 The Ultimate Trail Runner's Guide to Courmayeur, Italy
The Ultimate Trail Runner's Guide to Courmayeur, Italy
Courmayeur, Italy famously markets itself as the "sunny side" of Mont Blanc. (Compared, that is, to Chamonix, France.) It's also older, quieter, and simply more chill. 
With spectacular views of the Mont-Blanc massif, hundreds of kilometers of singletrack trails, delicious focaccia, and a unique local vibe, this Italian town has everything you could want for a relaxing trail running vacation or a stop-over on the Tour du Mont-Blanc, or TMB.
So, where are the best places to stay? What's the best place for a quick post-run lunch? Where are the great, little-known trails? What's the best way to get around the valleys of the region? 
Well, good news! We've got you covered. Run the Alps polled our guides, staff, and trail running friends, all who have spent a good bit of time in and around Courmayeur, to create this useful guide specifically for trail runners. 
We hope you enjoy it and find it useful! Drop us a note if you have any suggestions, corrections or updates.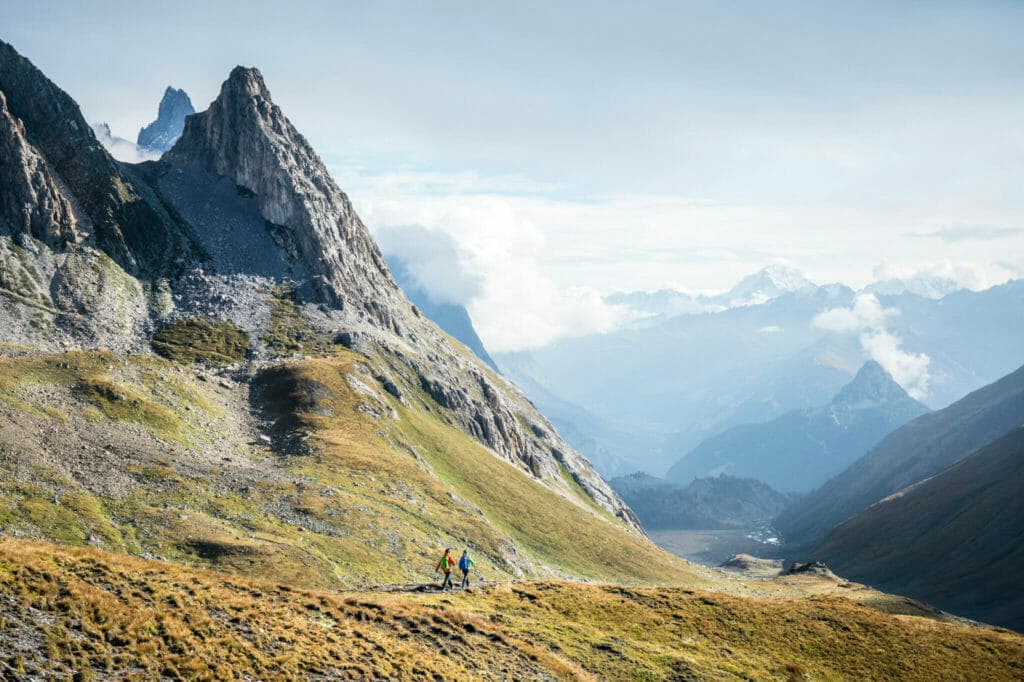 How to Get to Courmayeur
The closest international airport to Courmayeur is Geneva airport in Switzerland (116 km). If you're not renting a car, it's possible to get a 2-hour bus from Geneva center to Courmayeur or one bus from Geneva airport to Chamonix, then a second bus from Chamonix to Courmayeur. 
The closest Italian international airports are Turin (151 km) and Milan Malpensa (212 km). From Malpensa, you can get a bus to Aosta Valley, then get the regional bus from Aosta to Courmayeur. Bus routes from Turin airport are slightly more challenging because you have to take a bus to Turin center, then take a train to Aosta, and finally a  bus to Courmayeur.  
Getting Around Courmayeur
The main center of Courmayeur is small and pedestrian-friendly, so it's a short walk between most places. For getting out of town, there is regular bus service throughout the surrounding area with Arriva. The easiest way to use the buses is by downloading the Arriva MyPay App. You can also buy tickets from ticket offices or directly on the bus, but heads-up, on the bus there's a €4 surcharge.
The Best Places to Stay in Courmayeur
There are plenty of good hotels in Courmayeur. Here are our favorites, which we think provide the best service at reasonable rates.
Hotel Bouton d'Or
We've worked with Patrizia and Andrea at Hotel Bouton d'Or for years now and love staying here. US trail runner and friend of Run the Alps, Tim Tollefson, noted this hotel as his go-to choice in his mini guide to Courmayeur. The hosts are fantastic and treat you like family. Plus their top-notch breakfast spread is incredible!
Hotel Croux
The Hotel Croux is a wonderful place for trail runners especially because the owners are part of the trail running community — one of the owners, Jose, has even taken part in Tor des Geants! The Croux staff is friendly and supportive, and the hotel offers a fantastic breakfast spread.
Cresta et Duc Contemporary Alpine Hotel
A nice boutique hotel with comfortable rooms and friendly staff, Cresta et Duc is conveniently close to the center of town. The hotel offers a relaxed yet luxurious feeling to kick back after days on the trails.
Other Hotels we Like
There are a huge variety of wonderful hotels in Courmayeur. Others we like and have used for our Run the Alps guests include the Hotel Walser and the Hotel Berthoud.
The Best Trails Near Courmayeur
With hundreds of kilometers of trails, it can be overwhelming to choose where to start. However, here's some good news: first, it's hard to choose a bad trail from Courmayeur. Second, we've curated a few of our favorites here to get you going.
Best Glacier View — Glacier de Pré de Bar
One of Tim Tollefson's favorite trails follows the TMB towards Switzerland and up Val Ferret. You'll do a steep climb up to Rifugio Bertone, contour along a high elevation "balcony" trail to Rifugio Bonatti, then drop into the hamlet of Arnouva in the Val Ferret. There, you can get lunch at Chalet Val Ferret. If you still want to do more, Tim recommends an add-on, running up past Rifugio Elena to "an incredible bivouac location situated at 2,724 meters, next to Glacier de Pré de Bar." That's 26.5 km (16.5 miles) out and back to the bivouac. Then, you can catch the bus from Arnouva to Courmayeur.
Most Iconic Viewpoint  — Col Malatra (and add in a great Rifugio Meal)
Col Malatra is an iconic point for one of the longest and most revered trail races in the Alps, Tor des Géants. There are dramatic climbs from either side of the Col that reach a narrow path between two rocky outcroppings, from where there is a dramatic view of the Mont Blanc massif.
An 18 km (11 mile) out and back, you can make this route longer if you start directly in Courmayeur and work your way up via Rifugio Bertone, but if you want to save some vert, take the bus into Val Ferret to the Rifugio Bonatti stop and start from there. Climb over Col Malatra and stop in at Rifugio Frassati for some homemade polenta.
Quietest Trail Run — Tirecorne and La Suche
This shorter 7.5km (~5 mile) run heads up through the forest to two beautiful collections of mountain chalets on natural terraces in the meadows. You'll pass Chapelle de L'Ermitage, where a hermit used to live. Now, it's a wonderful spot if you're in search of a bit of tranquility not far from town. Beyond L'Ermitage, you'll find slightly busier trails until you reach Tirecorne and La Suche. On a clear day, sections of this trail offer stunning views of the Mont Blanc range and Mont Chétif in the foreground.
Best Technical Trail — Mont Chétif
Work your way to the top of the closest peak looming over Courmayeur, Mont Chétif. If you're looking for a technical challenge, this half day, 10km (6 mile) route offers fantastic views of the Mont Blanc massif and a look out over Aosta Valley. The trail does have a few via ferrata-like chains and metal steps, so be prepared for exposure and an adrenaline kick.
Best Local Ridge Run — Tête de la Tronche   
Run the Alps guide and Race Finder Manager Sam Hill recommends this 16km (10 mile) lollipop up to Rifugio Bertone, along the ridge to Tête de la Tronche, then into the valley on the way back to Courmayeur. Largely runnable, this route offers stunning views all around.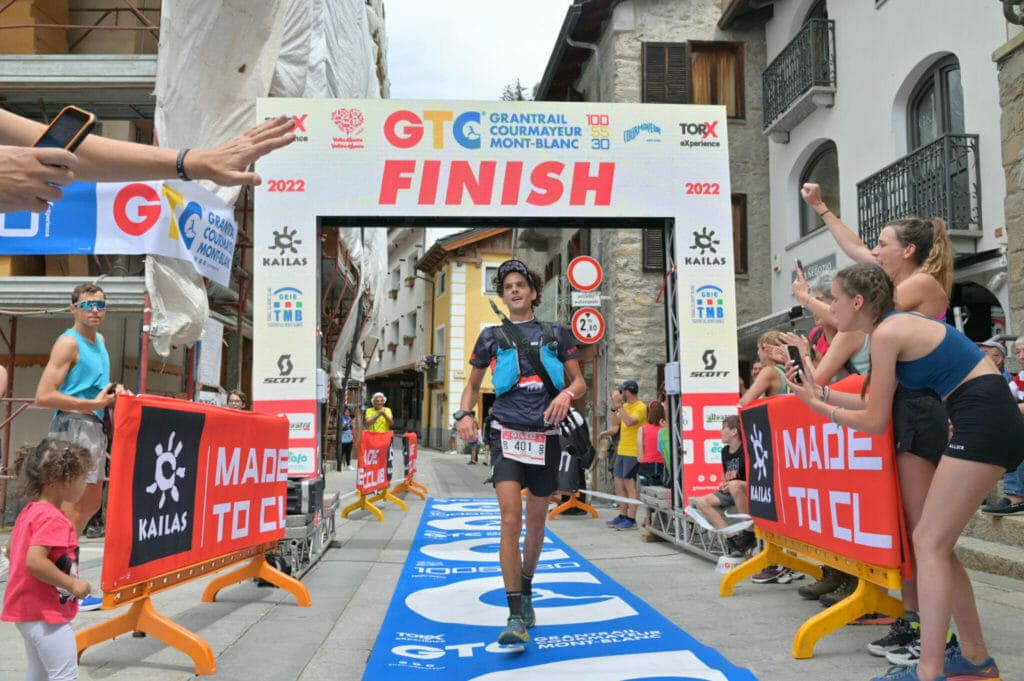 Trail Races in Courmayeur
Courmayeur hosts some of our favorite trail races in the Alps. The Valle d'Aosta Trailers organizes several annual races from the world-famous Tor des Géants to the more theme-costume Arrancabirra.
These are the trail running events happening in Courmayeur each year. In chronological order, they are:
–Gran Trail Courmayeur – A race weekend in early July with three different spectacular courses and distances (30km, 55km, 100km).
–Vertical Trail Courmayeur Mont Blanc – A two-day event with two races, Skyrace Night K1000 (11km, 900 meters) and Skyrace K2000 (18km, 2000 meters). 
–UTMB – With many of the UTMB race courses going through or starting in Courmayeur, the last week of August is busy with trail runners in Courmayeur, though not as full-on as Chamonix. CCC and the relatively new Experience Trail Courmayeur (ETC) UTMB series races  both start in Courmayeur.
–TorX – Starting at the end of the first full week of September, this 10-day event includes the legendary Tor des Géants (330km), Tor des Glaciers (450km), Tot Dret (130km), and Tor du Malatrà (30km).
–Arrancabirra Trail Race – A straight up fun 18km race in early October. There's beer, costumes, and a good time.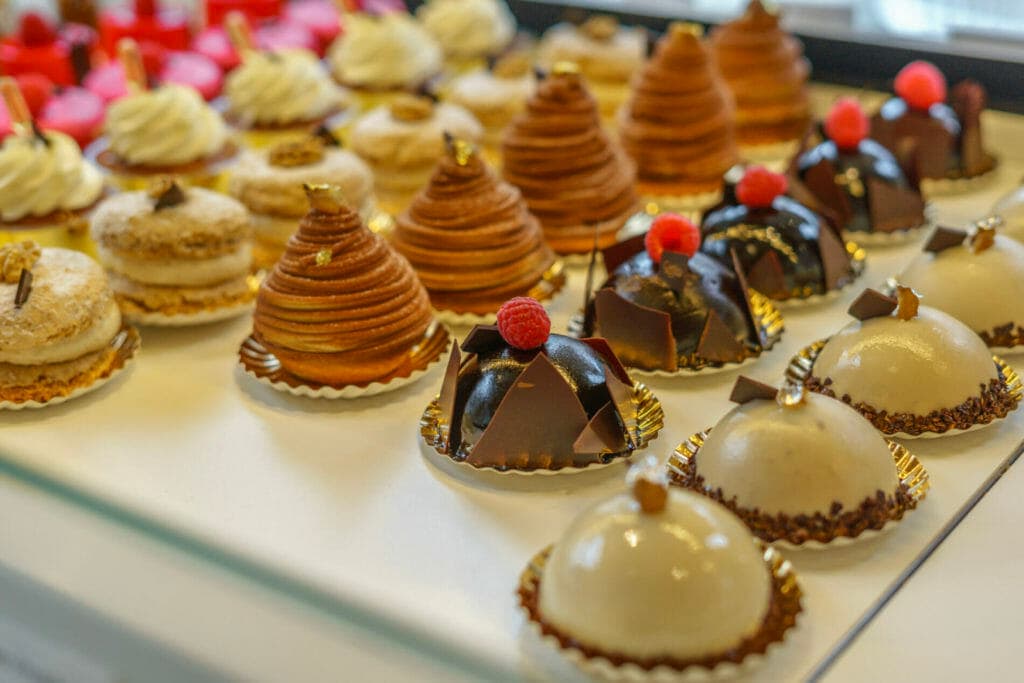 The Best Places to Eat and Drink in Courmayeur
Post-run, pre-run, or rest day, these are our favorite places to eat and drink in Courmayeur:
Best Place for Dinner: Hotel Courmayeur Outdoor Restaurant
What started as an open-air COVID-19 workaround has become an excellent culinary experience all on its own. Connected to Hotel Courmayeur, though not the hotel's main restaurant, this restaurant serves delicious dishes with locally sourced ingredients and offers a wide variety of options.
Just off Courmayeur's pedestrian Via Roma on a narrow, cobblestone alley, Pan Per Focaccia is an unassuming hole in the wall with a rustic feel and fantastic pizza, focaccia, and crepes. The food is reasonably priced and delicious.
Best Place for a Healthy Lunch or Snack: Frutta E Verdura
Across Via Roma from Pan Per Focaccia, the little fruit and veggie stand Frutta E Verdura has delicious salads. There's just about anything you could hope for from lettuce and spinach to roasted zucchini and orzo salad. Choose your combo and pay by weight.
Where the Locals Eat: La Boite
A favorite spot with some of the best gnocchi in town and brick oven pizza! Friendly service and delicious food, La Boite is slightly off the beaten path and well worth the slight diversion. 
For indulgent, local food and a big wine list, Ristorante La Terrazza is the place to go. Choose from a variety of dishes from freshly made pizza to tagliatelle to fondue.
We're pretty sure it's disrespectful in Italy to go to bed without having a gelato. So, be a respectful visitor and head over to Crème et Chocolat for a scoop or two of gelato. Pro tip: It's even better on a hot afternoon! 
In the center of town across from the Jardin de L'Ange, Mario Il Pasticcere has a variety of gelato, pastries, and coffee. The pastries and coffee are good, but the winning feature here is the central location for prime people-watching. 
Another fantastic people-watching spot on the main pedestrian walkway, Le Dahu Café has an outdoor seating space and does great aperol spritzes and aperitivi. They also offer hearty sandwiches and nice avocado toast. 
More Things to Do in Courmayeur on a Rest Day
Midway through the Tour du Mont-Blanc, Courmayeur is an ideal rest spot with options for both recovery and day-off, mellow exploring.
Take the Skyway Monte Bianco Cable Car
It's hard to beat the views from the top of the Skyway Monte Bianco cable car! For €55 (purchased online), you get a return ride in a 360º-view cable car up to Punta Helbronner. At 3,462 meters, the top of your ride is above glaciers with a striking view. 
Relax in the Heated Alpine Pool of Plan Chécrouit
Relax your muscles with a view of alpine peaks in this heated outdoor pool above Courmayeur. Right along the TMB, the Plan Chécrouit swimming pool is popular for both locals and tourists. You can take the cable car from Dolonne, across the river from Courmayeur, or hike up and spend the day relaxing in the water or soaking up the sun by the pool. 
Get a Sports Massage
Many of the hotels in town — including the ones we mentioned above– can arrange a sports massage. After multiple long mountain days in a row, a relaxing massage can do wonders to soothe aches and pains and you'll be ready to get back on the trails the next morning. 
Find Some Peace and Quiet at Parco Bollino
Courmayeur isn't the busy tourist hub of Chamonix, but during peak season or one of the big race weeks, the main area nonetheless can get a bit overwhelming. Less than a 5-minute walk from the main pedestrian avenue, Parco Bollino is an oasis of green grass and shade trees with a small creek running through it. The park has a variety of seating areas, and on sunny days you'll often find people spread out on blankets in the grass, reading or sunbathing.
See Wildlife at Gran Paradiso National Park
Just under an hour's drive from Courmayeur, Gran Paradiso National Park is definitely worth a visit if you like wildlife. In 2022, the park celebrated 100 years as a protected area and is the oldest national park in Italy. It is host to 167 vertebrate species including alpine ibex, golden eagles, bearded vultures, chamois, marmots, and foxes.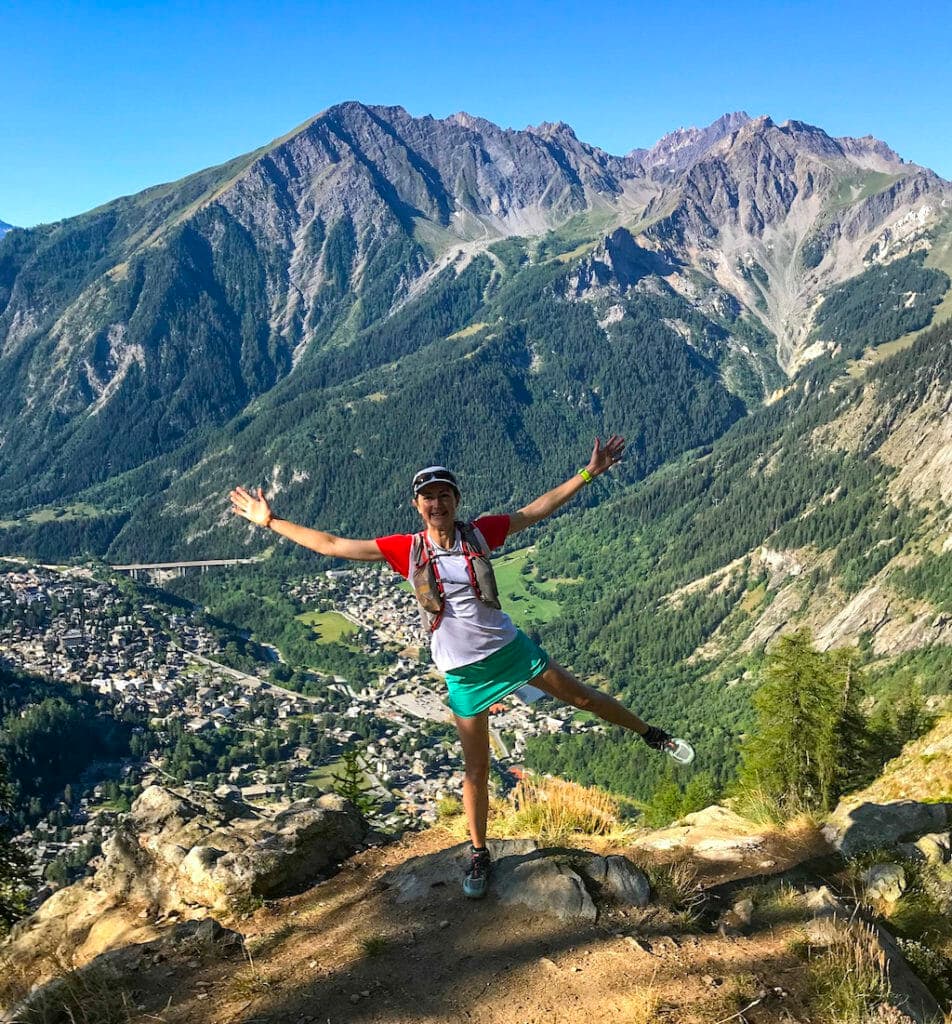 Come Run the Alps in Courmayeur
We love spending time in Courmayeur, Italy, and so several of our trips start, stop, or spend some time here. These trips include The Mont Blanc Trail Running Experience, Women's Trail Camp with Meg Mackenzie, Tour Mont-Blanc Run, and Trails and Tails.
Want to have your own self-guided trail running adventure in Courmayeur? Sign up for your Run the Alps self-guided tour of Courmayeur, Italy.

Special thanks to our contributors: Emily Geldard, Kim Strom, Giles Ruck, Sam Hill, Doug Mayer, and Valle de Aosta Trail Association.