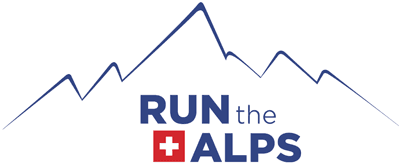 Courmayeur's Gran Trail 60: Aosta Valley at its Best
Courmayeur's Gran Trail 60: Aosta Valley at its Best
Italian trail race directors seem to love the technical. They have a penchant for daring routes along ridges and twisty-turny vertical climbs that sneak around rock bands, requiring both hands– and a mind that's not swayed by the abyss in your peripheral vision. This, after all, is the country that brought us Skyrunning—and with it, highly technical races like Trofeo Kima. Last year, Courmayeur, the quiet mountain town at the base of Mont Blanc, featured a 2,220-meter vertical race. Runners grabbed mandatory helmets after 1,000 meters of ascent, for what became a steady rain of rockfall. En route, mountain guides pointed the way to fixed lines. At the finish, I watched long-time professional athletes nearly in tears from the exposure they had just experienced.
This region, Italy's Aosta Valley, has brought us one of the world's great trail races, notably the 330-km Tor des Geants, along with dozens of others. There is a constant buzz of trail running activity here, thanks in large part to two organizations, the Courmayeur Trailers and the Valle D'Aosta Trailers.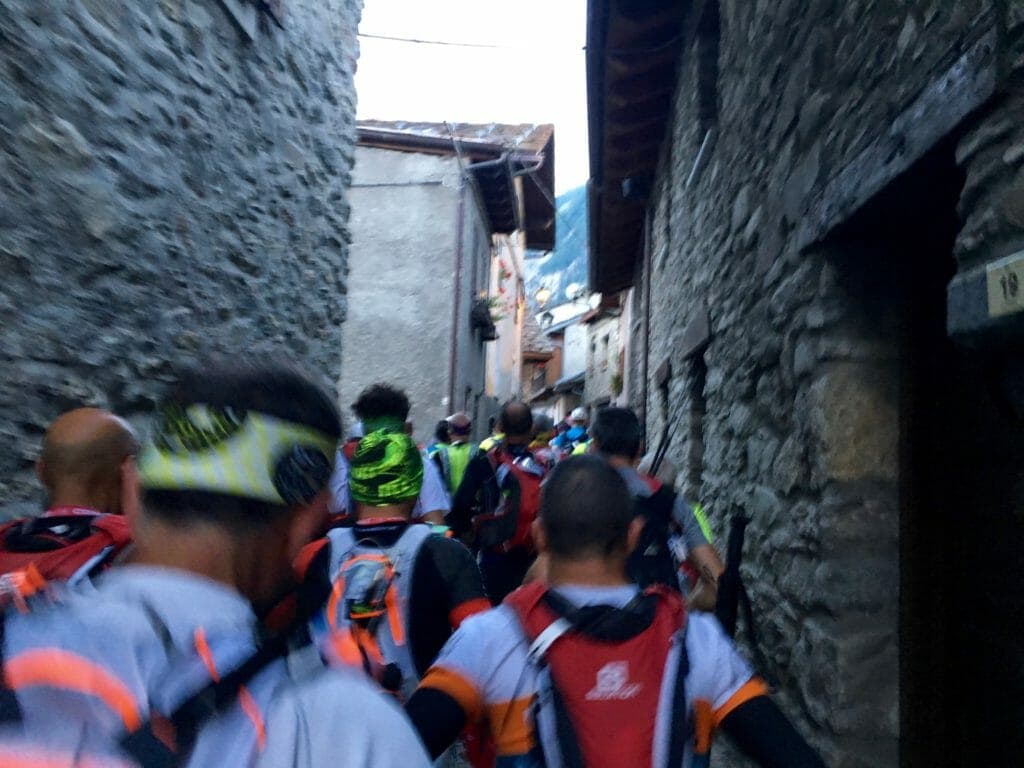 Fewer than 500 runners took part in all three events of Gran Trail Courmayeur which, in total, included 30 km, 60 km, and 90 km options. The 30-km took participants through the bucolic Val Ferret, and past two of the great huts in all the Alps, Refuge Bertone and Refuge Bonatti. The 90-km followed the same course as the 60-km into nearby Val Veny, then headed off to Val Ferret, following the route of the 30 km course. No matter what your skill level, courses existed for most runners.
Volunteers, in their bright yellow shirts, seemed everywhere—and always cheery and helpful, if not downright jovial. Laughs, jokes, and smiles were not in short supply. There was a low-key, easy-going vibe that, I couldn't help but think, imbued more than just the trail running scene in this place.
If not nearly that extreme, Gran Trail 60 km was nonetheless right in keeping with the spirit of trail running here on the mellow side of Mont Blanc. For us 161 runners, the warm-up was 1,500 meters of climbing through forests, then pastures, then snowfields, followed by a dramatic run along an airy ridge, then 600-meters of descent through more snow-filled, alpine pastures, to the route of the Tour du Mont-Blanc (TMB) and an aid station at Refuge Elisabetta. A steaming-hot, mid-day run past Lake Combal was followed by a climb of 400 meters, and then fast, single track cruising along pastures, entertainment provided by the frequent dodging of TMB hikers.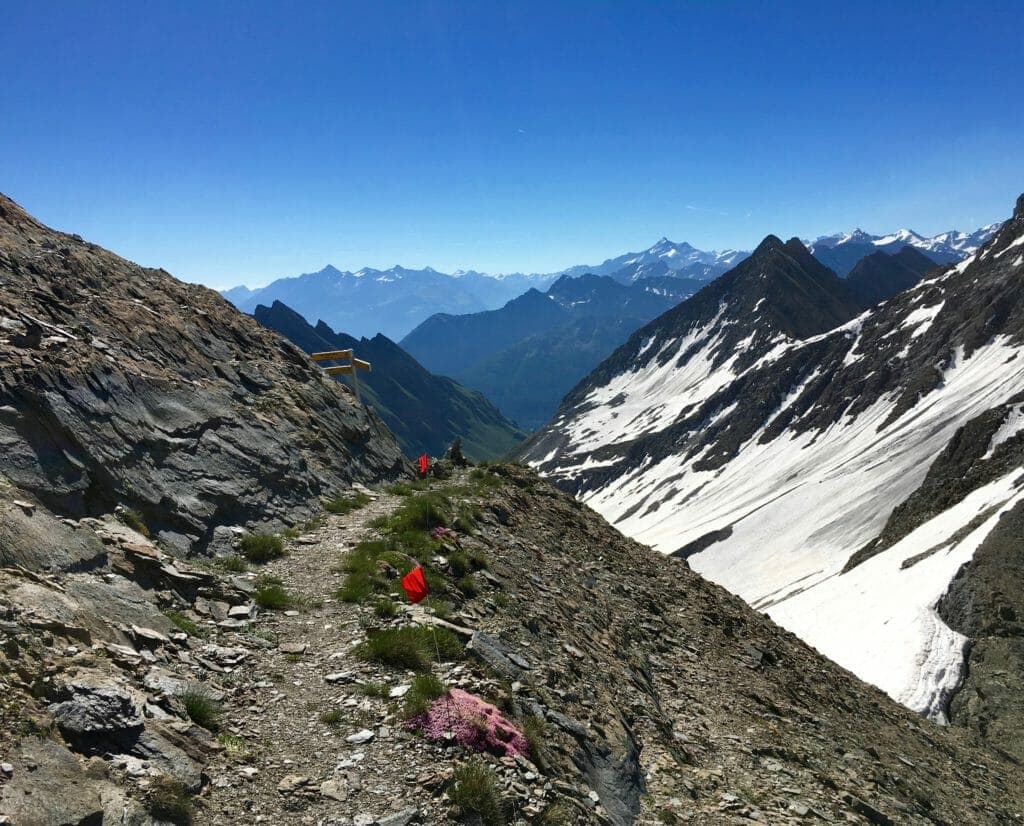 The course has a surprise, with a bold finishing climb up Mont Chétif. (Note: when a mountain guide is stationed to warn you about what's coming up, listen closely, and try not to be dismissive. He or she isn't kidding.) Away went the poles, and trail running turned to trail scrambling. Pride was the last thing on my mind, as I grabbed for any plant larg enough to look like my body wouldn't be found clutching it 500 meters below, race organizers shaking their heads in incomprehension at my poor vegetative choice. Around me, few seemed to take this climb with style. Or energy. Or happiness. In 30 minutes, though, it was over. I turned to the runner who had been persistently behind me for an hour or more, and uttered… well… you can guess. Fatigued, covered in dirt and sweat, he smiled and repeated what I'd wager was a direct translation, with emphasis added. Type two fun, over. Minutes later, we were scrambling down a rock-strewn gully, then flying down single-track towards lunch.
As the final hundred meters through the narrow cobble-stone streets of Dolonne approached, neither of us, it seemed, wanted to finish before the other. For kilometers, I had been hearing his footfalls, pushing our shared pace. Finished– out of water, food, and willpower– I stepped aside on the descent, and waved him on. "It's yours. I got nothing," I said, in an expression that crossed whatever language barrier existed between us. Vehement Italian was all I heard. He would have none of it. We would have finished together, had he not stopped to repair a shoe, demanding– again with some of that classic cultural Italian vehemence and hand-waving– that I must go on.
The good vibes of Trail Gran Courmayeur extended past our race, too. At the finish, my race partner and I high-fived and pantomimed "good race," "you set a hard pace, pal," and "it's over, time for beer and pasta!"
For more information: