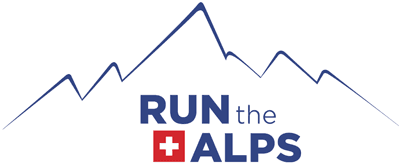 David Laney Finds Quiet in Chamonix
David Laney Finds Quiet in Chamonix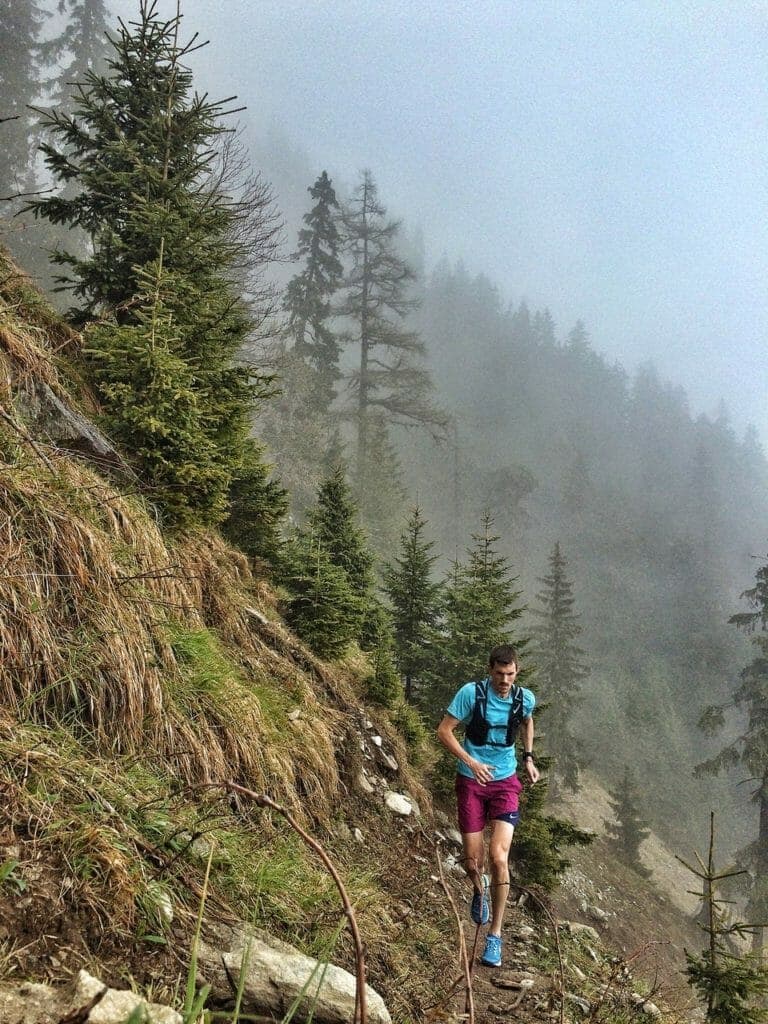 Trail running is happening in Chamonix—and in a big way. Thanks to hundreds of kilometers of dramatic trails and several high-profile trail race series, the valley is a bright beacon to mountain runners around the world.
Most trail runners experience Chamonix valley during the peak summer months, when the town is a beehive of rock and ice climbers, hikers, trail runners, mountain bikers, paragliders and, well… you name it. If you can do it in the mountains, you can find it happening in Chamonix. In the off-season, though, the town has its own unique charm. It has a relaxed "locals-only" feel, with quiet streets and an easy-going vibe.
US ultra-runner David Laney is becoming a regular visitor to the valley. He's best-known for his recent third and fourth place finishes in the Ultra Trail du Mont-Blanc. But, Laney likes "Cham" in the off-season, too.
We recently caught up with Nike trail running team member David Laney at Moody Coffee Roasters, Chamonix's artisanal coffee bar, on Avenue de l'Aiguille du Midi just a few minutes from the tram that ferries both tourists and hardened alpinists to the Aiguille du Midi, 9,220 feet above town.
Run the Alps: So, how does this compare to being home in Oregon?
Laney: There's nothing quite like this back home. In Washington, you have big ranges. In California, you have the Sierra Nevada range, but it's a 10-hour drive, then a backpack in—and then you need to camp. But here, you can do a 20-kilometer run in the morning and suddenly be at glaciers with ladders. That's really different!
Run the Alps: What have you been running while you've been here?
Laney: Well, the Vertical Kilometer is snow-free! (Editor's note: Chamonix's famed "Kilomètre Vertical" begins right in town and finishes at the top of the Planpraz lift. Locals often run it on weekdays, during a work break.) The VK get more fun the higher you get. It starts out with mellow switchbacks that are steep, but grassy. It gets rockier and rockier, steeper and steeper. Then come ladders and a series of cables. The top third is dramatic. It's a cliff in places—if you jumped, you'd go a long way! Yet, you feel safe the whole time. It's technical enough that it does push your limits. It's a great place to start if you're interested in checking out vertical races.
Run the Alps: There are interesting trail runners throughout the valley. You recently went on a run with Robbie Britton—ranked third in the world for the 24-hour ultrarun—who runs for Team GB and coaches runners around the world. (Editor's note: For his part, the unassuming Britton describes himself as an, "insouciant ragamuffin." The editor had to double-check the meaning of insouciant. Those Brits really do have a better command of the Queen's English.) What was that like?
Laney: Robbie is a really nice dude—the kind of person you can run and chat with, and it's just comfortable right off the bat. He showed me a run I would have never found on my own. He knows running and it's pretty clear he is a student of the sport at every distance.
Run the Alps: Where did you go?
Laney: We started right from a café in town, L'Atelier and ran to the Mer de Glace. The run began with beautiful, grassy trails—like a college cross-country course. Then, it alternated between trails and scrambling. Finally, we had a full-on climb.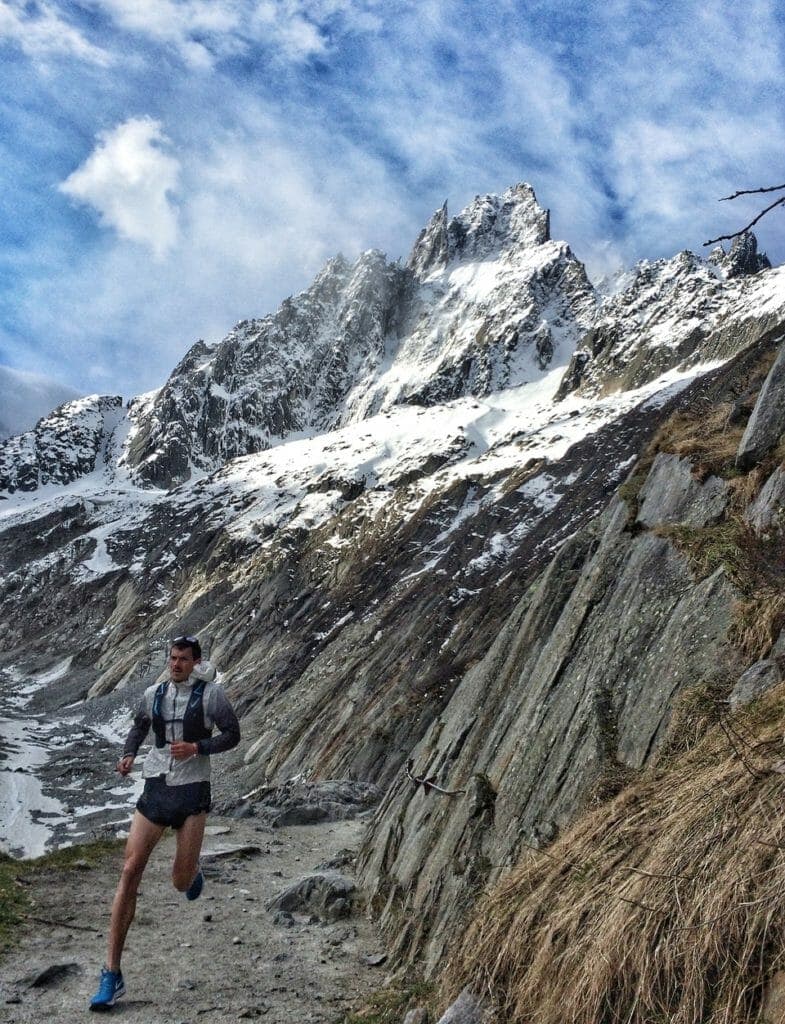 Run the Alps: That can happen here, if you're not careful!
Laney: Exactly! We were actually going past roped climbers. We were following bolts. The climbers gave us funny looks as we went past!
Run the Alps: Did it feel sketchy?
Laney: There were one or two moments, where it was like, "Okay, I don't want to fall here." You could go around the climb, if you wanted. But there were always enough holds. After that, we had a half-mile run to the Mer de Glace, and the mountain hotel and café at Montenvers.
Run the Alps: What was that like?
Laney: It's a beautiful view over the glacier. You don't have that in the lower 48. It doesn't look real. There are all kinds of runs you can do from there. There's a trail on the glacier, even. I want to head back up there next time I'm here, with my Nike spikes, and get some time on the snow and ice.
Run the Alps: What other runs did you get in?
Laney: One morning I ran up near the Bossons Glacier. I wanted to make it to La Jonction but there was too much snow. (Editor's note: Check out this video, and you'll see why La Jonction is so worth the run!) I still had plenty of fun, looking below and seeing a massive glacier. I bet in a month it will be good to go. I also ran up from town to La Flégère, where I ran into Michel Lanne, who runs for Salomon and won CCC last year. Even though the trails were totally snow free, Chalet de la Floria was still closed, but I bet it will be open in a few weeks!
Run the Alps: What are your impressions of Chamonix in the off-season?
Laney: It's so mellow. During UTMB week, it can be exhausting. Every trail runner is dressed for the prom. Now, the streets and trails are quiet. You have the trails all to yourself.
Run the Alps: How does that feel?
Laney: When you're by yourself, and running for a few hours, it just feels wild.
Run the Alps: Any interest in seeing other areas of the Alps?
Laney: I keep telling myself I should check out other places, but then I realize I haven't scratched the surface of what's here.  I'll see other areas of the Alps for sure, but I really want to keep coming back here to Chamonix.
Run the Alps: Will we see you back here later this summer?
Laney: Absolutely. For UTMB—and maybe even sooner. We'll see.