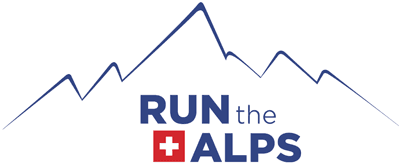 First Edition of Eiger 250: Ultrarunning through the Berner Oberland
First Edition of Eiger 250: Ultrarunning through the Berner Oberland
Eiger Ultra Trail: The Setting
In mid-July under window boxes full of geraniums in the Swiss mountain resort of Grindelwald, my partner Doug and I lined up for the start at a new addition to the Eiger Ultra Trail Series by UTMB. The Eiger 250km is advertised as a team race, but "race" may be too narrow a descriptor for this multi-day partnered adventure that travels over an unmarked course through Switzerland's Berner Oberland.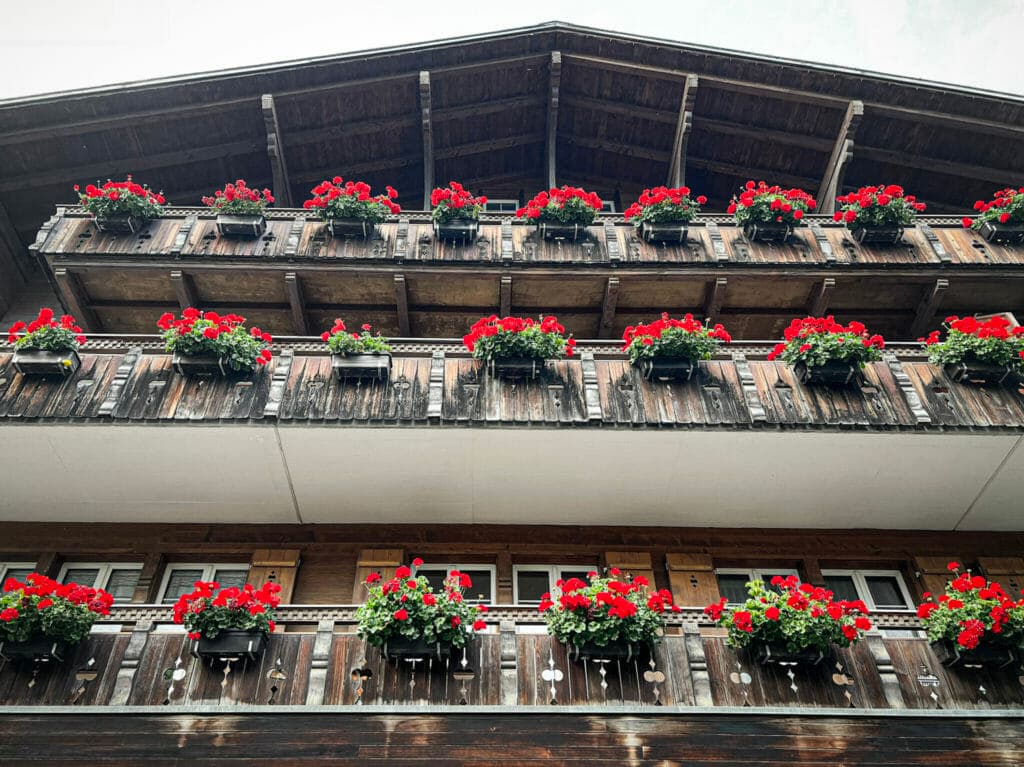 Much of the route circumnavigates the UNESCO Jungfrau-Aletsch World Heritage Site. A natural, rather than historic heritage site, this area encompasses some of the highest, most glaciated peaks in the Alps. Covering 171 square kilometers, the Aletsch glacier is both the longest and the largest glacier in the Alps. The craggy north faces of the Eiger, the Mönch and the Jungfrau loom over the start and finish of the event. Mountain lore describes the Mönch (monk), the 13,500-foot middle peak, as guarding the Jungfrau (the virgin) from the Eiger (the ogre). 
After packing up six small garbage bags full of clothing changes, blister remedies, and a half-scientific-half-wild guess of what we might want to eat after several nights traversing the Alps, we trotted under the starting arch and pressed the start buttons on our GPS watches. There was no need to dash for positioning. We had days.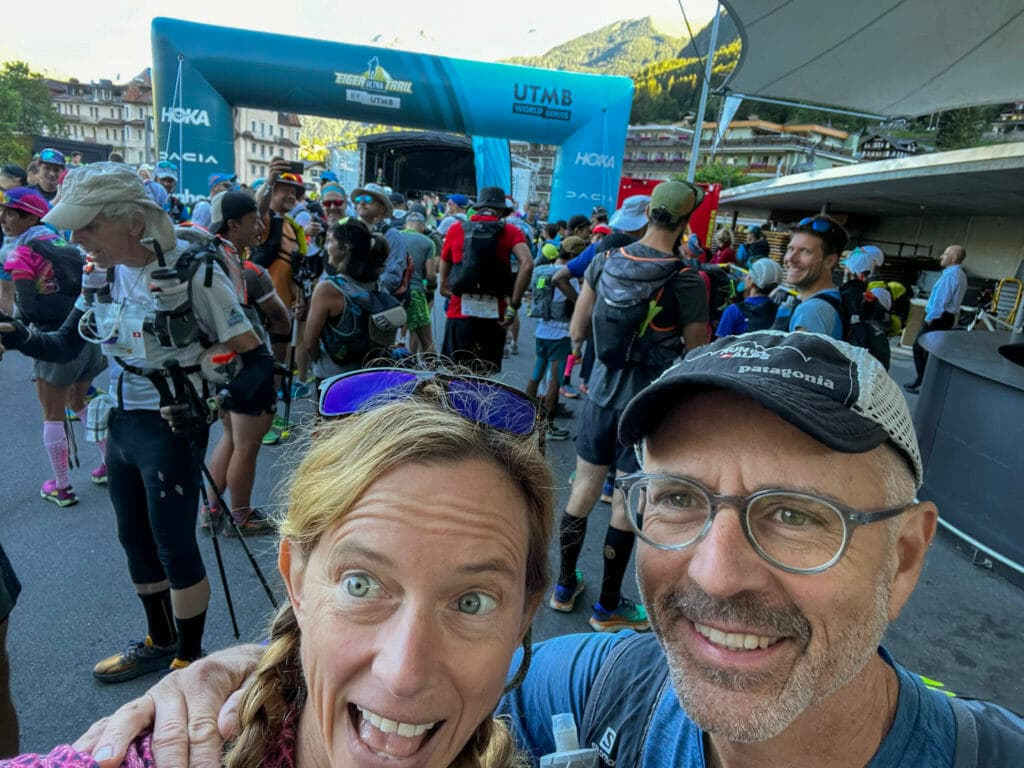 Up and Running
In the first few hours, we climbed under the imposing north face of the Eiger, legendary in mountaineering history as one of the toughest and most dangerous climbs in the world. While not a climber myself, it felt like an honor to be there. We passed a collection of cast handprints in the rock, an homage to those who have scaled its face.
These unforgiving mountains and the wild valleys tucked between them are not only central to the history of alpinism; art and literature have found inspiration here as well. By noon on the first day we were descending into the Lauterbrunnen Valley, a place said to have inspired the magical land of Rivendell in J.R.R. Tolkien's Lord of the Rings Trilogy. All attempts at description lead to clichés, but let's just say that elves and hobbits would not seem out of place in this land of seventy-two waterfalls, fern-covered nooks and side-valleys, all of which are peppered with ancient chalets and wildflowers.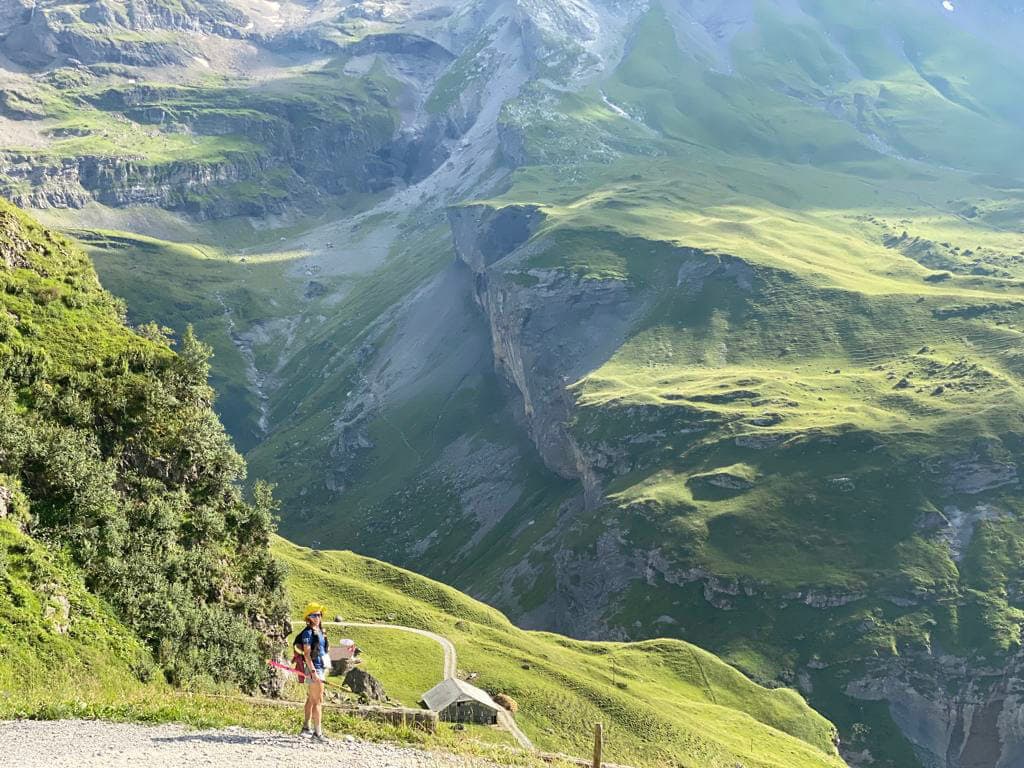 Cars seem anachronistic here, and it somehow felt appropriate to be traveling on foot. But it was hard to ignore a contemporary addition to the landscape, not present when Tolkien imagined Rivendell:  the parasailers and BASE jumpers dotting the sky with their colorful chutes. (A bit of Lauterbrunnen trivia: BASE jumpers now must purchase a license to jump here, the proceeds of which go to the farmers whose crops are occasionally squashed by landing humans.)
Soon enough we were climbing again, this time over 2,611-meter high Sefinenfurgge pass, followed by a long set of mostly sturdy wooden steps descending a steep-sided, scree-covered canyon. As the sun fell on the first evening, we were head-down and focused, scrambling up the pale, rock-dust ascent to Hohturli pass: not the longest, but certainly one of the most brutal climbs I have done inside an event. Improbably, there was an enormous Swiss Alpine Club hut at the pass, Bluëmlisalphütte, and its caretakers had brought out bottles of Coke and Rivella (a Swiss soft drink made with, wait for it . . milk) to refresh runners coming over this high point. There were touches like this throughout the event, and the kindness of the locals was as memorable as the views.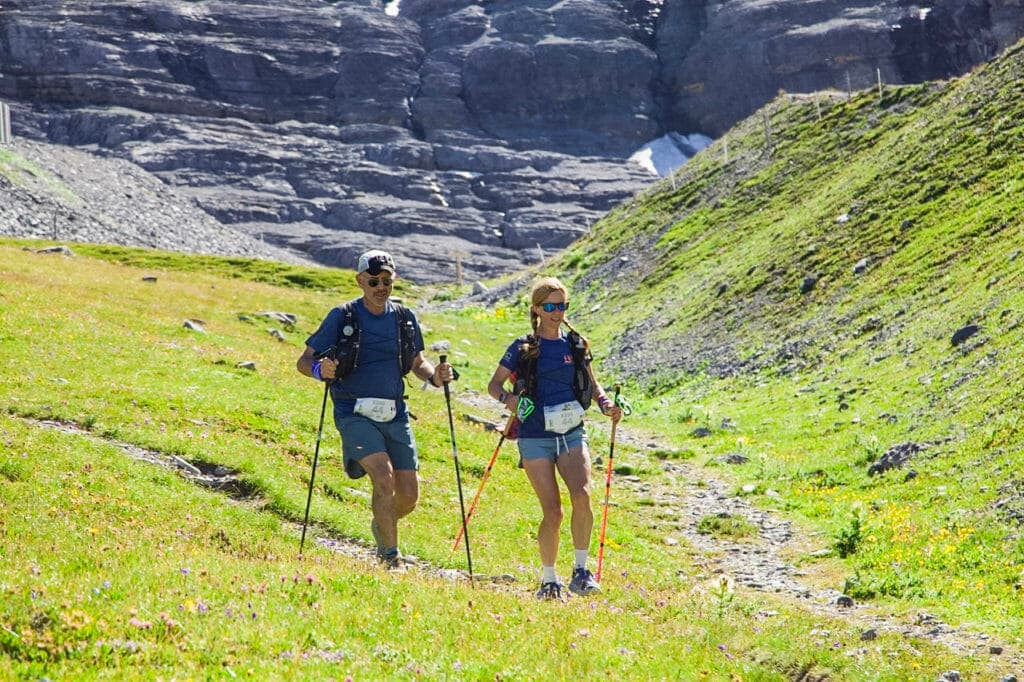 When my kids were little, and I was introducing them to wilderness backpacking in California's Sierra Range, I would sometimes joke that there would be a snack bar at the top of the mountain where we could get some M&Ms. There was no snack bar of course; the M&Ms were inside my pack. In the Alps, however, there is a canteen at many remote mountain passes, and they don't just serve M&Ms. Throughout the Eiger 250, we stopped at many alpine huts, architectural wonders clinging to ridiculously sharp ridges, for pie, coffee, beer, and big plates of pasta. It's a perk unique to the Alps, one that's hard for Americans to comprehend, but oh, so welcome.
We made it to the first "life base" after dark, a glorified aid station with hot food and big tables for resupplying from one's drop bag.  Doug slept a bit on the floor of the gymnasium, but I found it far too noisy. American 90's pop tunes blared over the speakers; runners were sorting gear and meeting crew. Soon enough, though, we were out again, climbing to Lötschenpass and yet another wonderful hut with hot pasta. This ascent involved a bit of way-finding, the crossing of a permanent snowfield which was quite slick, some hands-on exposed scrambling, and a 10 minute trail nap on a slope so steep it was more like sitting than lying down. The Kande river snaked through a dark canyon far, far below. It should have dawned on me by this time that something was up with the weather. After all, it was 3am at the top of a snow-covered peak and we were still wearing t-shirts. I'd been in the Alps enough to suspect that this was unusual. And it was.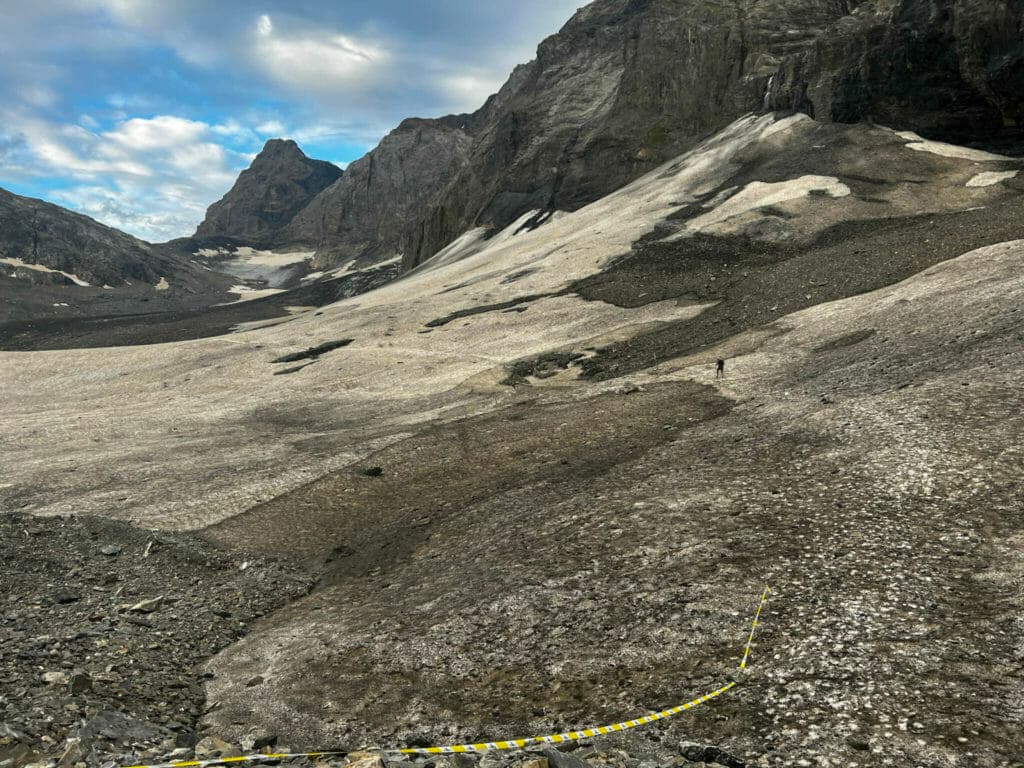 Rising Temperatures
The next morning, descending through one of the most beautiful valleys I've ever seen, it got hot. Very hot. By the time we arrived at  the next life base, which was staged outdoors, my watch said 96 degrees. The Alps, as well as much of the rest of Europe, were in the midst of a record-breaking heat wave. We were greeted with more hot pasta, this time homemade bolognese and pesto served by local women. They, with their friends and partners, were gleefully downing multiple bottles of red wine while clanging cow bells and cheering runners. As I'd come to expect from Alps hospitality, we were offered a glass. Did they not realize it was a thousand degrees out here? I was having enough trouble staying upright without wine, and fantasizing about finding shade and dumping a bucket of ice on my head. Doug, who splits time between normally cool Chamonix and New Hampshire, casually mentioned he was starting to feel feverish. "It's the heat!," I insisted, accustomed to California summers.  "Let's take a nap!" But there was no shade tree or indoor facilities to be found, so we plodded on. By the time we got to the Rhône valley floor, it was 102F. 
Suddenly the long, flat section, which we were hoping to run, was not so runnable. 
We climbed through more pastoral scenes of sheep and cows, chiming like church bells with every step, and past storybook chalets tucked into impossible nooks. "How in the world did they build that here?" I often wondered.  By this time, neither one of us was feeling well. We'd been moving for over 30 hours in the heat. In any effort of this length, it eventually becomes hard to decipher pain: Is my safety at risk, or is this just hard work?  Can I push through? Should I push through? Will I regret not pushing through? What is my partner thinking? We had no crew, so the maddeningly fresh face singing the refrain, "You're fine! Just eat and get back out there…" was missing. 
We made it 6 more hours and then quit.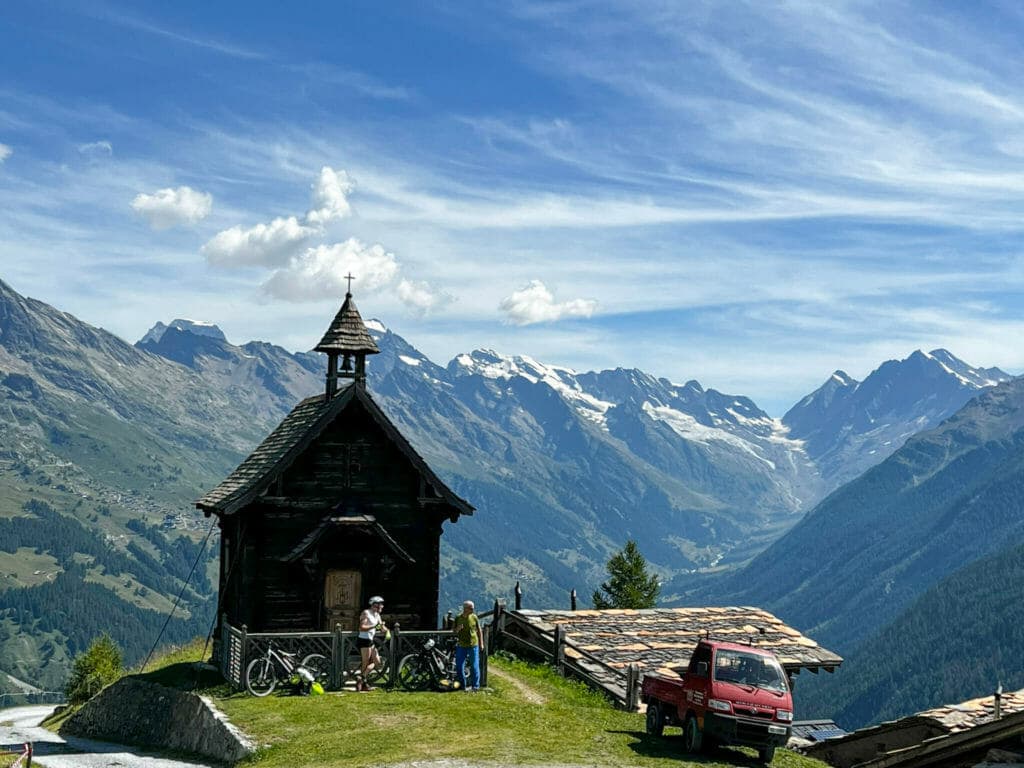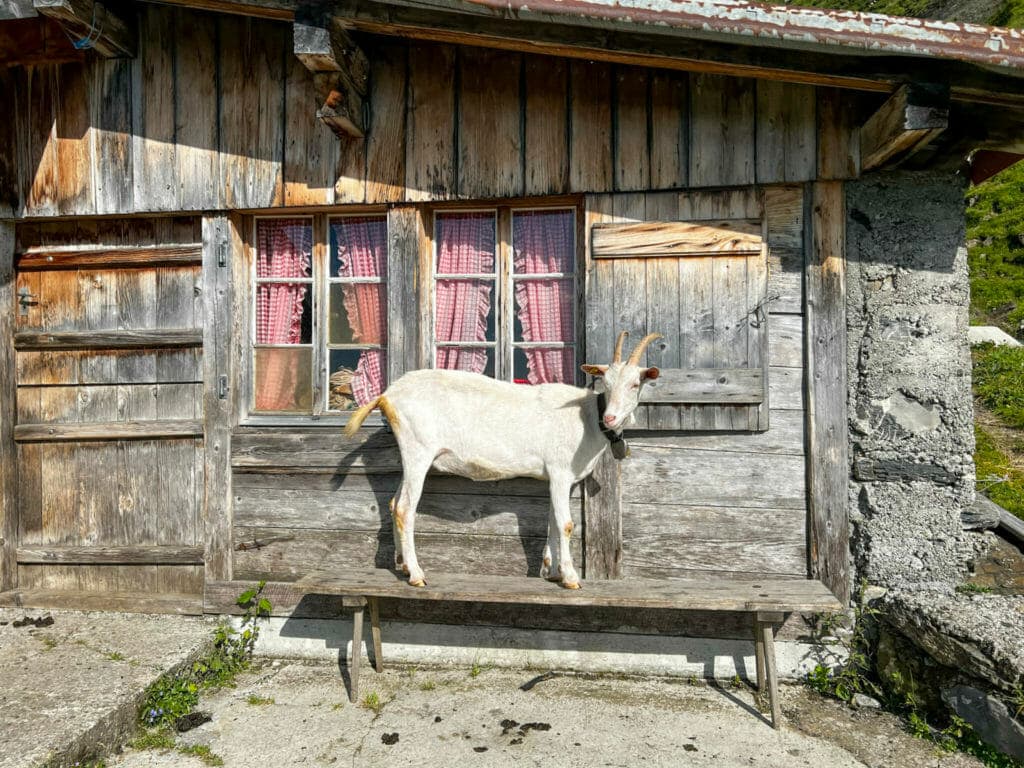 To soften the blow a bit, we had landed in Finnen, a high pasture hamlet where the local volunteers were operating an aid station out of a stacked-stone shepherd's hovel. It was dark, but a big moon offered some light, and our hosts were friendly and cheerful. We told them we'd had enough, and asked to sleep on the ground till morning when we would figure out how to get back to Grindelwald. There was some chattering in Swiss-German and some phone calls, and to our surprise we were told, "Come, we have a place for you!" A volunteer's brother had an ancient chalet just a few minutes away. We could sleep there for the night. The people of Finnen were so wonderful, my ego didn't have the space for self-pity and regret. We slept. 
Heat and Fevers
The next day Doug tested positive for COVID. I followed a few days later. That fever . . . it wasn't just the sun. I've never quit a race before, but if I'd had the wherewithal to make up an excuse for dropping, this was perhaps a good one. 
Now rested and well, I can't stop thinking about the half of the course we didn't get to run. We missed Grimselpass for gosh sakes! I mean, with a name like that, obviously there are elves and ogres there. Doug and I are assembling our team and ordering up a cooler weather forecast for next year. If you're in, let us know. We're going to party like it's Middle Earth and there will be second breakfasts at every mossy stone hut. 
Tolkien must have sensed that these wild valleys somehow called for foot travelers. And while endurance pilgrims are sometimes fiercely independent to a fault, preferring to journey solo, it's no accident that this one should be navigated with a partner. It's too otherworldly to be experienced alone. 
Eiger 250 will grow and eventually become hard to get into, and before it's too late, I want the experience of trudging back into Grindelwald late at night, after four days winding through the landscape of gods and goats, the intimacy of a battle well fought shared on our faces.
See you next year, wanderer.