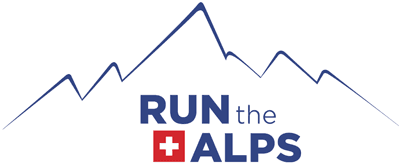 Four Races, Three Ways to Win: Salomon's Maxi-Race
Four Races, Three Ways to Win: Salomon's Maxi-Race
Some years ago, I remember Salomon's Rickey Gates talking about losing a shoe in the mud at one of the most prestigious trail races in the Alps, Sierre-Zinal. The year was 2009, and he was in the lead group with a young runner named Kilian Jornet. It was a twist of fate that cost him, well…. All we know is it was enough time to matter.
Rickey laughed when he recounted the story, but I couldn't help but imagine some sense of continuing disbelief. The unstated point was that, in a trail race, anything can happen and often does. Sometimes things go just as planned, but rarely. Run far enough, and the unexpected becomes the inevitable.
Ricky's observation is one of a number of beautiful things about trail racing. It can break your heart or it can leave you with a lasting smile. Pushing hard through the mountains for hour after hour, there's enough risk that anything really can happen—the good, the bad and the downright ugly.
Rickey's story came to mind as the races unfolded at this year's Maxi-Race series in Annecy, France.
Annecy is one of the most beautiful cities in the country. The centuries-old downtown is a maze of narrow cobblestone streets and 17th century buildings. Nearby is the town's renovated castle, which dates to—no, it's not a typo—1107. The Thiou river and two canals pass through the center of town, leading to the understandable nickname of "Venice of the Alps." There are dozens of cafés and restaurants, most with outdoor seating. Annecy might also be one of the best people-watching locales in the world.
And the Maxi-Race? Underwritten by Salomon whose world headquarters are in Annecy, it's become one of the great race series in the Haute-Savoie region of the Alps. It's well-produced, with 10 races over three days, and the series has a fun vibe. Salomon puts on a world-class event, with films and an introduction of the elite athletes at Annecy's Imperial Palace the Thursday evening before the races. Taken together, it's a four-day trail running extravaganza.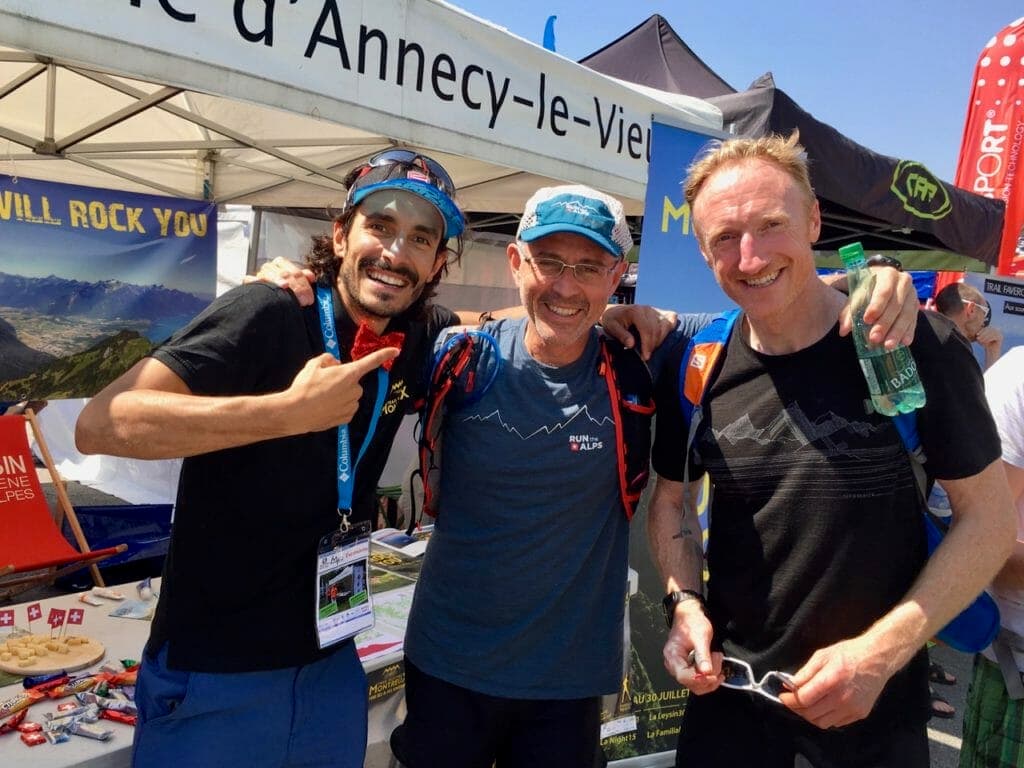 For Run the Alps' friend Natalie White, a Chamonix-based coach and UK fell running champion, everything fell into place. She won the women's 15-km Femina race, running up and along a low ridge east of town and topping out at 4,232 feet on Mont Baron. In second place as the course hit its flat final kilometer along the side of Lake Annecy, Natalie sprinted hard, passing Laurie Renton and winning by 19 seconds. That's one for the win column.
Run the Alps' Ambassador Maartje Bastings ended her day differently—hobbling on a very unhappy ankle. In sixth place among the women, in the 110-km Maxi-Race, she was feeling strong and saving energy for the climbs and heat ahead.
Tackling the third big climb of the day at KM 52, a cracking sound echoed throughout the remote forest trails around Montagne du Charbon. It was not a branch or stone, though. It was her ankle.
At what must have been the flattest section of trail in the demanding ultra, she turned her foot on a cobblestone. "I hyperventilated from the pain for about 10 minutes," said Maartje, "Thankfully some bandages from runner #119 (thank you!) allowed me to hobble to the nearest medical checkpoint." The bad news? That was 2 km and a 500 meter climb away, at the summit of Charbon.
"If you decide to end your race by breaking your ankle ligaments," she quipped, "At least make sure you do it just before the most beautiful section of trail, so the hour it takes to cover 2 km is worth it."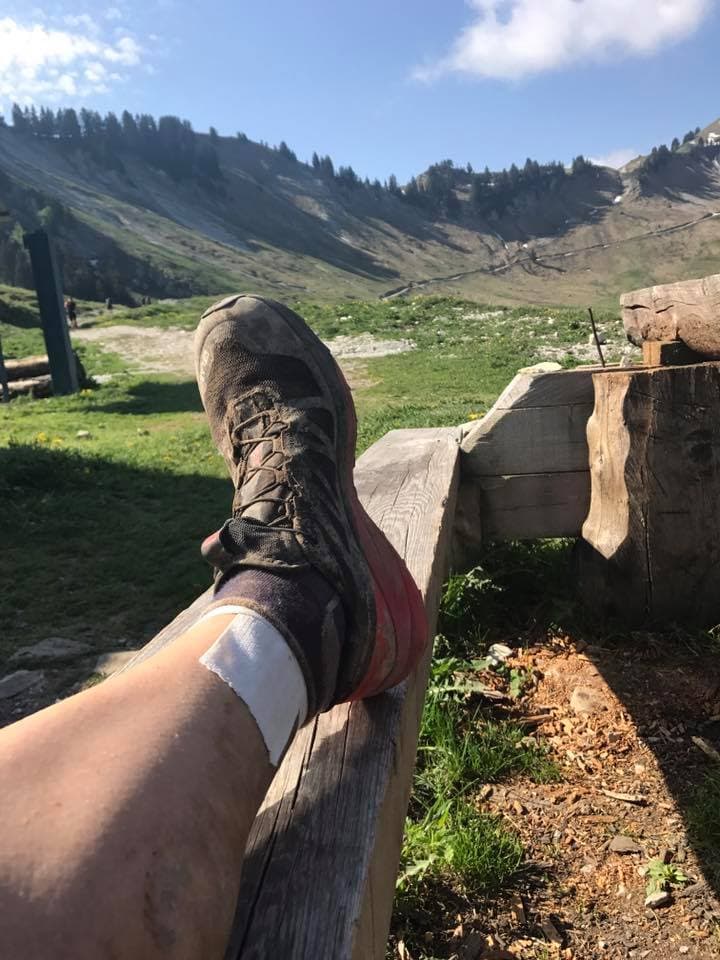 Within the leading women in this year's Salomon ultrarunning academy, Maartje could have had an instant-entry to June's Chamonix 80 km or the transalpine stage race with the Salomon team. Through it all, she remained upbeat and philosophical. "It's trail running. These things happen. Let's get better!" And so, Maartje reminds us that attitude is everything. Win #2.
Of course, for most of us at most races, nothing that remarkable happens. Such was my Friday night of the Maxi-Race weekend. After a spring that had me mostly sidelined with a few annoyances (bronchitis, tendonitis–but no appendicitis, thankfully) I ran the Maxi Vertical with an average time, on an average evening, and escaped neither with an age-group win or an injury. But, I had made it to the starting line. And for me, given the past few months, that counts as win #3.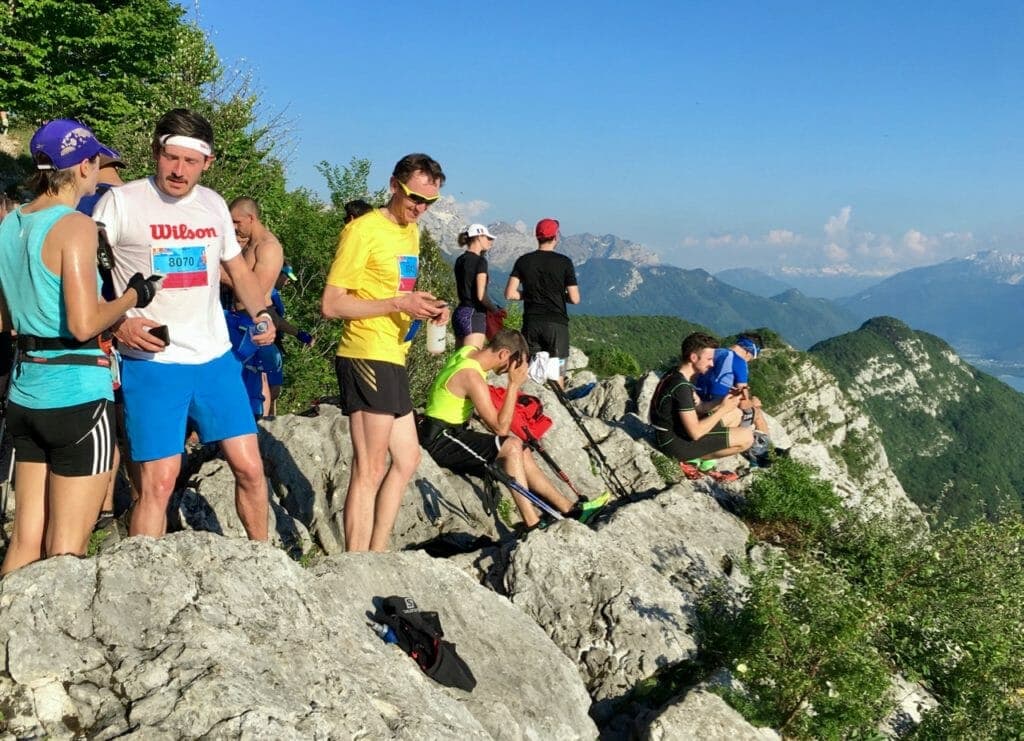 Sunday morning was Robbie Britton's turn. Natalie's partner, Robbie races for Great Britain, coaches, and is both a World and European 24-hour medallist.
Here's the catch, though. I had outlined most of this blog post before Robbie's 15-km race. Walking through those narrow, cobbled streets of Annecy, I was reflecting on Maartje's experience. Hers is a sort of victory. Getting up with a smile and a philosophical approach keeps your spirits up and is a win over circumstances.
But, would Robbie's race play into this narrative? We joked about it. I demanded a win.
Robbie delivered. In fact, it was a race nearly identical to his partner Natalie's—a sprint to the finish and a win by an even-tighter eight seconds. "I knew the descent was a touch too technical for me," he told me later, "but I did just enough work on the uphill and the flat finish for the win." The day after, Robbie was already looking to the future. "The World 24-hour Champs don't have any rocky descents, I hope, so all is going to plan!" Win #4.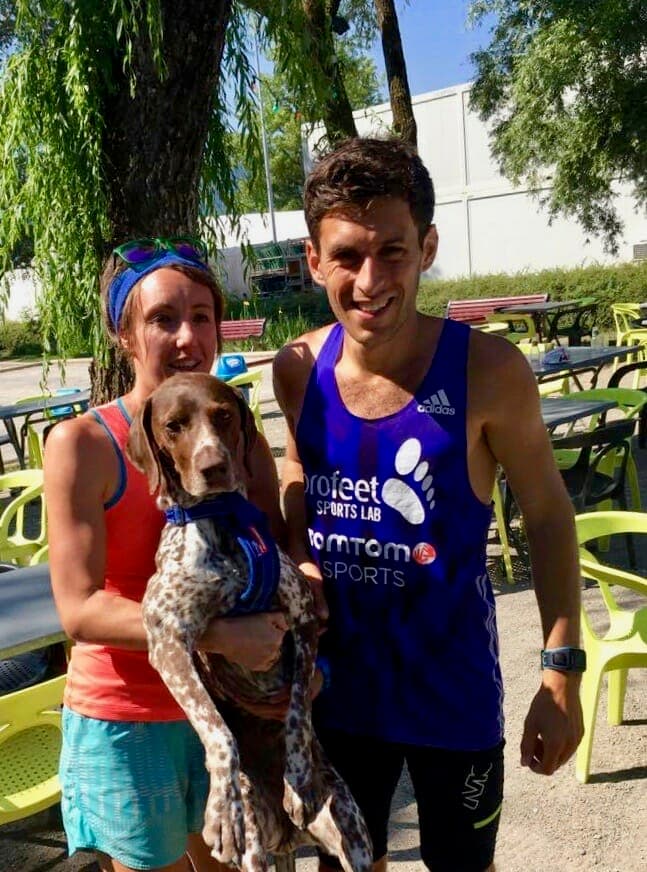 Riding home in their camper that night must have been awkward—four-legged family member Rosa noticeably lacking a first-place finish of her own. (She wins big in other ways, notably when it comes to being unapologetically photogenic.)
Four races, three ways to win. There are plenty more ways to win, too. In our hearts, we know them when we see them.