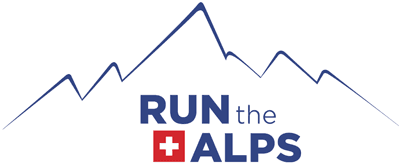 Good Karma Runner: Run the Alps First Winner, Neak Loucks
Good Karma Runner: Run the Alps First Winner, Neak Loucks
"Neak gives widely of their talents, coaching middle school cross-country, crafting hilarious games while leading a trail running club for kids, co-directing the Over the Rainbow Runs 10K/20K, pacing runners in half marathons for Beast Pacing, mentoring new runners and triathletes, and perhaps most importantly, providing pro bono consulting to a variety of race organizations, including Vacation Races, about how to better support trans and nonbinary runners. 

Neak is a thoughtful, smart, enthusiastic, and giving mentor, friend, and trail buddy. Neak has faced a variety of challenges as a trans, nonbinary athlete in a rural town, but they persevere with grace and fortitude, and continue giving back to the local running community however they can. Neak will have you laughing in stitches or crying with profundity with their words at every turn. Neak would never admit that they are as generous as they are and that's precisely why you should pick Neak as your Good Karma Runner this year."     -Katie Wallace
That's Katie Wallace, writing about her friend, Neak Loucks. They both live in Kanab, Utah and co-direct Over the Rainbow Runs, a "Saturday morning with friends" type of race where all proceeds benefit a local non-profit organization. Katie wrote to nominate Neak for Run the Alps' first ever Good Karma Award.
This spring, Run the Alps invited nominations from around the world to select someone who has made a meaningful contribution to our trail running community.
Neak was selected by an all-star trail running panel of Buzz Burrell, FKT co-founder, podcast host, past Ultimate Direction Managing VP; Jenn Hughes, Ultrasignup Editor-in-Chief; Zoe Rom, Trail Runner Magazine Editor-in-Chief; and Hillary Gerardi, Black Diamond sponsored trail runner. 
Thank you to our panelists for reviewing the many great entries we received!
Meet Neak Loucks
I had a short chat with Neak Loucks this past week. I quickly learned that they're the type of person you'd want to go on long runs with, to head off on tangents, and dive deeper into things we skimmed over too quickly.
We're excited to meet Neak on the trails this summer, here in the Alps, and could not be happier that they are the recipient of our first annual Good Karma Award. 
Kim: Can you tell us a little about who you are and what you do, on and off the trails?
Neak: Well, I'm Neak Loucks. I use they/them pronouns, and we could start with on the trail. That's more fun. I live in Kanab right now, in the very Southern part of Utah, which means I'm getting so good at running in the sand, probably better at running in the sand than I'd like to be. I love where I live currently, because I have desert around me and then within an hour and a half drive, I can be running in the mountains.
I haven't been racing a lot recently, just because – pandemic, and I'm writing a dissertation, But also I am non-binary and I'm kind of at a weird place of picking one category or the other; in terms of a racing category, neither feels awesome. When I am racing, I really love ultra distances, and have done a couple here, a 50-mile in SoCal, and I did a 100km in Montana, which was the landscape of where I grew up. I love races for the community environment, but as far as running goals go, just picking out cool routes and doing self-supported or friends-supported stuff is super fun.
Off the trail, I would say I'm a bit of a Jack of all trades. Being an educator is a really big part of my life. Until recently I was working for a conservation nonprofit, doing education programs – science education and social science education around the landscape here with that job.
I also teach tap dancing classes here in Kanab, I do a trail running club with fifth through eighth graders in the Spring, and then in the Fall I coach fifth through eighth grade cross country.  
Kim:  You're also getting your PhD, is that right?
Neak: I am currently finishing a PhD in cultural anthropology and my research is about public lands conflict – all the different things that people want to be happening with land management. I talk to a lot of people with a lot of strong feelings. That's a lot of my field work, interviewing angry people, but also meeting really awesome people. I view that work as building bridges between people who maybe have different ways of connecting to landscapes and different values about how land should be used, but who also do share values around caring about an environment.
I like to think that in my personal and professional life, I'm trying to build those bridges between people who maybe think differently. The same thing with being trans and non-binary. I do some diversity equity and inclusion training work and hope I'm making progress on that front.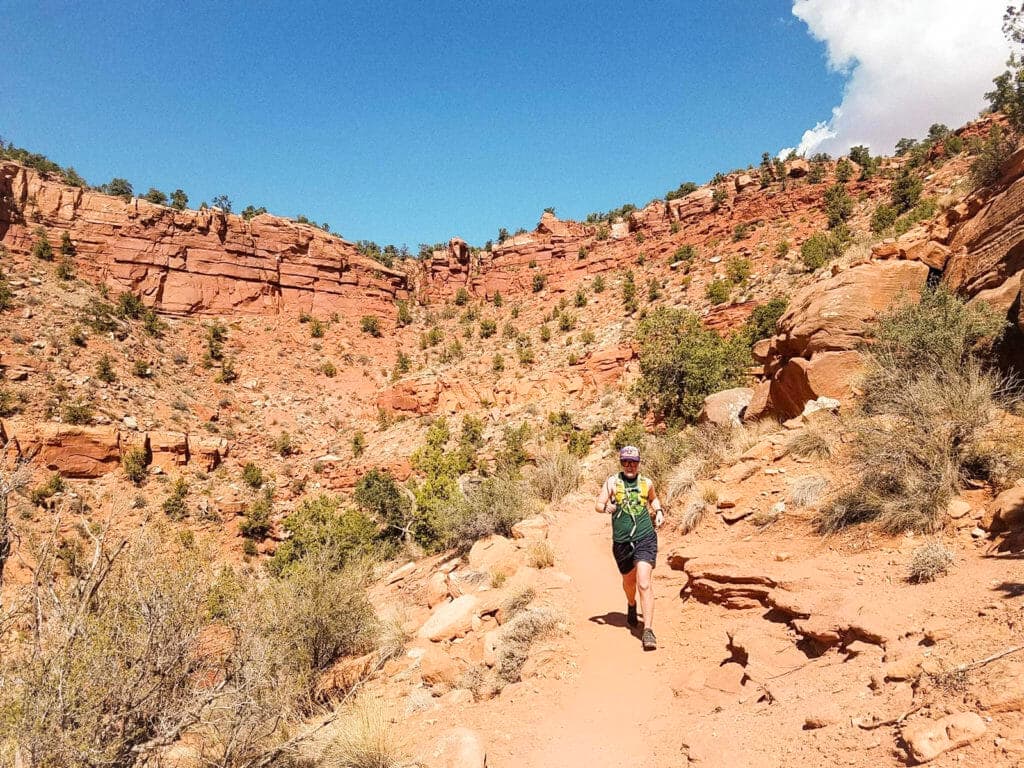 Kim: You've started telling me little bits that you do, but there's so much more. You co-direct Over the Rainbow Runs?
Neak: I do! Over the Rainbow Runs is a little local running event, 10km and 20km, that we have here in Kanab. It's totally Katie's brain child. I just said, "Hey, I'll help." When we first met, she said, come on this run with me, and now it's become our go-to trail. It's basically this nice little loop that you can run from town, get up onto the trails, and then come back into town. For the race you can do one loop or two. It was really cool to work together to say, okay, we're gonna do a race on this loop that is personally close to us. I do the aid station at the top, and cheer on runners after they've done this pretty gnarly climb. It's a good time. 
Kim: And you also mentor and pace trail runners, right? 
Neak: Yea. I just get really excited about stuff. Pacing has been really fun. I mostly pace through Beast Pacing, a company that provides pacers for races around the US. Pacing, you get all the perks of being in a race environment, which is just super amped up and an exciting space to be in. Getting to be the cheerleader while also running alongside people is so fun and so fulfilling because when people are able to use you as a pacer to meet their goals, they're totally psyched about their accomplishment, and for that couple of hours, we're super connected and very much in community.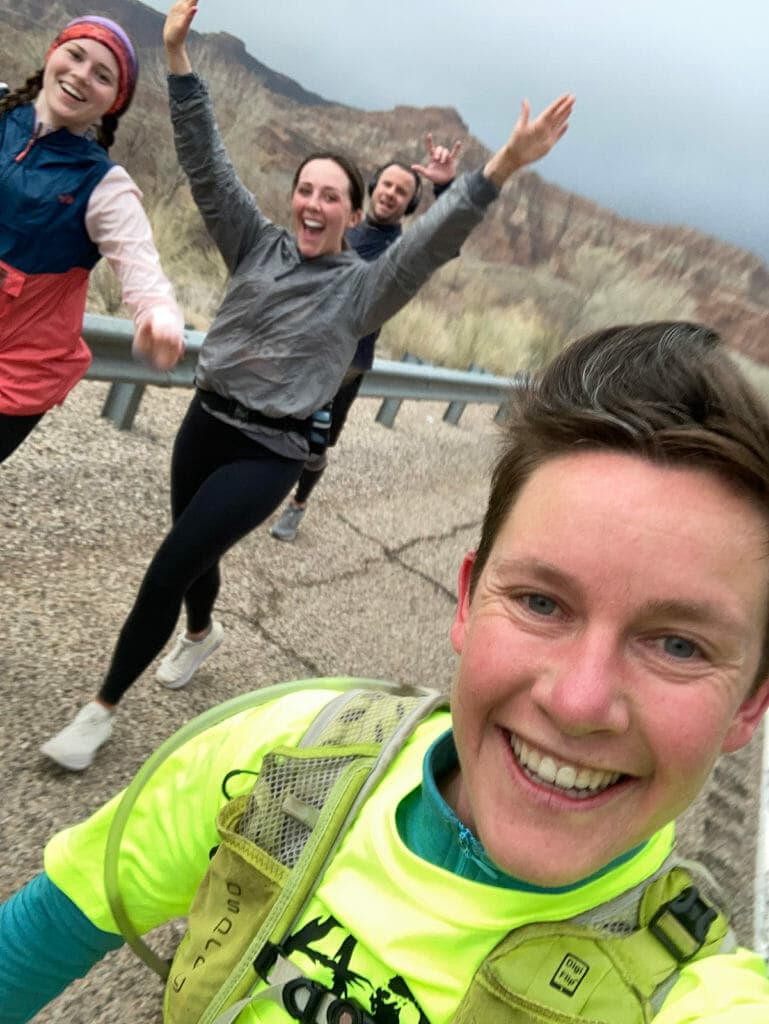 Kim: Tell us about Katie, who nominated you for our Good Karma Award!
Neak: I don't think that I am being hyperbolic to say that Katie is my favorite person in Kanab, and sorry to all the other people I love in Kanab, but I love her so much. Katie is a very badass runner. The really cool thing about our running together is that we've had some of our most serious and intense and vulnerable and emotional conversations when we've run. We've had professional conversations, and we've had just totally silly jokes. I respect her so much. About Katie: she does search and rescue in town, which is all volunteer, and she's a big fan of condors, the birds. Katie will run for condors.
Kim: Running is a pretty big part of your life, so what specific impact has running had on you?
Neak: I feel really grounded when I'm running on a regular basis and when I am working towards a goal with running, and I think that there's something about just having an everyday practice in my life that helps me feel myself and that alone makes it easier to take on whatever challenges I'm facing. I think from the gender and trans perspective, athletics as a competitive thing is a pretty binary world. But simply the act of running, especially running in nature, to be not on the roads, to be running on trails is… is there anything more transcendent than that? For me, when I'm running and when I'm on the trails, I'm just me in a way that is not trying to have to prove who I am to anybody else, or teach anybody else how to see me. 
Because nature doesn't care. Nature doesn't see things in a binary. I can relax in that space and don't have to work to be myself. And, that feeds my spirit in a way that makes it easier to continue educating people in social and cultural spaces, which is an important piece of creating inclusion – whether that's inclusion in running communities or inclusion in communities more broadly. 
Kim: What is it that you hope to do by sharing the trail running part of yourself? 
Neak: Especially with youth-related running, and I think this is also true for interacting with adults, that growing into being a runner becomes a practice space for taking on challenges and dealing with discomfort. I want to help impart that on younger runners, and frankly it's really awesome to see. I've been coaching youth cross country for a couple years and to see the difference between kids at the beginning of the season and the end, but also to see some of the kids that I met a couple years ago and to see who they are as runners and who they are as people, really boosts my spirit in terms of, yes, this is worth doing. 
One of the really special things about running is that it is personal. My runners, my kids, they don't have to be the fastest kid on the team and they're still going through the same growth trajectory that my fastest runners are going through. Something that was so awesome about trail running club was that it took running out of the space of competition. We didn't have any races with the trail running club. It was just, "Hey, we're gonna go run and we're gonna learn some skills so that this becomes something that you're able to do."
Over the arc of the program, I gave them this challenge: they broke into groups and they had to plot their plan on a map. They had to figure out their turnaround time in case they didn't make their plan, and we talked about what they needed to do if someone got hurt. And then they went off and went on their own routes. That was something they could do because we had broken down all the different pieces of what it would take to do that in previous sessions. 
I don't know how I can tell that this is also transferring into their lives in the way that it's transferred into my life. But seeing people gain confidence in their skills, within the domain of running and trail running, I do feel pretty hopeful about that actually shifting into the rest of their lives as well. It's something that you do for your enjoyment and for your wellbeing and for your health, and is something that you can take with you throughout your life.
I think we can all agree that we want anybody who wants the opportunity to have that experience to have that experience.
Kim: Do you know which Run the Alps trip you would like to join? 
Neak: I think I have decided, but it was not an easy process. I am leaning towards the Italian Dolomites. I saw the pictures of all the rocks and now I need to get a geology book because I want to bring my binoculars and just go full-on trail running science nerd through a space that I have never been before. I think any of the trips would be awesome because I haven't been to the Alps, so any place is going to be fresh. But I do feel very excited about the Italian Dolomites trip. 
Back to Katie
And, then of course we wanted to check back with Katie to see how she felt about Neak being selected as the Good Karma Runner.  
"Finding out that Neak was selected as the Good Karma Runner this year was amazing! As I mentioned in my nomination, Neak will always downplay how generous they are in giving of their time, energy, and talents, so it is truly wonderful to give something back to them. Neak is a friend, a colleague, and one of my favorite running buddies. Picturing them prancing around the Alps this summer gives me an immense amount of joy. Thanks so much for offering this opportunity to honor a member of the running community, and congrats again to Neak!"      -Katie Wallace
Good Karma Nominations and Runners-Up
Thank you to everyone who nominated a deserving runner. It's been a joy to learn some of the ways that these runners are giving back to their communities. While we received many outstanding stories, we want to recognize just a few more at the top of the list. Here's a few brief excerpts from their bigger stories and bigger contributions:
Jenelle Potvin 
Nominated by Carol Patterson
"This past summer, she was not only the first woman in the TRT 100 but as wildfires raged around Lake Tahoe, Jenelle immediately offered her home as a refuge for evacuees and started compiling information, donations and shelter offers for displaced families. She helped place more than 100 families (350 people and 150 pets) – a meaningful contribution to our community."  
Emily Spognardi  
Nominated by Becca Meissner
"She's a badass trail runner, environmentalist, and firefighter. And yet…she's one of the most humble people I know. In college she introduced me to trail running and the concept that running doesn't have to be about going fast and competing. You can jog, chat, and take in your beautiful surroundings."
Pablo Ostolaza 
Nominated by Miguel Robles
"Pablo is probably the most inspiring trail runner in Peru. As founder of Inkansables, the largest trail running club in Peru, he has inspired so many to become trail runners at all levels, beginners, intermediate and advanced. Pablo is also well-known for organizing running challenges aiming at raising funds to charity organizations!"
There's a lot of good happening out there 
Thank you again to everyone who took time to nominate someone. We received so many wonderful stories!