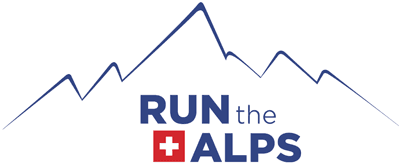 Helmet Required: Courmayeur, Italy's 2,200 Meter-high Sky Race
Helmet Required: Courmayeur, Italy's 2,200 Meter-high Sky Race
Helmet required.
It's a phrase I had never seen when looking over the required gear list for a trail race. And it certainly piqued my interest. So, when the first edition of the Mont Blanc K2000 Skyrace in Courmayeur, Italy, debuted, I had to check it out.
That was August 8, 2015, and it didn't disappoint. Runners from around the Alps came dashing up the stairs of the upper tram station at Pointe Helbronner, elevation 3,462m, finishing the race on the top viewing platform. The wild look in their eyes suggested they had, well, seen things.
I wanted to see what they saw.
Last year, I ran the sister race, a night time vertical kilometer to the mid-station Pavillon. Running at night up a "VK" course, I remember thinking, "These guys definitely know how to have fun." Of course, it was mostly "Type 2" fun. (Story and night running photos, here.)
Finally, this year, my turn came for the k2000. Vaguely intimidated, it was a relief to recon the route with Run the Alps guide Emily Geldard. Imagination builds rather than diminishes obstacles, and that was the case with the Mont Blanc Skyrace, too. The route, while a tough uphill push, wasn't terrifyingly exposed or jumbled with delicately balanced boulders threatening to take you with them on a rapid trip to the valley floor. In fact, the crux was a mundane climb over the summit building's first floor railing.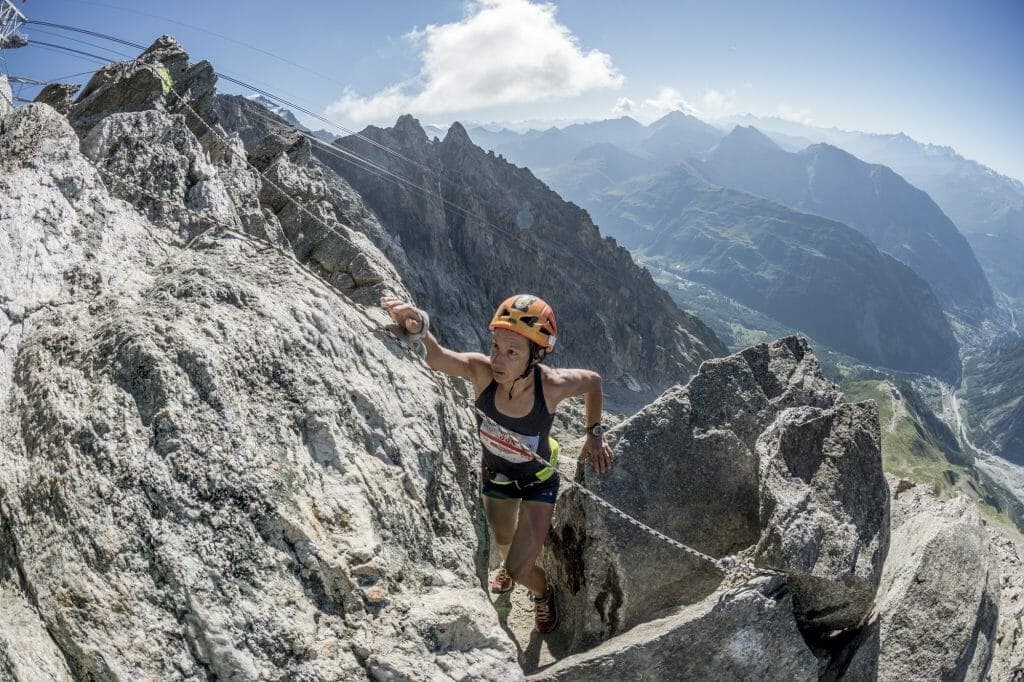 The course has three distinct sections. It begins in the middle of Courmayeur, on the cobblestoned Viale Monte Bianco. From there, runners head out of town along medieval-era roads, past centuries-old stone buildings, finishing the village section by running alongside the Fiume Dora Bàltea, the river that divides Courmayeur and Dolonne. From there the route follows an old hunter's path, switchbacking across the slope, then foregoing the gentler angle and aiming straight uphill. One thousand vertical meters after its start, runners get a reprieve at Pavillon, where race organizers offer a full aid station and a chance to drop your poles for later pickup. Here is where the excitement begins, as well-organized volunteers locate and pass you your helmet as you run past.
Then, more up. (No, this course doesn't relent.) A few hundred meters higher, the third distinct section begins – a technical adventure of loose scree, then solid rock with great handholds. Where holds were lacking or the risk of a fall-inducing stumble prevailed, race organizers had installed ropes. Guides were stationed at critical locations, even offering helpful boosts up short sections of climbing. ("If there's aid climbing, can there be aid trail running?")
After three hours, it seemed as if every form of uphill conquerable with running shoes had been ticked off, but at least two more still remained. First, we climbed a ladder up to the building – a great improvement over the solo move required by Emily and me. (Here too, another helpful volunteer was present, making sure tired runners didn't get woozy and tumble backwards.)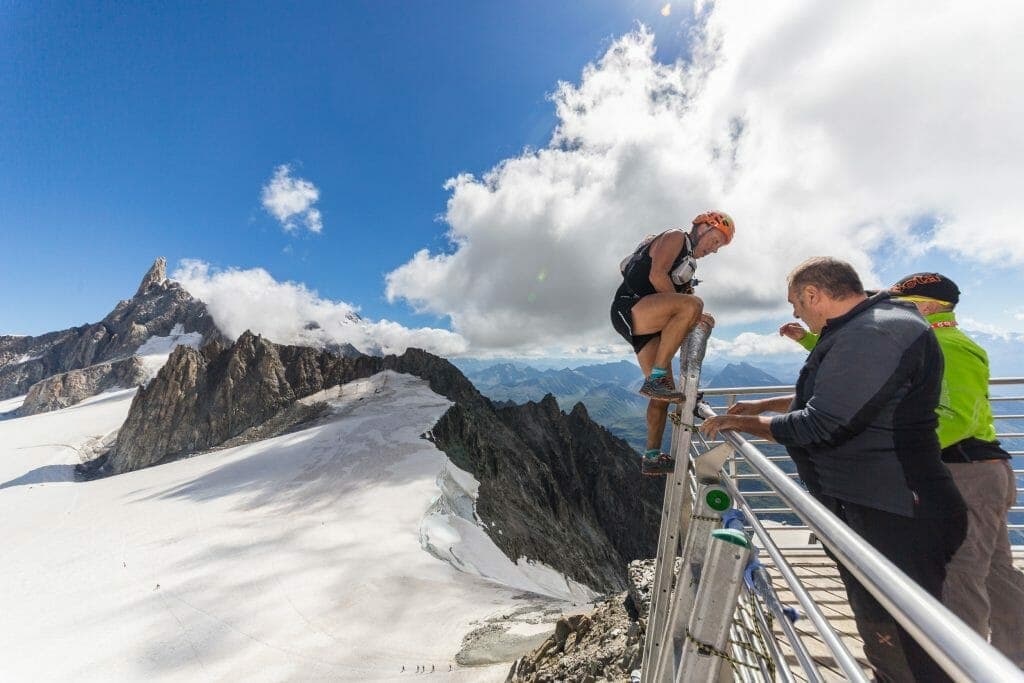 Then, a run through the building, making for the most surreal trail running moment I've ever encountered. I thought I had suddenly been transported to Rome's busy Fiumicino Airport. Tourists and supporters packed the interior space and overflowed into every corner, roaring wildly as each runner entered the building and sprinted two flights of stairs to the roof. It was a jarring transition, as if Italy had just thrown you a surprise party. The crowd's energy inspired me to take the stairs two-by-two. Across the finish line and suddenly mingling atop a packed rooftop patio, I found an open corner of a bench and slumped into it. Gasping for air, I remembered that our elevation was now well over 11,000 feet. In time I looked up, randomly making eye contact with a fellow runner who had finished just behind me. We both smiled and shook our heads at the insanity of it all.
"Italians are crazy," I mumbled in admiration, and smiled.
"Si," he said, grinning. "Totally insane. But it's a good crazy." And he was right.
****
Run the Alps talks with Courmayeur Sky Race Co-Director Luigi Riz
Run the Alps: Can you tell us a bit about yourself?
Luigi: I live in Courmayeur, where I'm a ski instructor in the winter. In the summer, I have a gardening company. The sea is great… but the mountains are my passion.
Run the Alps: What's the history of the race?
Luigi: It starter three years ago with my race partner, Massimo Domen. We wanted to create a little race that would commemorate the inauguration of the new cable car, the Mont Blanc Skyway. I think we succeeded!
Run the Alps: Has the race developed as you expected over the last three years? 
Luigi: I was expecting a good growth in the past several years. After all, we're in a fantastic place. I think we have succeeded!
Run the Alps: What's been your biggest surprise?
Luigi: Really, so far, we haven't had any major surprises. We continue to work to steadily improve the race as we can.
Run the Alps: What's been the biggest challenge for you?
Luigi: Repairing the paths we use. These were old routes that were used in the 1950s for the construction of the original mountain cable car. We've made repairs thanks to the help of many volunteers. It came out well!
Run the Alps: And what does the future hold?
Luigi: It's hard to make predictions. The k2000 needs to continue to be capped at 400 athletes. The k1000 and our new kids' race can continue to grow, so we will be devoting some energy in that direction in the years ahead.
Run the Alps would like to thanks the ever-energetic and supportive Tite Togni for her translation help, Race Director Luigi Riz for his time, and race photographer for their spectacular images.