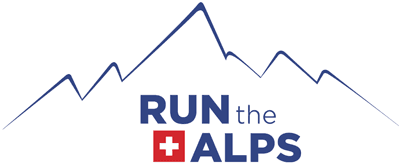 Hillary Gerardi: "It Takes A Village to Win in Chamonix."
Hillary Gerardi: "It Takes A Village to Win in Chamonix."
Here's a truth about our Run the Alps corner of the trail running world in Chamonix: we can be a pretty tight group. That circle of friendship and camaraderie radiates outward, to our guides and staff and alumni and friends scattered around the Alps, the US, the world.
Here in Chamonix, day in and day out, through ups and downs and in a lot of ways big and small, we are there for each other. And one thread connects it all. We trail run, we play in the mountains, we get outside in all four seasons and all weather.
This week, we're celebrating in a big way. Our friend, Black Diamond athlete, Run the Alps Ambassador and all around good friend Hillary Gerardi was the women's winner at the Chamonix Marathon du Mont Blanc 90 km race. It's one of the most prestigious races in the Alps.
It's also one of the toughest. The hardest race in the 7-race Mont Blanc Marathon series, the course winds its way up and down the north side of the Chamonix valley to the Swiss border, then crosses over to the south side for a pass back to the center of town. Along the way, the technical course accumulates a quad-busting 6,020 meters (19,750 feet) of climbing and descending.
It is not a race for the faint of heart. To win, you need to be one of the world's strongest mountain runners, able to run hard up for thousands of meters, descend nimbly, and run fast on the flats. And you need to do it all day long, every minute of the day.
This year's 90 km came at the perfect moment for Gerardi. But it was not an easy win. Italy's Giuditta Turini was never more than 20 minutes behind, and often much closer.
Part of our Run the Alps family, Mike Ambrose, played a key role in getting Gerardi through a tough final stretch, when she arrived at Montenvers, 72 km into the race, low on energy and mentally drained.
So… what was it like out there, from 4 am until she crossed the Chamonix finish line at 3:54:11 pm? Here's our conversation.
Run the Alps: After seeing you at the 4 am start, we had high hopes! You seemed very upbeat and energetic. What was going through your mind?
Gerardi: I always try to go into races with a healthy dose of enthusiasm. If you're not psyched about it, why do it? But this race in particular was special. We were coming back to racing after a year off. And it was the first race in a long time for which I really spent a long time preparing for one specific event.
I had a mindset of, "Okay, now it's time to trust the process." I told myself, "You can't prepare any more than you have already prepared." Everything went into one of two boxes: "What can I control and what can't I control?" All I can control at the start line was my attitude. And so I tried to stay positive and think about no matter what the outcome, we're going to spend a great day out in a place that I truly love, and I'm going to see a lot of great people along the way.
Run the Alps: You had strong competition hanging tight behind you the entire day. What is that experience like? Did you notice it, or ignore it? Did it impact you?
Gerardi: For the first half of the race, I felt like I had a solid, steady lead over Giuditta. I started the first climb pretty strong. That was a piece of advice that I'd gotten from Katie Schide. (Schide, another Run the Alps Ambassador, is an American who lives in France's Mercantour region. She won the 2019 edition of the race.) I established about a 10 minute lead after the first climb.
So, the first half of the race, I knew I had a 10 minute lead and that it was growing. And so I was feeling pretty good, but that yo-yo'ed throughout the race and that did have a big impact on me. I could widen the gap a little bit on the climbs, but then on the more runnable downhill sections, Giuditta would close the gap. And I heard she was moving confidently and quickly through aid stations. By the time we got to Les Bois (Editor's note: 67 kilometers into the race), just before the last climb, I knew that she had cut a 15 minute lead down to around 10 minutes.
I heard she was running strong, too. I hit the panic button and pushed as hard as I possibly could to make sure that she couldn't see me coming through that aid station. I tried to push my lead a little bit bigger.
I think I pushed it too hard. I bottomed out, physically and emotionally. At that point one of my crew members, Mike Ambrose, delivered in a super big way for me. (Mike Ambrose is another Ambassador and friend of Run the Alps. He works for Salomon in nearby Annecy, France.) He got my head into the right place for the last climb to Signal Forbes, and then the traverse of the Balcon Nord. That definitely was huge for me. It will be a big part of my memories of the day.
And then for the last traverse of the day, starting at Signal Forbes and going down to Plan de l'Aiguille, no one was able to give me any splits. I had no idea if she was still gaining on me or if I had widened the gap. I just assumed that she was gaining on me, and so I really put everything I had left into that last descent and I just really, really hammered it until the end.
Run the Alps: That's just an incredible picture of persistence right to the finish line. Congratulations! Over the course of the day, what would you say were the high points and the low points?
Gerardi: It might be a little bit cliché, but sunrise at the top of the Brévènt, lighting up the Mont Blanc massif across the Chamonix valley was a really special moment. At that point, I was still feeling super good and strong.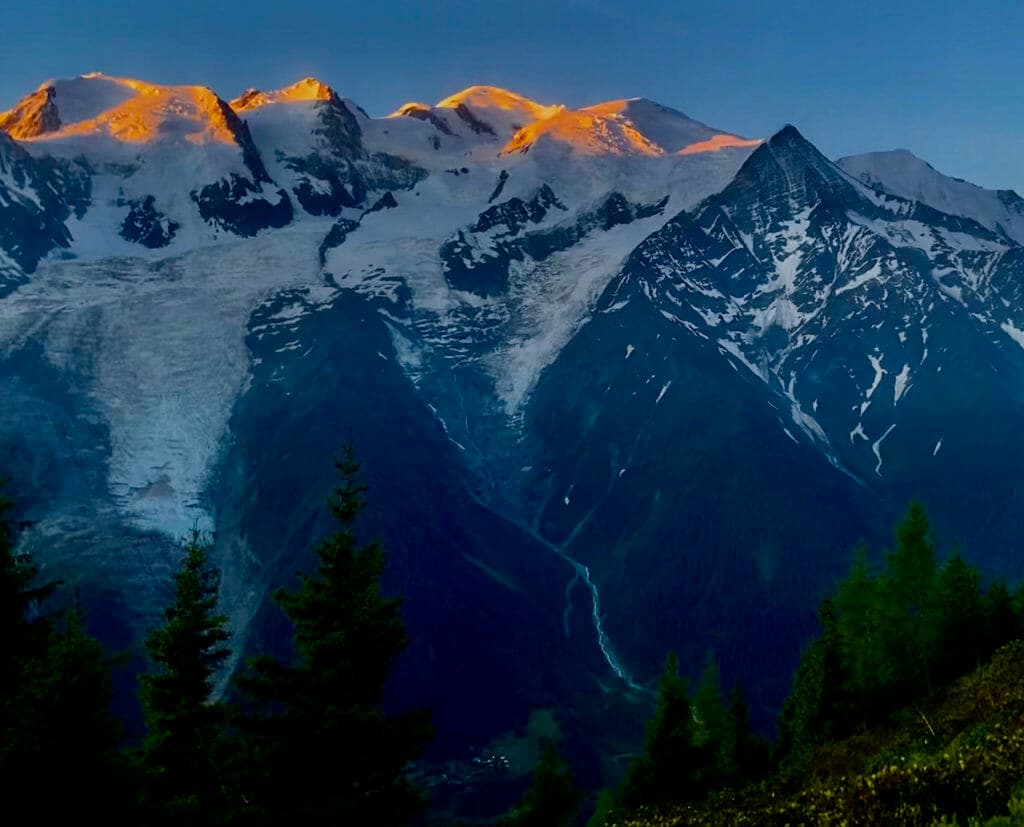 Maybe they weren't necessarily high points, but I had a fantastic crew. Knowing that they were there gave me a huge boost. It was like coming into an aid station and finding a hidden resource, knowing I had people to look forward to who loved me and supported me. That boosted me every time I was getting close to an aid station.
I was starting to get pretty down in my head, on the climb up to Mottets. I came across two school groups with probably 25 kids each, blocking the way. I was in a pretty dark place and just having to dodge around them was super tough.
One low point was obvious– that came when I pushing up to Montenvers. Usually, I'm pretty good about giving myself affirmative words and encouragement. But getting up to Mike, I was thinking about how to tell him that my body was broken and I was ready to quit. That was a pretty low point.
Run the Alps: As you were saying goodbye to friends after the race, you mentioned, "It takes a village." How did this race "take a village" for you?
Gerardi: That thought that came into my head, because I think that my success was incredibly contingent on the support that I had along the way. Any race that we do is a product of so much of the help in the situation over a long term. I'm thankful for the long-term support that I've had from my husband Brad and from my coach along the way. Neil and the crew at Clinique du Sport in Chamonix have really kept my body working as well as possible, too.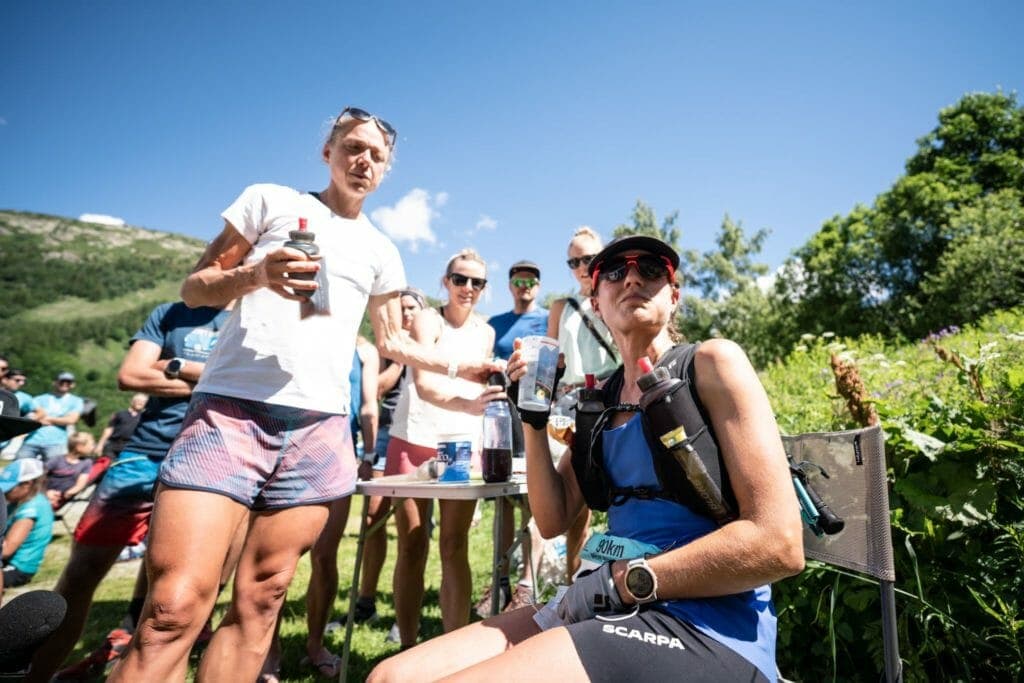 On race day, I had this amazing dynamic of experienced, knowledgeable, helpful, wonderful people who were crewing for me at the aid stations. One of those people was Mike Ambrose, who is an extremely talented and experienced ultra runner. Mike has a methodical way of thinking and he anticipated what I was going to need.
Another was Katie Schide, who won the race in 2019 and whom I've known for a long time. She has so much experience running ultras. She knows what makes a good crew. She really knew how to direct me, when I wasn't able to direct myself. "Take this, leave that, eat this, drink that." She was also super helpful in terms of giving me the information I needed– not too much and not too little, either.
Then I had Mimmi Kotka and Meg Mackenzie in Le Tour. Mimmi was the winner in 2017 and 2018. She was there with her husband, Toni. They were really great at anticipating my needs. And seeing Alex Earl and her mom Mim with Katie in Le Buet was amazing as well.
That whole group of people made the day possible. They often knew what I needed before I knew I needed it. That's a pretty incredible plus for a runner. To have people like that around me, I couldn't be more thankful.
Editor's note: Due to Covid protocols, this year's race was not allowed to enter Switzerland. The race ran on a slightly modified route, with a total distance of 85 km.
Read More About Hillary and Marathon du Mont Blanc:
Hillary Gerardi Resets the Fastest Known Time on Mont Blanc
Racing in the No-Fall Zone: Hillary Gerardi and Matterhorn Ultraks Extreme
Chamonix Marathon du Mont Blanc Race
The Hidden Importance of Trail Running: A beginner's experience training for– and running– the Mont Blanc Marathon