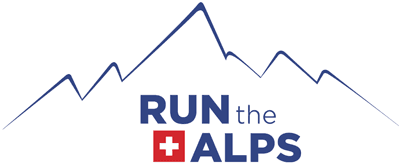 It's all in the Cartes (that they give you before you go): Marit and Cathy's Self-Guided Run the Alps Tour
It's all in the Cartes (that they give you before you go): Marit and Cathy's Self-Guided Run the Alps Tour
We love sharing trail running stories from the Alps – from our guides, friends, ambassadors, clients… okay, anyone who loves trail running through these mountains as much as we do. Here's a great one from Marit Fischer, who enjoyed a Run the Alps self-guided trip this summer with her friend Cathy. Marit, thanks for sharing your story!
On my birthday in March, my running partner Cathy called me up and said, "We're going to run in the Alps this summer." No exclamation point. No question mark. She was just presenting it as a simple fact. She had frequent-flier-miled her way into two tickets to Europe – and I was going to use one of them.
For almost a minute, we considered planning and mapping our trip ourselves. Then, we landed on a far better idea: a self-guided trip with Run the Alps.
We had a few requests. We wanted to run from town to town. We wanted a running trip during which we could run on highly runnable trails. And we wanted to see different parts of the Alps, visiting Switzerland, Italy and France. We had ten days in August to work with, and six of those would be up to our knowledgeable handlers.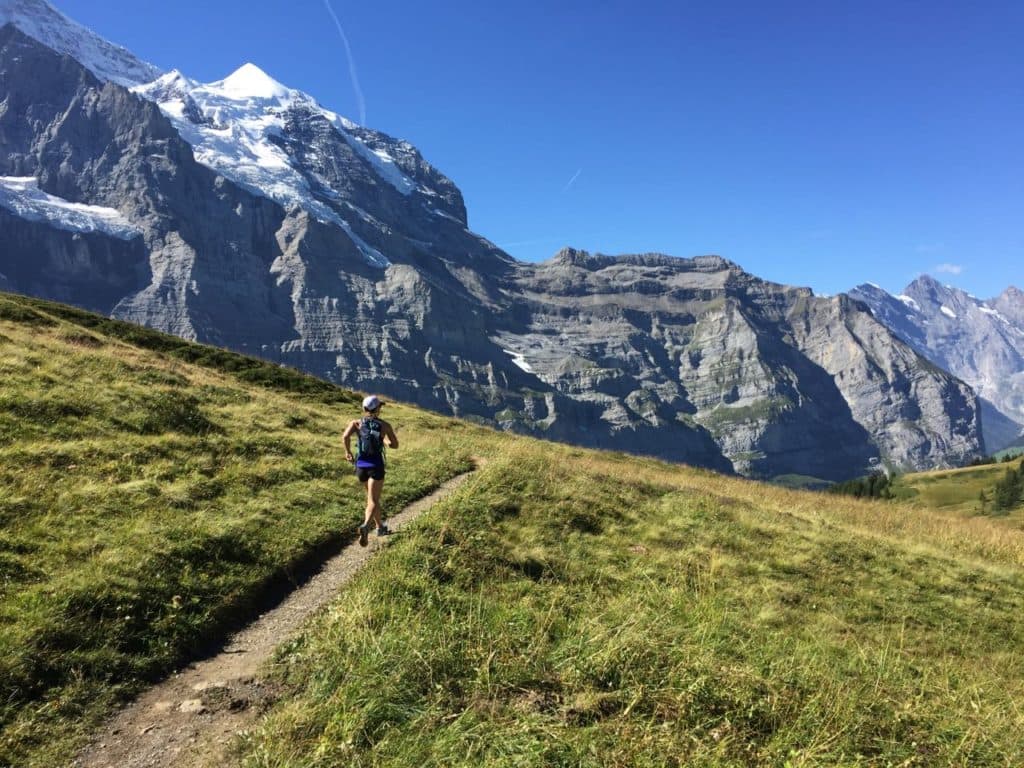 A month and a half before our trip, we each got a thick folder in the mail, complete with a day-by-day itinerary of the trip, information on our destination towns, turn-by-turn maps and directions for the running routes between and around them – including detours, extensions, and options for bailing out, specific instructions on what we had to pack and do to get from point A to point B, giant maps of the regions where we'd be, a train transfer ticket, and in-country contact info for the Run the Alps staff – you know, just in case.
I felt dialed. And I didn't have to do any of the dialing.
Here's how our trip went down:
Day One: Spokane, Washington to Grindelwald, Switzerland
It was a long one… or maybe it was two, come to think of it. But after a variety of flights and trains, we arrived in Grindelwald, Switzerland, and checked into the adorably charming Hotel Gletschergarten. Ours was the Marmot room, a quaint hideout of a place, with two fluffy-topped twin beds and glass-paned French doors that swung wide open to a little balcony below clouds drowsing on the mountains. We walked around town to ward off jet-weariness, and took at least a hundred pictures each.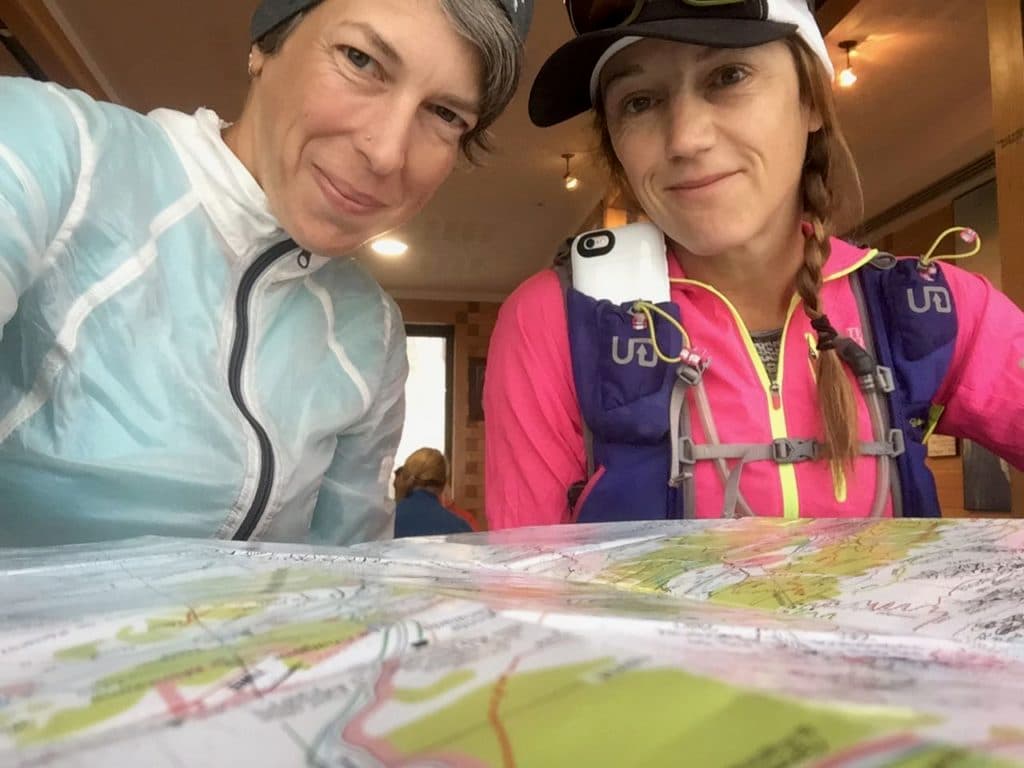 Day Two: Grindelwald to Stechelberg
Our Gletschergarten breakfast made me happy. Blackest coffee and freshest bread and creamiest cheese and cold-cuttiest meats are enough to make me giggle, and I did. We packed our toothbrushes, rain jackets, and long sleeve shirts and left our 60-liter duffels behind at the front desk to be transported to Murren, where we'd be in two days. Then we headed out to run. We took a short local train ride at what appeared to be nothing less than an 80-degree angle up from Grindelwald, then disembarked at a collection of chalets known as Alpiglen, to start our route, skirting the famed north wall of the Eiger. After a wide-trailed climb through the high pastures and the ding-dong of an alpencow orchestra, we topped out at the high col of Kleine Scheidegg.
Before stepping onto the first single-track of our trip, I stopped for a bite of the croissant I'd brought from town with a thick chunk of brie, both tucked carefully inside my trail running vest for safekeeping. Just a quick bite, though – after all, I didn't want to eat all my lunch at once. But ohmygod. I couldn't stop.
Right then, I promised myself: I was going to eat a croissant a day.
For hours, we ran down along ribbons of trail over flowery slopes and mushroom-bottomed forests until we got to Wengen, a shoulder brooch of a town perched on a cliff, high above the village of Lauterbrunnen. Under red umbrellas at Bäckerei Vincenz café, we drank two coffees each, ate the chocolates that came with them, and then felt ready to begin the steep 1,548ft descent. In Lauterbrunnen, we detoured to check out our first of many self-serve cheese shoplets and then made the short, steep trek up to Trummelbach falls, a sky-to-floor cascade down the valley-side that bathed us its cool mist. It was an inspired way to cool-off. After 18 miles of trail running on a hot day, the shower was pretty close to divine. Two miles later, we ran our last steps of the day into Stechelberg and found our room at the Alpenhof, a classic Swiss inn run by Mark and Diane. We found what we were promised in our guide pages. Our hosts – longtime friends of Run the Alps – welcomed us in for warm coin-op showers, comfy beds, no wifi, a mingle with guests from around the world, and great conversation. And we made some serious headway on a jigsaw puzzle, too.
Day Three: Stechelberg to Mürren via Kilchbalm
You might not have batted an eye at the rains that drenched the valley that night, but coming from the drought-besieged Western United States, we did. And more, as I ate my croissant for the day, Mark, our host at the Alpenhof, in his former fire-fighter/search-and-rescue/rugby player way, made it clear that our route for the day would be better left un-trod in such wet weather. "You can go up there if you want, but I sure wouldn't." (Mark's opinion is more than legit – he's also a former guide for Run the Alps' partner, Alpinehikers.)
He recommended another route for us instead, saying, "If I could only do one more hike in the world, I would do this one." Okay, then. I can appreciate a sincere endorsement when I hear one.
After a steep climb up, along and over waterfalls, the trail evened out. We ran along a rolling, easy-going trail that led us four miles to a dead-end at a box canyon, called Kilchbalm. When the trail petered out, there we were, small and surrounded by walls of granite: at least five skyscraping waterfalls tumbling into a shared glacial creek; massive, house-sized boulders; a grassy carpet of velvety green; and low, drizzly clouds. I felt… new.
We backtracked, picking up the trail to Mürren. Steep it was, leading us up and out, past more mini, unattended DIY kiosks selling cheese ('käse', in these parts) and past weather-strong houses into the clouds.
The bright and cliff-perched Hotel Edelweiss was our home for the night. We had to wait a bit for our hosts to track down our bags at the train station, but they loaned us blankety bathrobes so we could shower and warm up, in the meantime. We washed our wet trail clothes in the machines across from our room and went out to cheer on the racers of the Inferno Triathlon as they passed through towards the finish line at the top of the 9,745ft high Schilthorn.
Day Four: A short run in Mürren and then it's on to Courmayeur, Italy
We rose early for a short loop run out of the car-free village into the high hills above. The clouds lofted still and sweet and inviting as we made our way up once more. Eventually, we found rolling trails that we could really, truly run. After the climb the day before, it felt like medicine. We ran laughing on the spongy moss floors, through knee-high ferns, under sparkly, dripping boughs.
After the run, I got my croissant. And two cups of really good coffee.
Then we set off for Italy. Ten hours later, after a long day of trains including one missed connection (our fault), and a bus-ride from Chamonix, we got to Courmayeur, Italy, dropped our bags at the Bouton d'Or, and went out, desperately, to find food.
Day Five: Mont Chétif
The breakfast. The breakfast at the Bouton d'Or is… I can't even begin to describe it. You must experience it. Please. Just come to Courmayeur to have breakfast at the Bouton d'Or. And run some trails too.
Yes, I ate my croissant – and yogurt and fresh berries. And this little chocolate-cupcake-thingy with melty chocolate inside. And some cheese. And coffee, of course.
Mont Chétif is right at the edge of Courmayeur. Look south from the village, and there it is. Right there. With a wee Virgin Mary stuck on top like a holy cake topper. Except that, up close – after the 4,000ft climb to get to her – it turns out, she's not wee at all.
Cathy and I are good at power hiking the ups, so this day was really fun – well, in that familiar, masochistic kind of way. The route follows a steep section of the Tour du Mont Blanc, or "TMB," through mixed woodland. We loved being on the same trail that the racers in the Ultra-Trail du Mont Blanc would be running down in just a few days' time.
These Alps are different from Switzerland's Berner Oberland, where we'd just been. They're not green and lush and sing-songy like they are in Switzerland. The seriousness of the landscape here holds onto its history. It's all tucked in for posterity, to be guarded, or maybe because it has nowhere else it would rather be. I could feel it today, the history, as we climbed.
And then we got to the Lady. The world at her feet spread away far and deep and wide and vast, and I understood why her Catholic friends had chosen this high place for her.
The route down was bouncy and fun – with a short stop for water and to take in the family party scene at the Refugio Maison Vieille.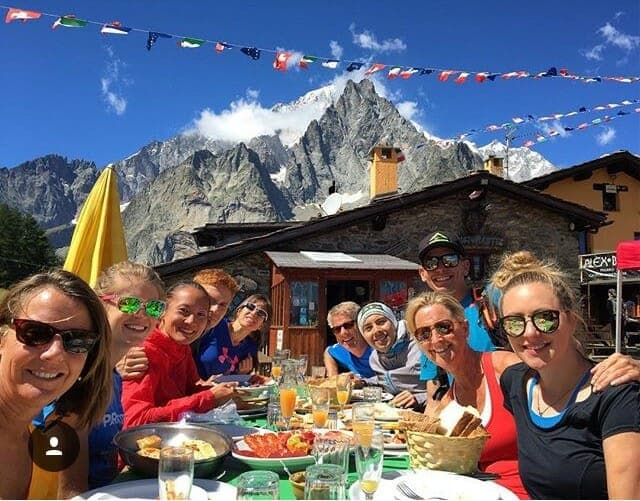 Our route description suggested we catch a bus back into town, but instead of waiting, we decided to run, road and all, four miles downhill. On the way, we found a trace of a trail that we followed for some of the thinnest and funnest single-track of our whole trip. It was both short and sweet, but surprises are cool.
We had lots of time post-run to explore the shops along the cobblestone walkways of Courmayeur, including one stop for big gelatos and a second for coffee. We also visited the Societa Guide Alpine Museum in the heart of Courmayeur, which I strongly recommend checking out. Remember when I said I could feel the history in the mountains? This place is one record of it. It's a well-preserved and curated historical cache of gear, photographs, and stories of the Italian mountain men who made Alpinism a thing. (My only complaint is that any female story that may exist seems to be absent.) It is worth the hour it takes to read everything in the place to understand better where you are – geographically and in time – and to deepen your appreciation of these mountains and their people.
Day Six: Courmayeur to Arnuva – and then on to Chamonix
The breakfast. Again, the breakfast.
And the croissant. Again, the croissant.
We picked up the TMB once more, this time heading northeast from the center of Courmayeur, climbing up into the mountains on a steep trail to Rifugio Bertone. Here, we purchased water. It's the only time we had to buy water on the whole trip. (We filled our bottles and pack reservoirs at the fountains that flow freely all over the Alps.) I also ate the most delicious Ritter Sport bar I've ever eaten. Cornflakes in white chocolate? Sure, why not? Like I said, surprises are cool.
After Bertone, we picked up a sidewalk of a mountain trail and ran free, traversing the balcony above Val Ferret to the gorgeous Rifugio Bonatti and beyond, to our descent just before Arnuva. The views from here were astounding. The trail was heavenly. The people were open and smiling and so happy, like we were, to be there.
We took a bus back to town and collected our bags, packing up our packs of dirty clothes and our tattered maps in preparation for our move into France to fend for ourselves a bit, without the support of Run the Alps. We washed as best and discreetly as we could in one of the public fountains, and then changed out of our running gear and into sundresses in a parking garage! (The one person we saw seemed as unbothered by this as we were.) Then, tired and happy, we hopped on a SAVDA bus for the short ride through the Mont Blanc tunnel, back to Chamonix – officially ending our 6-day Run the Alps self-guided tour.
We stayed in Chamonix for four nights, exploring the trails and the town on our own. And what a time to be there! It was just before the UTMB and you could feel the buzz in the streets as they filled with athletes and their families arriving for the series of trail races and the associated week-long trail running festival. We felt, viscerally, the escalating buzz as athletes and their families converged on the place with all of their own hope and excitement. Amazing.
When it was finally time to leave, I experienced a bit of a dichotomy. I felt both weary and energized. I was heightened yet grounded. I was ready to go home to my husband and little girl and our end-of-summer every day life – but I was also sure that there would always be a part of me that felt completely at home in these mountains.
See, I get it now. This hallowed love of place that I've heard in the voices of the people who talk about the Alps. I do. I get it.
And, oh. If you're curious, I did keep my promise. I thoroughly enjoyed a croissant a day. And, once, after our very last run, I thoroughly enjoyed two.
Marit and Cathy's detailed running itinerary is below. For information on Run the Alp's self-guided trips, take a look here.
Itinerary:
Day One – Spokane, WA (and Salt Lake City, UT) to Grindelwald, Switzerland
Day Two – Grindelwald to Stechelberg, via Wengen
19.5 miles (with all our detours), 6,505 ft elevation gain, 6,768 ft max elevation
Day Three: Stechelberg to Murren via Kilchbalm
9 miles, 4,254 ft elevation gain, 5,312 ft max elevation
Day Four: A short run in Murren and on to Courmayeur
6.3 miles, 1,787 ft elevation gain, 6,253 max elevation
Day Five: Mont Chétif
11.5 miles, 4,713 ft elevation gain, 7,753 max elevation
Day Six: Courmayeur to Arnuva. And then on to Chamonix.
10.7 miles, 4,278 ft elevation gain, 6,765 ft max elevation