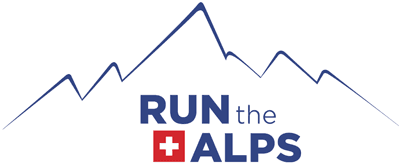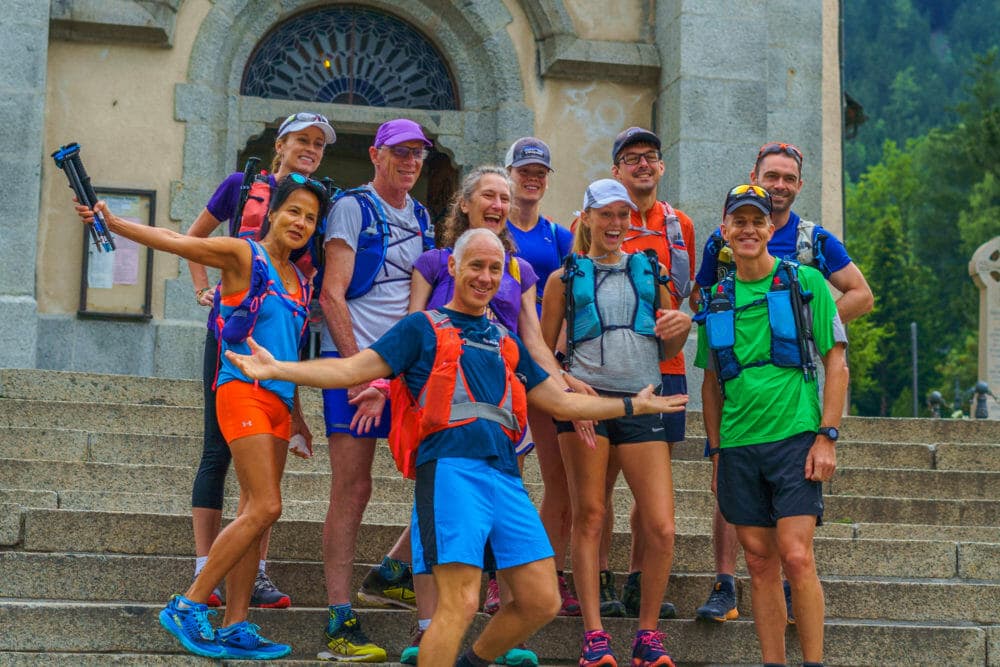 Just what is an International Mountain Leader?
Just what is an International Mountain Leader?
We're ridiculously proud of our guides here at Run the Alps. Each of them is a highly skilled trail runner, with a deep knowledge of the trail running scene here in the Alps. They're also simply wonderful people who are fun to spend time with on and off the trails. 
There's something else each of them has in common, too. Each Run the Alps guide is an accredited International Mountain Leader, or "IML" for short. While this qualification is not a legal requirement in all European countries, it's something we want all our Run the Alps guides to have. IMLs have to complete a multi-year training and assessment program that assures a solid base skill level for safely leading guests through mountain terrain. 
Run the Alps Senior Guide Emily Geldard recently went through 24 hours of required continuing education, known in French as 'recyclage'.  After the program, she took a moment with us to reflect on her many years working as an IML. Here's her story.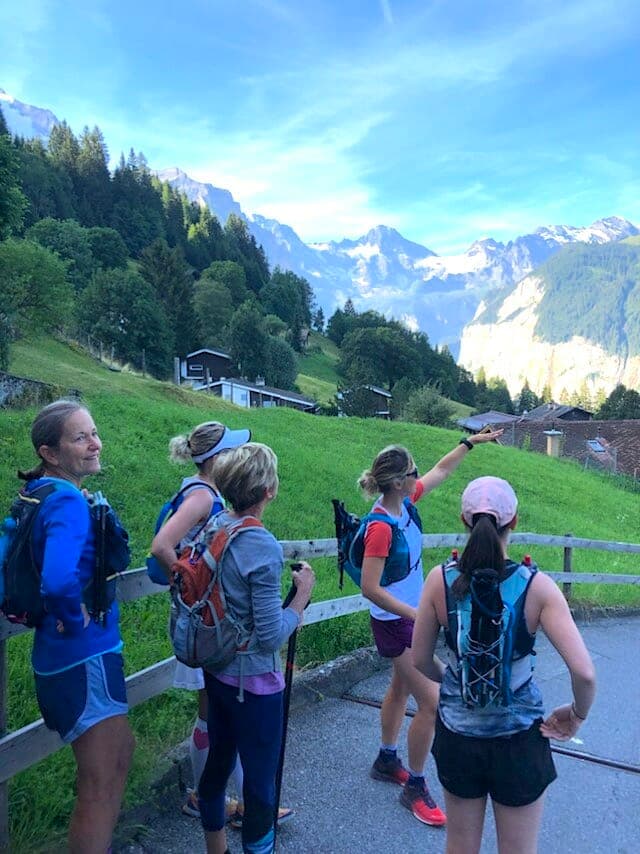 Having  lived in the Chamonix Valley, France for 13 years, this fall I took part in my first "recyclage," or French IML refresher. The law in France requires IMLs to do this course every 6 years.
In my case, I joined 14 French IMLs on a four-day course which covered everything from legal responsibilities to first aid, rescue, navigation and safety on steep terrain.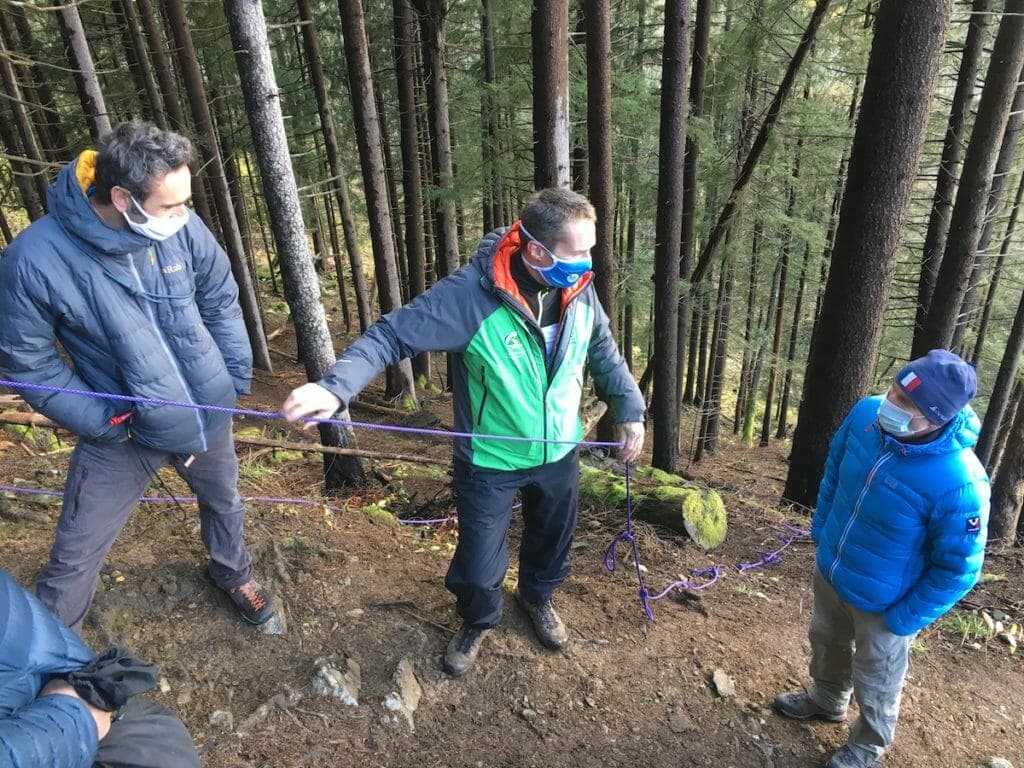 It was an interesting and relevant course, and I found studying how GPS systems work and new mapping apps particularly useful. For example, on some apps, such as FATMAP which I use, you can find and share your coordinates in just a few seconds, by touching the screen  – very handy for communicating with friends or rescue services!
The retraining program brought back memories of my original IML course, more than a few years ago. Since the question often arises among our Run the Alps guests, "just what IS an IML," I thought I'd take this opportunity to answer that question!
Becoming an IML
I completed my qualification as an International Mountain Leader in 2009. But it was back in 2004 that I spent my first summer guiding hiking groups on the Tour du Mont Blanc (TMB). After having spent the winter cleaning hotel rooms in an obscure ski resort called Pra Loup, I decided that I didn't want to leave the mountains.
The solution came in the classified ads of UK's Climber magazine – an ad for a job requiring someone who could drive, speak French, cook and lead people in the mountains. It was my dream job!
I went for the interview. I was only 22 and not very experienced, but I was friendly and they must have been desperate for guides, so I got in! Three weeks later, I set off to lead walking tours of Tuscany, Italy. A month later, I took a train to Chamonix, France to spend the summer guiding hiking trips around the TMB.
I could not believe that such a perfect job existed.
Fast-forward a few years of guiding, and I was on the training program to become an IML. This qualification is a legal requirement for anyone earning money from guiding hiking, running or snowshoeing trips in the mountains. It is what the French call a "regulated profession."
Before being accepted into the training program, one has to show an extensive list of mountain experiences in several different countries and also provide a reference from another mountain leader.  Fortunately, by the time I started the IML certification program, I had a lot of experience, both personal and professional.
Today, the IML program includes a variety of skills useful for leading groups in the mountains. The specific categories are extensive and include: group management and teaching; group security; navigation; survival skills and emergency procedures; physiology and first aid; expedition organization; legal responsibilities; knowledge of weather, mountain culture, geology, flora and fauna; winter environments including avalanche rescue.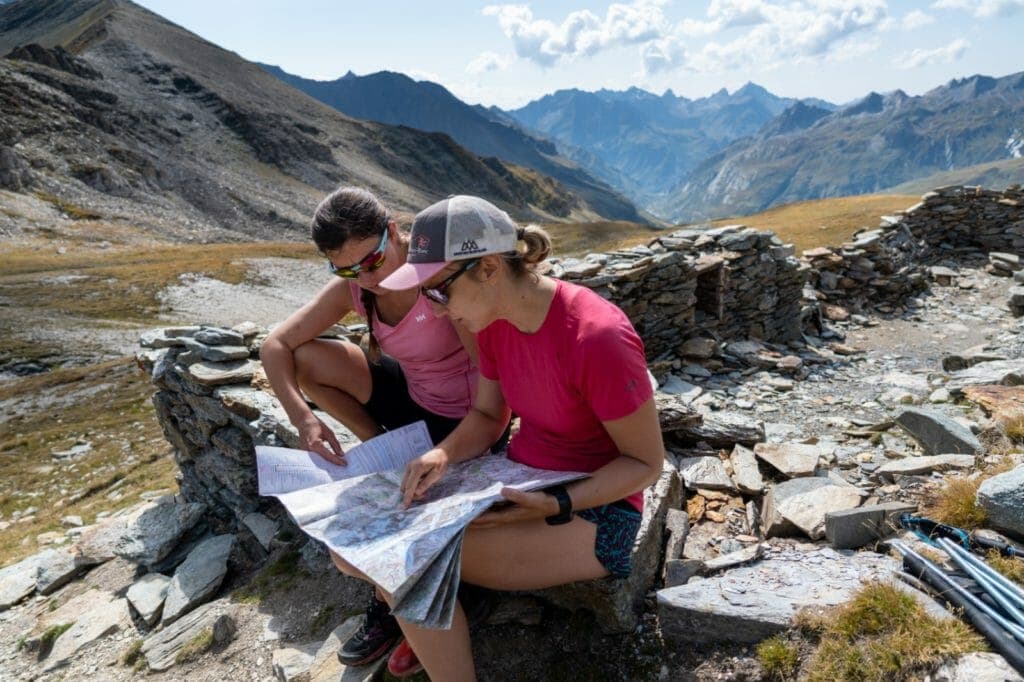 Candidates have to complete two week-long training courses, one in the summer and one in the winter. Then, they need to take part in a minimum of 60 days of apprenticing. That completed, there are the exams, which cover all elements of the training and include timed navigation and avalanche rescue tests – these last elements are pass or fail. The pressure is on with the clock ticking!
The training and exam venues range from the Pyrenees on the Spain-France border to Bavaria in Germany, and they change regularly to avoid potential trainees getting too familiar with a certain region prior to the test.
Both my assessments were nerve-wracking – it's not pleasant being constantly assessed for a week at a time! I found the hardest part of the summer assessment were being able to identify any plant the examiner happened to point out, and setting up rope systems to secure groups on steep ground. (Fortunately, I have never had to use a rope in "real-life" with a group!) For the winter test, which is carried out on snowshoes, the timed avalanche searches were stressful, but luckily my ski touring experience helped.
It's not uncommon for people to fail a particular element. They will then have to retake that component of the course. If that happens, the whole process can take as long as four years. For most prospective IMLs, however, the course and exams take 2-3 years.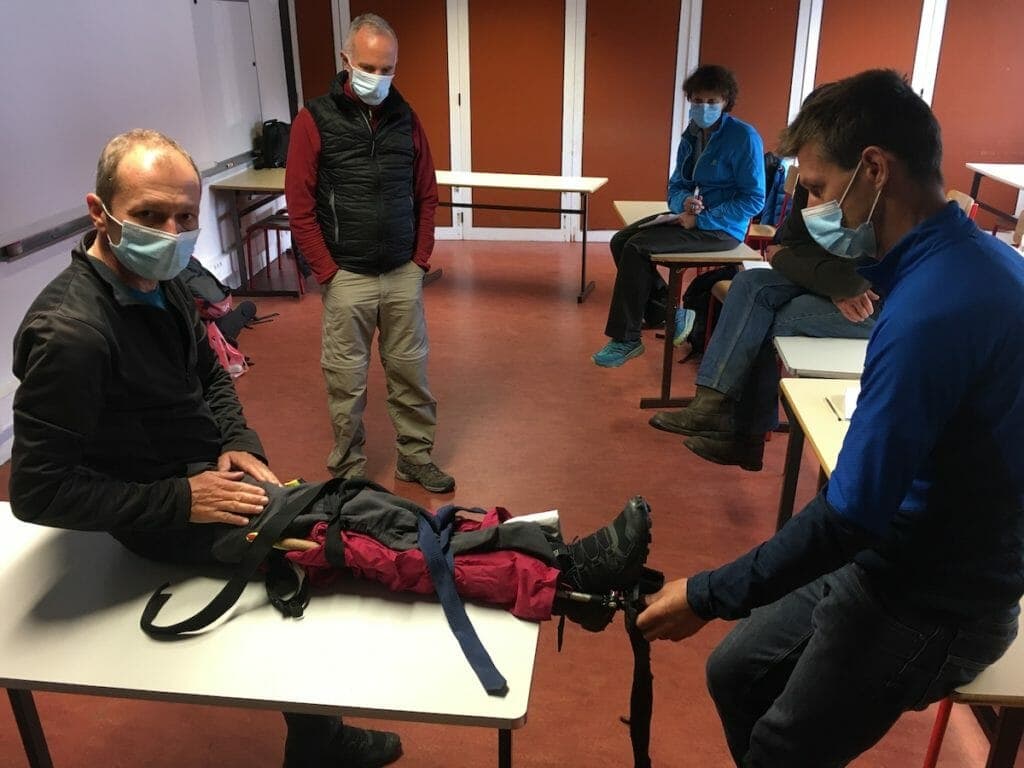 Although I'd already been working in the mountains when I started my IML course, I learned a huge amount, particularly about alpine plants, their habitats and their uses for us human visitors. (Did you know that wood sorrel is an excellent ingredient in a smoothy?) I also learned about the characteristics of alpine animals like marmots and chamois. For example, that the marmot doubles its weight between the end of hibernation in the spring, and going back into hibernation in the fall.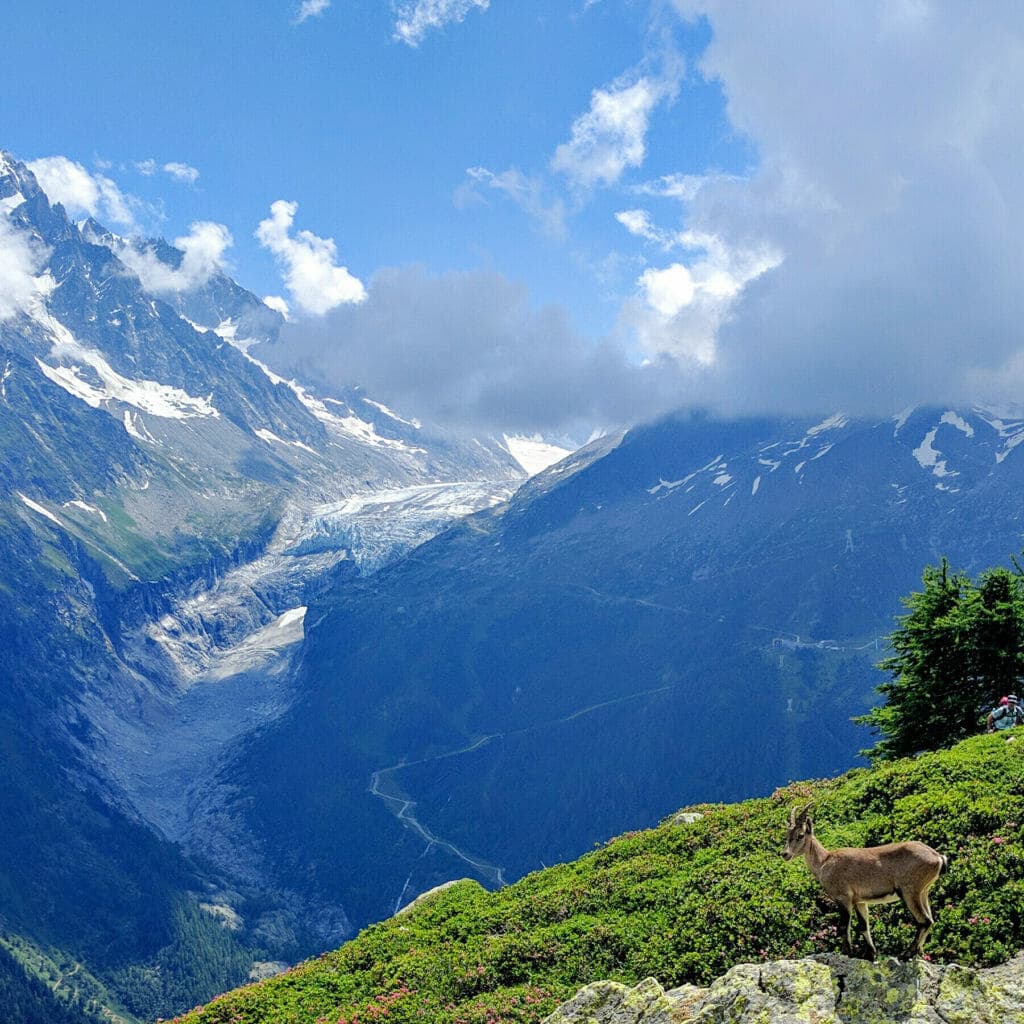 The IML program also includes a component on rescue services, giving IMLs the background they need to understand rescue operations in different countries, so they can facilitate an efficient rescue if needed.  (Editor's note: you can read more about mountain rescue in this article Emily wrote for Run the Alps!) The winter section of the course involved a lot of avalanche avoidance and rescue, which helps hugely in my current-day snowshoe guiding – and my own ski touring!
The course taught me about planning appropriate routes through the mountain, and considering the balance of risk versus safety. This informed my decision making, so IMLs can make the best route choice if, for example, there has been a flood, rockfall or a landslide.
All of this training comes into play once an IML gets out into the field. Once, while guiding a hiking group over the iconic Haute Route from Chamonix, France to Zermatt, Switzerland, it came time to cross the famous Pas de Chèvre. However, there had been recent snowfall, and I knew the route would be hard to find, and potentially slippery– with the consequences of a fall being potentially very serious.
I watched as the unguided groups plowed on towards the pass, following the route as shown in their guide books. Our group opted for a great alternate to the Swiss village of Arolla, arriving safely and with time to look around before dinner. We were concerned about the unguided groups – and, increasingly, a little worried. They arrived after dinner– all safely, thankfully. And they all wished they had taken a different route, too!
If you're interested to see if your country has an IML program, you can review this list. Not all countries have a professional guiding structure that includes the IML program. Those that do, however, form a controlling body that belongs to a global group called the UIMLA, the Union of International Mountain Leader Associations. Before joining UIMLA, each country develops its own training and exam program equivalent to the global standard.
Having the IML badge makes it legal for guides like me to lead a group in the French Alps. Perhaps more importantly, however, it proves you've spent years in the mountains gaining the right knowledge and experience to ensure everyone's safety. It also means that our guests will get the most out of their time in the mountains– and have a lot of fun along the way, too!