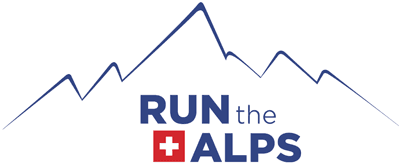 Katie Schide and Germain Grangier: 90k to the Shade
Katie Schide and Germain Grangier: 90k to the Shade
It's three o'clock in the morning, and my partner Chase and I are running up Chamonix's famous Vertical Kilometer, or "VK." We sliced our way through spiderwebs, trudging up to the Planpraz finish with nothing to look at other than the dim circle radiating from our headlamps… but, we were on a mission.
Now picture this: five hours later with 90 degrees F of sweltering sunlight beating down on you, causing people to run to the nearest sliver of shade to hide from the heat. Yet, when you look up, you see paragliders summiting snowcapped Mont-Blanc. With these contrasting views in mind, add trail runners– tens of thousands of trail runners— merging together for the weekend of the Marathon du Mont-Blanc to create, simultaneously, both chaos and attraction.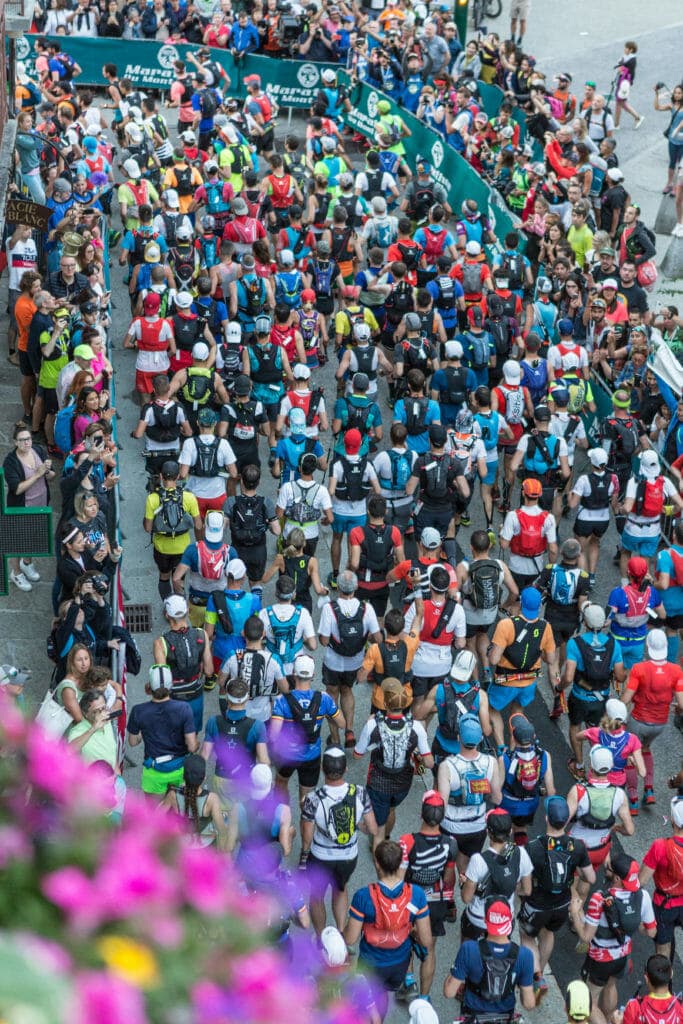 In support of the seven races that make up the Marathon du Mont-Blanc weekend, thousands of spectators came out in record-breaking heat to watch runners compete in races as long as 90km to as short as 3.8km– the latter being the steep, 1,000 meter high VK. On athletes Katie Schide and Germain Grangier were favorites in the 90k race. Katie, an ambassador for Run the Alps, is from Maine. Completing a PhD in Zurich, Switzerland, she now has the Alps as her home base for mountain running. With the impressive resume of winning last year's Maxi-Race (85km, 5000m+) in Annecy, France, and taking 1st in the summer Pierra-Menta stage races in Arêches, France in both 2017 and in 2018, Chamonix's demanding 90km was a logical next step. French mountain runner Germain Grangier, meanwhile, had won last year's Maxi race, and taken 3rd and 5th place in UTMB's OCC and CCC races in 2017 and 2018, respectively.
When Katie and Germain were looking for two people crazy enough to run the VK up to Planpraz at 3:00 am to be in position to provide support, they didn't hesitate to ask me, knowing that my partner Chase and I would gladly accept. Never having crewed anyone before, however, we had no idea what we were getting into. Nonetheless, knowing how much people adore Katie and Germain, and having met them briefly before, we gladly seized the opportunity.
After meeting with them the night before, to gather their food and supplies to fuel for the 90k, we packed our vests to max capacity to ensure that they would have everything they needed when they ran past us at the first aid station. (The crisp high-five they got didn't require pack space, of course!)
When they sprinted into the aid station at around 5:30 am, we had no more than sixty seconds to exchange headlamps for sunglasses and push them on their way. Although the interaction was brief, it was exhilarating to be a part of this race in a way that we had never experienced.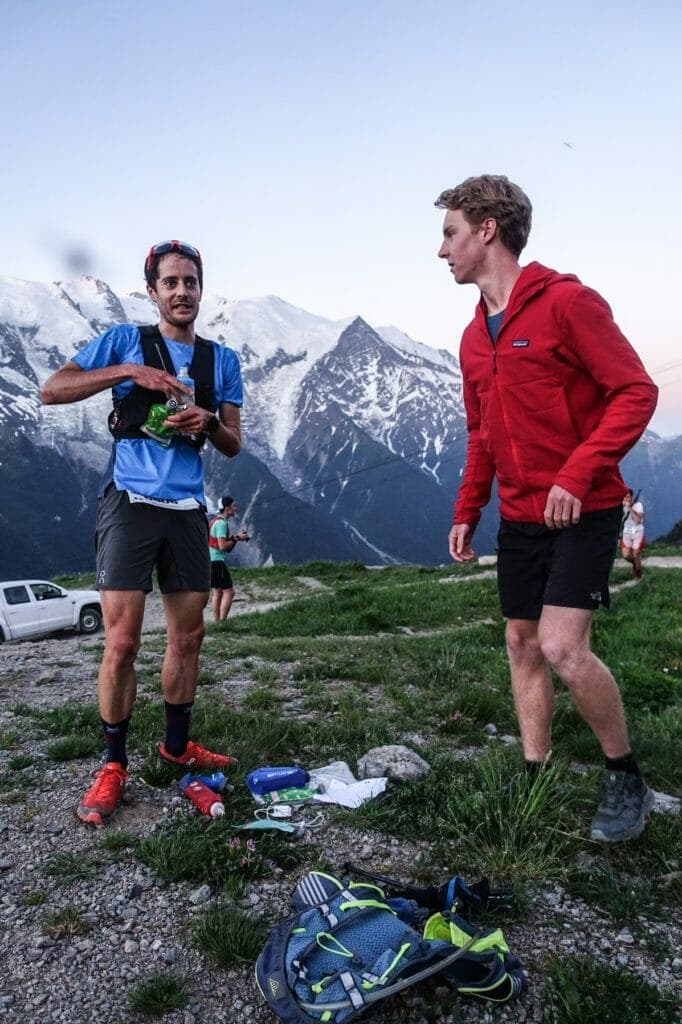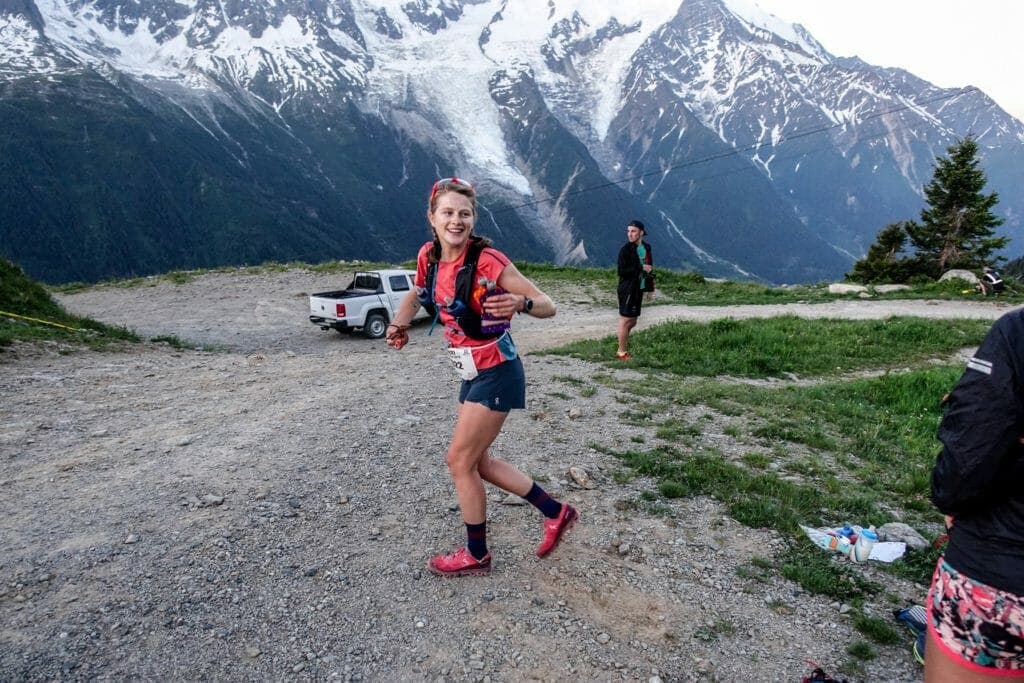 The two had impressive results, with Germain finishing in 11:37:44, and Katie winning in 13:04:15. Did they "leave it all on the course," as commentators like to suggest? Both, it seemed, still had energy– and Katie seemed remarkably fresh. (We can vouch for the fact that they did leave two packs of mashed potatoes with us on the route, however!) For hours they embraced the heat, finally getting a chance to embrace each other. Although exhausted and fatigued, they still managed to joke with the media and crack contagious smiles.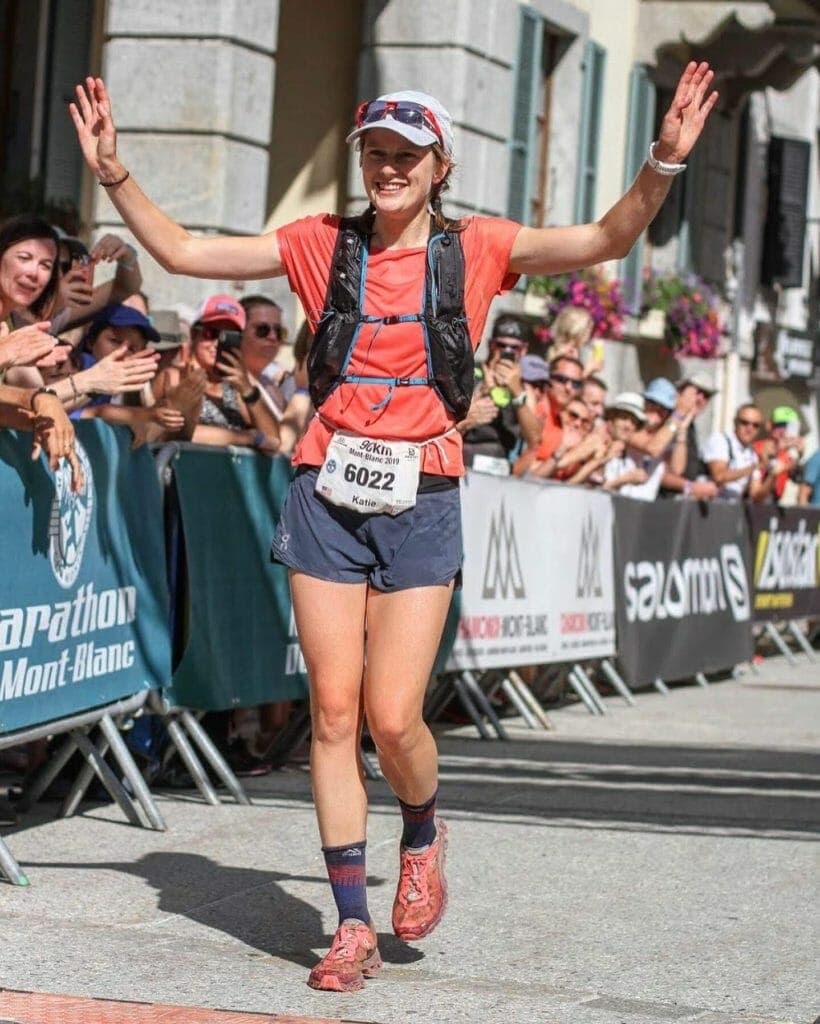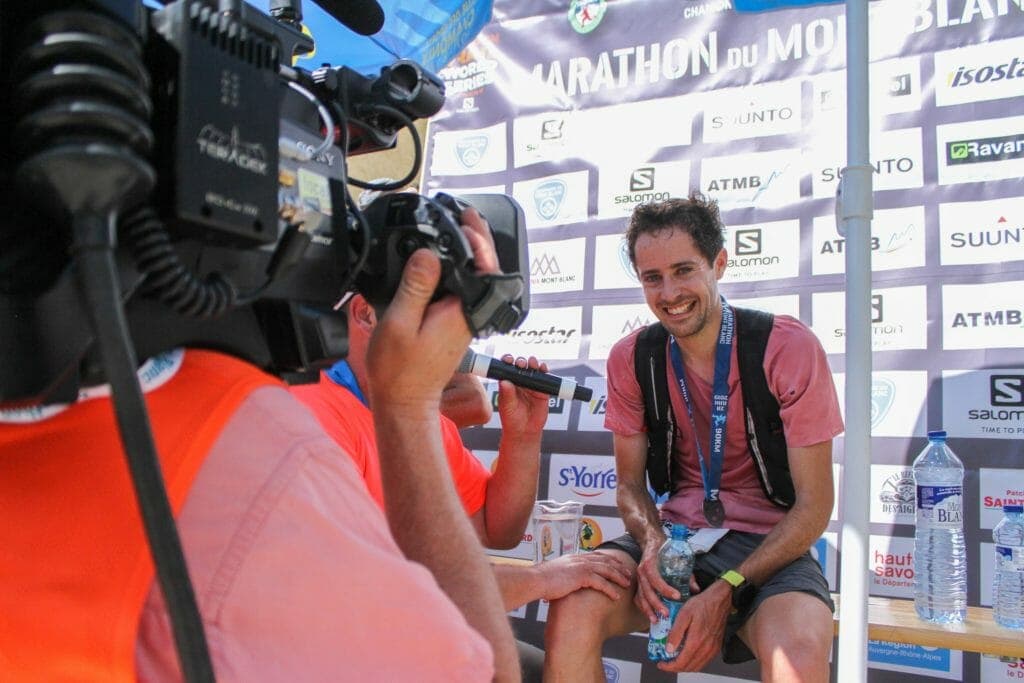 Despite our frazzled minds and a few rookie moments, we learned a bit about crewing, and didn't make any major errors. Being a part of their crew was a great privilege. These two talented athletes trusted us enough to allow us to be a part of their momentous goals. We were delighted to help. Chase and I wish them the best of luck in future races and hope to see more of their infectious smiles and energy back in the Chamonix valley before long.