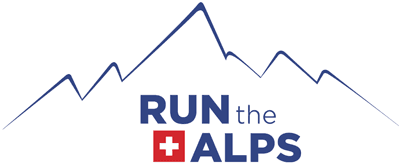 Krissy Moehl and the Story of the First Ultra-Trail du Mont-Blanc
Krissy Moehl and the Story of the First Ultra-Trail du Mont-Blanc
Krissy Moehl, 43, of Bellingham, Washington, is one of America's best-known trail runners. She has competed in more than 100 ultras around the world. A Patagonia ambassador, she has been on a wide range of adventures from the Alps to China to Chile and most places in between. In 2015, she became the youngest woman to complete the Grand Slam of Ultrarunning, completing four of the oldest 100 mile races in the US. Krissy has appeared in a number of trail running films, hosted a TEDx Talk, and authored Running Your First Ultra.
Krissy has a unique perspective on Chamonix, France's legendary Ultra-Trail du Mont-Blanc, having won the first edition of the race in 2003. She went on to win again in 2009, setting what was then a new course record.
Run the Alps recently visited with Krissy to hear about her experience during the event's inaugural run around Mont Blanc. Here, then, is story of the very first UTMB, in her own words.
In 2003, I was working for a footwear company called Montrail, when the CEO of the company got really excited about a new race that he'd heard about over in Europe. It was the year that I got married, and the CEO thought it would be an awesome wedding present to send me and my then-to-be husband Brandon over to run a hundred miles for our honeymoon.
Well, I was new to the sport, and suddenly having an opportunity to go to Europe for your honeymoon, with flights covered by the boss, well, that all sounded pretty cool! However…I really didn't know what I was getting into. I mean, I guess I kind of knew. I'd run the Chuckanut 50K here in Bellingham in 2000, but the longest race I had done prior to that was 50 miles. I don't think I had even even run 100 kilometers. So, I was was doubling the distance.
We got into Chamonix at night, and, if I remember right, I recall waking up, looking out the window and not being able to see the tops of the mountains. It was that steep and vertical and huge. My first thought was…"Whoa!"
We went outside to crane our necks and look up for the summits. That, I think, was a big reality check. The severity of the elevation profile made us very much aware just exactly where we were. Here was a place where I could run downhill for more than an hour at a time. I just couldn't believe it. It can take a couple of hours to go uphill, sure… but downhill? That was new to me.
At this point in my trail running career, 2003, I hadn't run Hardrock. (Editor's note: The Hardrock Hundred Mile Endurance Run, in Silverton, Colorado.) I don't think I'd even paced anyone out there, so I hadn't seen anything like those extremes. So that was one big thing that really stood out for me.
We had booked a room in a hostel that was right on the main street in Chamonix. I remember, we ended up finding something else because there was so much night noise. So we didn't get a lot of great sleep prior to that.
That was also the year of a big European heat wave. When we packed our bags back in the states, it had been well over 80 degrees Fahrenheit for weeks in Europe. People had died because of the heat! So, we came over with very minimal gear.
Then, the weather turned for the worse, and UTMB shortened the course. They didn't take us over one of the early summits.
So, here I am, a Patagonia athlete… and I went shopping at the store in town for gear. I went out and bought gloves, a beanie, and a Houdini shell, because we didn't bring any cold weather gear. It had been extremely hot– and now it just flipped. That made getting ready for the race kind of interesting, because it was still warm, but the weather forecast was predicting a crazy storm for the night of the race.
How would I describe that first UTMB? I guess, as a coach, my brain immediately thinks, "How would you train for it?" Having run it now a few times, I think finding some longer climbs and descents is key. Of course, that really depends on where you live. You need to look for those longer efforts, whether it's doing hill repeats and using the downs, and being intentional about how you're training– both up or down. I would also get used to wearing weight in your pack.
Even during that first edition, I remember there were a lot of amenities along the way. But, there was still gear that you needed to carry. You didn't have to carry much food because you can buy stuff along the way.
In terms of perspective, it was really beautiful, you're above treeline so much. Being from the Pacific Northwest, where there's a lot more forest, being above treeline became one of my happiest places. And on the UTMB course, there is so much of it. When I lived in Colorado, that was a little more typical of my experience. We joked about it, but it's seriously a "Rocky Mountain High."
There's another sense of elation, when you can take in that much expanse. It's pretty special if you're aware of it, and aware of how your energy changes, not only because of the altitude, but because of what you're able to see being up high above the trees. It's pretty special.
The vibe of the race was unlike anything I'd experienced. It was very homegrown feeling, as if it was out of somebody's garage. There were volunteers, and it was as if your mom was filling out times as you crossed the finish line. I think there were about 600 people that first year.
One of the things that really stood out for me, is that trail running is far more of a spectator sport in Europe than anything we had experienced in the States. That storm finally did come in and it was miserable, but I remember people at like one, two, three o'clock in the morning out cheering. You're coming through towns and aid stations, and there'd be people coming out of their houses in sweatshirts, yelling, "Hup! Hup! Hup! Hup!" They were so excited, and I was thinking, "You're out here in this weather, cheering on the runners?!" It just blew my mind. So, the vibe of the race really won me over for sure.
That first, the aid stations had dried fruit, hunks of cheese, dark chocolate, and baguettes. To us Americans, we were [used to] having M&M's, potato chips, peanut butter and jelly sandwiches, potatoes and Coke. Those were our standard things at aid stations. When I raced it in 2009 year, I think they had added hot broth.
It was kind of interesting how the race worked that first year. You could stop racing at various points along the way. So there was a 50K option to Les Contamines, and then on to Courmayeur, and then Champex-Lac. So you had those three "outs," if you will.
So, if you got to one of those places first, then you were the winner of that distance. Almost by default, that took some of the speedsters out because they would get to one of those places and realize, "Oh, I'm here! I won!" I don't know what they were really thinking, of course, but I thought it was kind of an interesting option.
I ran almost the first half of the race with a man named Ludwig. He was from Germany, but we communicated in our second language, which for both of us was Spanish. I remember, at one of the smaller aid stations along the way, he stopped to smoke a cigarette, and I was like, "What? You're smoking a cigarette?!" He gave me his long pants, because he wanted me to keep going. He said, "This is ridiculous. I'm just going to wait until sunrise. I'm not going back out into the night." So, I wore his pants!
After that, I ran with Michel Poletti, the Race Director! That was fun, and we remain friends to this day.
At night, I remember hearing the cowbells ringing from far and near. It was like Tinkerbell in Peter Pan. You're in the middle of the night, so maybe your brain is having a little fun with you– not quite hallucinations, but close. It all just felt really magical. The cows were not in the highest alpine areas, of course. As you would climb the hillsides, I remember how the tone of the bells would change. I later understood there were different size bells, depending on various factors for the animals.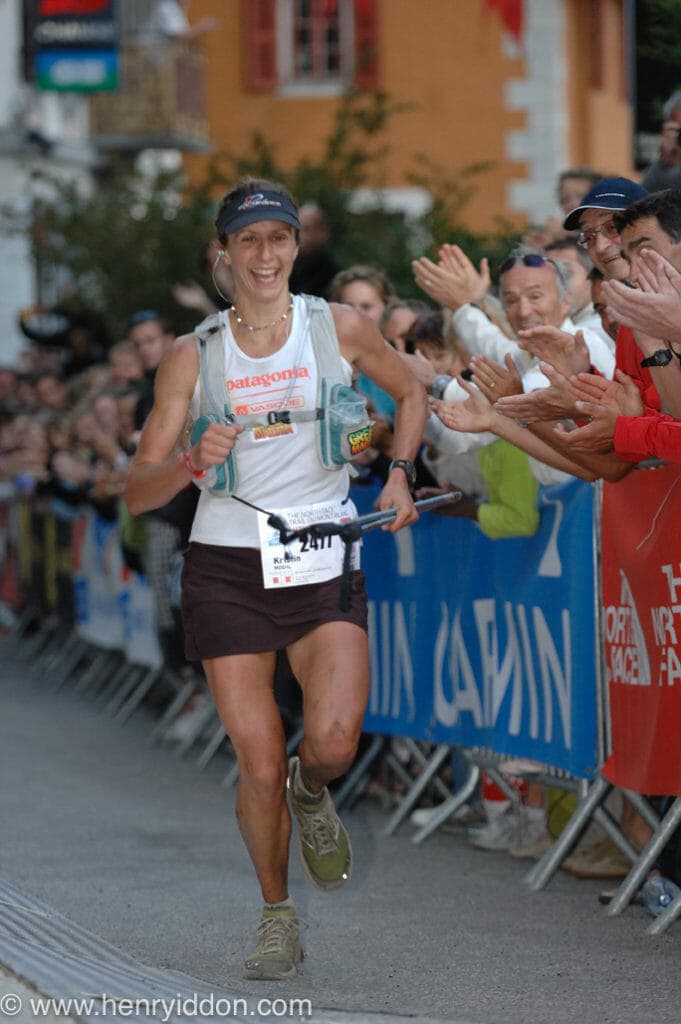 As I came back into Chamonix, I was pretty much in my own head. Literally, because of the weather, that Houdini shell was cinched around my face. I remember it was pretty quiet. I think I ran it in around 30 hours that first time, so that would have been late morning, which makes sense.
I remember Brandon coming out and trying to get me to run into town, but I was a gimpy mess. I had walked the last 30 miles because of some IT band pain. So, I was dealing with my IT band, and then my opposing foot flexor had stopped working. I was tripping because my shin had failed, so I had toe drop, I guess. I was having to pick up that leg.
And I remember the cold—I was taking clothes from volunteers at aid stations to bundle up, having to wear extra layers. I'm pretty sure I walked it all the way in. That is, I walked across the finish line. At that point, to be perfectly honest, I was pretty physically defeated. But then the crazy part was, I don't think the next female came in for another six or eight hours. That first UTMB, it just beat everybody!
If you would like to learn more about Krissy, her other trail running exploits, see her dog PD, and learn about her coaching work, drop by her web site.