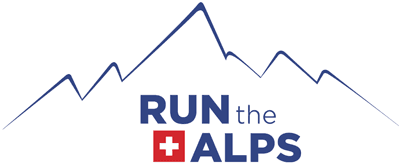 Mad Max Romey (Part One)
We stood, awestruck, as we watched a madman sprinting full-speed down a mountain, on a collision course with a massive ice block high in the Swiss Alps. Our cameras were out and ready to film this stunt go—we could only assume—terribly awry. His GoPro was stuffed in his mouth to record the moment from his perspective.
The madman accelerated toward the ice block, miraculously maintaining traction on the muddy trail underfoot. The ice block seemed stoic, perhaps certain it would win this battle.
At the last second, the madman launched himself into the air to avoid a catastrophic collision. He landed on top of the ice block as if he were sliding into first base. Improbably, he slid over the cube and hit the dirt running. "I wonder what it would be like to spend a day inside his head," said Run the Alps' Doug Mayer, laughing about the ridiculous stunt. "He's gotta see the world completely differently."
The madman is Max Romey, arguably one of the top trail running filmmakers. He's also a longtime friend of Run the Alps. My partner Jordyn and I were recently fortunate enough to get to know him, his remarkable video and artistic talents, his thoughtful and observant approach to life… as well as his personal battles with car-sized ice cubes and his well-known addiction to gourmet hot chocolate.
Constantly moving around the United States as a kid, Max never really found himself in a place he thought of as home. School was difficult, as he struggled with dyslexia, making reading and writing something that never came easily. Max felt drawn to the arts more than any other subject, because it was something that, as he says, "I couldn't misspell." It was a way for him to share his deep creativity, too.
An early interest in film-making and painting allowed him to live the dream. Or, at least, some quirky version of it that seems to perfectly suit him. The twenty-five-year-old's time is mainly occupied with global travel on assignment for Salomon Trail Running. During any given week, he is almost certainly either on a plane, editing a video, or chasing after athletes like Kilian Jornet or Courtney Dauwalter—camera in hand, naturally. Max says that, in order to film athletes of that caliber, "I have to run twice as fast. Of course," he adds, "They have to run twice as far!" Technical camera work, it seems, isn't the only thing Max is good at. He's got fast legs, too.
When we caught up with him, Max was in the middle of a mission around the world. Coming from a visit with Kílian Jornet and Emilie Forsberg (and Maui the dog) to document Emilie's farm at their house in Norway, Max was on his way back to the US to film The Western States Endurance Run… Oh, and along the way, he was planning to stop in Vermont to film the Catamount Ultra trail race. In the midst of those flights, he graciously added one more stop– Geneva, Switzerland and on to the Run the Alps home in Chamonix, France.
Max added Chamonix to the itinerary, so he could revisit the beautiful alpine trails and work on a joint project with Doug Mayer, who was writing a profile of Max for Trail Runner magazine, and also create video and photo content for Run the Alps. We suspected it might be a crazy week when Max told us that, "Cameras never show how dramatic something actually is, so you have to make it look twice as scary or challenging."
The impact that watercolor has had on Max's life was obvious as soon as we met. Walking to lunch, he had a small bag clutched tight in his hand. On the side, the bag features a shaded illustration of mountains. As we sat down at our table inside of Chamonix's L'Atelier Café, a popular gathering spot for both locals and tourists, he opened the bag and pulled out a sketchbook, a color palette, and his aqua brush. He opened the book to reveal pages of paintings, as he flipped to a blank card to start a new sketch. As our food came, Doug asked, "How can you carry a conversation with the three of us and still paint?" Max responded, "If I'm not painting, I'm probably not listening to you." Painting, in other words, has become his way of focusing on the world and immersing himself in his surroundings. Growing up with dyslexia, he used the activity as his way to say focussed. It calmed his brain. As he communicated with us, he was also beginning to communicate with the audience who would see the painting he was working on, as he spoke.