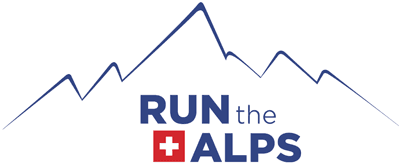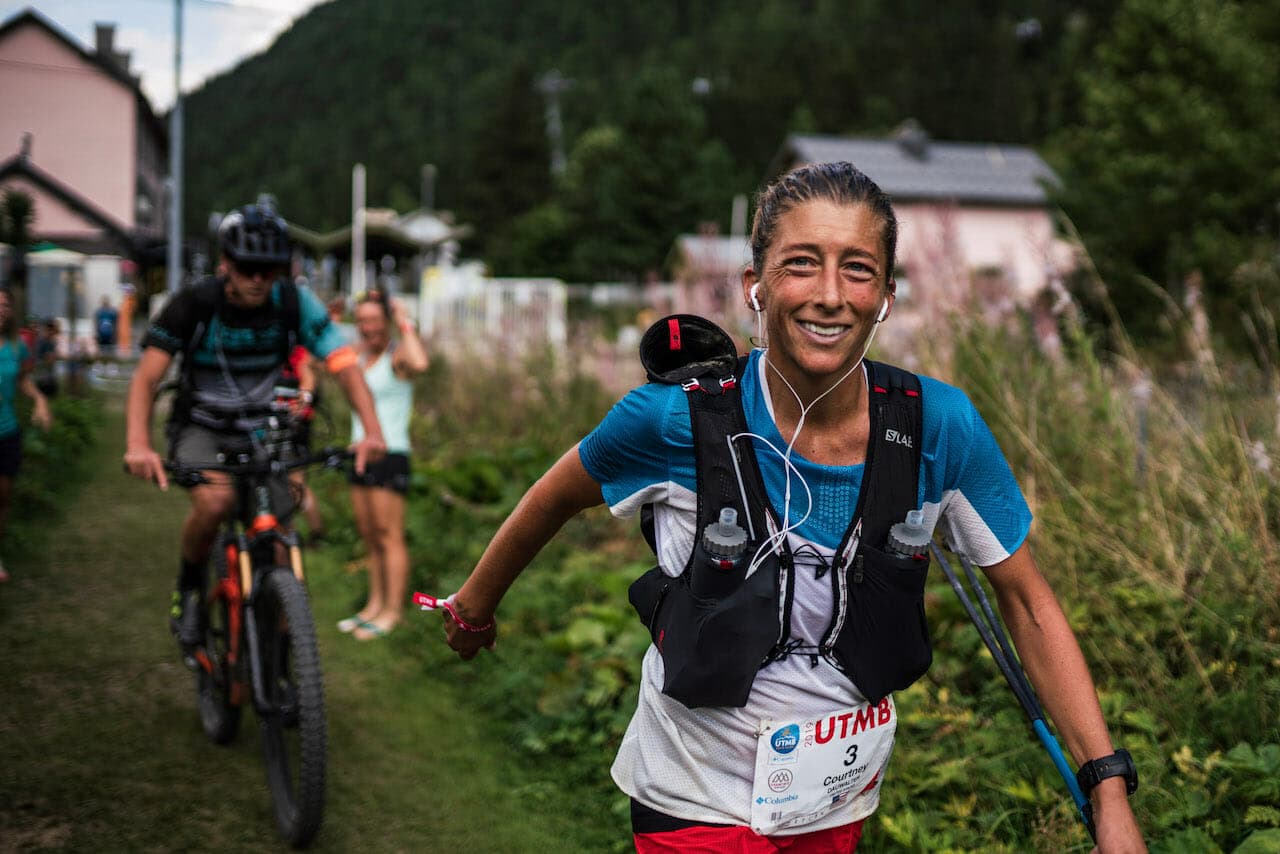 The Race that Changed Running: The Inside Story of UTMB®
The Race that Changed Running: The Inside Story of UTMB®
Book Preview and Interviews with Jim Walmsley and Courtney Dauwalter
Twenty years ago, a small band of runners came up with an idea: hold a trail race around the Alps' highest peak. A loop around Mont Blanc covers more than 106 miles (171km) through France, Italy, and Switzerland. They expected a few crazy souls would come out, but instead, more than 700 runners showed up. Running was changed forever. 
We have a talented crew at Run the Alps (okay, we're biased), and another one of our staff has ticked off a pretty cool trail running project. This one was behind a screen, not on the trail. Run the Alps founder Doug Mayer took a deep dive into the history and stories of Ultra-Trail du Mont-Blanc.® He captured the improbable story of how UTMB® became one of the world's great sporting events even as it set new limits of human endurance. The Race that Changed Running: The Inside Story of UTMB® tells the story of how the world's best runners, in the historic home of mountain adventures, brought about a revolution in running that has been felt across the globe. 
For this unbiased and inside look at the past, present and future of the UTMB®, Doug was given unfettered access to the UTMB® archives, and together with two wonderful researchers– Johanna Flashman and Jenn Hughes– they spoke to more than 100 people, from race organizers and winners, to experts and scientists, with those who love the UTMB® and those who hate it. The result is a book with more than 200 photos, maps and infographics that is the most comprehensive perspective into trail running's greatest race.  
(Congrats, Doug! Now it's time to get back to your Run the Alps work.)
Below, the publisher, Helvetiq, shared the stories from two of UTMB®'s top competitors, Jim Walmsley and Courtney Dauwalter.
Excerpted from The Race that Changed Running: The Inside Story of UTMB®.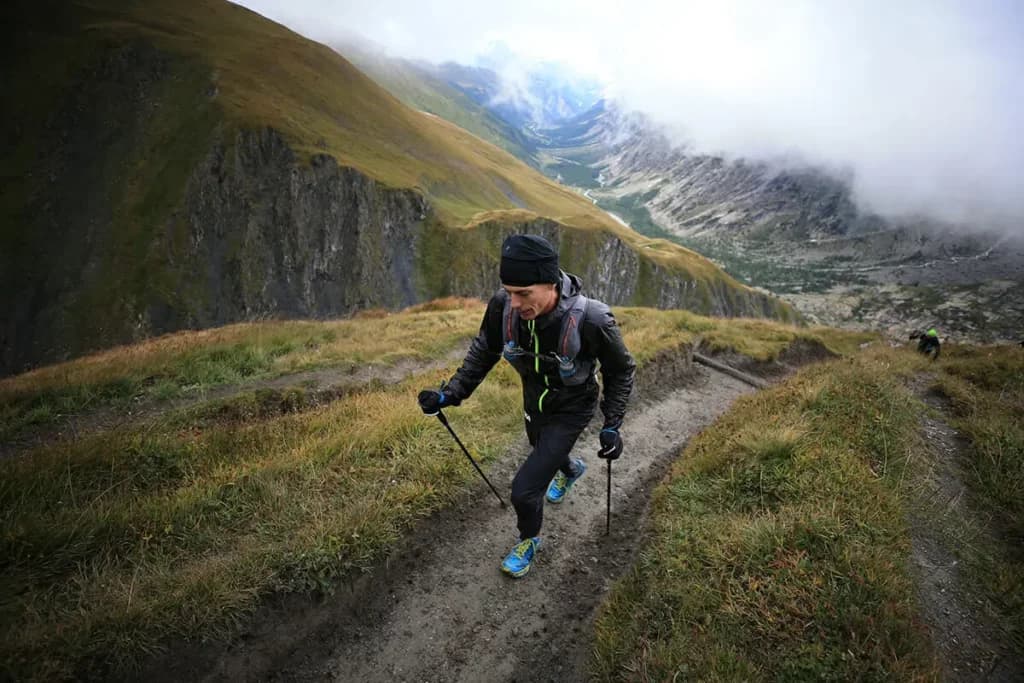 JIM WALMSLEY: "I SEE UTMB AS A CATALYST"
No elite trail runner in recent years has committed more of himself to UTMB than Jim Walmsley in his quest to win. After three attempts, the US ultrarunner from Flagstaff, Arizona, moved to France in spring, 2022, with his wife, Jesse Brazeau. The two now live in an old chalet in the quiet village of Arêches, in the Beaufortain region. They are within sight of Mont Blanc, but away from the bustle of Chamonix. In his fourth effort at UTMB, Walmsley landed in fourth place. Living in the Alps, up the street from four-time UTMB winner François D'Haene, Walmsley hopes to deepen his knowledge of Alps trail running.
For me, the UTMB fire was lit in 2016 after I started being pretty competitive in the U.S. trail and ultra scene. Although, ironically, I had actually been at UTMB back in 2012, when I was in Europe for a track race. At the time, I thought it sounded like the dumbest thing I had ever heard of—I wasn't into ultras yet—but I think I still kept the flier they were passing out.
When I first lined up for UTMB, it was only my third hundred mile race and my first time running with a headlamp, backpack, and poles. I was the fittest guy on the line, but that doesn't get you very far. There are different challenges at UTMB. At home, with Western States for example, I've solved that problem, I've learned how to "beat that course."
But at UTMB, I've lost by over an hour to others. So, other people have still figured it out better. I'm kind of addicted to trying over and over again to solve a problem. And I've also realized that the European mindset around training, mountains, and ultra is very different. That keeps drawing me back to UTMB.
I appreciate how European ultra runners are trying to solve the ultra problem from a different approach. For example, François D'Haene, who I really respect, his biggest effort before Hardrock was a 24-hour push on the bike. And that's not uncommon for the European elite.
In 2022, my wife Jess and I moved to France before the race. With all the challenges of moving, it didn't feel like an advantage. It was more like I was an American who came over early, rather than having time to really embrace the European thought process. Winter in the Alps is different, though. No winter running, just skis, so I've had to actually change how I train. I still don't know if it will work for me, or if moving to Europe will turn out to be just a dumb idea.
Either way, I see UTMB as a catalyst. It's a goal I'm using to help push myself as an athlete and as a person. It's a centerpiece that I am fixated on for now. I kind of jokingly say I'm not a good ultra runner because it generally takes me a few tries, but I am stubborn and I stick with my goals. And I think whatever problems I end up solving with the UTMB course will apply to the toughest mountain ultras in the world.
COURTNEY DAUWALTER: "OH, I COULD TRY SOMETHING HARD"
After having UTMB in mind for years, Courtney Dauwalter ran the race for the first  time in 2019 and took first place among women. In 2021, she came back and set the course record, coming in 7th overall with a time of 22:30:55. Here, she shares her thoughts on why UTMB holds such a special place in the trail running community and some of her most memorable moments.
UTMB came on my radar years before I actually went and did it. I got super into following the coverage online, tracking the names of runners who my husband Kevin and I know. I got to see how cool it looked out there—the glaciers, Mont Blanc, trail running in three countries. I spent three summers in a row tracking UTMB, getting more and more curious each time I watched. Finally I thought to myself, "I gotta get my feet on that course and see if I can even get around that loop!"
What makes UTMB unique is the cool mixture of all the things that make ultra running special. You get that solo vision quest in the dark, when you're running through Italy, picking your way through a boulder field in complete silence. Then you get to roll into Courmayeur or any one of the dozen other towns and soak up the excitement of an insane party.
One of my favorite spots on the course is Notre Dame de la Gorge. You're starting the climb up towards Col du Bonhomme and there are people lining the start of the climb, cheering you on. They create this long tunnel of people, and their only reason for being here is to cheer on us runners as we head out into the night. It's a great big send-off into the mountains.
Both times I have raced UTMB, I really pushed hard on the last climb up Col des Montets. It stands out for me. You can taste the finish line, but you're not there yet, and there's so much work left to get there. Both years I know I looked like a zombie. I felt like I was moving really slowly and like I had never run before in my life. I was tripping over everything. I was fully in the very back corner of the pain cave! All I could think about was the next step.
UTMB has made more people aware that ultrarunning is a sport. Plus, it's gotten people thinking that just maybe, it's something they can try. To have someone start dreaming and scheming of running a hundred miles when maybe eight years ago they didn't run at all or thought it was impossible, well, that's pretty cool. Getting more people thinking, "Oh, I could try something hard" and seeing more people getting out on the trails, I think all of that is positive.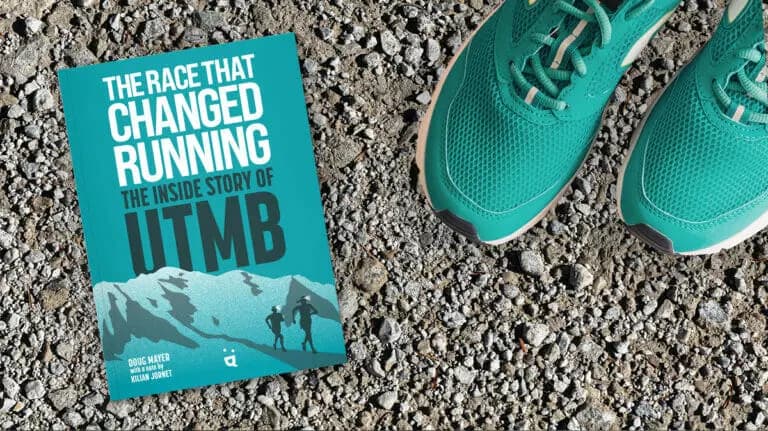 Buy the Book
The Race that Changed Running: The Inside Story of UTMB® by Doug Mayer with a note from Kilian Jornet is now available from Helvetiq and wherever books are sold.