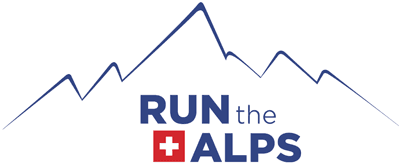 Run the Alps Adds Covid Medical Advisor, Dr. John Anderson
Run the Alps Adds Covid Medical Advisor, Dr. John Anderson
From the moment I started Run the Alps, safety has always been top on my mind. This isn't just because it's good business. I spent over two decades on a four-season mountain rescue team in the US. We saw everything, and more than a few of those dramatic moments– successes and tragedies– will be with me forever.
I want our guests to be safe and will do everything in my power to make it happen.
These days, that goes for Covid-19, too.
So, this winter, we've added a uniquely talented person to our team, Doctor John Anderson, who will lend his skills to Run the Alps as our Consulting Physician. John is an emergency room physician in Reno, Nevada and Assistant Professor at the University of Nevada School of Medicine, where he lectures and teaches. He's also Managing Director of Tahoe Wilderness Medicine and Medical Director for the Broken Arrow Skyrace, among many other volunteer commitments.
As you read this, there's a pretty good chance that John is treating Covid-19 patients. He's on the front lines.
John's much more than just a great doc, though. He's also a strong trail runner. Very strong. He finished 7th a year ago in the positively grueling 450 km Tor des Glaciers, in the Italian Alps. The race has (brace yourself for this!) 105,000 feet of climbing and descending. John has a long history of racing ultra-tough, ultra-technical ultramarathons.
Beyond the resume, he is simply a wonderful guy– smart, thoughtful, insightful and caring. You could not ask for a better doc. Nor could we. There's no one better qualified to ensure that our 2021 trips are as Covid-safe as possible. John will be reviewing and updating our Run the Alps Covid protocols this spring, and will be training our guides to ensure that your trip with us is as safe as possible. In talking about a general approach to the global pandemic, John shared this outlook:
I think you've got to be nimble. How you address big things is going to change. The right policy for now won't be the right policy come this summer. There are some broad principles to which Run the Alps should adhere, but a lot is going to depend on the availability of testing and an effective vaccination come summer.
We have much more on that very topic, plus how Covid is impacting runners, in a discussion I had with John recently.
Here's what he had to say.
— Doug Mayer, Founder, Run the Alps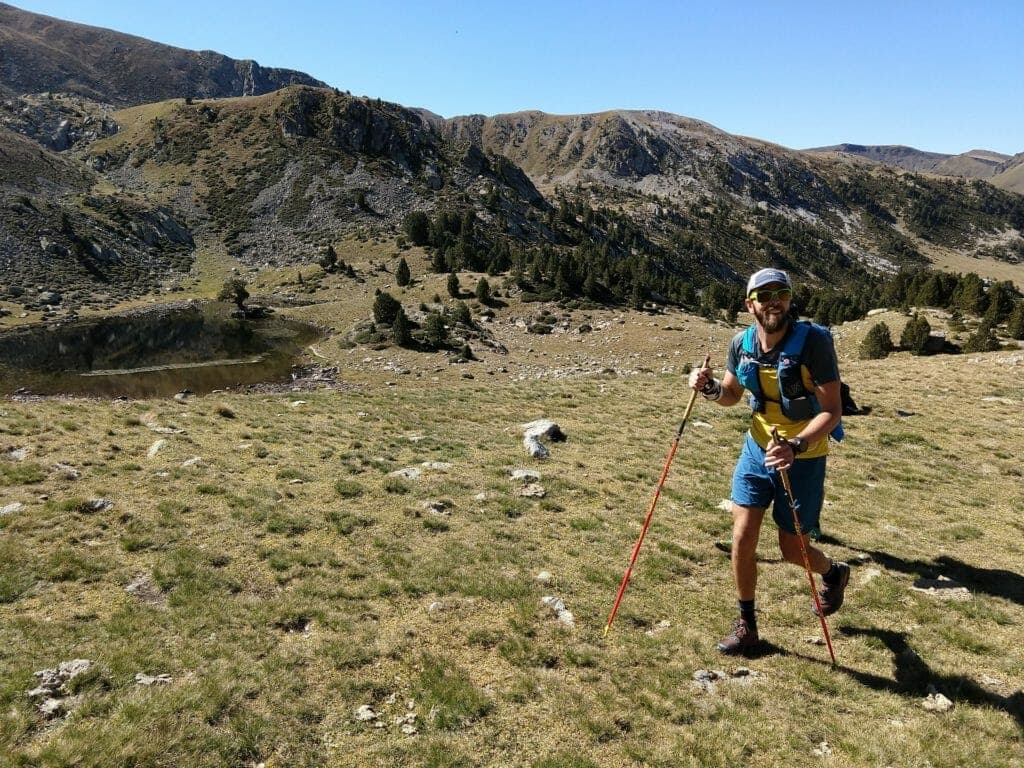 Doug: Before we talk trail running in the Alps, how are you doing? How are things in your Emergency Room?
John: It's definitely busier than we've ever seen it and about 80% of what I see is all Covid related.
Overall, I think our hospital system has done a pretty good job. We've got all the personal protective equipment that we need. We took over our hospital's parking garage and built it into an extension of the hospital. It can hold 700 beds. We had to use it at the peak of our biggest surge. We're not using it now, but it's there if we need it.
Doug: Run the Alps was among the first tour companies to cancel its 2020 tours. We simply thought it was the wrong time to be encouraging people to try to travel. We did have a few regional guests who went out on trips, but that was the exception. Now, we're hoping to restart trips. How optimistic are you that we'll be able to have our Run the Alps trips this summer?
John: I'm optimistic. Things are going to be pretty decent by summer, at least not worse than they were this past summer.
There are ways to operate safely and do things in a responsible and safe manner. The vaccination strategy is also going to allow greater freedom.
Summer seems like a reasonable goal, to get the high risk folks vaccinated and a lot of others, too. I'm pretty confident that there will be travel and low-enough spread that things will be much looser than what we've been experiencing.
Doug: This past summer– before you came on board as our Medical Advisor– our Covid safety protocol recommended that guests keep a meter and a half of space between each other when on trails, wear masks at other times, and wash their hands regularly. We also asked our guests to report any Covid-19 related symptoms if they arose. Going forward, as we continue to learn about the transmission of the virus, what do you envision for Run the Alps for summer 2021?
John: I think what you had last summer was a good place to start. Mask wearing, frequent hand washing and spacing are important, as is letting the company know if they are experiencing any possible Covid symptoms. Going forward, if guests have been in a high risk situation, then they need to stand up and let the guide know. It requires personal responsibility. One thing that is changing is that testing is more widespread and cheaper now. If everyone gets tested before a Run the Alps trip, that adds a layer of protection. For example, I've talked to a couple of guides who took people on week-long rafting trips last summer, and they did pre-trip tests for both guides and guests.
Doug: I think I see where this is leading. Are you suggesting that, as we head towards next summer, we should be asking our guests for proof of a negative test before coming on a Run the Alps trip?
John: Absolutely. And again, it can't be your only strategy– meaning that we can't have the attitude of, "We're just going to test everyone and then we can do what we want." There are a lot of tests under a hundred bucks and some are free so it doesn't seem an unreasonable thing to do again once people are actually on the trip, also, just to provide a little more peace of mind for both guests and guides.
Doug: I recently traveled from here in Chamonix, France to the US and back. I was required to get a PCR test in each direction. In the US, I scheduled the appointment online, drove in, rolled down the driver's side window of my car and had the results in 36 hours. It was just as easy here in Chamonix.
John: It's often as easy as that. Plus, now there's even some innovative things happening with tele-health. You can sign up for a Zoom appointment and a nurse will watch you do the test. You show them your ID on the computer and they watch you to make sure you swab deeply enough.
Doug: That's pretty cool, and I imagine will in its own way help reduce spread. Transitioning a bit to the trail running community, how at risk do you think trail runners are compared to the average person, of getting very sick from the virus?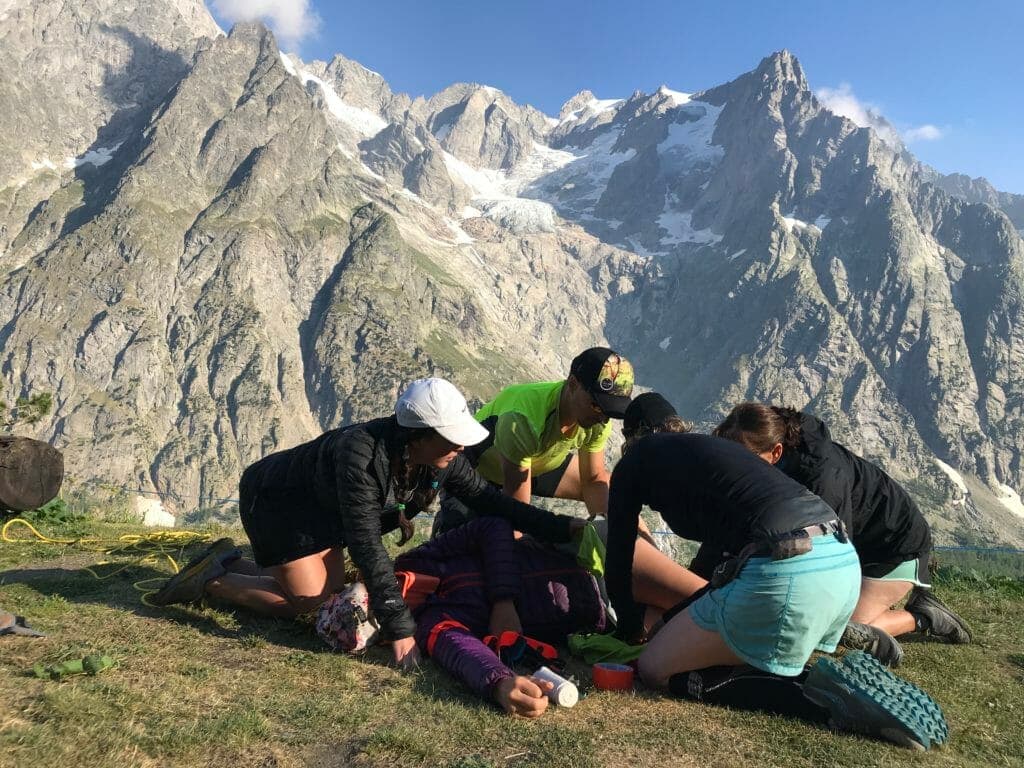 John: Compared to last summer we have better data now on who the disease affects more severely. For most of what we've seen, the bottom line is that folks who have a moderate degree of fitness are going to do better. Your average trail runner is going to do better and not have the disease as severely as others. They may not even get that sick at all. The blood markers we've found in people who run on a regular basis tend to attenuate some of the bad blood markers that we see in people with really severe cases of Covid. Of course, there are some very fit and healthy people who do get really sick or have longer term side effects.
One other thing to consider, is that trail running outside also isn't the highest risk activity. Outside is a good place to be.
Doug: I know you've just been vaccinated. What is your take on the vaccines?
John: I'm pretty encouraged by what I read. I think the more promising ones are Pfizer and Moderna. They have been remarkably effective in their studies and have few side effects. My sense is that most people who want to be vaccinated probably will be able to get their shots by or in the summer. I think the difficult part will be getting everyone who doesn't want to wear a mask to get vaccinated. But if we get enough people vaccinated, alongside social distancing and the other measures, I think it will just beat it down to the point there won't be enough viral spread to keep it going.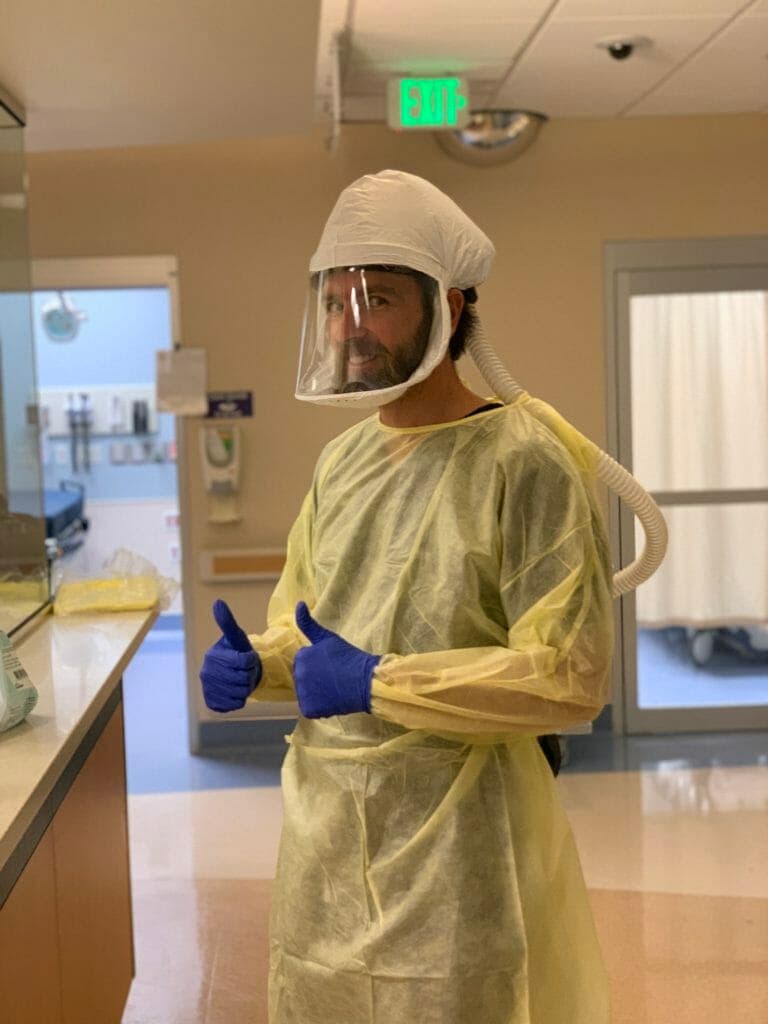 Doug: From your vantage point, how is the vaccination rollout looking?
John: With something like this, on such a large scale, we're going to learn as we go. There have been some hiccups, but we're improving already. We seem to be figuring out how to distribute the vaccine effectively and quickly. Better overall federal leadership will be helpful.
Doug: You just got your second vaccination shot recently. How did that go?
John: I had it a few weeks ago, and I feel fine. My arm was a little sore. I noticed my resting heart rate was up a little bit, but the only reason I noticed that is because my watch tracks my heart rate, and I happened to see the number. After the second shot, I maybe had a little fatigue, but not much else. I went skiing all the next day, so it wasn't that bad! Some people report feeling bad for a few days. But for most people it's pretty well tolerated. Everyone is different.
Doug: Can you tell us about the science behind the vaccines?
John: The science is pretty cool. It's not coming out of nowhere. They've been working on this technology for decades, and had it available for use during the past eight or nine years. The nice thing about the mRNA vaccines is that you can produce them more quickly. It's not like a traditional vaccine, where you have to grow it in culture.
There's more vaccines coming online, too. Here in the US, we have the Pfizer and Moderna vaccines. Janssen and Astra Zeneca are coming, too. There are also a number of other vaccines around the world, that are out now or coming out in the near future.
The science has been inspirational, but the implementation so far has been less so. Hopefully, that is about to change.
Doug: I know you work with the state public health commission to encourage people to get vaccinated. What do you say to someone who is hesitant?
John: I always stress that people should be getting their information from reliable sources. You can't always trust social media.
Demonstrating the safety of the vaccine is important. Fortunately, the data is there to support the safety of these vaccines. The science behind it is good. With every vaccine that's been developed, any of the bigger, longer term side effects have been seen within 3-4 months. We're past that point already with these vaccines. Now, that doesn't guarantee that there are not going to be any long-term side effects, but if our past experience is any indication, we should be okay.
When you weigh the risk and benefits of getting the vaccine, there is clearly much less risk getting the vaccine.
Doug: We're seeing some reports of long-term pulmonary impacts from Covid infections. Can you tell us about that?
John: That's definitely a concern. Some long-time marathon runners are not able to run a mile, eight months after infection. We see a high percentage of x-rays coming back showing pulmonary changes. There's a not-inconsequential number of runners who are young, healthy, and short of breath. We don't know the long-term prognosis.
Doug: Are the treatments coming along for people who do have severe illness from Covid?
John: Whether it's Dexamethasone or some of the other monoclonal antibodies that are out there now, there's no magic cure. But thanks to a combination of therapeutic treatments, mortality has gone way down in hospitals.
We've also figured out to put fewer people on ventilators. Ventilators are really bad for people with Covid. I don't remember the exact figures, but back in spring maybe 10-15% of people who came into the hospital needed to be put on ventilators and maybe 80% of those people were dying. Now that number is closer to 20-25% of people who are on a ventilator end up dying. We're much better at treating patients. Now, we know what the worrisome things are.
Doug: It's interesting that the mortality rate has truly gone down, it's not just a function of the fact that they were only testing X percent of people before and the sick ones were skewing the numbers, which is the argument a certain former US President likes to make.
John: Yeah. The testing contributed some to the overall numbers in the community, but that's obviously not the case when we're looking at hospital numbers and mortality. Now we've got a government that is going to support science, which the Centers for Disease Control is quite happy about.
Doug: Back in March, I don't think any of us really expected a vaccine to be along this soon. I remember being pretty scared. People were sick in Chamonix. There were people in my building with Covid and we were all leaving packages 24 hours before touching them.
John: We have a much better understanding of spread now. Becoming sick by touching contaminated surfaces is much less high risk than we originally thought. So, for example, hotel rooms aren't the highest risk for spread but being in a hotel restaurant with fifty people? That is.
We now know that you need something like 1,000 infectious particles to get sick. So, being outside helps a lot.
Doug: John, thanks for your time. We look forward to developing a great policy with you for our guests and staff, as the summer gets closer. In the meantime, know that we are thinking of you and we all have one heartfelt message for you: thank you and be safe.
We'll see you here this summer.
John: Great! See you in Chamonix. Be well over there, too!