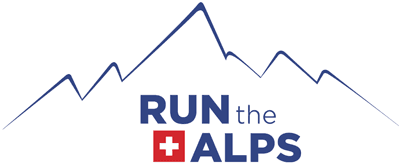 Run The Alps' Zermatt Matterhorn tour: The View from "Down Under"
Run The Alps' Zermatt Matterhorn tour: The View from "Down Under"
We love sharing stories of trail running in the Alps, and particularly from participants on our Run the Alps trips. Here's one such story – courtesy of David Lipman, from Gold Coast, Australia. David joined us this summer for our guided trip, trail running in Leukerbad and Zermatt, Switzerland – including a chance to run in the Matterhorn Ultraks trail race series. When he's not trail running, David is a doctor, podiatrist and exercise physiologist.
Firstly I will say this: I could not recommend this trip highly enough. It was an amazing adventure and I could not have asked for anything more!
I absolutely loved the touring party and our guide Simon, and swiftly found myself out running trails with a group of mates. Run the Alps had organized a trip that was anything but a clunky, awkward tour. Running terrain included plenty of dirt, rocky technical terrain… and even some ice!
Coming from Australia, trail running is slightly different compared to Europe. I'll tell you the differences that caught my attention.
On arrival in Leukerbad on day one, I immediately noticed that I was the only person in town without hiking or trail running poles! Everyone, including elderly walkers, seemed to own them, using them in place of walking sticks. At breakfast on day two – our first day of running – my anxiety was quickly allayed as Simon mentioned he had spare poles for all of us. Success! Now, I just had to figure out how the hell to use them. Fortunately, a quick lesson on trail running with poles preceded the first day's trip… and then off we went.
I was putting along merrily until I bumped the pace up and started revving rather high. I swiftly found myself out of my comfort zone. The altitude monster had got me. Not to be discouraged, I continued more slowly and found myself happy in a comfortable rhythm. Then, the next comfort zone-aborting moment came; a BIG climb, loose underfoot and on the side of a cliff. I wasn't in Queensland anymore. As expected, the top of the climb yielded some amazing views of what was already a phenomenal backdrop!
We proceeded up to the Lämmeren glacier and to my amazement I was suddenly stepping on… ice. Feeling somewhat biblical, I continued up for even more amazing views and a breathtaking experience, capped off by drinking some of the coldest, tastiest water ever.
Returning to the cable car, we were given the option of descending the world-famous Gemmi pass, or a return trip via what Simon has cheekily nicknamed, "the sweatbox." I chose the first option and descended. Boy, did I descend. Fifteen minutes in, my quads were shot and I was hanging onto the poles, loving every minute of the epic descent and unbelievable views!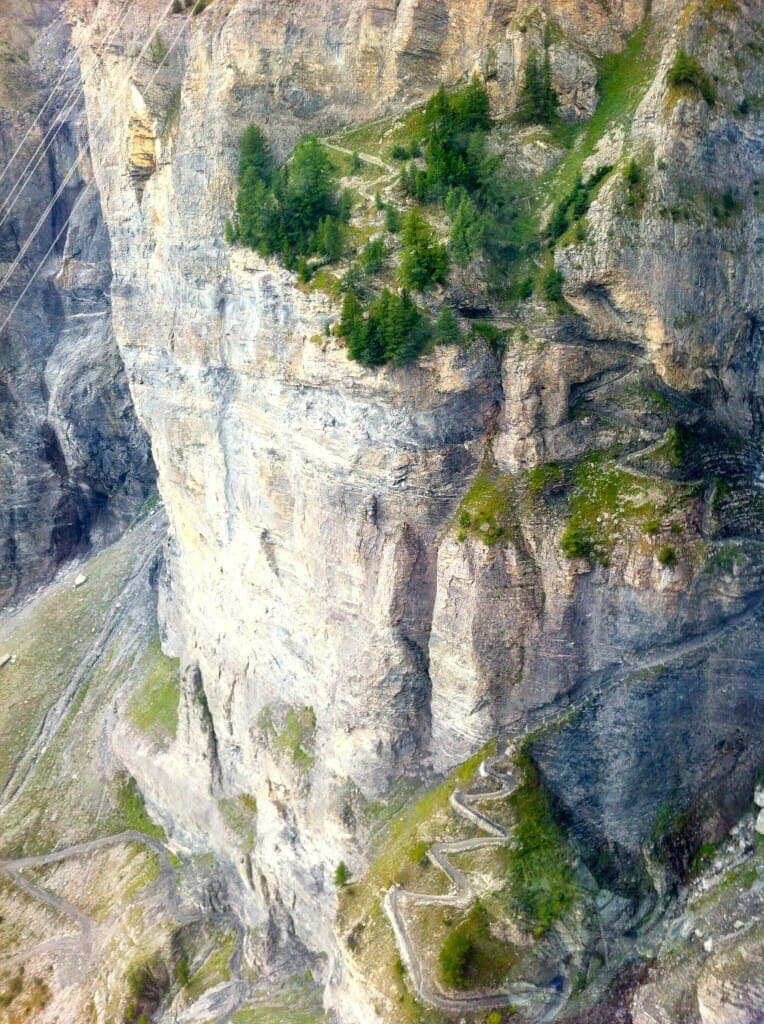 We had a few hours off after the run, then dinner in a local restaurant – and we were done for the first day's running. I was in fairly good shape and happy I had managed it.
The next morning yielded a quick trip to Zermatt, on a train ride that was breathtaking. We had unrivalled views and I had great conversations with my tour companions.
Lunch was devoured and we were off, up a huge hill. The day was a short running one but big with regards to climbing, with plenty of vert. I managed to climb well – a nice surprise, considering the descent I had ticked off the previous day.
Day three, and we were off for a fairly substantial run. This was also the day the descent from the Gemmi pass finally caught up with me. Stunning views and scenery abounded, not least of which was view after breathtaking view of the Matterhorn. The big climbing continued as did the great food and accommodation!
Happily, the week continued in this way. Namely, great food, great company and in Simon we had a guide who was always accommodating to different needs.
Saturday loomed large: the Matterhorn Ultraks 30 km trail race had my name written all over it. I was fairly confident in my ability after a recent 30km race that had gone quite well. I'd become accustomed to using trail running poles and was acclimated to the Alps. But perhaps I should have been a little more weary and apprehensive?
The starting horn went off and the runners took off to the blaring sounds of the "Red Hot Chilli Peppers" – a personal highlight!
Nearing the top of the first climb was a big hairpin turn. All of a sudden a bunch of guys stepped off the trail and started peeing, not behind a bush or tree and less than 5 km from the start. That's NOT something you'd find in Australia!
I was confident I could stay mid-pack and walk the hills as others did, but I found myself a little further forward, running a fairly tough hill. I continued to run, thinking that if European trail runners were doing so, I could too. I was wrong! But, thankfully I eventually used some discretion and started walking the climbs later in the race.
As the race progressed, I realized I needed to make sure I ran within my abilities and stuck to a rough plan, or I would be in BIG trouble. The course was much less homogenous than I am accustomed to in Australia, with a variety of climbs and descents throughout.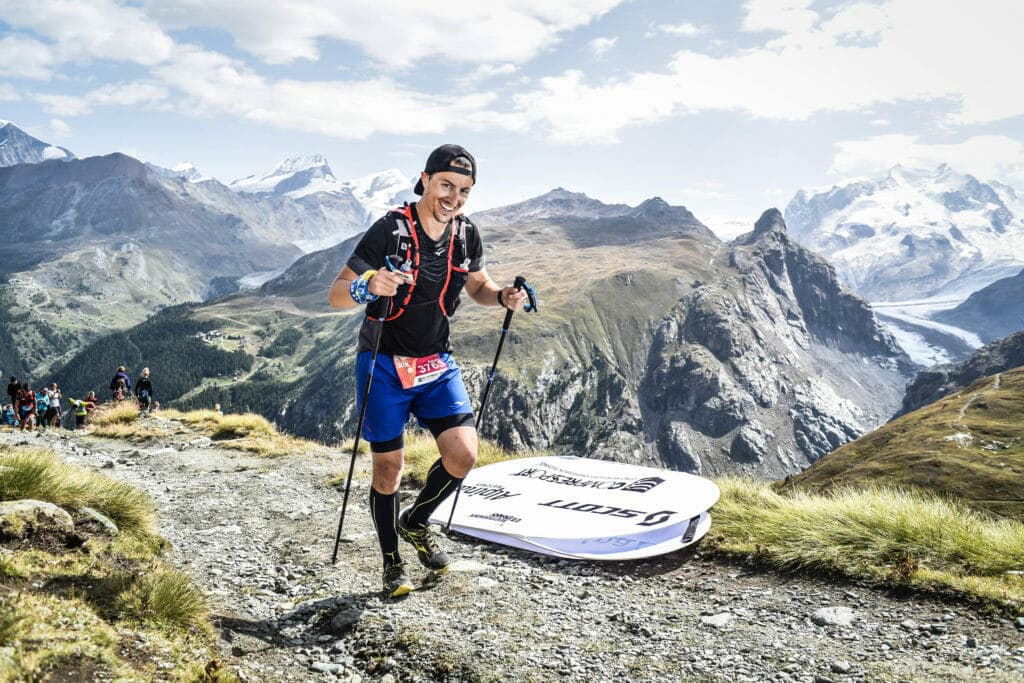 I noticed a lot of local runners were not carrying much gear. (I was carrying one litre of water, gels, and my poles.) In fact, there were no mandatory equipment requirements, which is a little out of the norm for trail races "Down Under." (Editor's note: It's also atypical for the Alps!)
The first aid station showed me exactly why that was. As I approached, there must have been 20 people standing around inhaling a wide range of foods. I cruised past them all and bombed down a big hill, only to be passed by a few as I descended. Europeans can really run – especially downhills.
The race continued this way, until the big climb up to Schwarzsee. Thankfully, we had done a fair bit of course reconnaissance as part of our tour. It proved a great help during the race, and also really helped me appreciate the surroundings. I knew this climb would be tough: fifty minutes of fast uphill hiking and blazing sun later, I was still impressed by how tough it was!
From there the fabled "hurt locker" continued, as I descended phenomenal trails back to Zermatt. I powered through the finishers' chute, only to find Simon taking photos. Afterwards, he swiftly followed up with a celebratory beer.
I highly recommend both Run the Alps and the Matterhorn Ultraks Tour specifically – including the race.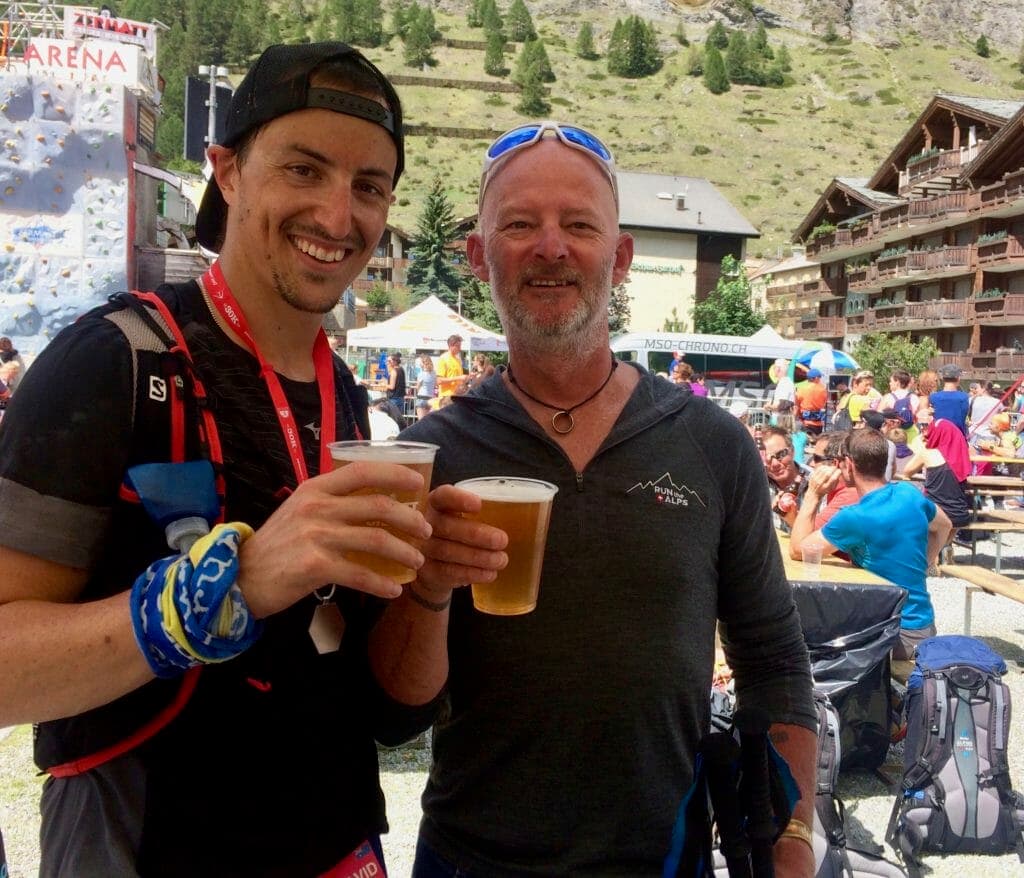 Here, then, is some advice based on my experience trail running in the Alps:
1) Everywhere is a toilet. (At least if you're peeing!)
2) Modesty shorts aren't a thing; leery compression gear, without any extra coverage on men is "game on" for European trail runners.
3) Local Alps trail runners are mountain goats.
4) Aid stations are buffets based on the food pyramid in the area; 90% of which, if you're in Switzerland, consists of dairy and bread.
5) Here's one of the secrets for successful trail running in the Alps: The vertical is unlikely to be runnable – even by the likes of Kilian Jornet. So, happy fast hiking!
6) Trail running poles help. Learning to use them is a good skill to acquire for your trail running quiver of skills.
7) Having a good training base will help a lot! Likewise, getting some vertical gain and hiking steep hills will help.
8) Races in Europe are a huge party. You will never feel like a bigger rock star or better supported. Expect cowbells, Alp horns, and lots of yelling in a language you might not understand!
9) European trail runners race for keeps: I know what "on your left!" sounds like in at least four languages.
10) Staying on the trail is optional. In the Alps, you're allowed to go straight up the fall line, rather than following the switchbacks. In fact, it seems to be the default for local runners.
Enjoy!