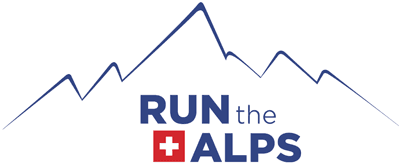 Running the Alps… In Your Words
Running the Alps… In Your Words
As Run the Alps has grown these past few years, one of the most enjoyable parts of the job has been sharing my enthusiasm for trail running in the Alps. It's just a ridiculously beautiful and happy experience, in so many ways. If you love to trail run, I hope you get to visit at some point in your life.
Each fall, I get to share some of the same enthusiasm from our participants, too.
It's gratifying to know how much our clients have enjoyed their time in the Alps — and it's great to get their suggestions for making our trips even better. Thank you to everyone who shared their feedback!
Here, then, are a few comments from this season's guided and self-guided participants.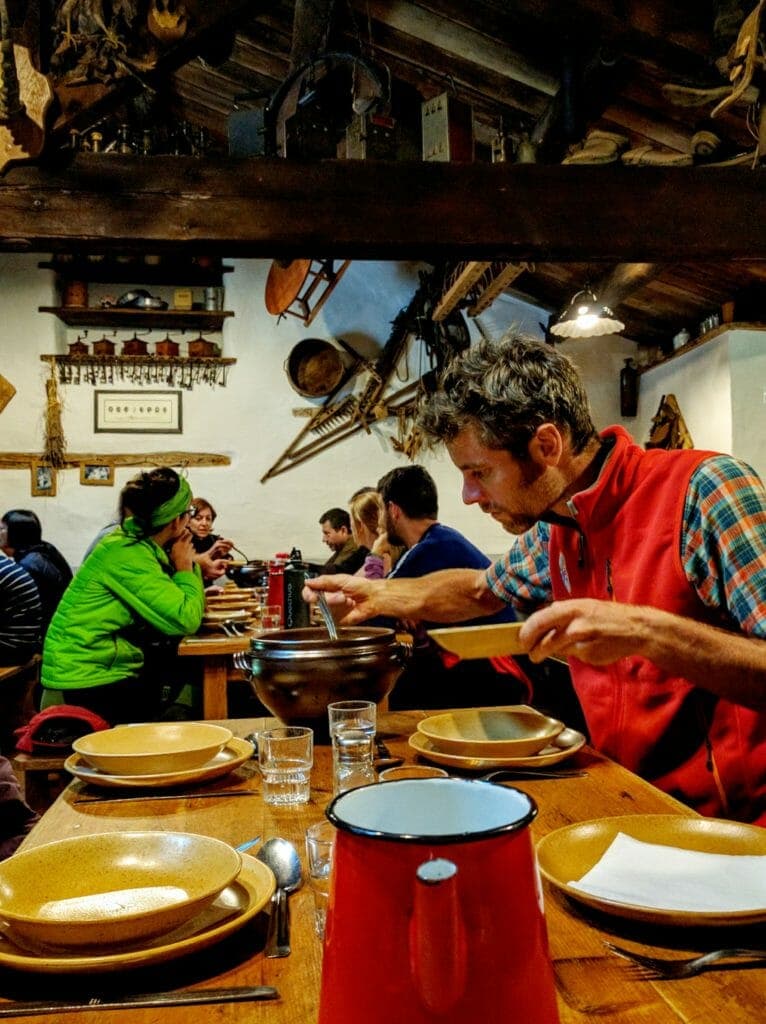 Run the Alps 2016 Trip Feedback
"This was the most stress-free vacation I think I've ever had. Everything was planned out meticulously for us. Pretty much all we had to do was show up and start running. The choices for the hotels and inns were perfect. We enjoyed each of them and the amazing rooms you chose for us. Really can't say enough good things about that. The detailed routes were also fantastic and easy to follow. We never were in a situation where we felt lost or without options for lunch."

"My favorite moment was having lunch and a cold beer at Refuge de Miage after a hammering descent from Col de Tricot. Amazing view of the valley and coupled with the heat, an ice-cold beer was glorious. The short climb afterward however made me slightly regret it!"

"Pre-planning was excellent. As were the two guides — Brant and Allister were awesome."

"I enjoyed Grindelwald as a base and enjoyed our stay there a ton. The hotel was friendly and we had a gorgeous deck to soak in the views. It's hard to rest when you know there is endless trails of fun just a quick ride up to First." 



"Run the Alps took care of everything, so we could just focus on running and enjoying the mountains."

"My favorite moment was staying at Les Chambres du Soleil in Les Chapieux. Absolutely delicious dinner and warm hospitality from Pierre and family. Met two other TMB runners who were training and had quite a few drinks before a semi-hungover run the next morning!"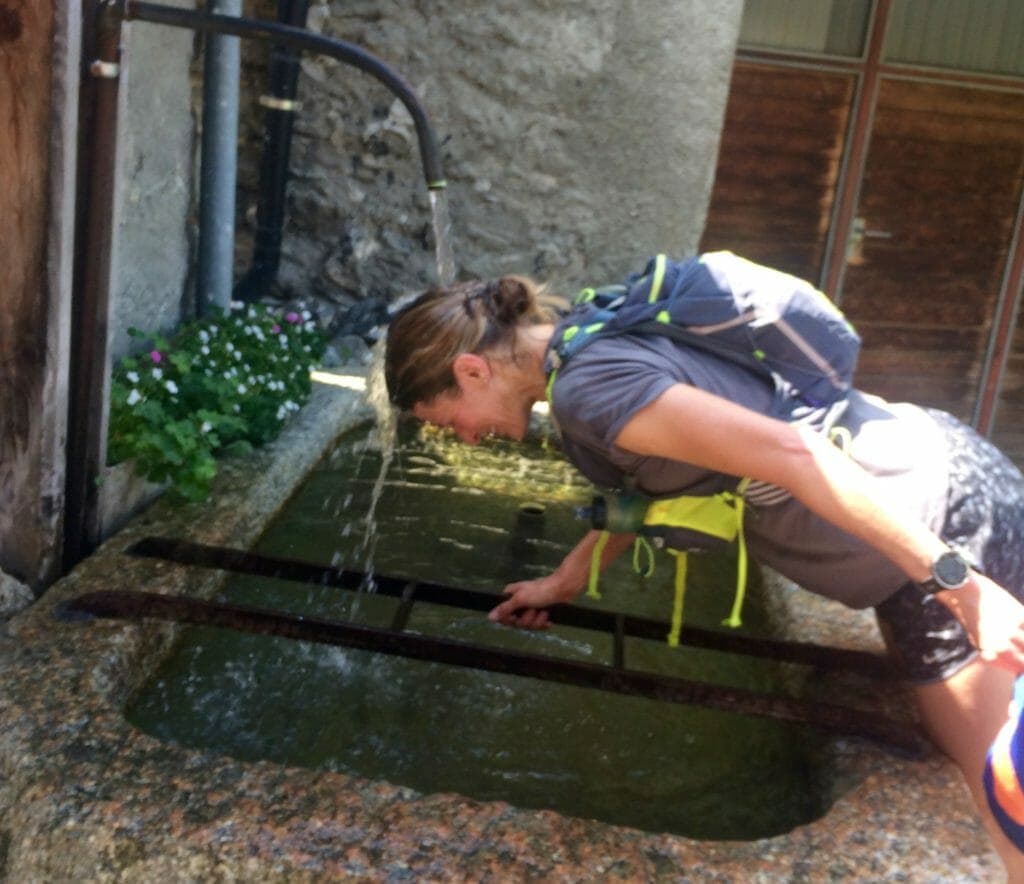 "The organization around the luggage was terrific. The hotels were all very good; the written instructions day by day were quite useful for navigation; the local pages for each overnight stop in the hotels-pack were pretty handy too."
"Very well planned out, smooth and stress-free. Could just get on with running and absorbing as much culture as possible!"
"Loved the location and the running routes. Simon and Brant were fun and helpful guides."
"We had a great place to run. The guides were helpful and down to earth people. The food was top notch. The Park Hotel at Beau Site was worth every penny. Since I work in the hotel business I can appreciate what goes into service. I loved being on the trails, but it was also nice to come back to a great hotel."
"Simon was very experienced and funny. He had a lot of good energy and advice — along with a few stories."
"This was a trip of firsts and I loved every minute of it. First trail running trip — first time in the Alps — and first time using a service like Run the Alps. 

The flow of the itinerary was perfect with a mix of nice hotels and rustic one of a kind stays. The information provided for the hikes was easy to use and gave us lots of context so we could adequately prep for each day — making planning restroom and food breaks effortless."
"Coming into Maison Vieille was my favorite moment of the trip. That stretch of single track leading up to the hut was spectacular. Amazing views and perfect running!"


"The best part is feeling like we're connected to this awesome community of trail loving runners. 

Overall, I was delighted and challenged and have gained some incredible experiences that are probably going to shape my training goals for the coming year."
"Fantastic scenery, challenging course, awesome leadership from our guide Simon. Great group of participants."
"Top of the list was the run from Lauterbrunnen to Obersteinberg. Approaching that steep valley getting ever closer to the waterfall was unreal and so gorgeous. I think that entire ascent was fueled by the massive amount of cheese I ate in Trachsellauenen. And our stay at Obersteinberg had all the good parts of being in a remote place while providing an abundance of creature comforts – warm blankets – candlelight feast – cold beer and those views!"
"Murren was unreal. I loved the low number of people that were there due to its relative inaccessibility."
"Schwarzwaldalp, Obersteinberg and Grindelwald were favorites. So many great trail running in those areas and the inns at each were very cozy. We loved Hotel Gletschergarten and the two extremely friendly owners. Obersteinberg was a dream and the trail running there was mind blowing. We stopped so many times to take pictures and to soak it all in. I don't think I'll ever see a more beautiful place in my life."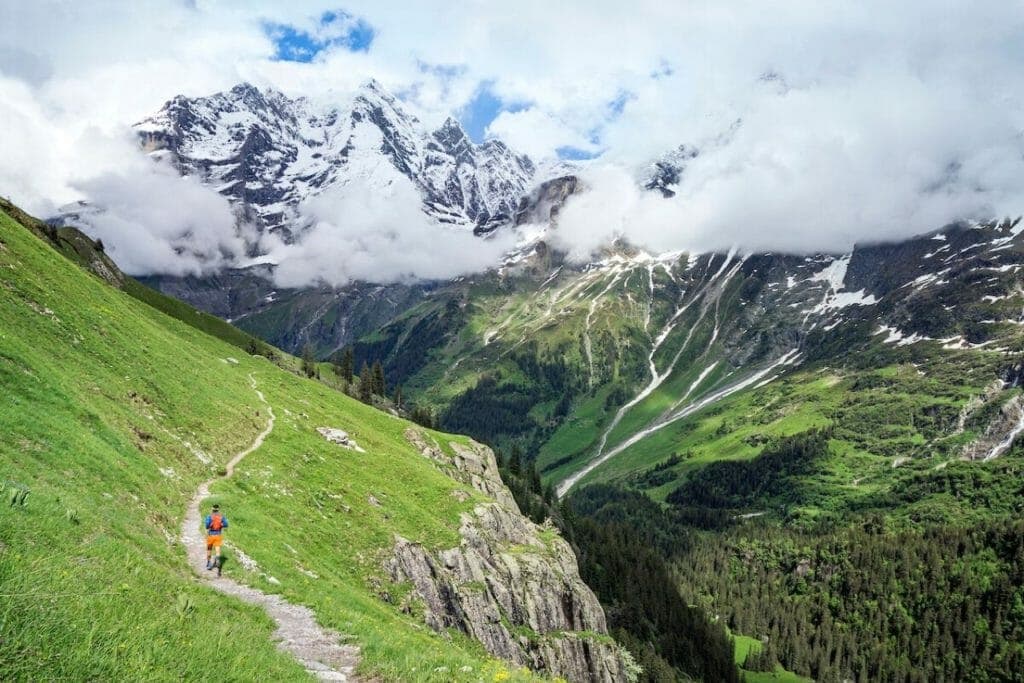 I owe enormous thanks to the guides and staff who made it all work, and most notably Alister Bignell, Simon Conroy, Mike Cullen, Troy Haines, Mara Larson, Abby Strauss-Malcolm, and Bruno Yates. We've got something very special happening here, and you're a big part of the reason why. Thank you.
On we go. I'm already looking forward to 2017!
Oh, and if you want to join us, check out our trips. We're here.