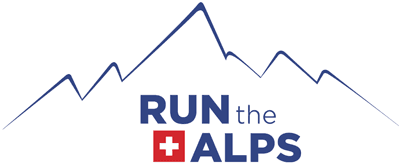 SBB CFF FFS Explainer: How to do It
SBB CFF FFS Explainer: How to do It
There's only one way that public transportation in Switzerland could get any easier: if the country assigned a personal concierge to each traveler. (Note to transport officials: I'm willing to help test the concept!)
Still, traveling around any foreign country can be a challenge — particularly if you add in five or six hours of jet lag, a half-hour of turbulence, and a passenger in front who decided to recline his seat into your solar plexus.
So, to help you get around, we've pulled together this explainer, along with a few pro tips, thanks to something like 500 or more rides over a few decades. After all, like any transport system, SBB CFF FFS, the Swiss federal rail system, has its own unique little surprises.
Ready to go for a ride? Great! Let's follow Ticia on her travels from Zurich Airport to Chamonix, France!
(Oh, and before we get started — to answer your first question, SBB CFF FFS stands for Schweizerischen Bundesbahnen (SBB), Chemins de fer fédéraux suisses (CFF), Ferrovie Federali Svizzere (FFS). In other words, "Swiss federal train" in German, French, and Italian.)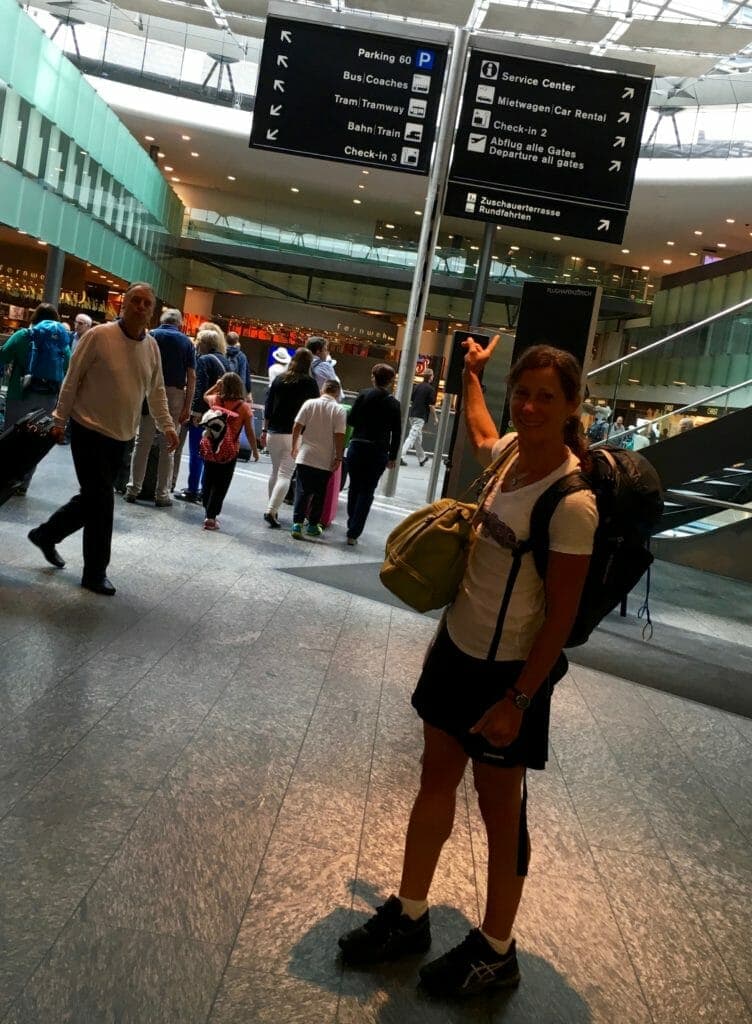 Step 1: Ticia's just arrived at the Zurich Flughafen, or airport. Time to find SBB. Just follow the signs. In the Zurich Airport, SBB is downstairs. (Geneva airport is just as easy: take a left as you exit customs, and you'll see the signs. The rail station is connected to the airport.)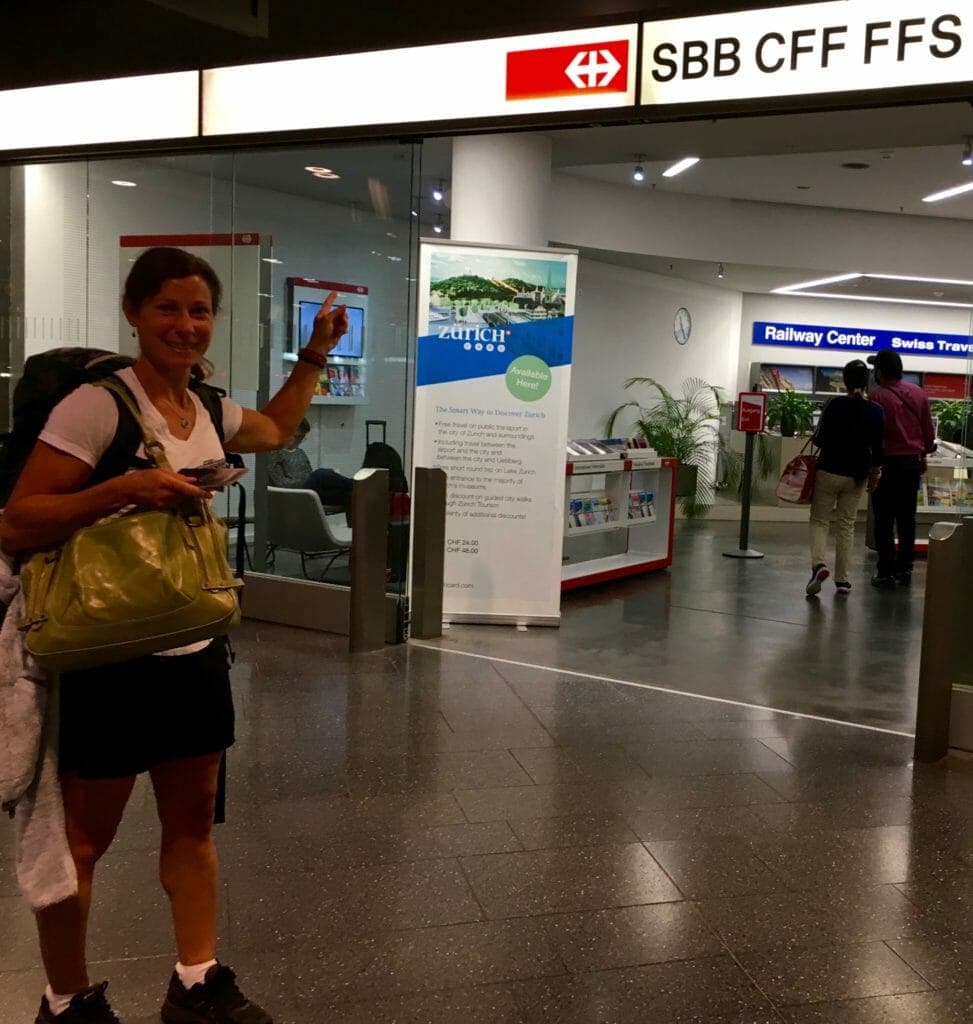 Step 2: Time to get your rail ticket! Stop in at the airport SBB Travel Office and talk to an agent for assistance. You can purchase your ticket there. They'll print out a helpful itinerary for you, and point you towards the right track.
If you are doing additional travel within Switzerland before or after your Run the Alps trip, it might make sense to get a "Flexi" rail pass — it will entitle you to a fare reduction on trains and the Swiss PostBus service — as well as substantial discounts on many other forms of transportation. There's a wide range of passes, and offers change regularly, so discuss options in person at the rail office.
Pro Tip: If you like apps, SBB's travel app is a great one. You can check timetables and buy tickets. And, many of the train stations offer free Wi-Fi.

Step 3: Check your printed itinerary. You'll see all kinds of information there, including each train's arrival and departure times — even the track numbers you'll need when changing trains.
Pro Tip: Please be aware that train times are expressed using a 24-hour clock or what's sometimes referred to as "military time." For example, a train leaving at 14:00 means 2:00 p.m.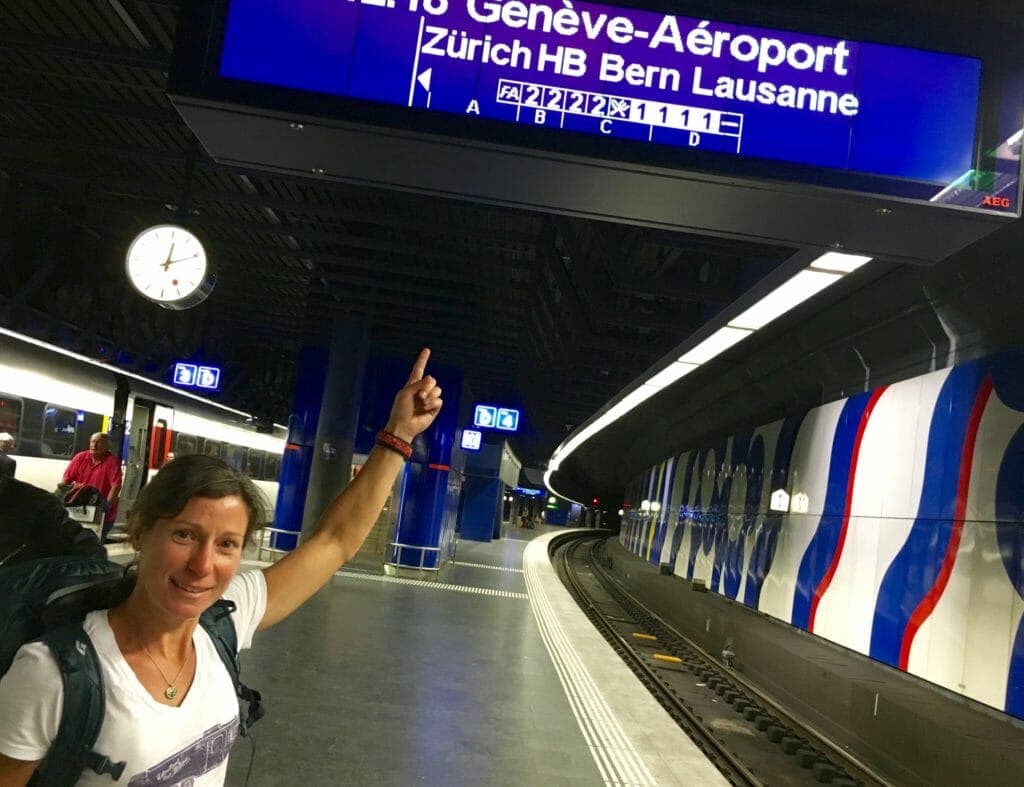 Step 4: At the track? Check the incoming train sign for loads of details. It'll tell you the destination of the train, major stops en route, arrival time — even the sequence of the cars on the train, including first class, second class, and the restaurant car if there is one. You can make getting onto the train even easier by standing in the sector of the platform (A, B, C, or D) that corresponds with first class or second class, depending upon the class of your ticket.
Pro Tip: If the train is crowded and you're willing to spend a few extra francs for a snack or meal, head for the restaurant car. It's often very quiet and feels luxurious. (Our advice? Spring for the cheese plate and enjoy a sampling of cheese from around the country.)
Step 5: Got baggage? No problem. SBB is ready for it. On Intercity trains, there's a handy luggage rack as soon as you head upstairs to the second level. On single-level trains, you can usually find a luggage rack for large bags and suitcases at the end of the car. In general, most travelers are content to leave their luggage out of sight in these areas on the train, as they travel. Smaller bags or backpacks can be placed on the overhead rack above your seat.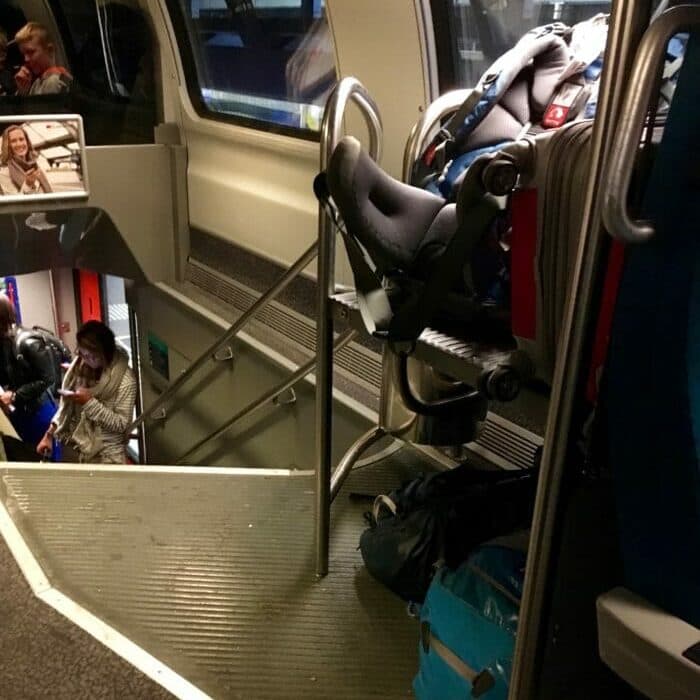 Pro Tip: On many trains, there's hidden baggage space behind and between sets of seats, that will accommodate most bags. Want to act like a longtime Swiss resident? Just toss your bag there.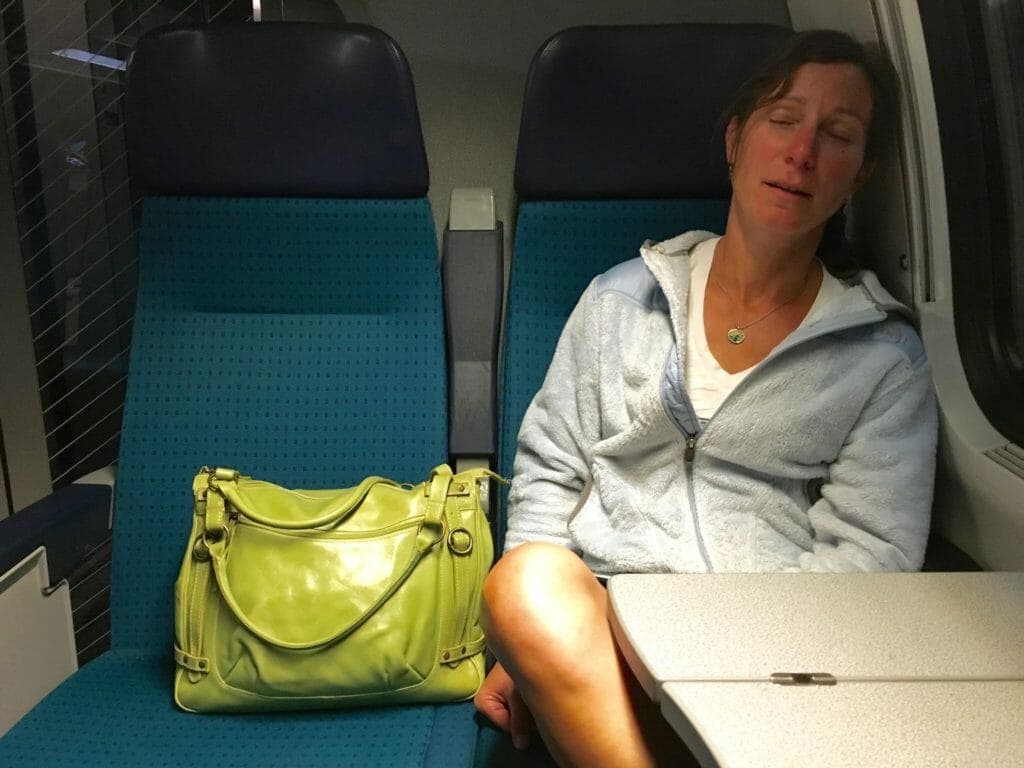 Step 6: Relax! You're on your way. When an SBB worker comes through to check your ticket, have your pass ready as well, and your passport handy, in case they ask for it. On average, you'll find that your ticket will get checked on about 50% of all trains. Fold out the tabletop if you've got snacks (there's also a small waste bin underneath the table) — or even plug in your laptop or charge your phone thanks to the AC power available on many trains.
Pro Tip: Most passes allow for free travel anywhere within Switzerland on the first and last day of the pass, so you won't need another ticket on those days.
Step 7, for the advanced traveler: Check your itinerary. If you have a few extra minutes when changing trains, there's time to grab a snack at the station before your next connection.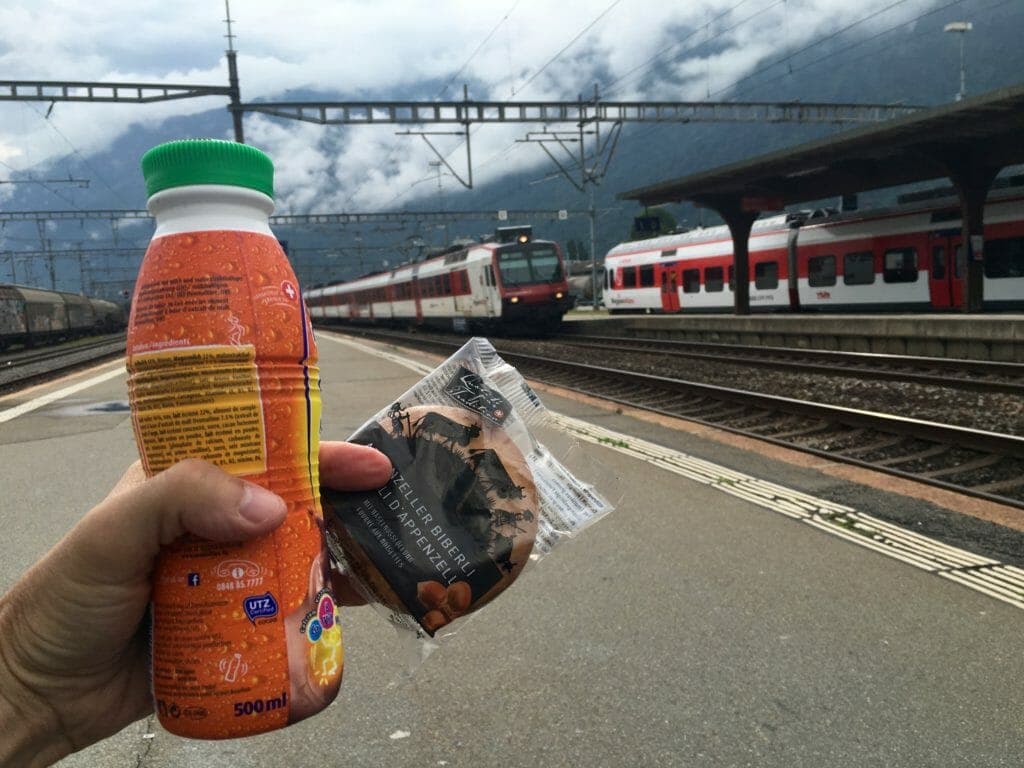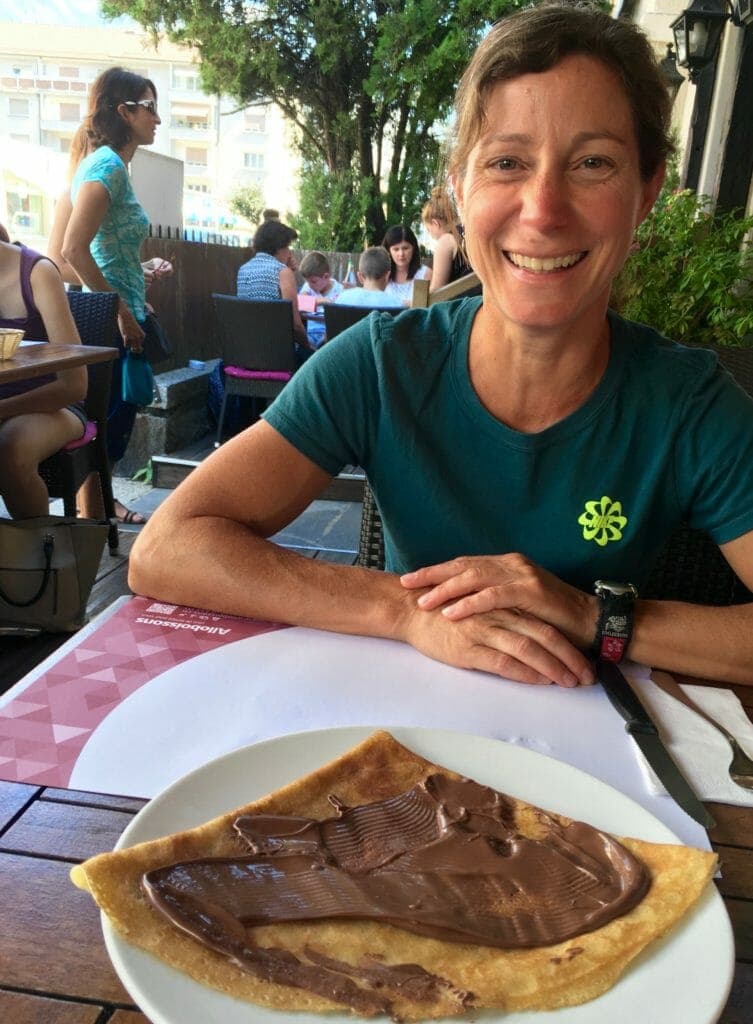 Bonus Tip: Surprise! A late train in Switzerland is considered a national catastrophe. It almost never happens. But, a Run the Alps guide did manage to capture this rare moment for posterity, recently. ("env. 4 minutes plus tard," means "around 4 minutes later.")
If it does happen to you, though, you're in luck. At major stops, there's almost always another train within 20 minutes. Ask at the rail office for an updated itinerary. If you're on a train that's late, many times connecting trains will wait, too!
And, just in case you've ever wondered…
Dogs need their own tickets. This relaxed labrador, Popeye, even has his own annual pass!
Happy travels on SBB CFF FFS! Enjoy the scenery en route, and we look forward to trail running with you!
For More Information:
SBB CFF FFS (official web site)