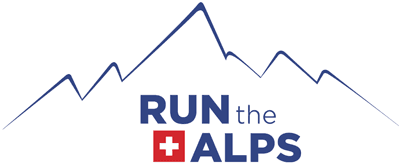 Self-Guided Trail Running on the Tour du Mont Blanc
Self-Guided Trail Running on the Tour du Mont Blanc
Run the Alps is pleased to share this story from our self-guided guest, Carl Stauffer, from Philadelphia, Pennsylvania. Carl and three friends trail ran the full, 100-mile long Tour du Mont-Blanc. Here's their experience as they wended their way around Mont Blanc. 
Ever since I was a young child and heard the story of Heidi, I have been fascinated with those towering snow-capped behemoths: the Alps.
Years later, I got to fly over them and gaze down from thirty thousand feet through a tiny airplane window into the valleys and glaciers of these majestic peaks. I dreamed of one day experiencing them up close. When I became a trail runner, that desire was reawakened with much greater intensity. I began to research how I might be able to fulfill my childhood dream. I came across the Run the Alps website and was hooked immediately.
At first, I put it aside as not being possible, but the scenery, the adventure, and the trails all kept coming back to me. I began to check with running friends to recruit others. Many wanted to join, but could not make it work. I was about to join a guided group, or just wing it on my own, when running friends Dan, Aimee and Dianne jumped in.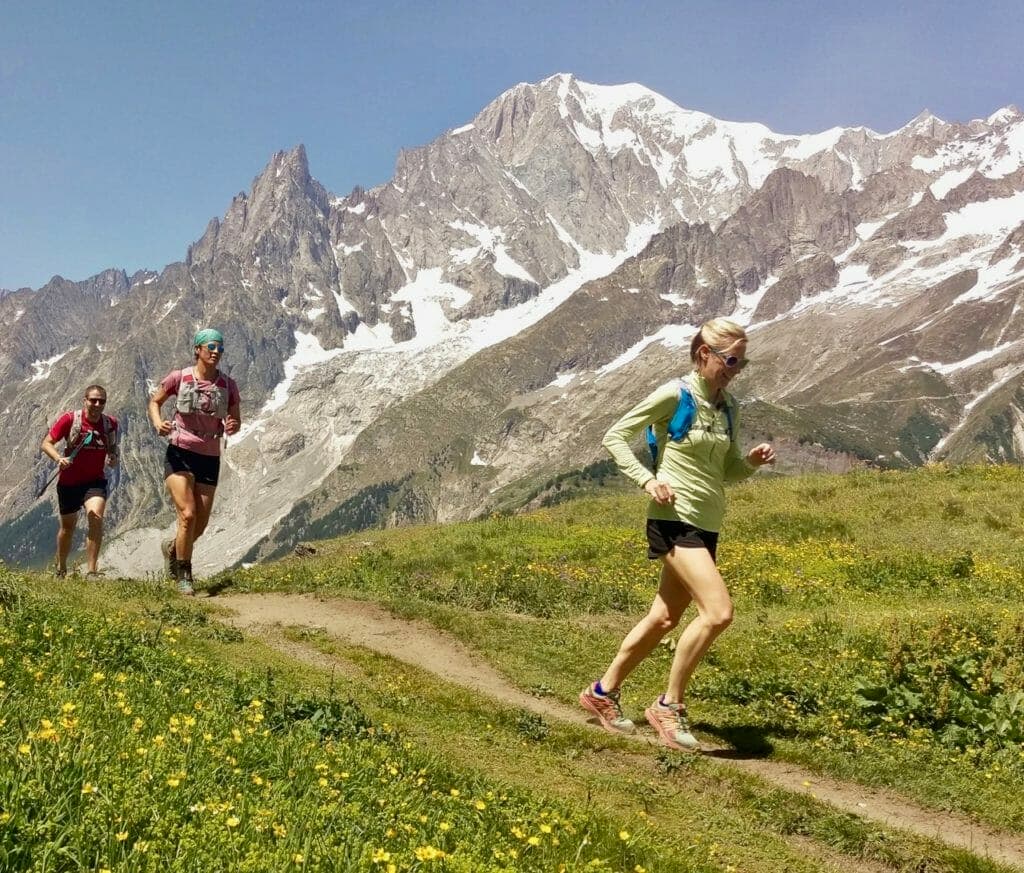 The Run the Alps team communicated extremely well on all the options available for a self-guided tour. Doug, Abby and their crew worked out the logistics of booking hotels, transferring our luggage, mapping the daily route, highlighting must-see stops along the way, and all the other little things about which one might not think. All we had to do was load up our running vests and set out each day to run, hike, eat – and take a thousand photos.
It was nice to end the day without needing to set up camp or look for lodging, too. Instead, we could have a hot shower and a great meal at the hotel, or explore the village and find a local establishment where we could dine on cheese, cured meats, local wines and beer and – of course! – homemade pastries. We burned a ton of calories so we had to replenish them, right?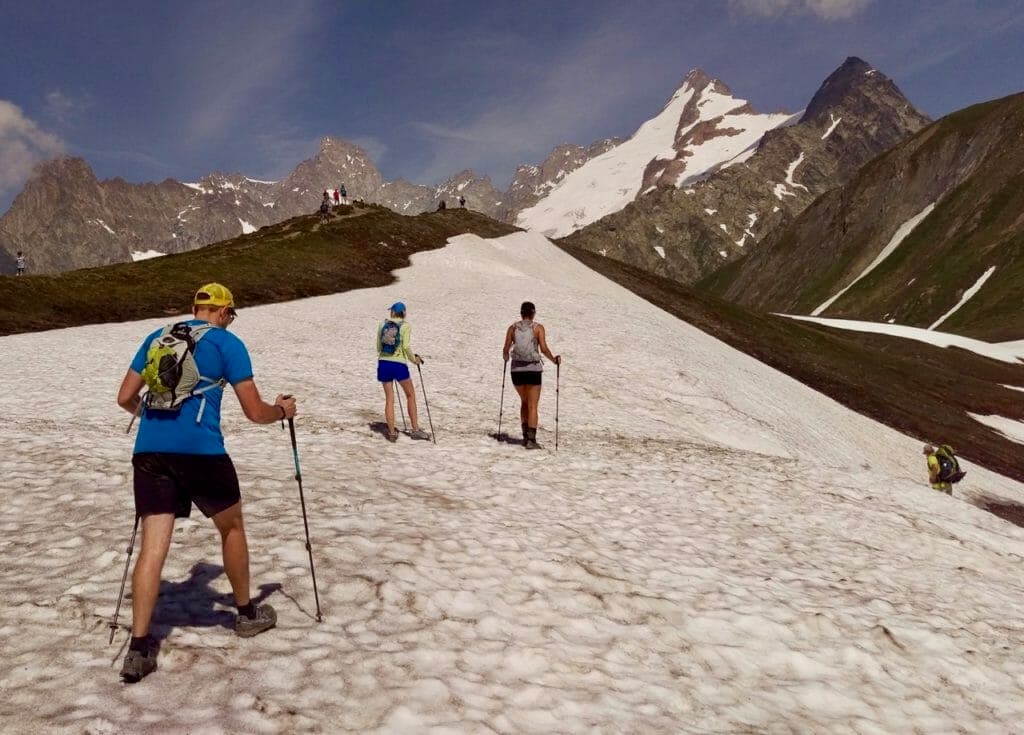 Here are just a few highlights:
One of our favorite mountain huts was Refugio Bonatti across the Val Ferret from the jagged spires of the Grandes Jorasses. Leaving Bonatti, we found a sweet running section in full view of this famed rock wall. The next day, we went up and over the highest pass of the Tour du Mont-Blanc, Grand Col Ferret, into Switzerland. We crossed at an elevation of 2,490 meters, taking in views of thick glaciers filling the high valleys above. We traversed melting snow fields just as ibex bounded across the trail two hundred meters below.
On day four, after a switch-backing steep climb up into the Aiguilles Rouges Natural Preserve, with the aptly named Aiguilles, or needles, piercing deep blue skies on our left, we finally crested the rim and traversed around Tete aux Vents and suddenly saw the king of the Alps, the Mont Blanc massif. It filled our view, with the Mer de Glace spilling down from its left flank. From there to Chamonix, we cruised on amazing single track, and past picturesque Chalet Floria bedecked with flowers.
On the only foggy rainy day on the "TMB," we climbed through a mystical fog and across another snow field, before dropping down to the hanging bridge crossing thunderous glacial waters. Then, we climbed up to Col Tricot, where it started to rain. The treacherous descent led to the cozy Refuge de Miage, where a glowing fire in the corner gave us respite. We downed mulled wine and hot chocolate, and ate local cheeses and cured meats, as well as yet more delicious pastries.
On the last day after bunking in the rustic, semi-remote Refuge Les Mottets, we immediately climbed to Col de la Seigne. From the col, on the border between France and Italy, we had sweeping views back to France and across to Italy. After a long, increasingly gradual descent through a wide valley, we were able to open up our stride and let it roll until the last climb of the day, up to Arête du Mont Favre. The trail then opened up into an alpine meadow filled with an array of wildflowers. We were rewarded with impressive views of massive glaciers – notably, the Glacier du Miage flowing between jagged peaks across the Val Veny. The descent gave us some delightful downhill before a steep drop into Courmayeur, where we had begun this epic journey.
This truly is one of the most scenic places on earth!
Mission accomplished!